Toy Story: Story Theater
|
Thank you to Disney Publishing for providing me with this app for the following review.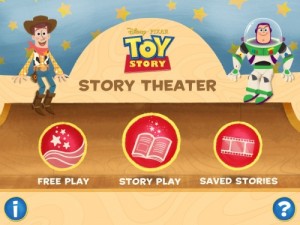 Last week, I posted my review of the Disney Princess: Story Theater.  Today, I get to share my thoughts on the Toy Story:  Story Theater app with you.  I'm just going to start this review by raving about how much I love this app.  Actually, it is my son who really enjoys this app, but it makes me happy to hear him playing with it, making up his own stories and sound effects to go with the characters and actions that he is creating with.  Disney Publishing really has a winning design with these apps!
When this app opens, the child (or child at heart) is presented with the choices of Free Play, Story Play, or Saved Stories.  I started my journey with this app by choosing the Story Play.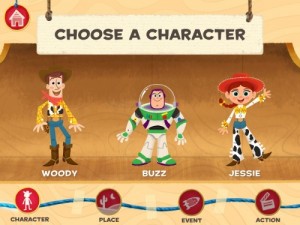 I was prompted to choose a character and a place.  I chose Woody and the Wild West.  After that, the narrator read a short part of the story.  Then, I was prompted to record part of the story in whatever direction my imagination wanted to take it.  I was able to move Woody and re-size him, too.  Afterwards, I was asked to choose an event.  I chose an alien arriving in a spaceship.  The narrator again read a short amount, and I was allowed to record how I wanted the story to occur while moving and resizing Woody and the spaceship.  Lastly, I was able to choose an action.  I opted for throwing some dynamite, and I was even told to make a corresponding noise to go with it.  Finally, I was able to see the entire story in action.  What's great is that the story is saved, so it can be watched later!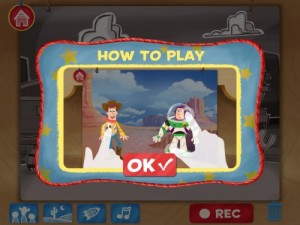 Next, I headed over to the Free Play area.  This is my son's favorite part of the app!  There is so much room for creative juices to happen over in this side of the app!  Like the Story Play, characters and objects can be moved and re-sized to aid in creating just the right story.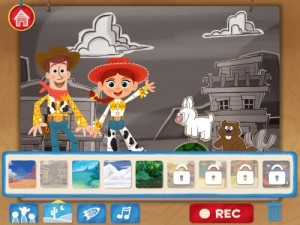 I started by choosing some characters and a background to tell my story.  Note that not all backgrounds are available at the beginning.  The locked backgrounds are unlocked by play.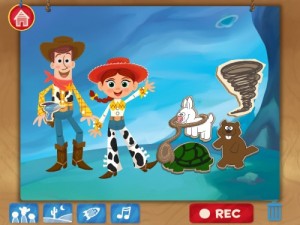 I was also able to choose objects to use in my story.  In this story, I added a lasso and a tornado.  There are also choices for background music.  Sound like fun?
Toy Story:  Story Theater is available for iPhone, iPod Touch, and iPad and is priced at $2.99.  As always, make sure to verify that your device is up to specs with what is required for this app.
Disclosure:  I received this app free of charge for the purpose of this review.  I received no other compensation from the app provider, nor was I required to give a positive review.  All opinions are mine and my son's.
Sponsored Ad:  Would you like to help support The Mouse For Less website in continuing their mission of being THE Disney vacation planning resource?  You can do so by purchasing Toy Story:  Story Theater from our affiliate link.
Similar Posts: