This post may contains affiliate links for your convenience. If you make a purchase after clicking a link we may earn a small commission but it won't cost you a penny more! Read our full disclosure policy here.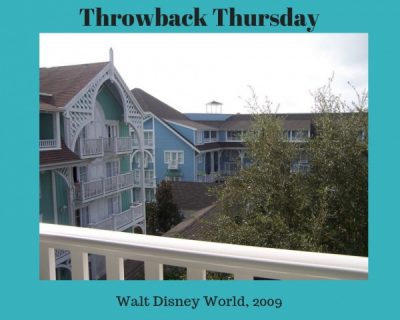 The Beach Club Villas
2009 marked my parents' fortieth wedding anniversary, and to celebrate, they decided to arrange a family reunion at Walt Disney World. This meant both their kids, their spouses, and their children. It would be my parents' grandchildren's first trip to Walt Disney World!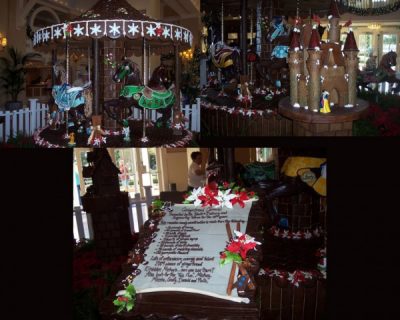 Gingerbread decorations in the lobby of the Beach Club
But that's not all! Before long, my sister's in-laws decided they'd like to come along as well. And then, a long time family friend, my mother's sister's ex-boyfriend (I am not kidding) decided to come along with his wife and their young daughter.
A trip with fourteen people took a lot of planning, even though this was before the days of FastPass+. The resort had become so large that we decided to spend nine days at Walt Disney World. We chose to go during the first week of December, when the Christmas festivities were in full swing, we got Free Dining, and the crowds were still manageable.
Most of the party decided to stay in two two-bedroom Beach Club Villas, while my sisters in-laws decided to stay at Animal Kingdom Lodge. The Villas are very conveniently located near the International Gateway entrance to Epcot. Even though my branch of the family arrived in the evening, we used our park hoppers to get into Epcot to watch IllumiNations. It was a very short walk back to our Villa afterwards!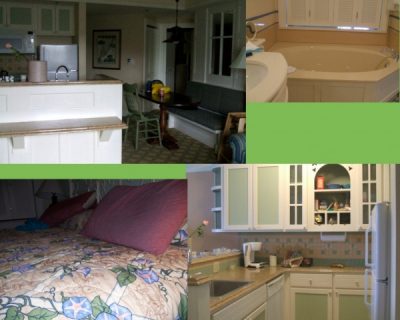 Interior of the two-bedroom villa from 2009
The Beach Club was gloriously decorated with a huge gingerbread carousel. Every time we walked into that lobby, the scent of gingerbread filled the air!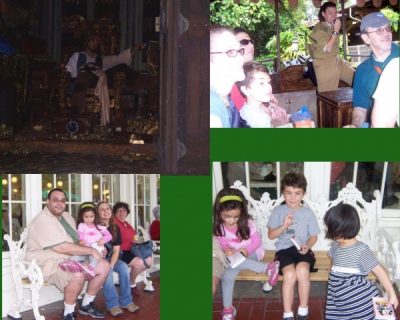 Fun in the Magic Kingdom
We knew that the kids in the group would love the Magic Kingdom, even my daughter, who had been practically raised at Disneyland. We enjoyed a dinner with Pooh and friends at the Crystal Palace and a cruise on Pirates of the Caribbean. We heard the corny jokes on the Jungle Cruise.  We got to see Cinderella Castle all lit up with sparkling lights.
We returned to the Magic Kingdom later in our trip to have lunch at Cinderella's Royal Table. I made sure my daughter saw the Country Bear Jamboree since it had closed at Disneyland.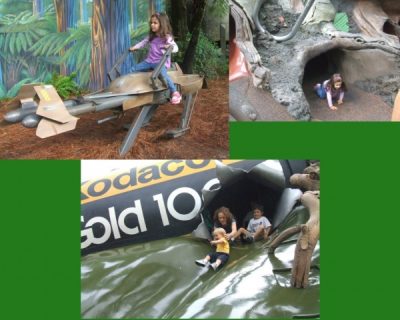 The kids enjoy Hollywood Studios
At Disney's Hollywood Studios, I got to ride Star Tours with my Star Wars obsessed nephew. The kids all loved the Honey, I Shrunk the Kids playground. We split up some, the more adventurous going to the Rock 'n' Roller Coaster and Tower of Terror, and the less adventurous going went to the Beauty and the Beast show.
Remember my Star Wars obsessed nephew? He got to participate in the Jedi Training Academy, and did a splendid job in his duel with Darth Vader.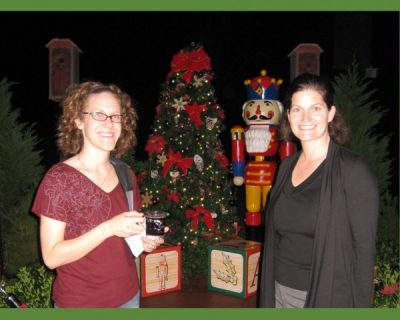 My sister meeting up with her college friend in Epcot
At Epcot, my sister got to meet up with her friend from college, and we enjoyed dinner at Akershus, in the Norway pavilion. It was interesting fitting fourteen people into the photo with Belle, but the photographer told us, "I once got 30 people in there. Don't worry!"
Later in our trip, we all enjoyed breakfast at Cape May Café, and we made the short walk to Epcot. The kids loved the interactive stuff here, especially at Imagination, the end of Spaceship Earth, The Seas with Nemo and Friends, and Innoventions.
Some of our family enjoyed dinner at Biergarten, in the Germany pavilion. Afterwards, the kids watched the miniature train run. In World Showcase, the kids stopped at the Kidcot stations to make a mask, and added something on it at each pavilion.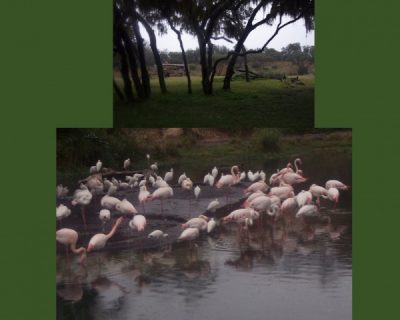 Kilimanjaro Safari
At Animal Kingdom, my family convinced me to ride Expedition Everest, which was surprisingly smooth! Some members of our group had breakfast at Tusker House, and we all loved the Kilamanjaro Safari.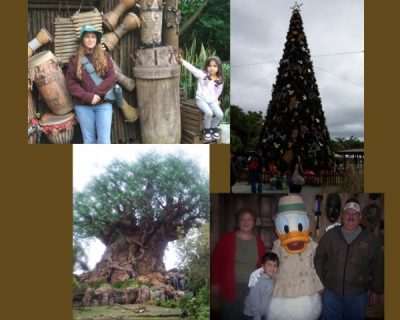 Animal Kingdom at Christmastime
The kids enjoyed taking the train to Rafiki's Planet Watch, and also looking at all the animals on the various trails. We also went to Animal Kingdom Lodge to have dinner at Boma.
It took a lot of work, dozens of phone calls, and a ridiculous number of emails flying back and forth to make this reunion happen. We had people arriving and departing from three different states, and our party consisted of people from three different generations. But it was all worth it. My parents getting to enjoy Walt Disney World with all their grandchildren, my daughter getting to meet her cousin Josie for the first time, and my nephews visiting Walt Disney World with all their grandparents, are experiences that none of us will ever forget.
Did you like this article? Make sure to share it with your friends! Check below for easy ways to share!
Incoming search terms:
https://www themouseforless com/blog_world/walt-disney-world-2009/