This post may contains affiliate links for your convenience. If you make a purchase after clicking a link we may earn a small commission but it won't cost you a penny more! Read our full disclosure policy here.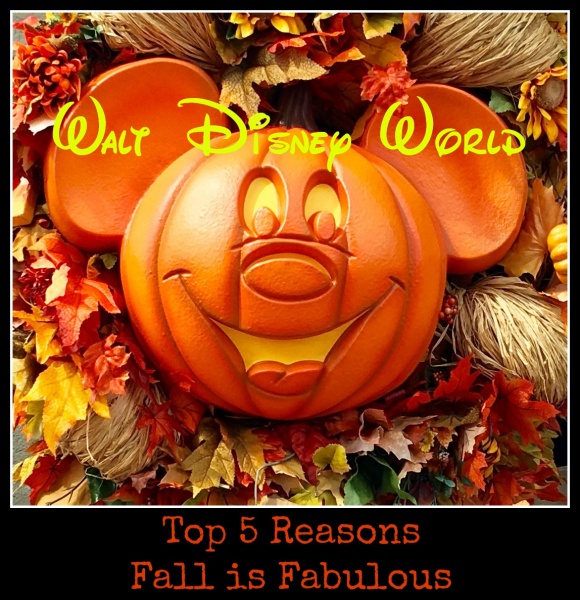 It's no secret that I love Walt Disney World. A lot. And fall is my absolute favorite season. Put the two together and, BAM! A veritable harvest-tinted pixie dust explosion. Fall is fabulous at Walt Disney World! What makes it such an extraordinary time to visit? Here are the top 5 reasons you should plan your visit this fall.
Crowd Levels 
Summer break is over. Schools are back in session. Since less families are on vacation this time of year, the overall crowd levels are some of the lowest you will find. Not only will you enjoy more elbow room in the parks, the difference is noticeable resort-wide, which can make for a more relaxing experience overall. The pools are much quieter, too. Well, until my kids get there, at least…sorry.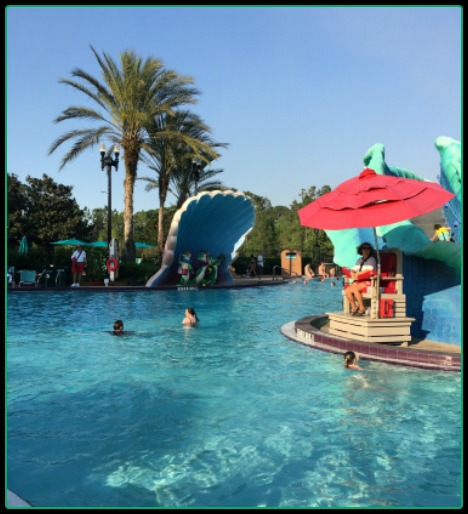 The perfect time for a swim
Incidentally, the parks close earlier in fall than in the busier seasons. At first, this may seem like a bummer, but it's really more of a gift. There is so much more to Walt Disney World than the parks! Closing them a little earlier kind of 'forces' us to explore the facets we may otherwise be too busy to take in fully.
Take some time to check out all the new options Disney Springs has to offer that don't involve shopping. Or, choose to allow yourself to linger a little longer in your lobby or leisurely stroll the beautifully manicured grounds. Have you always been curious about the draw of the Polynesian Village Resort or the highly-themed Art of Animation? Fall is the perfect time to do a little (or a lot of) resort hopping! Many offer fun and free behind-the-scenes tours. Don't forget to take advantage of the unique opportunities your own resort offers…no transportation necessary!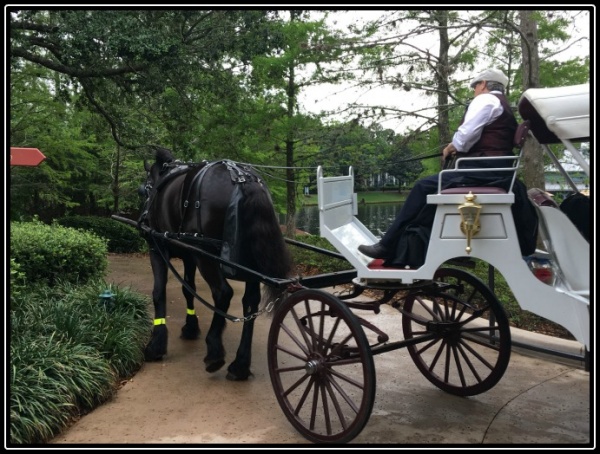 Slow down and enjoy a carriage ride at Port Orleans Riverside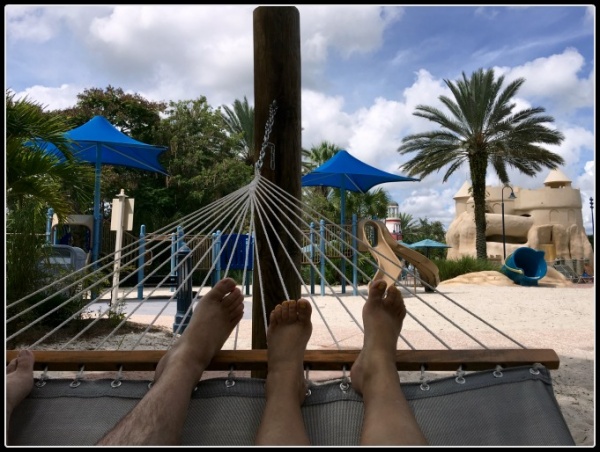 Take time to relax and simply enjoy being at your resort
The Temperatures
We all know it can get H-O-T in M-C-O. I can take the heat as well as the next person…but the humidity? Nope. You know how certain lake fish have that layer of slime that protects them? Yeah, well, if you brave Orlando in the hotter months (mid-May through mid-September), you actually become one of those. And, if you're there long enough, you may even start to worry that washing off that 'protective layer' would actually be unwise…
But, ah, the fall…It's time to leave behind the sweltering heat and humidity of the dog days and look toward the much more forgiving temps ahead. Now, mind you, there is no switch to be flipped, it is definitely a gradual change. Days retain the glorious Florida warmth but become less and less sticky. Evenings actually offer relief. Swimming is a true pleasure this time of year! Not too hot and not too cold. It's that magical window of time where you can just enjoy your day without really thinking too much about the temperature at all.
The World gets a cool fall makeover!
Not that Walt Disney World Resort isn't totally beautiful every other day of the year, but just wait until you see what happens when fall meets a little Disney magic! The World becomes awash in oranges, yellows, and reds. Over at Disney's Hollywood Studios, Minnie Mouse herself hosts lunch and dinner with Minnie's Halloween Dine at Hollywood and Vine. Here you can enjoy a themed buffet meal AND meet Minnie, Mickey, Goofy, Donald, and Daisy all dressed  up in their Halloween best!
While you will find touches resort-wide, none can hold an expensive, twirling glow-stick-thingy to Magic Kingdom. Here, fabulously festive wreaths and buntings adorn lightposts and buildings. Oversize pumpkins seem to have sprouted in curious spots. A happy assortment of scarecrows fashioned after Main Street's own residents greet you with a smile. And, oh, the Jack-o-lanterns!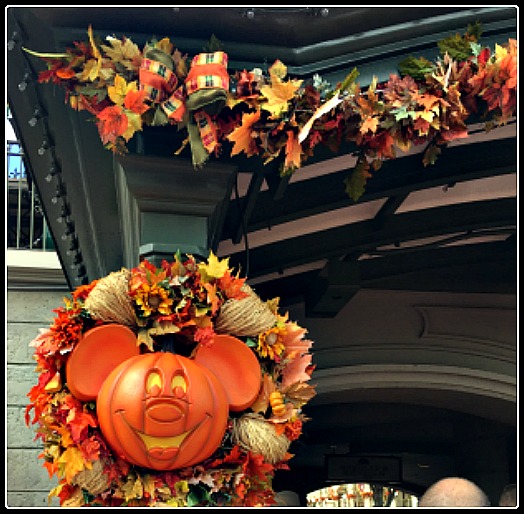 Welcoming fall garland and wreaths are sure to bring smiles
It doesn't stop there, folks. Decorations are just the beginning. Food and merchandise also get a blast of that harvest-infused pixie dust. Ok, I admit it…One of the things that most excites me about a visit to Disney is all the wonderful treats! Candy coated apples are transformed into "poisoned apples" and their caramel counterparts are adorned with white chocolate skeleton faces. Disney's famous cupcakes get even cuter (if that's even possible) with the help of fun Halloween designs and an abundance of orange, purple and green edible glitter.
Peek into the shops and you'll find a whole new world (wait, that sounds familiar…?) of fall merchandise. Fall brings lots of seasonal merchandise to the resort. Everything from 'pumpkins-with-mouse-ears' antenna toppers and a large variety of themed clothing and adorable accessory options to festively fun home décor, limited-edition holiday pins and all the requisite plush you could want.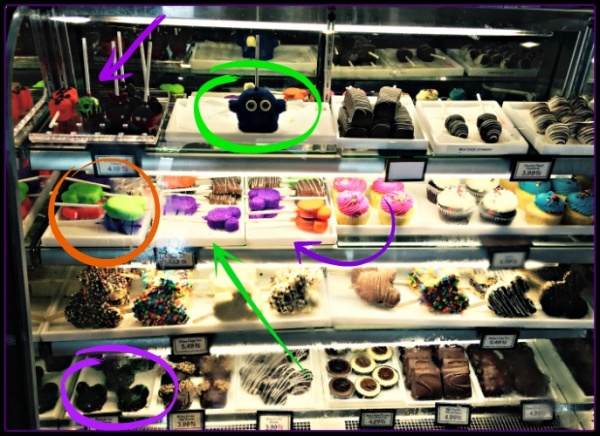 Yummy and fun fall treats!
EPCOT International Food and Wine Festival
EPCOT hosts several festivals throughout the year. Each having its own distinct theme such as Flower and Garden Festival or Festival of the Arts. But the Epcot International Food and Wine Festival each fall is the granddaddy of them all! Since 1995 this event has offered guests the opportunity to sample cuisines from around the globe and continues to grow annually. In addition to eating and drinking your way around the World Showcase…as if that isn't enough…you can enjoy culinary demonstrations and attend informative and fun seminars throughout. Every evening you can even get your groove on while you nosh along with the Eat to the Beat Concert Series featuring top recording artists ranging from Air Supply to Delta Rae to Big Bad Voodoo Daddy to Fuel…and a whole lot in-between! Best part is that the festival itself does not require a ticket separate from your park admission.
Want to keep the kids entertained while the adults partake? No problem! There is a Ratatouille-inspired scavenger hunt available exclusively for the festival called the Hide and Squeak Scavenger Hunt. This year EPCOT celebrates it's 35th anniversary and the International Food and Wine Festival boasts a record 35 kiosks and its longest run to date. The EPCOT International Food and Wine Festival is absolutely worth a trip in and of itself!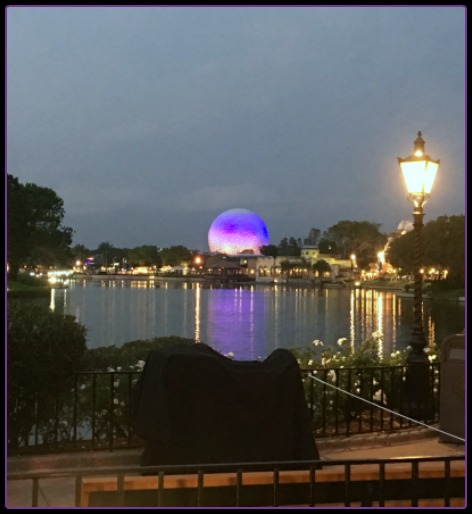 Sample your way around World Showcase at EPCOT's International Food and Wine Festival
Mickey's Not-So-Scary Halloween Party
As I may have mentioned, I am not impartial to fall. So, what could be better than a big 'ole party in the middle of it? In true Disney fashion, Mickey's Not-So-Scary Halloween Party does not disappoint. As the title implies, it is a family-friendly event but is also fantastic fun without the little ones. It has just enough 'spooky' to keep everyone entertained but not enough to be truly frightful to the smaller attendees.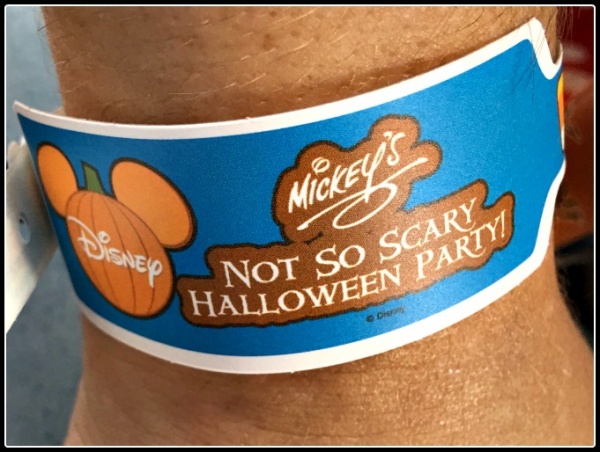 Wristbands like this identify party guests
While this party does require a separate ticket, it offers so many things you just cannot get otherwise. Marvelous things like the 'Boo To You' Parade. This is, hands-down, my favorite parade ever. My 4 year old daughter likes it so much she routinely YouTubes it throughout the year. Yeah, it's that good.
Other notable festivities include the 'Hocus Pocus Villain Spelltacular' stage show, generous trick-or-treating locations throughout Magic Kingdom, themed treats only available during the party (hellooooo, candy corn soft-serve!), and the spectacular 'Happy HalloWishes' Fireworks. You can also meet characters here that don't make regular appearances, such as Jack and Sally (Nightmare Before Christmas) and ALL 7 Dwarfs TOGETHER! Let's not forget about all the villains running amok, amok, amok. Ok, maybe not quite running amok, but they are there.
One of the coolest things about this party is that it is the ONLY time kids (and kids at heart) over the age of 13 are allowed to wear costumes in the park! Compound all of this with seriously shorter-than-usual wait times for rides, and you have the perfect mix for an evening of unforgettable memories. Mickey's Not-So-Scary Halloween Party is frightfully fun for the whole family.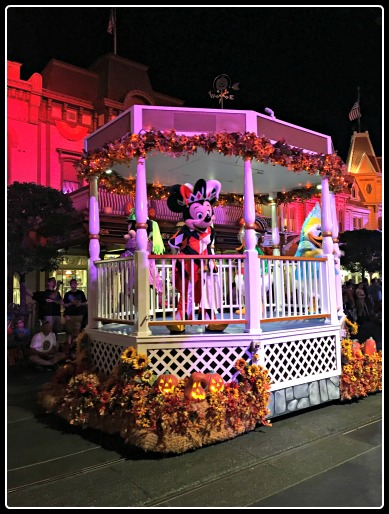 Boo to you, and you, and you, and you! Happy Halloween!
What are your favorite aspects of visiting Walt Disney World in the fall? Share them in the comments!
Did you like this article? Make sure to share it with your friends! Check below for easy ways to share!