This post may contains affiliate links for your convenience. If you make a purchase after clicking a link we may earn a small commission but it won't cost you a penny more! Read our full disclosure policy here.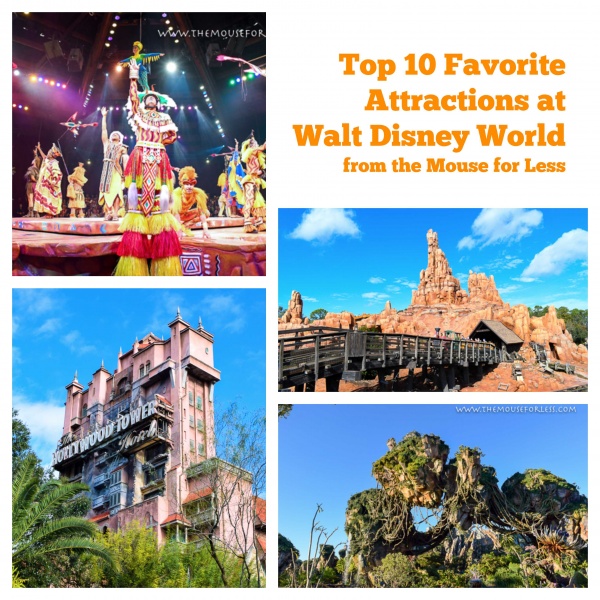 In our third year of awards, the Mouse for Less Academy of Disney Arts and Sciences decided to branch out from giving awards to the best dining and bring all of the wonderful Disney attractions into the magical madness of bracket-making.
That's right, once again thanks to the voting of the members of the Mouse for Less Facebook group, we have a definitive list of the Top 10 Attractions at the Walt Disney World resort.
You can find the full list here, and then continue on for some explanation and personal experience on what makes these attractions special. In the spirit of award season, we'll make some up to give out.
Honorable Mentions – The Classics
Even though we tried to narrow it down to ten, there are always a few choices that just missed out, but are still worth recognizing. This time we have two.
Honorable Mention #1: The Attraction Most Likely to Elicit a Dramatic Response When Anything Changes In It…Pirates of the Caribbean
Pirates has had a passionate following at Walt Disney World since before it even existed there, and as the quintessential boat AND dark ride it is the kind of classic Disney attraction fans flock to, even as it is tweaked over the years.
Honorable Mention #2: Best Ride Enjoyment to Wait Time Ratio at Walt Disney World…The Tomorrowland Transportation Authority PeopleMover
It seems like a silly thing to have such a strong following, but people LOVE the PeopleMover. It is one of my mom's favorite attractions, and is something we always try to fit in to a trip. For maximizing bang for your buck, make your way to Tomorrowland and ride up that escalator.
The Top 10
10.) Attraction Most Likely To Inspire Family Trash Talk…Toy Story Midway Mania
During one of my trips before Toy Story Land opened, I remember arriving to Disney's Hollywood Studios at park opening, going immediately to the pack of the park for Toy Story Midway Mania, and arriving to see the wait time was already over an hour. Such is the lasting popularity of this attraction. And while Disney's Hollywood Studios is in the midst of many changes, I don't see this one getting any less popular. It is family friendly, interactive, fun, and always at least a little bit different. Thankfully, the addition of a third track and other attractions in Disney's Hollywood Studios has taken some of the pressure off Midway Mania, so it isn't quite as hard to make it a part of your day.
9.) Most Quotable Ride Safety Spiel…Big Thunder Mountain Railroad
"Howdy partners! For your safety, remain seated with your hands, arms, feet, and legs inside the train—and be sure to watch your kids. If any of you folks are wearin' hats or glasses, best remove 'em—'cause this here's the wildest ride in the wilderness!"
If you haven't had a member of your group give you their best "wildest ride in the wilderness!" multiple times after riding Big Thunder, then you haven't gone to Walt Disney World with my wife.
In all seriousness, Big Thunder Mountain Railroad is one of those things that holds a special place in many theme park goer's hearts. It is a rite of passage for many kids trying to branch out, and is one of my personal favorite experiences in all the parks – especially at night. People debate which land of the Magic Kingdom to start with in the morning, but I always opt for Frontierland.
8.) Best Use of Pyrotechnics… Festival of the Lion King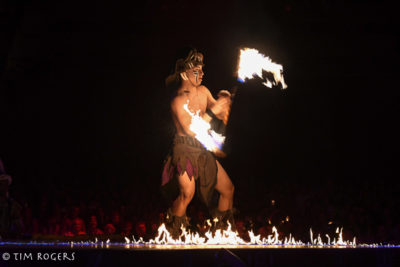 Even before my recent experience with the Festival of the Lion King dining package, I already enjoyed and appreciated this show. It is fun, well-paced, obviously has great music, and is the kind of quality most people would pay to see on its own. If you are wondering how a show beat out so many rides to make it into the Top 10, then you need to go check it out.
7.) Attraction Most Inadvertently Aligned With a 70s Music Genre…Expedition Everest
To many, thrills at Walt Disney World are measured in mountains. The Magic Kingdom has its share, most of which are also on this list, but about a decade after it opened, Disney's Animal Kingdom created the largest one yet with Expedition Everest. What makes Everest special isn't just its size, though. The themeing of this area, from the queue to the peak, is wonderful. And even if some effects aren't working as they used to (or at all), the creativity in the design of this coaster makes it fun and exciting.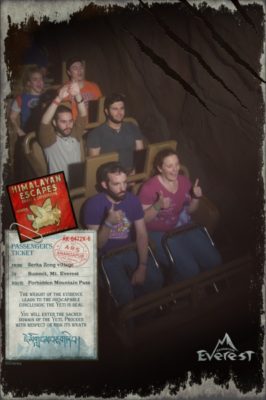 On my last trip, I actually did something I had never done before – I rode Expedition Everest after dark, and honestly it was a whole new experience. There were design elements I hadn't seen before, and the whole atmosphere was heightened. It's worth a ride either way, but if you have never checked it out after dark, you really should.
6.) Special Award for Best Park Icon Attraction…Twilight Zone Tower of Terror
Tower of Terror might be the reason I get to go to Walt Disney World as much as I do-  it is by far my wife's favorite attraction. We make it a special point to ride as many times as possible every trip, and even after all of those rides, you still never know when, how, or how many times you are going to drop. That sort of nearly infinite variation makes this a fresh experience every time.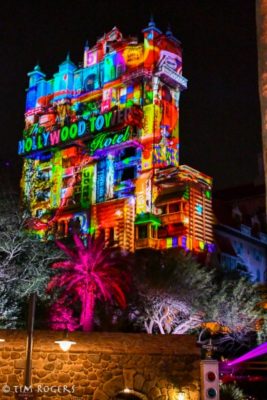 And while separate from the excellent ride itself, Tower of Terror's iconic status at Disney's Hollywood Studios has been reinforced in recent years by its inclusion in the near Sunset Seasons show at the Holidays.
5.) Most Inviting Attraction, For at Least One More…Haunted Mansion
Sticking with the creepy building theme, we have the OG – the Haunted Mansion. For this vote it was by far the most popular of the truly classic Disney attractions. With infinitely quotable lines, time-tested special effects, an insanely catchy tune, and lots of horrible puns, it is easy to see why so many people make their way into the Doom Buggies, especially during Mickey's Not So Scary Halloween Party.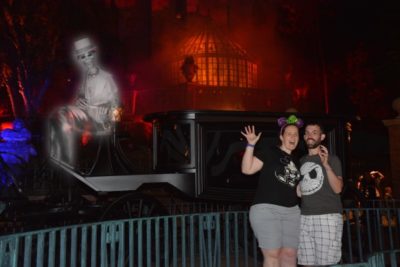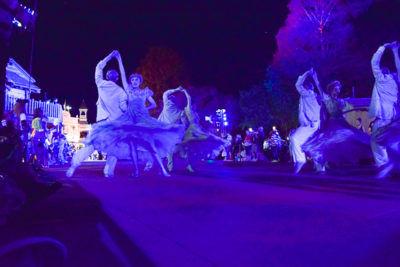 Speaking of the party, the Haunted Mansion not only hosts some fun Magic Shots, but also is the inspiration for some of the best parts of the Boo to You parade. It isn't a stretch to say that the Haunted Mansion has had an outsized impact on all of the Disney Parks and is bound to keep doing so for years.
4.) Best Grumpy in a Starring Role…Seven Dwarfs Mine Train
If you have followed my writing, you might have noticed that I am a fan of Grumpy. Like a big fan. So, naturally, a fun and innovative ride that has Grumpy not once but twice and it's going to make my list every time.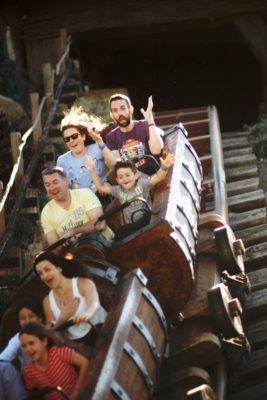 3.) Best Musical Score…Splash Mountain
Anyone who has done rope drop at the Magic Kingdom has a plan. When I was growing up, my family's plan was to run to Splash Mountain, and it remains one of my personal favorites. While I can (and do) say this for several of the top attractions here, for me, this really is the perfect attraction. You have fun characters, great music, tons of animatronics, fake outs, a big thrill, and all of that in a ride that gives you around 12 minutes of enjoyment.
2.) Best Achievement in Lighting Design…Kilimanjaro Safaris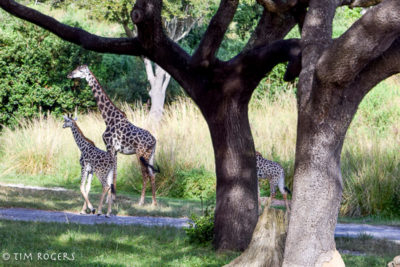 One of the main takeaways I had from the votes this year is that Disney's Animal Kingdom has an incredibly strong and diverse array of very popular attractions. While it did not end up the top vote getter, Kilimanjaro Safaris inspired some of the most fervent support throughout the the whole competition. And I can see why – even with all of the changes to the Animal Kingdom, the Safari still is heart and essence of the park. On top of that, even with the variation and randomness associated with some other attractions, nothing comes close to the unique experience you get each time on Kilimanjaro Safaris. It's a must do for me each trip, and often the first attraction I do during my day at Disney's Animal Kingdom.
1.) The Attraction Most Likely to Give You The Opportunity To Watch The Entire Source Film While Waiting In Line…Avatar Flight of Passage
The construction of "Avatarland" dominated the Disney internet community for years. Through waiting on it and wondering about the longevity of the film, many questions were asked about why so much time and effort had gone into this land. And then we saw it.
Pandora itself is beautiful and striking, but the centerpiece of it is something special. Avatar Flight of Passage is a one of the more groundbreaking and unique pieces of Imagineering that we have seen in years. Besides far and away winning our poll and being nearly impossible to get a FastPass+ for, the longevity of multi-hour standby wait times is somewhat unprecedented. It won for a reason, so if you haven't had a chance to try it out, get there early and enjoy the environment.
Ok…now it's your turn. What do you think of our list of the Top 10 Attractions at Walt Disney World? Let us know what we left off the list in the comments below or on Facebook or Twitter!
Did you like this article? Make sure to share it with your friends! Check below for easy ways to share!
Want to visit Walt Disney World? Contact The Magic for Less Travel for more information and a free, no-obligation quote.

Incoming search terms:
disney world\s largest attraction
walt disney world highest rated attractions
walt disney world resort attractions