This post may contains affiliate links for your convenience. If you make a purchase after clicking a link we may earn a small commission but it won't cost you a penny more! Read our full disclosure policy here.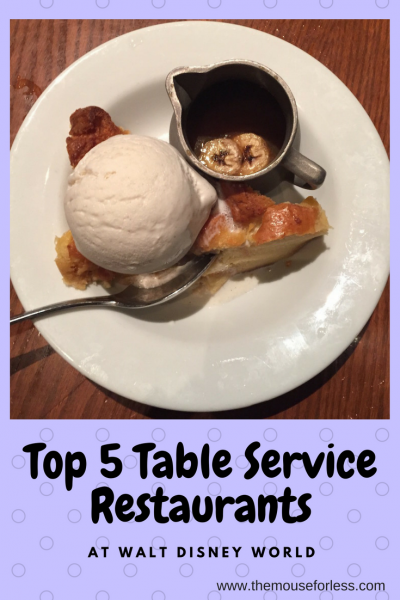 Walt Disney World has great food, especially at their sit-down, table service restaurants. And not just great-for-a-theme-park food, legitimately great, in comparison to non-theme-park-restaurants food.
I am a self-proclaimed foodie, and this is one of the things that has drawn me back to Disney World as an adult. It's why my husband and I ventured down to Victoria and Albert's for a once-in-a-lifetime meal for our first anniversary (…and we're planning to do so again for our fifth…so much for once-in-a-lifetime…). Why we continue to find ways to make it down for EPCOT's International Food & Wine Festival. And why we will regularly spend two of our table service credits from the Disney Dining Plan to try the signature dining options that Disney has to offer.
But there are also some phenomenal eats for a great value offered up at the one-credit, table service dining options. If you take advantage of your full entitlement (entree, dessert, and specialty beverage or alcoholic beverage) all 5 of my top one-credit redemptions at Walt Disney World will put you well past half the daily value of your standard dining plan:
5. Jungle Navigation Co. Ltd. Skipper Canteen (Magic Kingdom)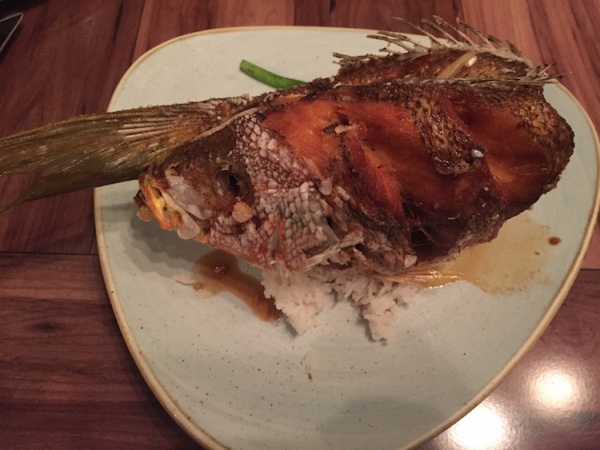 Jungle Skipper Canteen has some of the best flavors in the Magic Kingdom. The Baa Baa Berbere lamb chops with the classic Ethiopian seasoning and the "Hardy Har Char" Siu Pork Chops both delight the palate. And if you are traveling with some picky eaters, there are also classic steak and chicken dishes on the menu. I think one of the best options for the adventurous eater is the Whole Fried Fish. It is very similar to the Whole Fried Fish that you can find in the Signature restaurant Tiffins at Animal Kingdom, but will only cost you one dining credit. And, having tried both, I prefer the Skipper Canteen version because the Soy-Ginger vinaigrette adds some bright notes to the somewhat heavy flavor of the fish.
4. Chefs de France (EPCOT World Showcase)
EPCOT has some of the best food in all the World and Chefs de France is a fan favorite. I have dreams about the Filet de boeuf grillé (similar to a boeuf au poivre). And the 3-course prix fixe menu is a unique option that includes your choice of french onion soup, lobster bisque, or salad in addition to the entree and dessert that you would already receive. In addition to the excellent entrees, they have an incredible wine list (I suggest the Cote du Rhone if you're having red meat) and truly spectacular traditional French desserts. The level of French cuisine here, in both technique and flavor, is leaps and bounds better than what is currently being offered for dinner at Be Our Guest in the Magic Kingdom.
3. Chef Art Smith's Homecomin' (Disney Springs)
Chef Art Smith is a master of elevated southern cuisine, and that is beautifully showcased at Homecomin' in Disney Springs. Everything on the menu is familiar comfort food, but taken up a notch to set it apart from the norm. Why have same-old chicken and waffles when you can have perfectly fried chicken with house-made sugar doughnuts? The house cocktails are unique, uniquely southern, and pair wonderfully with the food. Even the chips are special — they are barbecue flavored and made fresh in-house! I don't even like barbecue chips but these are so flavorful and fresh, I can't get enough. They also have grab and go options if you don't have time for a sit-down meal. This should definitely be on your list for your next trip down to Orlando.
2. Boma Flavors of Africa (Disney's Animal Kingdom Lodge)
Normally at a buffet, even at Disney, you end up with some foods that are dried out or cold. But the food at Boma lends itself to being served in bulk. The warming lamps don't dull the flavor of the food, and it is refreshed often so it's always hot. This is also a great option if you are looking to explore some African flavors without committing to an entree or single flavor profile like you would at Sanaa. This is also one restaurant that I enjoy equally for both breakfast and dinner. Both meals have excellent signature items. Breakfast has the french toast bread pudding and spiced corn beef hash and bobotie at dinner. There are enough familiar flavors, and items for the kiddos, to make this choice good for a group with some picky eaters. And if you've never visited the Animal Kingdom Lodge this is a great excuse to see this beautiful resort, look at the animals away from the park, and have a delicious meal.
1. 'Ohana (Disney's Polynesian Resort)
'Ohana is the best one-credit dining redemption at Walt Disney World. It is the first reservation I make once the 180-day advanced-dining-reservation window opens. It has become a "can't miss" meal whenever I'm in Orlando. You wouldn't necessarily think that all of the food would be cooked perfectly at an all-you-care-to-enjoy restaurant, but due to the churrascaria-style service the food is always hot. You can choose your preferred temperature for the steak. The chicken is succulent and the shrimp is flavorful and never overcooked. And the sides that come with your meal, and are also all-you-care-to-enjoy, complement the proteins so well. The noodles and veggies are very flavorful and the dumplings are some of the best I've had. And do not get me started on the bread pudding dessert. It is one of those desserts that haunts you from one visit to t08he next. And I don't even normally like bread pudding! Not only is the food amazing, but if you time your dinner correctly and are able to score a seat by the windows you can see the fireworks at the Magic Kingdom — they even pipe in the music!
Where are your favorite one-credit table service restaurants? Did we list them or do you have an option not included? Share in the comments, or on Facebook or Twitter.
Did you like this article? Make sure to share it with your friends! Check below for easy ways to share!
Incoming search terms:
best dining options at disney world
https://www themouseforless com/blog_world/best-walt-disney-world-one-credit-table-service-dining/
wdw best 1 credit table service