This post may contains affiliate links for your convenience. If you make a purchase after clicking a link we may earn a small commission but it won't cost you a penny more! Read our full disclosure policy here.
Visiting Walt Disney World is so much more than theme parks. If I had a dollar for every time someone asked me why I go back so often, I could fund a nice weekend trip!  In all seriousness, there is so much to do outside of the theme parks.  In fact, I could make a week-long trip to the Walt Disney World Resort without even entering a theme park.  There are so many activities at the various resorts that we have done and still more on our list to get to.  I hope you'll find some nice touches that you can add to your next trip.  I like to think through each resort when I consider what all might be options.
Disney Springs:

Shopping- there are tons of new stores now available at Disney Springs; Some are available back home depending on where you are from, but we always enjoy going in the World of Disney and the Lego Store. Goofy's Candy Company is always a must too!
Dining- Too many to list here alone, but there are many great new restaurants, both quick service and table service. Blaze Pizza, D-Luxe Burger, Frontera Cocina, food carts, Homecoming, Boathouse, Morimoto Asia, and Paddlefish. And for dessert they have Sprinkles, the Ganachery and Amorette's Patisserie!
La Nouba- never been, but have seen many other Cirque du Soleil shows and I love them all
Splitsville– again, I've never been, but seems like something cool to try
Raglan Road– this is one of our favorite experiences, on the weekend when the performers are there. We always have a blast watching the performances and the kids get to participate too!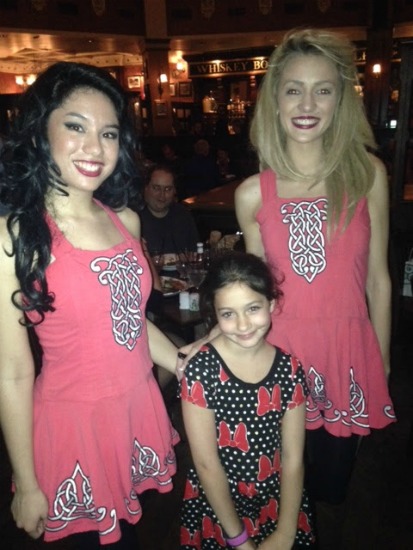 Dancers at Raglan Road

Mini golf at Fantasia Gardens or Winter Summerland
Yehaa Bob- this is another one of our favorites. We could definitely spend the whole night enjoying the song and dance of Yehaa Bob at Port Orleans Riverside. He plays the piano and puts on quite the sing-along and participate show for crowds at the River Roost.

Pools– needs no explanation. You can spend every day by the pool. Many of the resorts have different activities scheduled each day- some for an extra fee like tie-dye T-shirts and sand art.
Boardwalk– Rent a Surrey bike, watch the performers in the evening, have some ice cream from Ample Hills, stroll down to the Atlantic Dance Hall or watch the Dueling Pianos at Jellyrolls. Wednesdays through Saturdays at 9:00 a.m., a tour is offered of the area starting at the Bellevue Lounge and gives a 45 minute history of the Boardwalk.
Fort Wilderness & Wilderness Lodge- Fort Wilderness offers horseback riding, fishing excursions, carriage rides, a Chip-n-Dale campfire and sing-along and also has several shows like Hoop De Doo Review and Mickey's Backyard BBQ. We also like to rent a golf cart to go around the resort and see the sights. At Wilderness Lodge, they offer tours a few times a day that are approximately an hour long and tell you about the lodge and what its areas represent.

Boating- There are many watercraft activities that you can participate in at the resorts. Some places, you can rent pontoon boats, jet skis, go parasailing, fishing, etc.

Animal Kingdom Lodge offers a free culinary tour of Boma and Jiko each day at 4:00 p.m. The lodge also offers many opportunities to interact with cultural representatives to learn about their culture and the lodge. There are great animal sighting options too! We saw the flamingos, as well as some animals we saw outside of our room at night.

Movies Under the Stars– offered every night at each resort
Grand Floridian has a lovely Afternoon Tea. It also has Mizner's Lounge and a great piano player. It's nice to even just sit in the lobby and listen in one of their couches or chairs.

Disney's Polynesian has a great location. For one, you can see Wishes right from the beach at the resort.  You can also see the Nighttime Electrical Water Pageant.  Tuesday- Saturday at 6:00 p.m., they have a torch lighting ceremony.  They also offer hula classes Monday-Saturday at 3:45 p.m. taught by a Hawaiian hula dancer of 50 years.  They have Polynesian storytelling in the lobby at 8:30 p.m. daily.  Lastly, you can pick up a free lei.

I hoped you picked up some good ideas to add to your vacation on your next trip to Walt Disney World!  Maybe you've tried a few of the above as well and can relate to why we love returning time and time again!

What are your favorite free things to do outside the parks? Share your thoughts in the comments.