This post may contains affiliate links for your convenience. If you make a purchase after clicking a link we may earn a small commission but it won't cost you a penny more! Read our full disclosure policy here.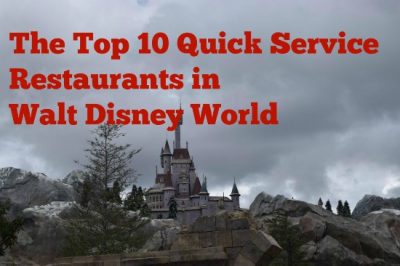 Following up the success of the Top 10 Table Service Restaurant awards, the Mouse for Less Academy of Disney Culinary Arts and Sciences is at it again, this time just a bit quicker.
That's right, once again thanks to the voting of the members of the Mouse for Less Facebook group, we have a definitive list of the Top 10 Quick Service Restaurants at Walt Disney World.
Before we crown the winners, a few notes. There are well over 100 quick service locations throughout the Walt Disney World resort, and there scope is everything from pretzel stands to a themed restaurant you need a reservation for. With such a range, and so many options, one of the challenges to selecting or ranking your favorites is that they are all so different. Also, while some are sought out, others might fly under the radar but provide an excellent experience. With that in mind, I want to spotlight a few excellent options that didn't quite make the list.
Honorable Mentions
Honorable Mention 1: Blaze Pizza
Finishing just outside the top 10 was Blaze Pizza. I think the only reason Blaze was not a finalist was because it is such a new addition to Disney Springs. If the early reviews hold, this "blazing fast" pizza place could easily match or overtake Earl of Sandwich as the go-to place in Disney Springs for a quick bite to eat.
Honorable Mention 2: Boardwalk Bakery
After very strong showings in the early rounds, the Boardwalk Bakery peaked too early and failed to make the top 10. However, this staple of Disney's Boardwalk has some great and tasty options all day, but especially for breakfast. Some days there is nothing better than grabbing a pastry and sitting out on the edge of crescent lake to enjoy it.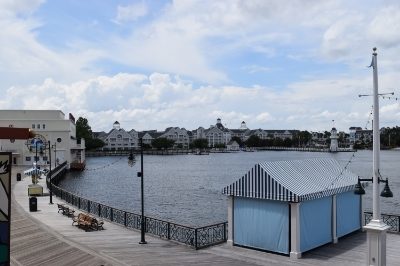 Top 10 Quick Service Restaurants
10. Yorkshire County Fish Shop
If the rounds of voting here were like March Madness, the Yorkshire County Fish Shop would be the team with that one great player that isn't expected to go far, but somehow keeps winning and ends up in the Elite 8. This first of four Epcot locations in the Top 10, Yorkshire County has Fish and Chips, and that's about it. If you're looking for a taste of London on your way around the World Showcase, this can be a great option to try.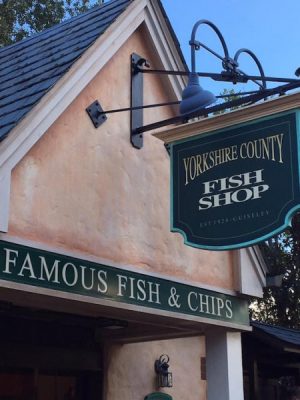 Photo by Jocelyn Martins
9. La Cantina de San Angel
Cutting over to the other side of the World (Showcase), La Cantina de San Angel offers a range of Mexican favorites in a great location. I am personally a big fan of the cheese empanadas, and I know many visitors enjoy the selection of margaritas. For a tasty and filling meal at a good value, you can't do much better than the Cantina.
8. Backlot Express
Nestled in a corner next to the Jedi Training Academy stage, Backlot Express is our lone finalist from Disney's Hollywood Studios. Besides some unique Hollywood decorating, Backlot Express features a pretty standard quick service menu, but with a Star Wars twist (see also: Dark Side Chicken and Waffles). Some of this also alludes to the limited time overlay (and possible future use) of the Rebel Hangar. From burgers to cupcakes, Backlot Express is a solid choice for a quick meal on your day at the Studios.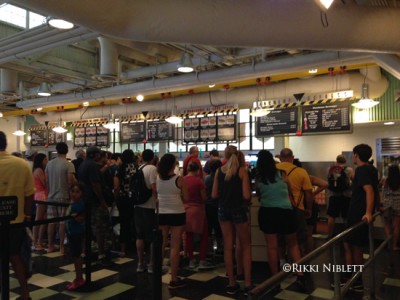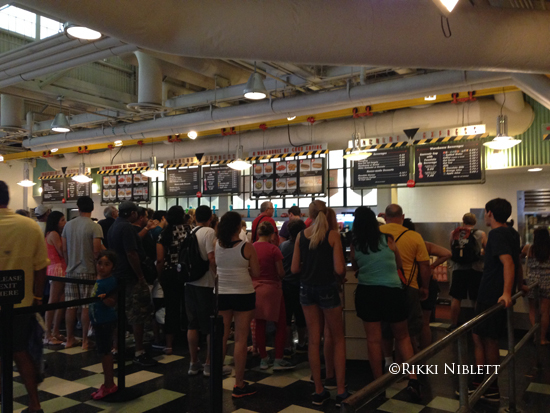 Bonus tip: Backlot Express is the only quick service location in Hollywood Studios where you can get free soda refills.
7. Tangierine Café
Our third entry from the World Showcase, Tangierine Café serves Mediterranean favorites, and does it well. From shawarma to falafel to baklava, the food at Tangierine Café is widely considered not only the best in the Morocco pavilion, but some of the best in the World Showcase, Table Service locations included. If you are looking for a hummus fix, or looking to expand your palate on vacation, definitely give this place a try.
6. Wolfgang Puck Express
A longtime staple of Disney Springs, Wolfgang Puck Express has gained a loyal following by offering interesting and tasty food. From the breakfast pizza to the mac and cheese, this location is bound to have a tasty bite for any interest.
5. Sunshine Seasons
Located in the Land Pavilion in Epcot, Sunshine Seasons both provides a great variety of unique and tasty meal options and connects to the broader attraction in which it is located. Sunshine Seasons features fresh produce grown in the greenhouses you can see in Living with the Land, providing a regularly changing and always delicious menu. As the top finisher in Epcot, a park known for its food, Sunshine Seasons truly stands out as a quality quick service option.
4. Cosmic Ray's Starlight Café
Two words: Sonny Eclipse.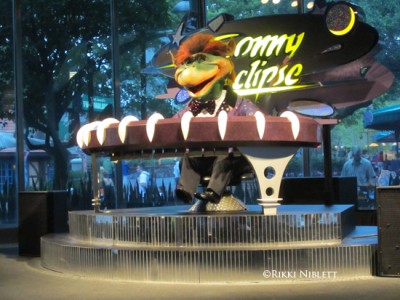 Okay I'll give you a little more, on the edge of Tomorrowland in the Magic Kingdom, Cosmic Ray's serves a pretty standard menu of burgers and sandwiches. Judged purely on its food, this location would do fine, but not be in the top 5. What really sets it apart, and really puts it in a class of its own among quick service locations, is the themed entertainment. Every meal at Cosmic Ray's comes with a performance by Sonny Eclipse, the alien lounge singer and astro-organ player with an extremely dedicated following. It's one of the extra Disney touches that takes a place from being a run of the mill burger joint to a "must-do" destination on your vacation.
3. Earl of Sandwich
Perennially one of the busiest and most popular locations in Disney Springs, Earl of Sandwich exemplifies the idea that everything is better when you are at Disney World. While Earl of Sandwich has a few dozen locations spread all across the country, visitors find something special about the Disney Springs location, and I have heard on more than one location that eating at the Earl of Sandwich is just as integral about some vacationers trip as riding "it's a small world." Whether it is good food at a good price, the internal joy of the holiday turkey sandwich, or (and perhaps the most simple explanation) that it really is just better there, Earl of Sandwich is bound to continue to have a large and dedicated following for the foreseeable future.
2. Flame Tree Barbecue
Possibly my biggest surprise from the first round to the final results was that Flame Tree Barbecue didn't win the whole thing. Located on Discovery Island in Disney's Animal Kingdom, this restaurant has long been a fan-favorite with a passionate following.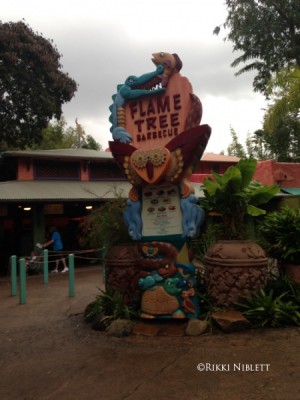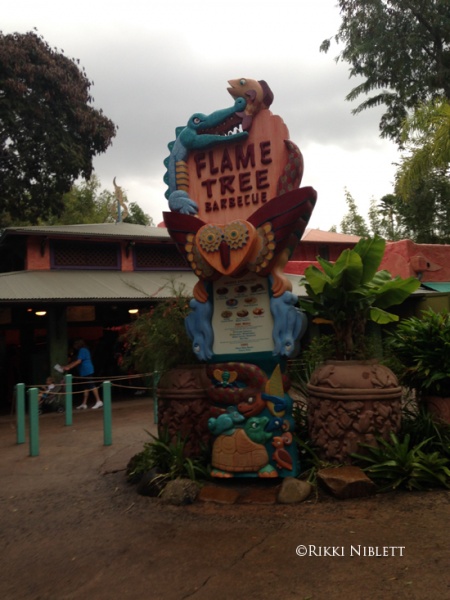 The menu consists only of vegetables. Just kidding, the menu features selections of chicken, pork, ribs and all of the sides you would expect. All of that with a great location, and it is easy to see why the popularity here only continues to grow.
1. Be Our Guest
When you have to make an advance dining reservation for a quick service restaurant, you know it has to be good. As one of the show pieces of the New Fantasyland expansion in the Magic Kingdom, Be Our Guest provides is quick service for breakfast and lunch (it was the #2 table service in our poll just for its dinner).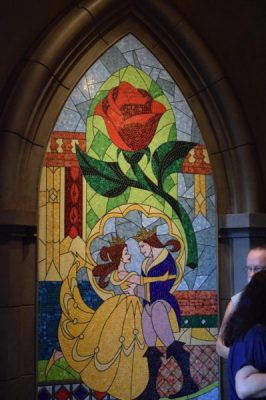 Whether you are enjoying the fixed price breakfast (complete with pastries) or enjoying some of the more unique quick service options inside any of the theme parks for lunch, you get to enjoy the exquisite themeing that transports you directly into the world of Beauty and the Beast. The lesson from both this poll, and the one for table service, is that people love Be Our Guest. If you haven't been yet, you really should.
Did we share your favorite in our list of Top 10 Quick Service Restaurants? Let us know in the comments or on Facebook!
Incoming search terms:
top quick service walt disnwy world