This post may contains affiliate links for your convenience. If you make a purchase after clicking a link we may earn a small commission but it won't cost you a penny more! Read our full disclosure policy here.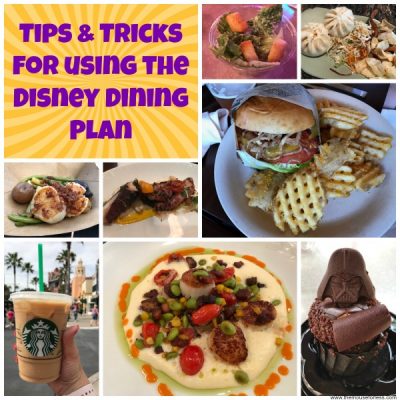 The Disney Dining Plan. It's one of the most debated topics revolving around booking a Walt Disney World Vacation. So, while you really have to do the math to see if the Dining Plan is worth it for you, by utilizing some of these hacks, it can help make your decision a little bit easier.
Get the most for your money.  When you're dining at table service restaurants, try to choose the more expensive items. So, choose an expensive entree, like the steak. Choose the dessert that's around $9-$11 or more.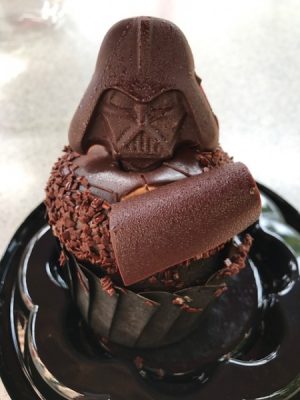 Speaking of getting the most for your money, if you're going for snacks make sure to choose some of the more expensive snack options. Did you know that things like the specialty cupcakes count as a snack credit? Same goes for the many of the food dishes that are served at the kiosks during the Epcot Food and Wine Festival and Epcot Flower and Garden Festival. Also, all of the treats at Starbucks on Disney property are part of the Disney Dining Plan as snack credits. Which means that you can choose either a tall coffee or a venti caramel Frappuccino and it will cost you the same one single snack credit. Might as well go for that venti frap, right?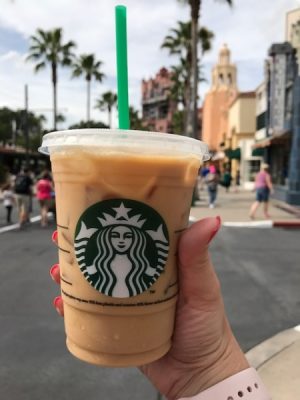 Quick service meals can be converted to snacks in some location. Say you have an extra quick service meal, but you want to grab something for breakfast for three different people? At some locations (like those with food courts) you can convert the quick service meal into three snack credits. That means each person can get a pastry, muffin, or other snack option and that can count as breakfast. (Just a tip though…don't use the snack credits for the slices of bread….just….don't.)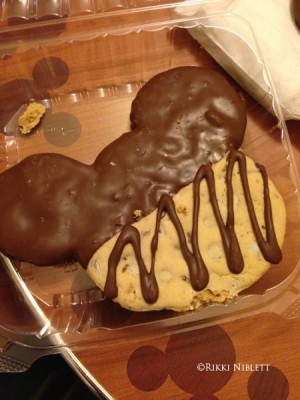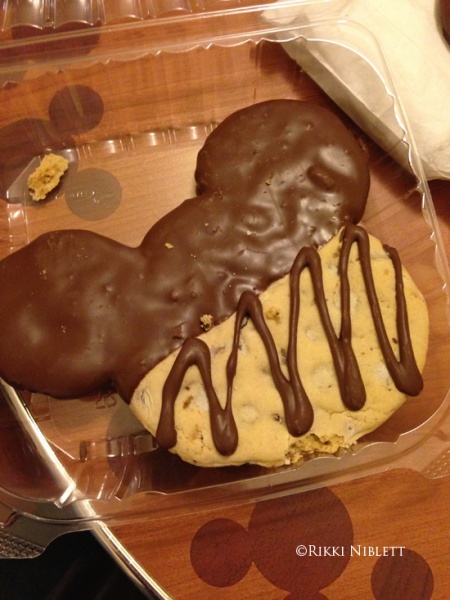 Have a bunch of snack credits left, but you're going home today? Don't waste them! Head to the stores and pick up some pre-packaged goodies, or bring home treats like fudge, cookies, and more from the confectioneries on property.
Did you know that some snack options can double as meals? For example, many food courts offer a biscuits and gravy option which counts as a snack. Other options include the fried rice from Yak and Yeti at Disney's Animal Kingdom and the ham, cheese and bechamel in a croissant at the Boulangerie Patisserie.
Do you have a kid that's technically considered a child on the Disney Dining Plan but eats more than an 18 year old would? At most quick service restaurants, your child can order an adult meal.
At some restaurants, say you don't want dessert that comes with your table service meal. You can ask for it to be substituted for a soup or a salad.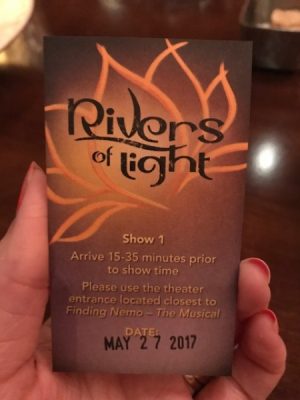 If you're looking to book table service options, one of the best values is to use your credits at character meals. These meals are super pricey, so they are often a better value for those one the Disney Dining Plans. You should also consider booking Dinner Package for things like Rivers of Light, Fantasmic!, or Candlelight Processional. especially if you are already planning on seeing the nighttime show. For most restaurants, it only costs you one table service credit. Not only do you guarantee that you'll have a good spot for the show, but you were going to eat anyway, so you might as well get something extra for your dollars!
Guest on the Disney Dining Plan receive a refillable mug. If you're planning on dining at a resort that day, bring your mugs with you! You can fill them up at any resort's food court, not just the one you're staying at!
While on the subject of refillable mugs, when eating at a resort food court, grab a bottled beverage as your beverage option, instead of something like a cup of soda. Take the bottled beverage with you to drink later and use the refillable mug in the food court for your beverage.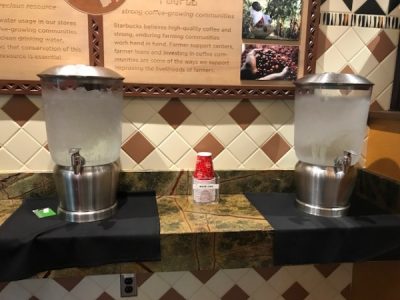 Don't, however, waste your snack credits on bottled water. You can get cups of water at most of the counter service restaurants in the parks, if you ask. Some restaurants even have a jug of ice cold water on the counter with cups next to it so you can fill up your own cold glass of water.
If you have a picky child who is considered an adult on the dining plan, who doesn't want anything but chicken fingers and fries or mac and cheese, consider paying out of pocket for their meals. That way, you can then use their credits for meals OR you can use them for signature meal choices that cost two table service entitlements.
The big tip I can give for a lot of these hacks is to make sure to ask before you pay to make sure that what you're trying to do is accepted at that particular location. Each location can be different, so it's always better to ask.
Do you have any hacks that you've discovered that can be helpful for those on the Disney Dining Plan? Share them in the comments!
Incoming search terms:
https://www themouseforless com/blog_world/disney-dining-plan-hacks/