This post may contains affiliate links for your convenience. If you make a purchase after clicking a link we may earn a small commission but it won't cost you a penny more! Read our full disclosure policy here.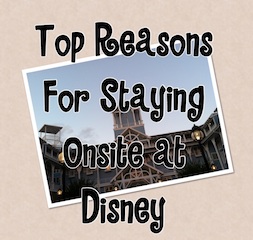 The Mouse For Less Blog would like to welcome new blogger Emma! In her first article, she shares her best tips for staying onsite at Walt Disney World.
With so many options for staying in Orlando for a Disney vacation, many people wonder why they should consider staying onsite at the Walt Disney World Resort. My family thinks staying onsite at one of the Disney-owned resort hotels is the way to go – and here's why.
Disney-Provided Benefits To Staying Onsite
There are many upfront, complimentary benefits that come along with staying onsite at the Walt Disney World Resort including:
But I have to tell you – those perks are not why I feel staying onsite is crucial. For me, there are many more intangible reasons that factor into making this a key aspect of our overall Disney experience.
Disney World – It's More than the Parks
The parks contribute greatly to the Disney World experience – but there's so much more to explore. With entertainment districts, amazing resort hotels and world-class spas, the options are endless.
While many of these things can be experienced by anyone, onsite guests have much more time and better accessibility. Here are a few of my favorite activities outside the parks:
Spending an evening at the Grand Floridian, enjoying the beautiful live music and browsing in the shops (especially fun if you aren't staying there). I always stop by White Basin, a bath and body care store. Pink Sugar products are my favorite.
Strolling over to the Boardwalk Bakery in the morning and enjoying a delicious muffin and coffee.
Taking the boat from Downtown Disney to Port Orleans Riverside. The ride is beautiful and you can even spot the Treehouse Villas. While at Port Orleans, we try to see Yehaa Bob – an amazing entertainer.
Midday Respite
A friend recently returned from Disney claiming she was exhausted. This is exactly what I try to prevent when going to Disney. Staying onsite provides a much more relaxing vacation because it's easy to take an afternoon rest.
We head out to the parks in the morning – then around lunch go back to our resort hotel. We nap, swim or just chill out. It's a key aspect of our enjoyment of Disney – because we never push ourselves too much. It also takes us out of the parks during the hottest point of the day.
The parks are always there when we emerge from our midday retreat refreshed and relaxed. Please note that this tip has also prevented many tantrums – from both toddlers and adults alike!
Food, Glorious Food!
Being a self-proclaimed "foodie," Disney World is a virtual playground for me. With restaurants galore – whether deluxe, table service or quick-service – staying onsite let's me explore all the options for breakfast, lunch and dinner!
My family and I always get the Disney Dining plan for our trips, which gives us added incentive to try new things for each meal and snack. By being onsite, we also have more time try restaurants that are "off the beaten path" so to speak. Some of our favorites have been restaurants beyond the parks like Boma, Yatchsman Steakhouse, Artist Point, and Beaches and Cream.
Being Fully Immersed in the Disney Culture
Many Disney fans refer to this as "being in the Disney bubble," but there is certainly something to be said for experiencing the Disney level of service throughout an entire stay.
Once we cross the border into Disney World, it's like we've entered into an alternate universe where everyone is there to make sure your day is a dream come true.
By being fully immersed, I believe you are getting the experience that Walt Disney truly wanted to provide – an atmosphere of magic and fun. It also gives you the chance to take a step back and discover Disney's attention to detail.
So what do you think? Is staying onsite the way to go? Please let me know your thoughts in the comments section below.