This post may contains affiliate links for your convenience. If you make a purchase after clicking a link we may earn a small commission but it won't cost you a penny more! Read our full disclosure policy here.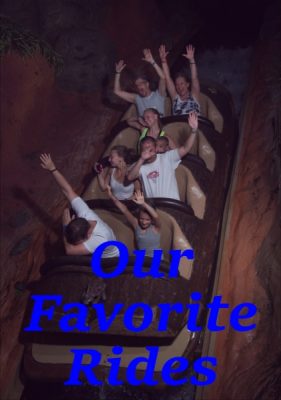 Planning a vacation to Walt Disney World can be overwhelming and sometimes even stressful.   Trying to figure out what restaurants to book reservations for, what FastPasses to plan and learning sometimes what feels like a whole new language with all the acronyms can sometimes make one feel like their vacation is more of a job than a relaxing trip.
After visiting Walt Disney World with our two kids (9 and 6), my sister, brother-in-law and parents I had everyone reflect on our favorites.  I thought I would share these with our readers to help others plan their trips.  I have taken it park by park for you to see what were our favorites.  I hope that you can find these helpful when planning your next Walt Disney World vacation.
Epcot: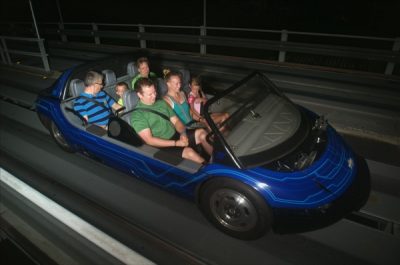 Loving Test Track in Epcot
Our trip to Walt Disney World was in the June of 2016 so we weren't able to ride Soarin or Frozen Ever After during this trip.  Keep that in mind when looking at our favorites for our time in Epcot.
Daughter 9:  She absolutely loved picking a pearl in Japan.  More than the rides and the shows she really liked this special event for just her.  She was into the customs and traditions she was able to experience during this event in Japan.
Son 6:  Our son was looking forward to Test Track since we showed it to him on YouTube months before and it didn't disappoint.  He thought it was awesome and wanted to ride it over and over again.  He also liked designing his own car before the ride itself.
Grown-ups:  We all had fun on Test Track but agreed it isn't a must-do for us.  Watching Turtle Talk with Crush brought us all great laughs which is always fun to experience together.   What we enjoyed the most however was walking around the World Showcase and taking in the shows, sights and of course some drinks as well.
Animal Kingdom: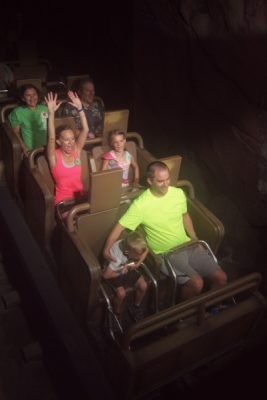 Enjoying (we think) Expedition Everest
Daughter 9:  Our thrill seeking daughter loved Expedition Everest.  Even when the adults had to take some time and sit out, she was able to keep on riding laughing and having a great time.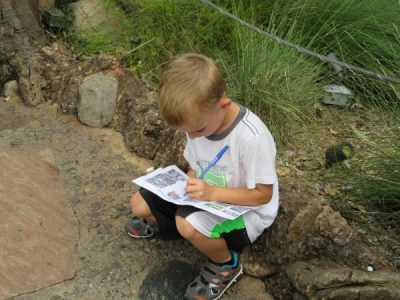 Looking for animals on the Tree of Life
Son 6:  The Tree of Life was our son's favorite part of Animal Kingdom.  Before leaving for our trip, I made a seek and find sheet for our kids with different animals to look for on the tree.  He thought it was so neat being able to find and cross off animals and even add some to the list that weren't on there for him.
Grown-ups:  We were split in Animal Kingdom regarding favorites.  Finding Nemo-The Musical was a highlight for some of us while others liked Expedition Everest.  Animal Kingdom does provide some more relaxing options for those who aren't as thrill seeking; however, with Dinosaur and Everest if you have those who like some excitement they have that opportunity as well.
Hollywood Studios: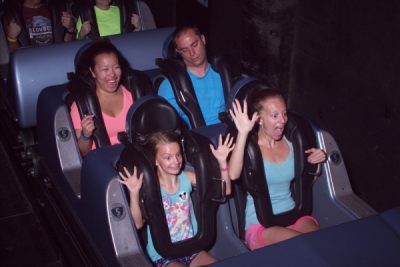 Screaming and Sleeping On Rock n' Rollercoaste
Daughter 9:  I was sure that our daughter would love Tower of Terror based on some rides that she likes at our local amusement park, but I was wrong.  She was very unsure of the holograms used throughout the ride.  Her favorite in Hollywood Studios was Rock 'n' Roller Coaster.  The fast and exciting start was just the thrill she likes.  She even rode it by herself using the single rider line.
Son 6:  Even though he was excited about Toy Story Mania, his favorite was Disney Junior:  Live on Stage as he loved being able to interact with his favorite characters.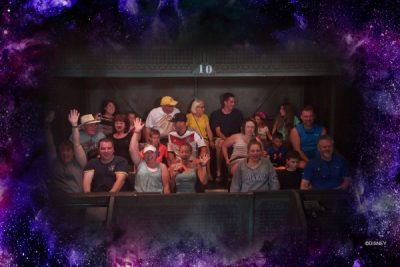 Bonding on Tower of Terror (Front middle)
Grown-ups: For most of the grown-ups, we loved either Tower of Terror or Rock 'n' Roller Coaster.  These are really the only thrill rides in Hollywood Studios at the time so we had limited choices.  For the First Time in Forever: A Frozen Sing-Along was a great surprise and became a quick favorite of Grandma's and mine.  The humor was great bringing us to happy tears both times we visited.  The Star Wars fans in the group enjoyed Star Tours as well as visiting Star Wars Launch Bay.
Magic Kingdom: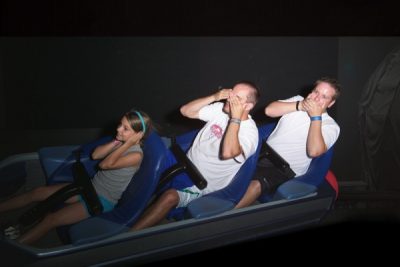 Loving Space Mountain
Daughter 9:  The three mountains were her favorite in Magic Kingdom.   She thought that Space Mountain was the best followed by Big Thunder Mountain and Splash Mountain.  The bigger the drop.  The faster the ride.  The more she loved it.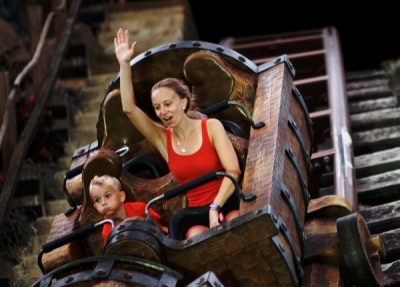 We promise he liked it
Son 6:  We were excited that he really enjoyed Big Thunder Mountain and Seven Dwarfs Mine Train.  Finally by the last day, he was laughing and putting his hands up during the ride.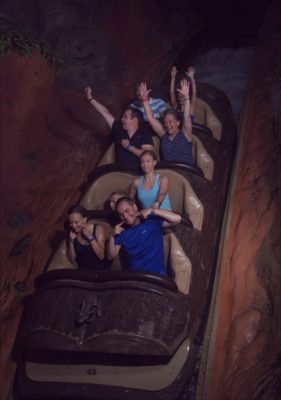 We had a great time together on Splash Mountain
Grown-ups:  We are all in agreement that Splash Mountain and Big Thunder Mountain are the best rides at Magic Kingdom.   Those that are more thrill seeking did like Space Mountain as well where those that were calmer liked Seven Dwarf Mine Train.
These were just a few of our favorites that we experienced while in Walt Disney World.  As always everyone has different tastes and every kid has different levels of fear when it comes to rides so always consider your kid when making plans.  Just remember that it is a vacation and it should be fun so don't stress out about every detail.
What favorite rides do you think you will have on your Walt Disney World vacation? Share in the comments!
Did you like this article? Make sure to share it with your friends! Check below for easy ways to share!