This post may contains affiliate links for your convenience. If you make a purchase after clicking a link we may earn a small commission but it won't cost you a penny more! Read our full disclosure policy here.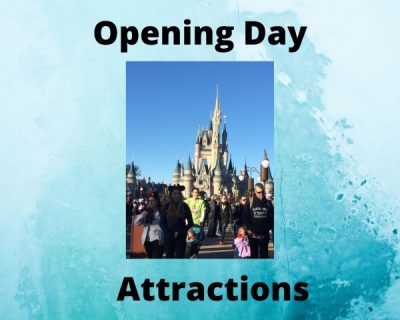 Timeless, from opening day until now!
It's hard to believe that the most magical place on Earth, Walt Disney World, is celebrating its 50th birthday. I didn't have the pleasure of visiting on opening day, and even if I had, I wouldn't be able to remember any of it.

But let's take a look at what it would have been like to visit on opening day!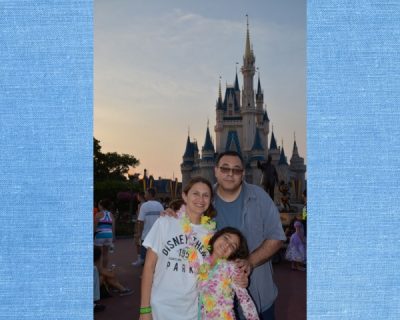 Cinderella Castle, a Walt Disney World Classic
Just like guests of today, we would first step foot on Main Street, U.S.A., that charming turn of the twentieth century avenue that idealizes all the great things about an American small town. At the end of the street is the magnificent Cinderella Castle. When I first gazed upon that castle in 1976, I felt as if I had been transported to a magical fairy land where anything was possible. I'm sure the feeling was even stronger for guests in 1971.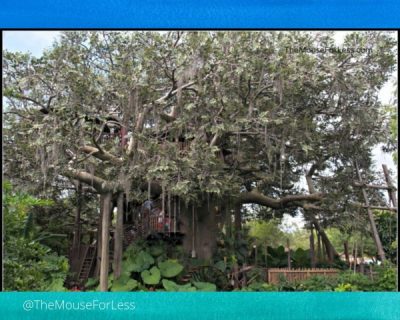 The Swiss Family Treehouse
Let's take a left at the end of Main Street and visit Adventureland. We'll come to the Swiss Family Treehouse, which at the time was also present in Disneyland Park. (Nowadays, Disneyland's treehouse is themed towards Tarzan.). Pipe organ music can be heard as we climb up the completely artificial tree. We'll spend some time marveling at the view from the topmost section, and we'll also be fascinated about how clever the Robinson family was when they built this home.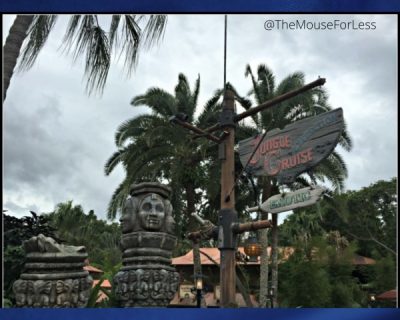 The Jungle Cruise
Next we'll head to the Jungle Cruise, a Disneyland classic. (For really fun details about the history of this attraction, I highly recommend you watch the first episode of Behind the Attraction on Disney +.). Those who rode the Jungle Cruise in 1971 would have no idea who or what The Rock was, but they certainly would have been delighted by the humor of the skippers!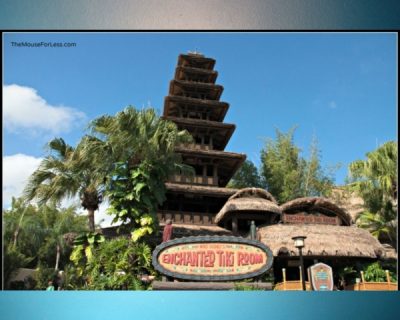 The Enchanted Tiki Room
Now it's time to visit the Tropical Serenade, otherwise known as The Enchanted Tiki Room. Sit back, enjoy the air conditioning and watch the antics of the Audi-Animatronic birds as they sing. And don't forget to join in when you know the words!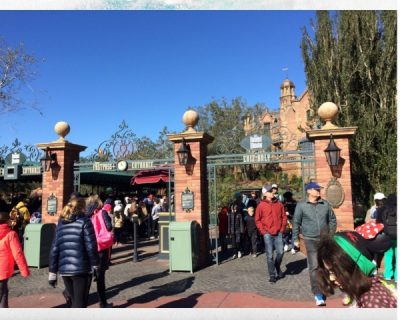 Welcome, foolish mortals, to….
Now it's time to visit Liberty Square, a section of the park unique to Walt Disney World. You'll see an imposing Hudson Valley-style manor looming ahead. It's the spooky (but not terrifying) Haunted Mansion! (If you've seen Behind the Attraction, you'll know that this ride was built at the same time as its New Orleans-style counterpart in Disneyland. Imagineers built duplicates of all the ride components!). Go ahead and sing along with Grim Grinning Ghosts – you know the words!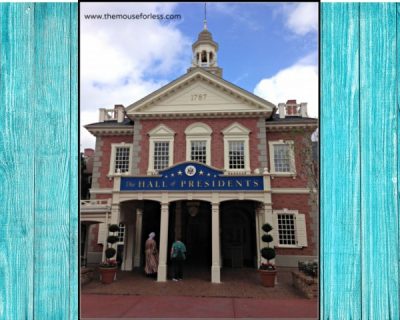 Hall of Presidents
Now it's time to learn a little bit about the history of our the United States of America in the nearby Hall of Presidents. Although this is based in part on the Disneyland classic attraction Great Moments with Mr. Lincoln, this is another attraction that debuted at Walt Disney World. On opening day, there were 36 American presidents represented.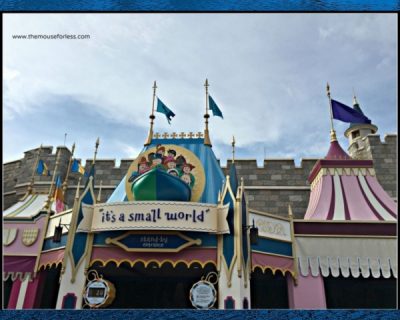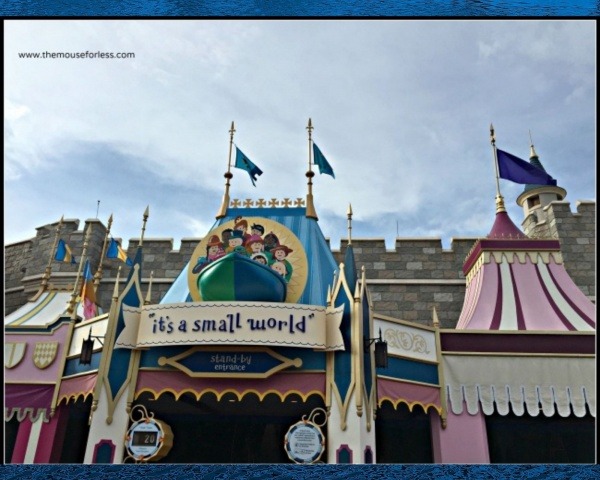 C'mon, everyone!  You know the words!
It's time for us to depart Liberty Square and head into Fantasyland. Our first stop will be "it's a small world." (Did you know that it's supposed to be written in all lowercase letters?). This beloved attraction with the perhaps most ear-worm soundtrack ever was created for the New York's World Fair, transported to Disneyland, and recreated here in Walt Disney World.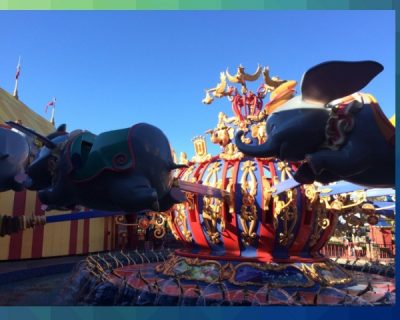 Dumbo the Flying Elephant
We'll move along to Dumbo the Flying Elephant, a ride that is beloved by small children. The ride mechanism itself was hardly revolutionary when it was designed for Disneyland, but the joy on children's faces when they take to the sky and soar through the air is infectious. For generations of park goers, this was the quintessential Disney ride.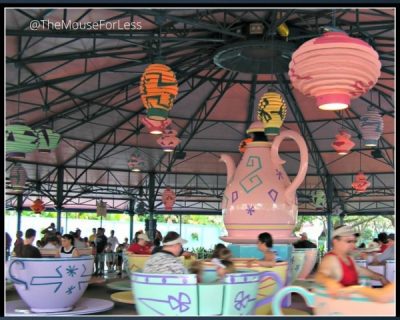 The Mad Tea Party
But wait – can you hear that? It's the sounds of a tea party! The Mad Tea Party, that is! Let's all try to pick our favorite teacup. Another Disneyland classic, the Magic Kingdom's version sends guests twirling around and around to the merry sound of the music from Walt Disney's animated classic Alice in Wonderland. (I hope you haven't eaten right before riding!)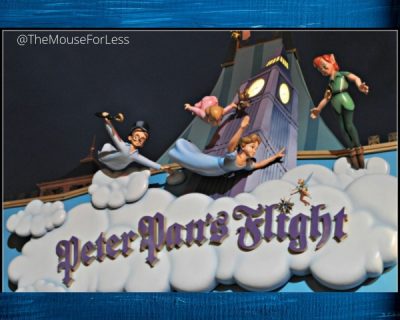 Peter Pan's Flight
Next up is a ride that I remember very well from my first visit: Peter Pan's Flight. A Disneyland original, this ride lets children of all ages travel from the Darling family nursery to Neverland and back again. As a child I was mesmerized by the feeling that I was flying high above pirate ships! Now, as an adult, I adore the view of London below. You may leave the attraction still singing You Can Fly, You Can Fly, You Can Fly!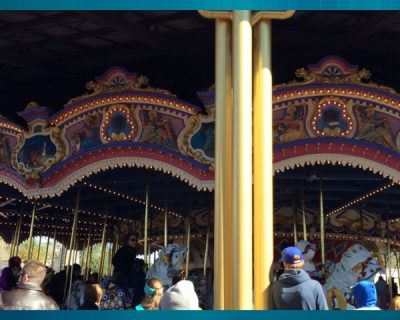 Prince Charming Regal Carrousel
Let's follow another beautiful sound, that of the lovely carrousel! This carrousel is a rarity: It was not built by Disney. It was purchased and then completely renovated by the same company that renovated Disneyland's carrousel. Back on opening day, this ride had a different name: Cinderella's Golden Carousel. The ride got its present name, Prince Charming Regal Carrousel, in 2010.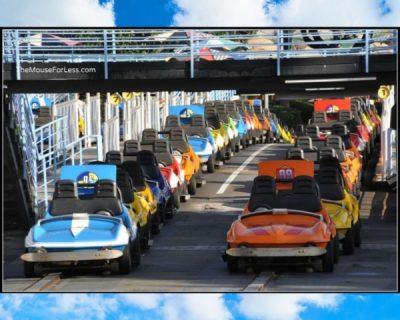 Tomorrowland Speedway
Now it's time to end our circle of the park in Tomorrowland. Of all the lands, this one has definitely gone through the most changes over the past five decades, so much so that modern guests traveling back in time to opening day might be stunned. But there is one familiar sight: the Tomorrowland Speedway. Kids who are far too young to receive their driver's licenses will revel at the chance to get behind the wheel of a roadster and take it for a drive!

Although Walt Disney World has gone through massive changes over its first fifty years, adding entire new parks, resorts and entertainment districts, it is a lot of fun to celebrate the attractions that have been with us since the beginning. Walt and Roy gave us a delightful park when they created the Magic Kingdom, and it is still the heart of Walt Disney World.

Which opening day attraction is your favorite? Share in the comments or on Facebook or Twitter!
Did you like this article? Make sure to share it with your friends! Check below for easy ways to share!  
Want to visit a Disney Destination? Contact The Magic for Less Travel for more information and a free, no-obligation quote.