This post may contains affiliate links for your convenience. If you make a purchase after clicking a link we may earn a small commission but it won't cost you a penny more! Read our full disclosure policy here.
Space Mountain. Splash Mountain. Tower of Terror. Expedition Everest. Test Track. These are some of the biggest names in theme park attractions in the world and should be in every Walt Disney World first-timer's plans. But there is so much more to Walt Disney World than the big thrills. There are many lesser-known and less thrilling Walt Disney World attractions that aren't in that top tier and most of them are worthy of attention. If you are on your first trip, you definitely should make the headliners your priority. But you need to mix in the big rides with some secondary Walt Disney World attractions to round out your touring.
I am an advocate of trying something once before making a judgment. In several trips to Walt Disney World, I have tried almost every attraction at least once. And I believe all of them are worth doing at least once. But this post considers the first-timer who cannot possibly experience all of what Walt Disney World has to offer in one trip. It takes you through some of those "secondary" attractions at each park and makes a recommendation on each one as "worth it" or "not worth it."
(Editor's Note: This list is entirely subjective. This is just a guide to help plan, especially if time is limited. However, it is strongly suggested that if you have time in your busy park schedule, you should certainly try any of these Walt Disney World attractions, because who knows, one of these could end up being your favorite!)
Magic Kingdom
Astro Orbiter: This is one of the spinner rides, a.k.a. Dumbo. The views on the ride are great, but there is no FastPass and there is almost always a significant wait.  Conclusion: Not worth it.
Sorcerers of the Magic Kingdom: This is an interactive game where you use sorcerer playing cards (available free of charge from the Fire Station) to defeat the Disney villains all over Magic Kingdom. There is a bit of a learning curve, but once you figure it out, it's great fun, and you get a great (and free) souvenir in the cards.  Conclusion: Worth it.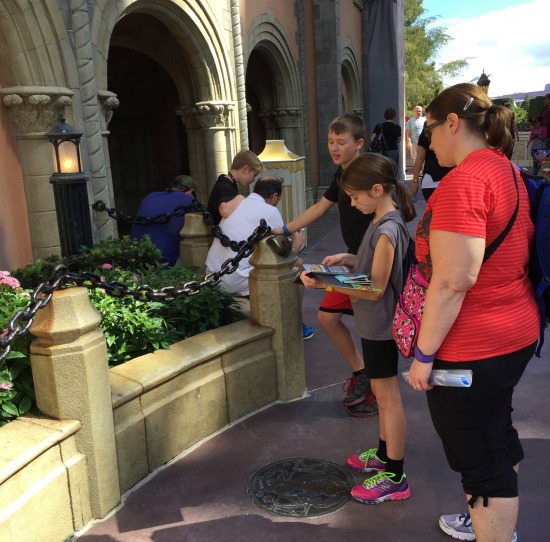 Playing Sorcerers of the Magic Kingdom in Fantasyland
Walt Disney's Enchanted Tiki Room: This is a classic attraction that Walt Disney himself had a hand in designing. It has some of the early audio animatronics and classic Sherman brothers' songs. But unless you appreciate those things, you are better off spending your limited time elsewhere.  Conclusion: Not worth it.
Pirate's Adventure~Treasure of the Seven Seas: This is an interactive game a bit easier to play than Sorcerers of the Magic Kingdom. You have to follow your map through Adventureland to reveal special effects. There is some appeal for the little ones, but it's not quite as good as other attractions.  Conclusion: Not worth it.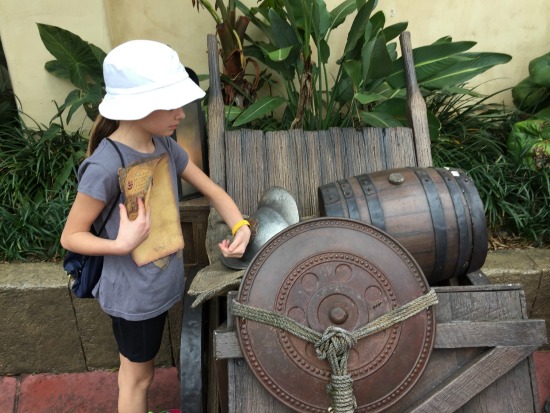 Playing Pirates Adventure in Adventureland
Walt Disney World Railroad: You can hop on this steam train from Town Square, Frontierland, or Fantasyland. Use it as transportation or just a leisurely ride around Magic Kingdom. The wait is only as long as it takes for the next train to arrive and is a good break off your feet.  Conclusion: Worth it.
Country Bear Jamboree: This is another classic Disney attraction that was all the rage when it premiered…in the 1970s. Today, these geriatric animatronic bears that sing country songs don't quite hold up to the standards of today.  Conclusion: Not worth it.
Hall of Presidents: Those with a deep sense of appreciation for U.S. history will love this classic attraction.  It's a bit of a snoozer for the young crowd, however.  Conclusion: Not worth it.
Main Street Vehicles: Authentic vehicles from the early 1900s ride the street from park open until about 11 or 12 each day. Visitors can hop on in Town Square or the hub in front of Cinderella Castle for a short ride up or down Main Street USA.  Conclusion: Worth it (if you happen upon it and there is no wait).
Citizens of Main Street: The Dapper Dans sing in perfect harmony, the Mayor and his wife and other citizens will chat with you and take photos, and the Trolley goes up and down with a troupe that sings and dances. It's done well, but it's over before lunch and you are probably better off spending those early mornings on rides with lower wait times.  Conclusion: Not worth it.
Animal Kingdom
Wilderness Explorers: In this interactive attraction, you pick up a booklet at any of the stations around the park (though it is best to start near the Tree of Life). There are short and educational activities that take place around the park, and you earn badges (stickers) for completing them. None of them are particularly difficult or time-consuming, and you can do as many as you like. If you have young kids and they won't ride Expedition Everest or Dinosaur, this might be a way to keep them entertained.  Conclusion: Worth it.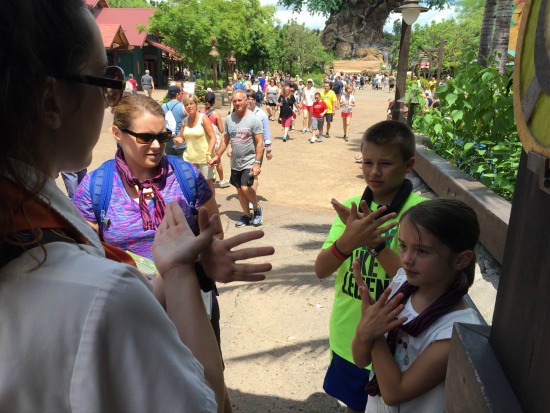 Playing Wilderness Explorers in Animal Kingdom
Triceratop Spin: This is another spinner ride like Dumbo. There is rarely a long wait, but the theming is unimaginative and the ride is a bore.  Conclusion: Not worth it.
Tree of Life Awakening: The icon of Animal Kingdom comes alive every 10-15 minutes after sunset with awe-inspiring lighting and projected animation along with a stirring soundtrack. You may not have time for every variation of this show, but you must stop to watch at least one of them near the Tree of Life.  Conclusion: Worth it.
Primeval Whirl: This is an out-of-the-box carnival ride in Dinoland with the greatest height requirement in all of Disney World (48 inches).  Some have labeled it "Primeval Hurl" for good reason.  Conclusion: Not worth it.
Epcot
Club Cool: Coca-Cola sponsors this spot near the Innoventions building that offers free sodas from around the world. The floor is sticky from all the spills, but it's worth a 5-10 minute stop in your day. Kids and adults will like trying the different sodas (especially the Beverly).  Conclusion: Worth it.
Ellen's Energy Adventure: This is a 45-minute experience that takes you on an adventure with Ellen DeGeneres, Bill Nye the Science Guy, Alex Trebek, and Jamie Lee Curtis teaching you about conserving energy. While worth considering on a hot day that isn't your first day in Epcot, for most guests, this just takes too much time for something that is so dated.  Conclusion: Not worth it.
Voices of Liberty: In the America pavilion, this a cappella singing group belts patriotic and American folk tunes with such spirit that you can't help buy wipe your eye when they finish their 10 minute set. Check the Times Guide for showtimes and then make a point to stop there during your World Showcase tour.  Conclusion: Worth it.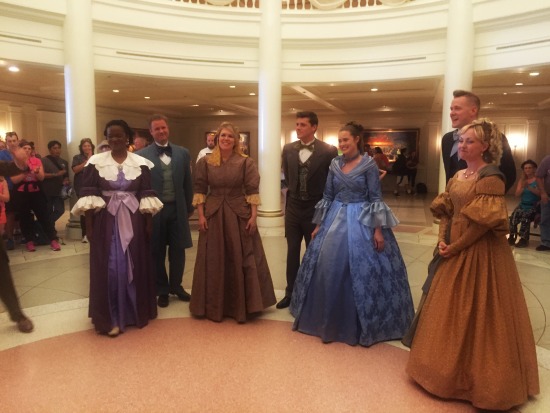 The Voices of Liberty sing their hearts out in the America pavilion at Epcot.
Agent P's World Showcase Adventure: In this interactive game using your smart device, you go on a mission in one of the World Showcase pavilions to stop the evil Dr. Doofenshmirtz (of Phineas and Ferb) from bringing evil to Epcot. Along the way, special effects around the pavilion happen. Kids will enjoy doing this as a diversion while the adults appreciate the atmosphere.  Conclusion: Worth it.
Pick-a-Pearl (Japan Pavilion): Kids and adults will love picking out their own oyster and watching the cast members from Japan crack them open and bag up your own personal pearl. The price is not too steep, and the little presentation they do for every guest is a treat.  Conclusion: Worth it.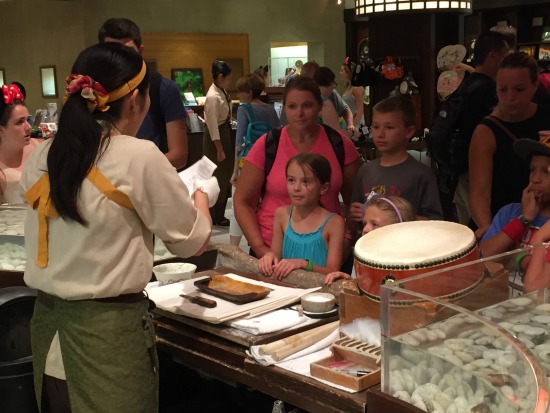 Picking a pearl in the Japan pavilion.
Hollywood Studios
For the First Time In Forever: A Frozen Sing-Along: Even if you are tired of hearing "Let It Go" from your Disney princess, this retelling of the Frozen story is actually quite funny because of the two historians and their jokes.  Conclusion: Worth it.
Beauty and the Beast—Live on Stage: This attraction is a shortened musical retelling of the tale as old as time that has been a staple of this park since the film premiered in 1991. The familiar songs are all there, but most of the music is recorded (only Belle and Gaston sing live). It doesn't have the pizazz of the Broadway show that followed, but if you have the time it still delights.  Conclusion: Worth it.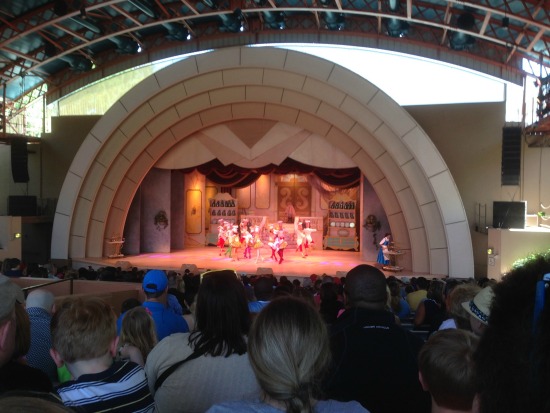 Indiana Jones Stunt Spectacular: This show opened the same year as the park, but it still manages to delight audiences day after day. Several of the scenes from Raiders of the Lost Ark are reenacted, and the audience is let in on how the stunts are produced. A few audience members are chosen at each show to participate.  Conclusion: Worth it
Citizens of Hollywood: Actors and directors and other show business denizens from the golden age of Hollywood descend on Hollywood Boulevard and interact with the crowd. They really are good, and if you happen upon them, you should stop for a few minutes.  Conclusion: Worth it (if you happen upon it; don't make a special trip).
Conclusion
Again, I stress that all of these Disney World attractions are worthy of experiencing, but those visiting for the first time will not be able to do all that the resort has to offer on their first trip. Mixing some of the "worth it" attractions with your Space Mountain, Splash Mountain, Soarin', Kilimanjaro Safaris, and Rock 'n' Roller Coaster will make for a great trip.
What do you think? Which Walt Disney World attractions are worth it and which ones are not for first timers? Did you agree or disagree with our list? Share your thoughts in the comments section.
Did you like this article? Make sure to share it with your friends! Check below for easy ways to share!