This post may contains affiliate links for your convenience. If you make a purchase after clicking a link we may earn a small commission but it won't cost you a penny more! Read our full disclosure policy here.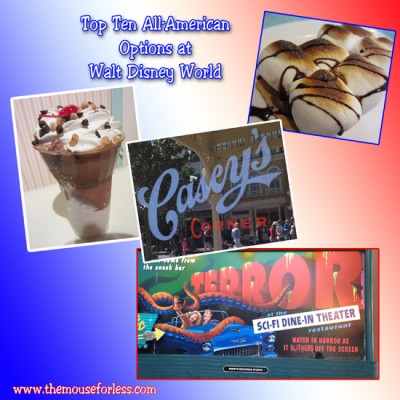 Happy Fourth of July everyone! I hope you're having a great day so far!  If you're like me, you've got the barbeque all ready to go and the blankets in the car to head to your area's local fireworks show. (Though I wish I was at Walt Disney World getting to see those fireworks!)
With today being a patriotic holiday, I thought I'd take a look at some of the most patriotic options you can get while visiting the resort!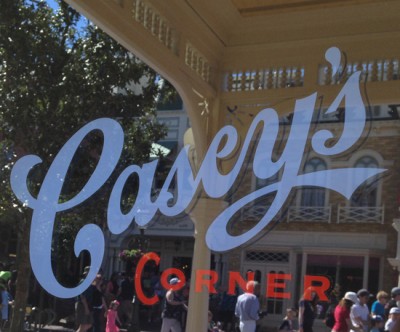 Hot Dog from Casey's Corner:  First off, how much more American can you get than a hot dog? Add the theme of baseball and it's a smash hit! Casey's, which is located at the Magic Kingdom, on Main Street U.S.A., has multiple specialty options to choose from, but for me, nothing screams classic like a plain, delicious hot dog.(With ketchup…cause apparently I'm a weirdo and eat hot dogs wrong.)  Menu:  https://www.themouseforless.com/walt-disney-world/dining/menus/caseys-corner-menu/
Johnny Appleseed Cake from Liberty Tree Tavern:  Johnny Appleseed and apples match up so perfectly together, which is why this fantastic cake from Liberty Tree Tavern (found in Liberty Square)  is named after him.  The cake consists of homemade white cake filled with apples and Craisins dried cranberries (which is also pretty American), topped with ice cream.  Yummy! Menu:  https://www.themouseforless.com/walt-disney-world/dining/menus/liberty-tree-tavern-menu/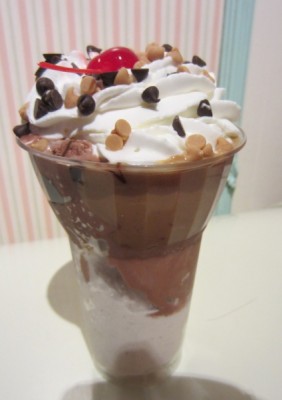 All-American Sundae from The Plaza Ice Cream Parlor:  I mean, it's in the name.  The All-American Sundae is just delicious.  It's vanilla and chocolate ice cream, hot fudge, peanut butter,  chocolate and peanut butter chips, plus whipped cream and a cherry. This is one of my go-to snacks at the Magic Kingdom! Menu:  https://www.themouseforless.com/walt-disney-world/dining/menus/plaza-main-street-ice-cream-menu/
Funnel Cake from the Funnel Cake Stand at American Adventure: While you can get funnel cakes in more than one spot around Walt Disney World, this is hands down, one of my favorite places to get one. They not only have the doughy goodness of a plain cake, but they also offer seasonal options, such as the chocolate version and the pumpkin version. You can also add things like chocolate sauce, apples, and ice cream to make for an even sweeter treat! Hello gorgeous! Menu:  https://www.themouseforless.com/walt-disney-world/dining/menus/funnelcakes-menu/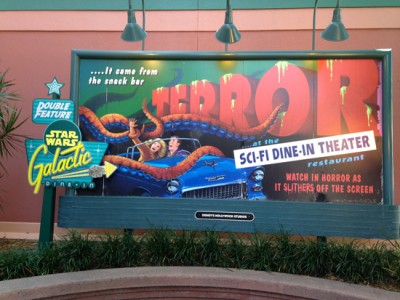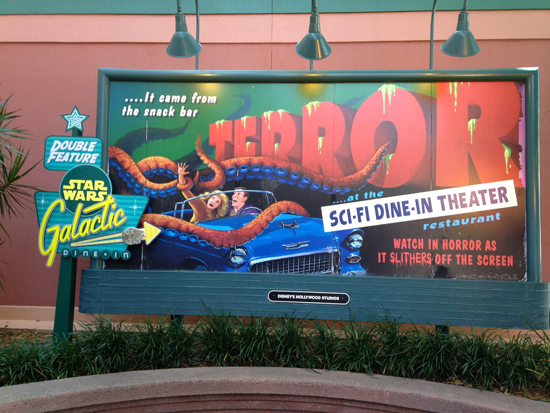 Picnic Burger at Sci-Fi Dine In:  Wow!  It took me this long to get to a burger! But honestly, I couldn't have picked a more American one! You start with a flame-broiled Angus beef burger patty, which is then topped with a grilled hot dog.  Yep, there's a hot dog on this burger!  The rest of the sandwich is topped with sauerkraut, sautéed onions, ketchup, and mustard.  Holy cow does that sound amazing right now.  Why am I not currently in Disney's Hollywood Studios? Menu:  https://www.themouseforless.com/walt-disney-world/dining/menus/scifi-dine-in-menu/
BBQ Ribs from Flame Tree Barbeque:  I may be partial to St. Louis-style ribs, which is what the counter service restaurant offers, but nothing is more American to me than barbeque! Flame Tree at Disney's Animal Kingdom certainly has some of the best options. Menu:  https://www.themouseforless.com/walt-disney-world/dining/menus/flame-tree-bbq-menu/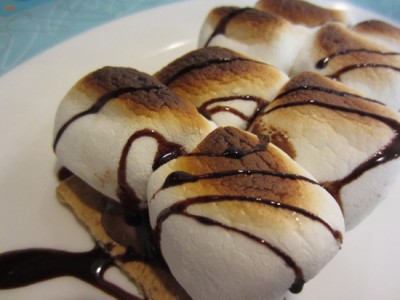 S'mores from 50s Prime Time Cafe: Nothing says American cook-out like s'mores and 50s Prime Time at DHS puts it's own spin on things, for sure.  Instead of the treat being delivered like a sandwich, it's delivered with the graham cracker flat on the bottom, melted chocolate, then marshmallows that have been flame torched, then more chocolate drizzled on top. Oh my lord….while it doesn't look like much, it is certainly filling enough and the perfect way to sweetly end your dinner, without getting too incredibly stuffed. Menu: https://www.themouseforless.com/walt-disney-world/dining/menus/50s-prime-time-cafe-menu/
Apple Caramel Pie from Whispering Canyon Cafe: You had to know I was going to include apple pie on this list…right? There's nothing more American.  Add caramel to it and you're just hitting a home run! The menu says that this dessert is made from fresh Granny Smith apples, with a sugar cookie crust, streusel topping, and caramel drizzle. If you're in the mood for a great apple dessert, then make sure you head to Disney's Wilderness Lodge!  Menu:https://www.themouseforless.com/walt-disney-world/dining/menus/whispering-canyon-cafe-menu/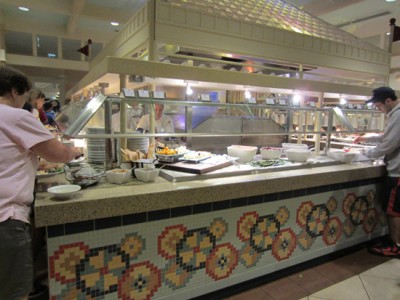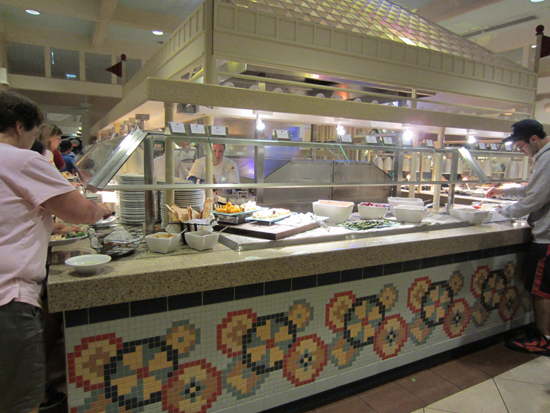 Ok, so there are a couple of honorable mentions that I would like to bring up:
Lobster Roll from Hops and Barley Booth: During Epcot's Food and Wine Festival, the Hops and Barley Booth offers up a phenomenal lobster roll.  While it's small, and a bit expensive for it's size, it's certainly a great option to choose if you're wanting a taste of New England. While it hasn't officially been announced as one of the options for this year's festival, one would assume it would make it's way back to the menu.  (And unfortunately, it appears that the lobster roll is no longer on the menu at Columbia Harbor House.)
Presidential Sweet from Sleepy Hollow:  Celebrate the red, white, and blue with this patriotic treat.  It's a combination of blue raspberry and strawberry slush topped with vanilla soft-serve ice cream. On a hot day, this is the perfect cool down treat!
That's my list, but I'm sure you've got something in mind that you can't believe I missed.  Make sure to let me know! (Especially cause I'm gonna want to try it out!)  Have a great holiday weekend and remember to stay safe out there!