This post may contains affiliate links for your convenience. If you make a purchase after clicking a link we may earn a small commission but it won't cost you a penny more! Read our full disclosure policy here.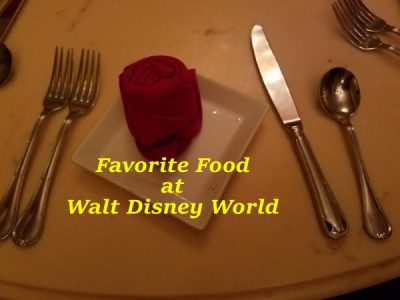 Food is an important part of any Walt Disney World Vacation and our trip this last summer wasn't any exception.   Our traveling party included our two kids (9 and 6 at the time), my husband, myself, younger sister and her husband and my parents we experienced both table service and quick service meals and many snacks.  Here is a quick look at what we all liked for table service meals, quick service meals and snacks while visiting Walt Disney World.
Table Service Meals: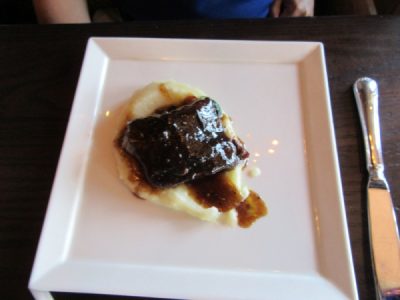 Cinderella's Royal Table had great options
We had the Disney Dining Plan while on vacation and were able to experience a number of different restaurants.  Cinderella's Royal Table (lunch), Be Our Guest (supper), 'Ohana (supper), Liberty Tree Tavern (lunch), Chef Mickey's (lunch), Tusker House (lunch) were the six restaurants we had dining reservations for during our stay.  I did write a review of these different restaurants if you want more information; however, here is a quick glance at what we enjoyed.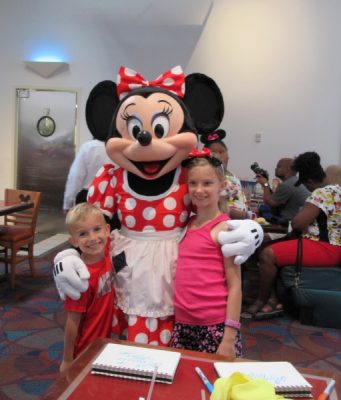 We loved the breakfast options at Chef Mickey's
Daughter 9:  She is a wonderful eater and tries all sorts of different foods, but her favorite was Chef Mickey's bacon.  Yep that is right. Out of everything she tried, that was her favorite food from a table service meal.
Son 6:  Our son is a much pickier eater than our daughter but on this they both agreed.  He too liked Chef Mickey's.  Breakfast is his favorite meal of the day and he was able to load up on Mickey waffles so it would make sense that this was a favorite.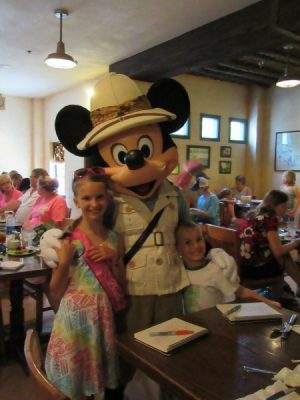 Hanging with Mickey at Tusker House
Grown-Ups:  We all agreed we had some amazing food at each of these different and unique restaurants.  The mac and cheese at the Tusker House was a fan favorite as were the chicken wings at 'Ohana.  Liberty Tree Tavern however is where we all agreed we had the best food overall no matter what we ordered.
Quick Service Meals:
Our quick service meals were scattered throughout our stay at Epcot (Sunshine Seasons), Hollywood Studios (Backlot Express), Magic Kingdom (Casey's Corner and Pinocchio Village Haus twice) and our resort Caribbean Beach (twice).  We tried to get a variety of foods to make it not so burger and fry focused.
Daughter 9:  She loved the pizza that she shared with her dad at our resort.  Although it might have been because she was super hungry, she liked that it was bigger than a kids' pizza and she thought it was just had better flavor.
Son 6:  His favorite was the corn dog nuggets from Casey's.  In his mind you can't go wrong with those.
Grown-ups:  Even though we all ate at the same places; we were able to get a variety of different items from salmon to corn dog nuggets.  We felt that Hollywood Studios was definitely lacking in the food, where as our resort had a great variety, as well as the food seemed to be fresh and full of flavor no matter what we got from pizza to sandwiches to breakfast rolls.   we were happy with what we received at Caribbean Beach Resort.
Snacks/Desserts:
One of the many reasons I love Disney!  The snacks!  Being on the Disney Dining Plan allowed us to be able to have snacks whenever we felt like it which is so much fun and exciting.
Daughter 9:  She loved the strawberry popsicle you could find at the ice cream kiosks along with the Mickey ice cream sandwiches.
Son 6:  Mickey sandwiches and ice cream all the way for this messy boy.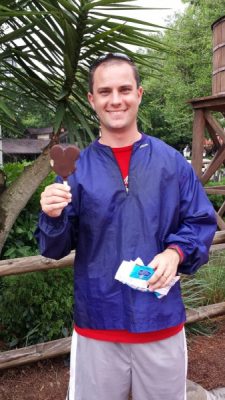 So excited to get his Mickey Bar
Grown-ups:  Many agreed that the Mickey ice sandwiches were hard to beat.  Other favorites were ice cream sundaes and funnel cakes.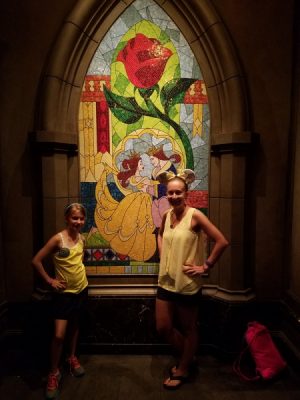 We enjoyed the atmosphere at Be Our Guest
These were just a few of our favorites that we experienced while in Walt Disney World.  As always everyone has different tastes and every kid has different food likes and dislikes, but use these suggestions to start your dining plans.
What are some of your family's favorite things to eat at Walt Disney World? Share them in the comments!
Did you like this article? Make sure to share it with your friends! Check below for easy ways to share!