This post may contains affiliate links for your convenience. If you make a purchase after clicking a link we may earn a small commission but it won't cost you a penny more! Read our full disclosure policy here.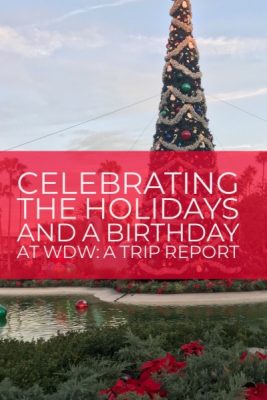 My husband and I spent the week of Christmas with my parents down in Florida, which meant we got to spend quite a few days over at Walt Disney World! Being a family of annual passholders, we have the luxury of coming and going when we please, which is ideal during peak crowd season like Christmas week! In addition to celebrating Hanukkah and Christmas with my family, we also threw in some birthday celebrations for my husband, Stuart, as his birthday is 5 days after Christmas! Here, I'm bringing you some of the highlights from our Christmas/(belated) Hanukkah/Birthday week at the parks!
Arrival
We arrived at Orlando International Airport late on Friday night; the flight from New York City is quick and easy, and we got into Orlando right before midnight! We headed home, got some sleep, and prepared for our first day in the parks! The next morning, my parents surprised Stuart with a renewed Annual Pass, and we hit the parks early!
Magic Kingdom
Stuart has a list of "must-dos" when he's at the parks. Most importantly, we have to hit Space Mountain, Haunted Mansion, and Star Tours. His favorite park is Magic Kingdom, so that's where we headed first! I was able to get almost all the FastPass+ we wanted for this trip, so we were really able to navigate the parks, even with the high crowd levels.
We rode a few attractions, grabbed some lunch at Cosmic Ray's (it's my husband's favorite lunch spot), and checked off some of my favorites like Big Thunder Mountain Railroad, Under the Sea ~ Voyage of the Little Mermaid, and snacks! With churros and Mickey pretzels in hand, we caught the Christmas parade on Main Street U.S.A. and hit the road to accomplish a few more rides!
The weather was on the cooler side this week, so we felt comfortable touring the parks in jeans and sweatshirts, which was a nice change of pace from feeling warm and run down!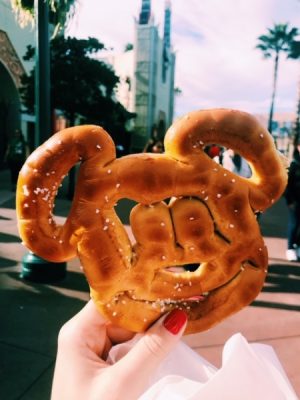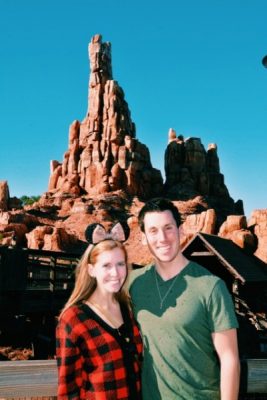 Hollywood Studios
The following day (Christmas Eve!) was our Disney's Hollywood Studios day. There were a few must-dos here, and we had great success! Stuart got on Star Tours at least 3 times in a row, he and my mom ran off to get on Rock n' Roller Coaster, and my dad and I headed for snacks (of course!).
I was really excited to see the holiday offerings at Hollywood Studios, so we enjoyed some ice cream on Sunset Boulevard while enjoying Sunset Seasons Greetings, a projection and laser light show! I'd definitely recommend checking this show out if you have a chance; there are a few short films projected onto the Hollywood Tower Hotel that'll be sure to get you in the holiday spirit!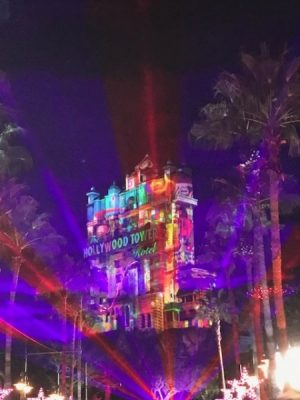 From here, we dashed off to Toy Story Land for our FastPass+ on Alien Swirling Saucers (I was unable to get a FastPass+ for Slinky Dog Dash, unfortunately); I really enjoyed the swirling saucers, especially with the holiday music playing as we spun! The attraction is very short, so I wouldn't recommend waiting in line longer than about 30 minutes, but it was a great time!
It was getting late at this point, so crowds were starting to die down; we wandered over to Slinky Dog Dash, and the wait said 60 minutes. We had about 75 minutes until Jingle Bell, Jingle BAM! started, so we decided to go for it! Our 60 minute wait ended up being about 20 minutes, so my husband and my mom decided to go for another ride, and my dad and I walked right onto Alien Swirling Saucers! We were truly shocked by the ease of getting on these brand new attractions, and didn't expect to ride them at all, let alone doing Slinky Dog Dash twice back-to-back!
We walked back out to the Chinese Theater, watched Jingle Bell, Jingle BAM!, and headed home for the evening!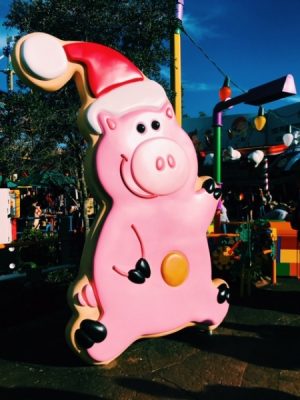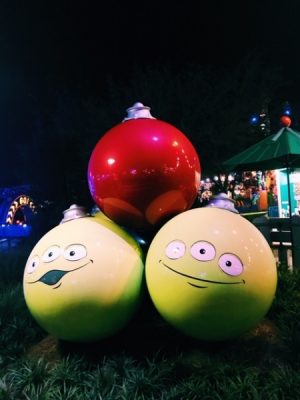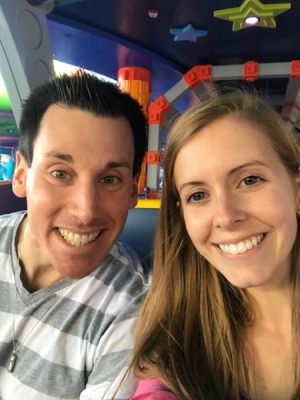 Christmas Festivities and Disney Springs
As if celebrating Christmas with family in the most magical place on earth isn't enough, we also enjoyed a traditional Christmas morning at home, complete with gifts, a Christmas feast, and lots of laughs. As one of my Christmas gifts to Stuart, we headed over to Disney Springs in the evening to try a new adventure: The VOID! Stuart is a huge Star Wars fan, so this was a no-brainer!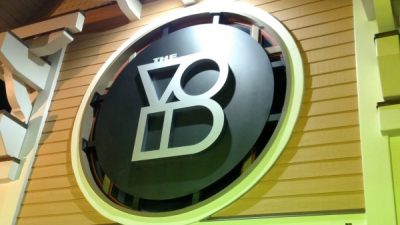 The VOID is currently home to two experiences: Wreck-It Ralph and Star Wars: Secrets of the Empire. I'm sure you can guess which one we did! Not being a Star Wars fan, myself, I didn't expect to enjoy The VOID as much as I did! The experience is completely immersive (you wear a helmet and gear backpack, and see everything through virtual reality lenses), and was so much fun! Stuart was absolutely thrilled with the experience, and was shocked at the high quality of the virtual reality. I think we will be back to experience Wreck-It Ralph in the near future!
We wandered for a short while through Disney Springs, but the crowds were insane, so we headed home to watch a Christmas movie and head to bed!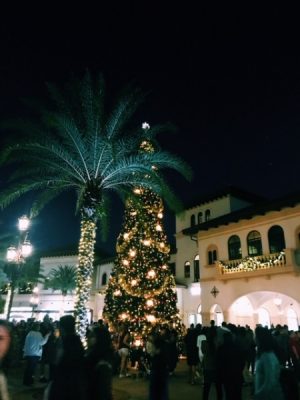 Epcot
One of my very favorite parts of the holiday season at Walt Disney World is the Festival of the Holidays at Epcot (this girl loves a good Epcot festival). We headed over to Epcot in the morning to squeeze in a few attractions; Stuart and my dad rode Mission Space, and we all rode Frozen Ever After and Test Track before taking a lap around the World Showcase to watch some of the holiday magic unfold!
We also attempted the Chip & Dale Christmas Tree Spree, where we searched each pavilion for the two famous chipmunks holding Christmas ornaments! Though this activity is intended for children, we had a blast hunting through the pavilions! We enjoyed some of the holiday food kiosks (my personal favorite was the pastrami on rye at L'Chaim!), and Stuart discovered the croissant donut with chocolate and holiday sprinkles at Taste Track, which was a food highlight for him!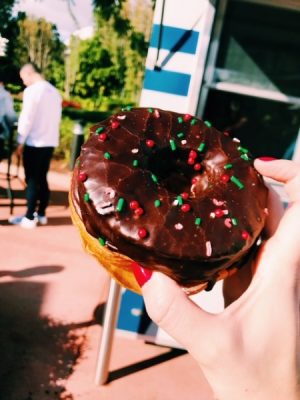 Birthday Brunch
In celebration of Stuart's birthday, we enjoyed a breakfast at one of our favorite spots, Kona Café! Stuart and I just spent 2 weeks in Hawaii for our honeymoon, so the Kona Café felt like a nice reminder of our time together! We enjoyed the French press 100% kona coffee, the pineapple macadamia nut pancakes, the fruit plate (which had all sorts of delicious fruits, like dragon fruit, pomegranate, mango, pineapple, and boba balls on top!), and the Loco Moco!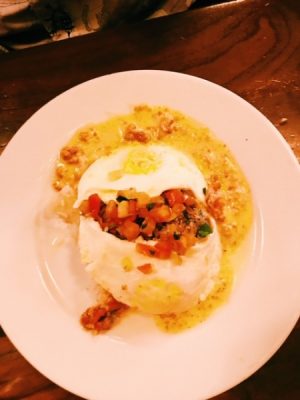 Summary
Although we were touring the parks during the craziest, busiest time of the year, we were still able to get in rides on everything we set out to do! We scheduled our FastPass+ 30 days in advance, so we utilized those for the more popular attractions, then grabbed rolling FastPasses for whatever we could get our hands on throughout the rest of the day. There were a few days where we were unable to get a single rolling FastPass+, as they were all taken, which I'd never seen before!
We also found the crowds really die down in the evenings (enough that my mom and husband got 2 back-to-back rides on Slinky Dog Dash in the span of 45 minutes!), so we utilized the evenings to get some serious attraction-riding in! We didn't do anything too outrageous, and just enjoyed time as a family, laughing, eating, and having a blast!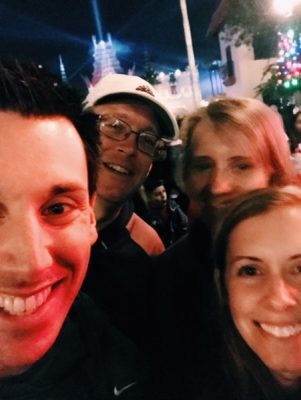 Have you visited Walt Disney World during the crazy busy Christmas holiday week? What was your experience like? Share in the comments, or on Facebook or Twitter!
Did you like this article? Make sure to share it with your friends! Check below for easy ways to share!
Want to visit Walt Disney World? Contact The Magic for Less Travel for more information and a free, no-obligation quote.