This post may contains affiliate links for your convenience. If you make a purchase after clicking a link we may earn a small commission but it won't cost you a penny more! Read our full disclosure policy here.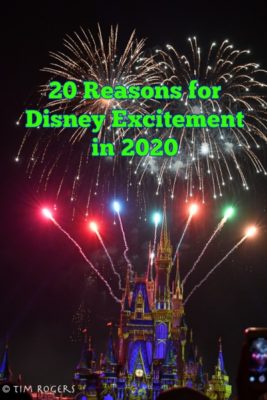 Many are looking at the transition from 2019 to 2020 as the end of a decade, and as such are looking back at all of their favorite or most memorable things from the past 10 years. While that can be a lot of fun, I also wanted to look forward, to the next year, and think of all of the Disney related things that I am excited to experience. And since 2020 is such a symmetrical year to begin with, I decided to share the 20 things I am excited about in 2020. Some of these will be new in the coming year, while some will just be new to me.
1). First trip in a while
As someone who is fortunate to be able to go to Walt Disney World fairly often, it might be a bit silly, but I always get really excited when I am able to go back after a bit of a break. My next trip will be towards the end of 2020, and I can't wait.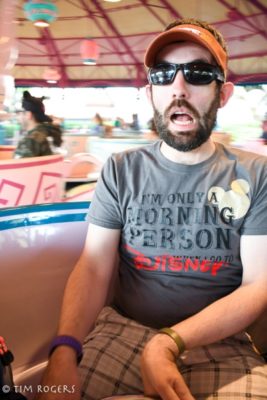 2.) Christmas stuff at Animal Kingdom
We are just finishing up with Christmas now, but one of my favorite additions (that I didn't get to see yet) was the expanded celebration of the season at Disney's Animal Kingdom. For me, the two things I hope they bring back for 2020 are the Merry Menagerie and the seasonal Tree of Life Awakenings. I love Christmas, and having more places to celebrate will be great.
3.) Star Wars: Galaxy's Edge
Obviously, as a Disney Parks fan, I have been excited about Galaxy's Edge for a long time. The immersive lands that bring us directly into the action are wonderful, and Star Wars is one of those iconic universes that you can't help but want to jump into. And I love me some Chewbacca.
4.) Rise of the Resistance
Outside of the land itself, I would be remiss to not specifically mention Rise of the Resistance. Even though I am trying to avoid specific spoilers, everything I have heard or seen about this attraction gets me more and more excited. Any time that Disney is able to raise the bar for theme park attractions, I think that is a good thing.
5.) Epcot Nighttime Spectaculars
Officially, Epcot Forever lasts through September, followed by HarmonioUS. However, Illuminations was a limited time engagement for the Millennium that lasted for nearly 20 years, so you never know. Either way, I am excited to see a new nighttime spectacular at Epcot in 2020, and will be trying to get into a Dessert Party to enjoy it.
6.) Mickey and Minnie's Runaway Railway
While Galaxy's Edge and Rise of the Resistance have been collecting most of the headlines for Disney's Hollywood Studios expansion, the new attraction I am most excited for might actually be Mickey and Minnie's Runaway Railway. Not only is it Mickey's first ride, but the design and experience also sound really exciting and interesting. I can't wait to ride. (Editor's Note: The attraction officially opens on March 4!) 
7.) Plant-based Items
As a vegetarian, I have always appreciated Disney's approach to dietary accommodation. In the past year, Disney announced a new initiative to expand their plant-based food offerings and have them available at nearly every dining location. As a whole, I think this is great and I am excited and hopeful. However, I am also a little anxious, because I am a vegetarian that doesn't like meat at all, and I don't like meat substitutes that are trying to mimic meat. While some of the plant-based options focus of vegetables, grains, and tofu, a lot of them have some combination of "Impossible" and "Beyond" meat substitutes. As long as these aren't the only vegetarian options, I think it is great, but my next trip will be the test for me.
8.) Space 220
On the subject of food, there is a lot of exciting stuff happening in the culinary realm of Disney World! One of the most unique and interesting  restaurants to open in a while sounds like Space 220. While we still don't know a lot about this restaurant, the official description definitely has me wanting to find out : "To begin your journey, board a special space elevator that will ascend to the stars! Along the way, viewports will give you an aerial view of Epcot as you travel high above the planet.
Upon your arrival, you will dine from a menu featuring modern American cuisine, more than 1,000 bottles of the world's finest wines and a wide selection of craft beer."
9.) Restaurants in Coronado
Also for food, the past few months have brought some excitement that I haven't been able to check out yet. One of those is the reinvention and expansion of Coronado Springs. Both Toledo and Three Bridges particularly sound like fun and delicious places to try.
10.) New section of Beaches and Cream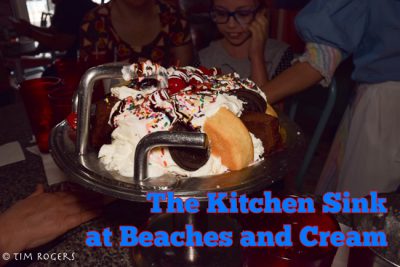 While I have enjoyed my fair share of the food at Beaches and Cream (even doing my part to finish the Kitchen Sink), one of the challenges has always been the size. With the recent dining room expansion, hopefully it will be easier to get in while still having the charm and great food it has always had.
11.) Ample Hills at Disney Springs
With my love of Beaches and Cream, I have usually just had some ice cream there whenever I am in the area of the Boardwalk, and as such have never made it over to Ample Hills. With a second Disney World location opening at Disney Springs, I think I will now have a great opportunity to finally give it a try (and maybe get some Gooey Butter Cake ice cream!)
12.) Cookie Dough Food Truck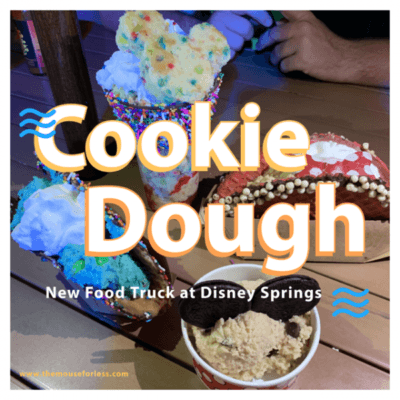 Photo by Rikki Niblett
Speaking of Disney Springs, and ridiculous desserts, I just missed the opening of the cookie dough food truck during my last trip. This time around, I definitely want to head over and try some of that goodness.
13.) M&M Store Opens in 2020
And since I seem to be on a roll of dessert themed things at Disney Springs, the new M&M store also sounds fun. I will definitely be heading over to find out what an immersive chocolate experience is.
14.) Cirque du Soleil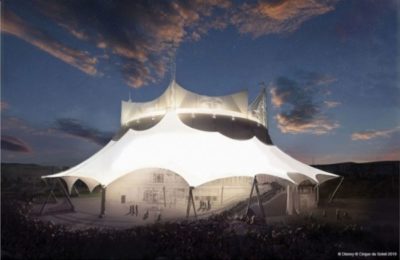 Photo Courtesy the Walt Disney Company
One thing I never got to do before it closed was see La Nouba at Disney Springs, and since I have been fortunate to go multiple times, trying new and exciting things is definitely one of my focuses. As such, I definitely want to check out "Drawn to Life" once it opens in early 2020. Combining the live theatrical wonder of Cirque with the storytelling of Disney is bound to be unique, fun, and memorable.
15.) Remy's Ratatouille Adventure comes in 2020
There are a few attractions at the overseas Disney parks that U.S. fans have continuously wanted to get stateside, and one of those has definitely be Remy's Ratatouille Adventure. It is not only a fun and innovate ride from Paris, but also will add more to do to Epcot as it is revitalized.
16.) New movies in Epcot (Awesome Planet, Canada Far and Wide, Wondrous China)
Speaking of Epcot, 2020 should see three new films, "Awesome Planet" in the Land, "Canada Far and Wide" and "Wondrous China." One of the best things about Epcot is the ability to find something interesting in almost every corner, and having three new attractions in this spirit all across the park will be a great addition. (Editor's Note: These three new films open January 17).
17.) Play Pavilion
Before we leave Epcot, one other welcome addition is the Play Pavilion. Having a modular indoor space aimed at fun will definitely be good going forward, and as I am a small child at heart, I will definitely be heading over.
Like many other Disney fans, I have been excited to try out the gon-do-las for quite a while. In fact, I might make sure I get a good reason to ride by booking my next stay at…
19.) Riviera
As a Disney Vacation Club member, I have tried to make it a point to is visit as many different resorts as possible. Right at the end of 2019, DVC added another option with the Riviera, and from the model room we saw on our last trip, it looks great. Combined with the Skyliner, the new dining options, and its general location, I am hoping to make it there this year.
20.) First Run Disney Race in 2020
Finally, the thing I am probably most excited for Disney-wise this year is that my wife and I are planning to run our first runDisney event later this year. We both enjoy running races around our local area, and have talked about Run Disney for a while, but this year looks like it will be our year!
Now that I think about it, maybe I need to play a few more trips in 2020 to fit all this in! But now it's your turn – what are you most excited about in the upcoming year? Let us know in the comments or on Facebook or Twitter!
Did you like this article? Make sure to share it with your friends! Check below for easy ways to share!
Want to visit the Walt Disney World Resort? Contact The Magic for Less Travel for more information and a free, no-obligation quote.