This post may contains affiliate links for your convenience. If you make a purchase after clicking a link we may earn a small commission but it won't cost you a penny more! Read our full disclosure policy here.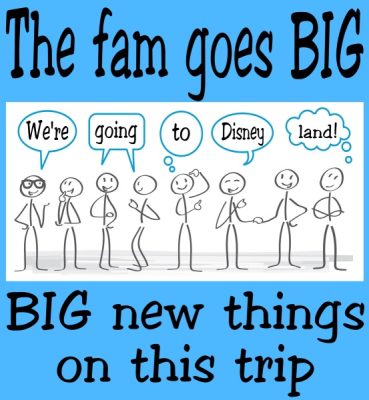 We've made all the BIG decisions for our family reunion at Disneyland. We know when we're going, how we'll get there, and where we're staying. Now it's time to get to the details, the BIG new things that will be fun about this trip.
The people
Probably the biggest new thing is our travel party now includes our son-in-law and daughter-in-law. I'm used to being the planner-slash-drill-sergeant of an obedient group of children … who are now basically all adults, with their own family units and desires. Planning how we'll move fluidly as a group of eight will be a BIG new challenge.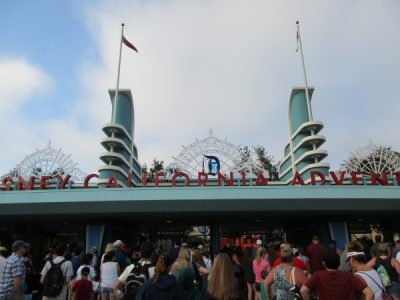 To that end, we're blocking out some general times together and apart. We're all committed to getting up and being at 8 AM rope drop both days when visiting the Disneyland Resort. We'll play hard all morning and have lunch as a group. Then it's everyone for themselves for the afternoon. That way they can choose to go to our hotel for a nap, do more attractions, watch entertainment, or ride the Teacups over and over (definitely not my choice). This is probably the one family reunion we will have without grandchildren in tow, so we're able to structure our days with only adults in mind.
The un-bottled Genie
Another very BIG new thing is touring with Genie+. We have used old paper FastPass, MaxPass, and even FastPass+ at Walt Disney World. But Genie+ adds new wrinkles into touring strategy. Since you can only use Genie+ once for each ride, our morning plan of attack will be new to us.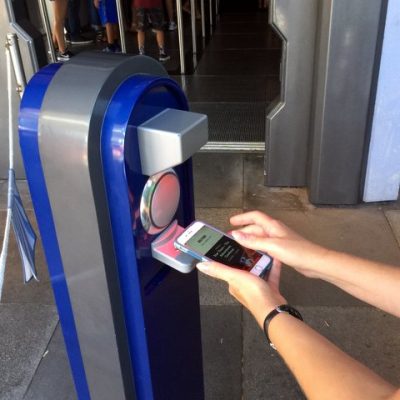 We'll probably be doing high-priority attractions that we want to ride more than once for the first couple hours, followed by mostly Genie+ choices until lunch. Then we'll stockpile Genie+ reservations during the afternoon to use after we meet up in the evening.
The force is strong in this family
My younger two children haven't been to a Disney park since Star Wars: Galaxy's Edge opened. I'm excited to experience this with them and can't wait to watch their reactions, especially from my son. I think they will be blown away by this new Disneyland land.
The rest of us are eager to pilot the Millenium Falcon again and get harassed by the First Order. And I hope there will be more characters roaming the land now that character greetings are returning to normal.
And we did get evening reservations to build lightsabers. We plan to use our PhotoPass to get some great family shots with the sabers and also in front of the Millenium Falcon. Can we say "Christmas card?"
Well that's new!
My daughter and her husband visited Avengers Campus last fall, but it's new to the rest of us. I think I'm almost as excited for the land's entertainment and food as I am for the new WEB Slingers attraction.
I also want to ride the newly renovated Jungle Cruise and the redone Snow White's Enchanted Wish at Disneyland Park. I am a little sad that Pirates of the Caribbean and Tarzan's Treehouse (where we always take a picture of my kids) look like they'll be closed.
Old favorites
Among all of this shiny new stuff, we have to make room for some family traditions. Since we can't take a picture on the treehouse stairs, we'll for sure have to get one with Tigger.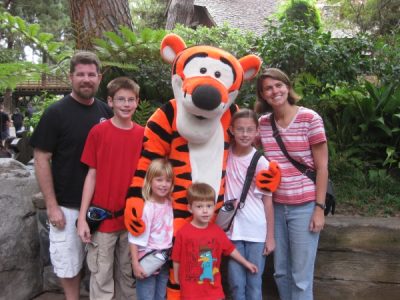 There may be two or three people taller than Tigger in this summer's photo
I hope to do some of the new dining that has popped up and take the family to Docking Bay 7, which my husband I enjoyed at Walt Disney World. I was able to get a dinner reservation for Carnation Cafe, another Disneyland family favorite that should satisfy everyone.
Splash Mountain will be on my list for certain, as it will be turned into a Princess and the Frog attraction and may be down for renovation for quite a while before I return.
All that, in two days?
While I'm definitely the planner of this group, I'm happy to show off the BIG new things at Disneyland to my family and make some new memories to go with all of the great ones we have from previous family visits. And I'm very happy that after more than two years, I can say "See Ya Real Soon!" to my favorite theme park.
Did you like this article? Make sure to share it with your friends! Check below for easy ways to share!  
Want to visit a Disney Destination? Contact The Magic for Less Travel for more information and a free, no-obligation quote.