This post may contains affiliate links for your convenience. If you make a purchase after clicking a link we may earn a small commission but it won't cost you a penny more! Read our full disclosure policy here.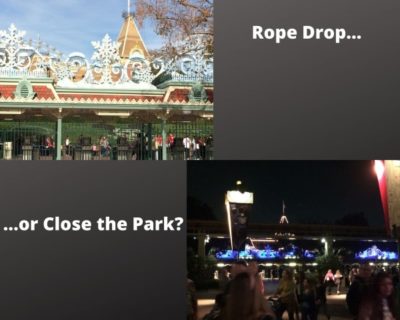 The entrance to Disneyland Park at park opening and at night
Despite what you might have heard, there is no one "right way" to tour Disney parks. Everyone you talk to will give you advice, and I'm not saying you shouldn't listen to it. But often, the "best way" to tour these parks depends on your family.
Today I'm going to highlight two very popular touring strategies and talk about the pros and cons of each. I've tried each of them, and have found that each one works well.
ROPE DROP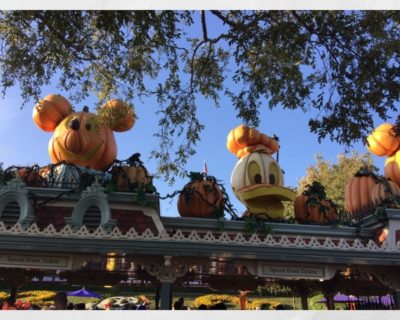 The entrance to Disneyland Park in the morning
When people talk about making "rope drop" at a Disney theme park, they mean being at the park entrance before the park actually opens. This means you'll be one of the first people in the park at opening time.
This strategy works very well when the parks open super early. While many guests are bleary eyed and just rolling out of bed, you can be riding some of the most popular rides with little to no wait. In fact, you might find that you've checked off a lot of your "must do" attractions before the crowds really start showing up in the late morning or early afternoon. Many families choose to leave the park at this time and go back to their hotel for a nap, a swim, or some rest time.
For example, let's say Disneyland Park is open from 8:00 a.m. until 11:00 p.m. There are not many guests who will actually be able to be outside the park turnstiles before 8:00 a.m. I've done this myself, and I was astounded by how much we were able to do by the time crowds starting showing up by 11:00 a.m. At this point, we were able to relax and take a break.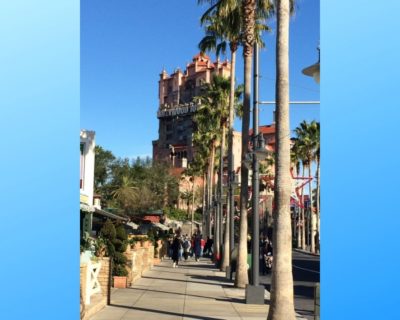 Rope drop could get you on the Twilight Zone Tower of Terror faster
This strategy is also great for days when Disney's Hollywood Studios opens at 8:00 a.m. Even with internal Walt Disney World transportation, many people who set out to arrive at the turnstiles for the park before opening time don't make it for rope drop because they slept later than expected, took a long time at breakfast or underestimated how long it takes to get from their hotel to the park.
However, if the park doesn't open very early, you might find that many other park guests have had the same idea. And some families find that even with a mid-day break, they are too tired to go back to the park and enjoy the nighttime festivities such as fireworks, shows and parades.
For example, let's say the Magic Kingdom is open from 9:00 a.m. until 9:00 p.m. A good amount of guests will be able to be outside the park entrance by 9:00 a.m., especially if they are staying on property. And if you have small children, you might find it difficult for them to stay up until 9:00 p.m.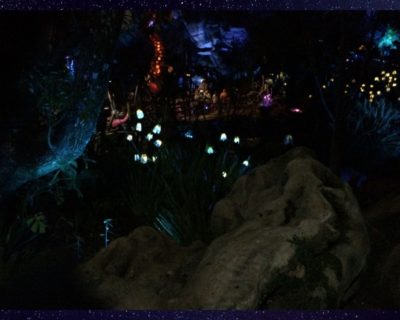 Pandora: The World of Avatar at night
CLOSE THE PARK
Other guests like to sleep in and enter the park in the afternoon and stay until the very last minute. This strategy works well with families who have teenagers who are impossible to get out of bed early in the morning. Many families with young children clear out of the park in the evening, which means lines for popular attractions tend to be shorter. And if you're going when its blistering hot outside, the cooler temperatures in the evening will be very much appreciated.
For example, let's say California Adventure is open from 8:00 a.m. until 10:00 p.m. If you show up at the park after a nice, hearty lunch, you can tour nonstop until 10:00 p.m. with plenty of energy. Also, some attractions (not all) will allow you to get in line up until the minute the parks close.
Of course, sometimes the parks offer special ticketed events where the park is open quite late, and only a limited amount of tickets are sold. For example, at Animal Kingdom when the park closes to regular guests at 8:00 p.m., Guests with tickets to Disney After Hours can tour the park from 9:00 p.m. until midnight. Because of the late hour, the extra cost of buying an After Hours ticket, and the limited number of tickets sold, guests can accomplish an enormous amount in those three hours.
This plan doesn't always work, though. The parks are not always open very late. If a park closes early in the evening, you might find that there simply isn't enough time to do everything you want to do. This is especially true for parks that have a great deal of shows or meet-and-greets that run on a schedule rather than run continuously during the park's regular hours. Also, parents of young children might find that their kids naturally wake up early, so sleeping in isn't an option.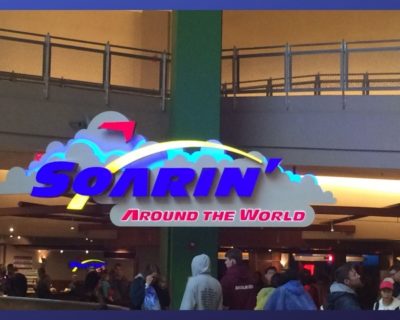 Soarin' Around the World in the Land Pavilion
For example, if you're visiting Epcot on a day when it runs from 9:00 a.m. until 9:00 p.m. and you arrive after lunch, you might find that the performances around World Showcase you were hoping to catch have their last performance in the late afternoon.
In the end, both of these park touring strategies do work, but it just depends on how your family likes to tour, the ages of any children in your party, which park you're visiting, and what your priorities are on vacation.
Which do you prefer? Rope Drop or Close the Park? Or do you tend to do both? Let us know your thoughts in the comments, or on Facebook or Twitter!
Did you like this article? Make sure to share it with your friends! Check below for easy ways to share!
Want to visit a Disney Destination? Contact The Magic for Less Travel for more information and a free, no-obligation quote.

Incoming search terms:
https://www themouseforless com/blog_world/rope-drop-close-park/