This post may contains affiliate links for your convenience. If you make a purchase after clicking a link we may earn a small commission but it won't cost you a penny more! Read our full disclosure policy here.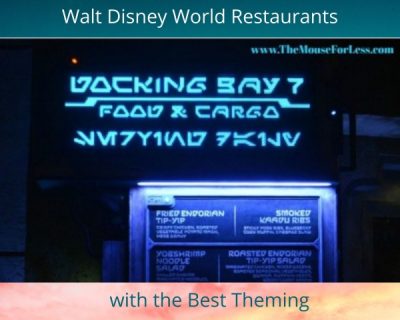 Docking Bay 7 Food & Cargo, Galaxy's Edge
When you're thinking about where to eat on a vacation, of course you're going to think about the places that has the most scrumptious and delicious food. But when you're on a Walt Disney World vacation, you think about something else as well. The theming.

Walt Disney World is, after all, totally about theming. The resorts are meant to transport you to a different time and place. You could argue that Disney invented the term "theme park" with Disneyland. Everything around you is supposed to be evocative.

Here, in no particular order, are my favorite Walt Disney World restaurants in terms of theming: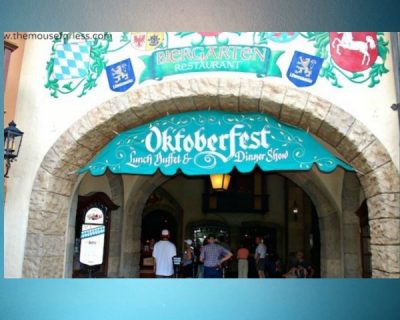 This buffet restaurant in the Germany pavilion of Epcot's World Showcase transports you to Oktoberfest in a Bavarian town. Dine on bratwurst, schnitzel, and potato salad while you listen to traditional German folk music being performed live on stage. The polka music and hearty fare celebrate a tradition that is over 200 years old.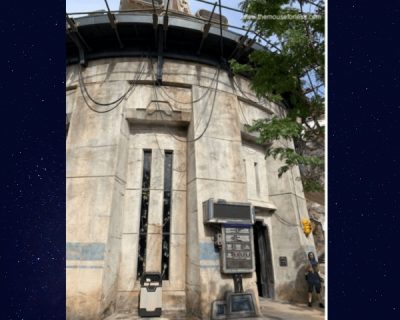 Disney really upped their theming game with Galaxy's Edge, and this counter-service eatery is no exception. You will feel as if you're eating in a galaxy far, far away. Whether you eat inside the hangar or outdoors in the bustling marketplace, you'll be immersed in Star Wars theming.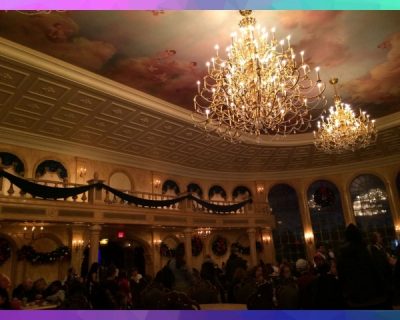 If you've eaten in this Magic Kingdom fixed-price restaurant, located in the heart of Fantasyland, you'll know why it's on my list. The exterior of the Beast's castle is impressive whether you're gazing at it from afar or right in front of the massive doors. Inside, every room is stunningly themed in impressive detail, from the waiting area to the restrooms. But the real spectacle here is in the three separately themed dining rooms. Eat in the beautiful library, the dark and spooky West Wing, or the iconic ballroom. You'll truly feel as if you've stepped into the animated classic.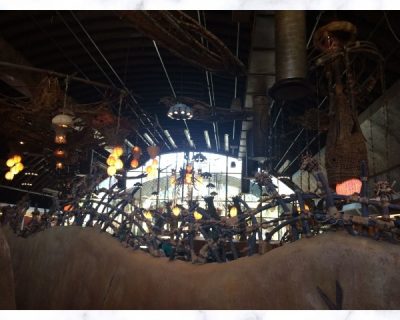 If you're in the impressive Pandora: World of Avatar section of Animal Kingdom (and if you're in this park, seriously, you will be) don't miss a chance to have a meal in this quick-service restaurant. It is themed as the former mess hall of the RDA, and now it's a place where you can dine on delicacies from the Na'vi and be immersed in their culture.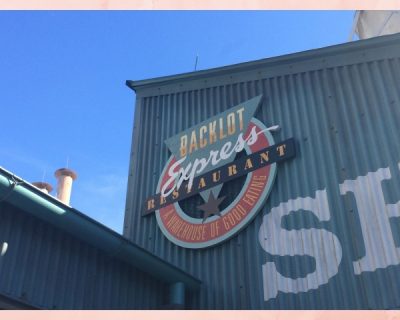 This quick service restaurant in Hollywood Studios is themed towards a Hollywood backlot. I live in Los Angeles, and I've been on a few backlots in my day. I can tell you that this place does a great job of recreating the carefully controlled chaotic feel of an actual backlot. Different sections of the dining area are designed to look like the prop, painting and set departments. There's so much detail to look at here!


What is your favorite themed restaurant at Walt Disney World? Share your thoughts with us in the comments or on Facebook or Twitter!
Did you like this article? Make sure to share it with your friends! Check below for easy ways to share!  
Want to visit a Disney Destination? Contact The Magic for Less Travel for more information and a free, no-obligation quote.