This post may contains affiliate links for your convenience. If you make a purchase after clicking a link we may earn a small commission but it won't cost you a penny more! Read our full disclosure policy here.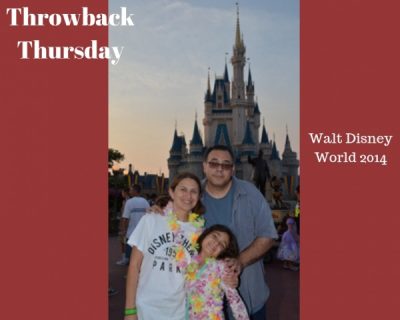 Just the three of us!
In 2014, my family and I took a new kind of Walt Disney World vacation. When I was a kid, my parents took my sister and me. But now, I was the parent! And my husband, my daughter and I took our first Walt Disney World vacation where it was just the three of us.
We certainly picked an interesting time to go, because FastPass + was still pretty new. Back then, you could book your choices at midnight Eastern time, which made me happy. You see, I live on the West Coast, so I could make our selections at a very comfortable 9:00 p.m. Now, all that has changed.
We chose to stay at the Polynesian Resort. It was in the middle of a massive refurbishment, but we loved the location and the convenience of being on the monorail line.
Now that my daughter was in school, I realized that for the first time since 1976, I would have to go during (gulp) peak season. We chose the very first week of my daughter's summer vacation. Southern California schools tend to end for the summer slightly before most of the country, so we figured this would be our best bet.
I did not want to deal with making all the reservations myself, so I contacted our fabulous travel agent from The Magic for Less Travel, who had booked several of our Disneyland vacations for us. She took care of everything: the hotel, the flights, making our dining reservations, our tickets, dining plan – she even found us a discount and applied it to our reservation before I ever knew about it!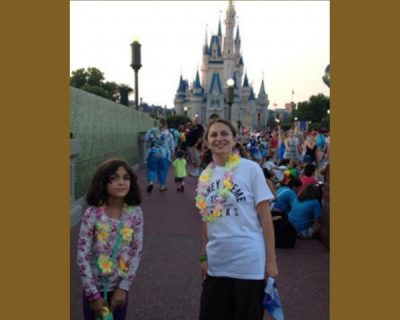 All smiles at the Magic Kingdom
Finally, the day for our trip arrived! Even with an early morning flight, due to the time change, we got to Walt Disney World at dinner time. After checking into our resort, we spent our first evening at the Magic Kingdom.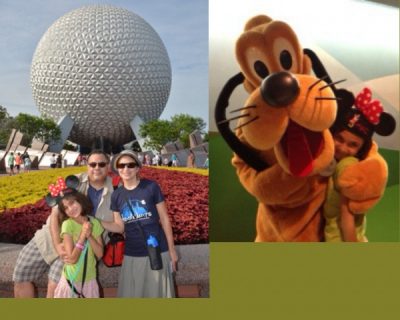 Enjoying a day at Epcot
Our first full day we spent at Epcot. The weather was quite hot and humid, but we had plenty of sunshine. We rode Mission Space: Green Team and Universe of Energy. Ah, Ellen, we miss you.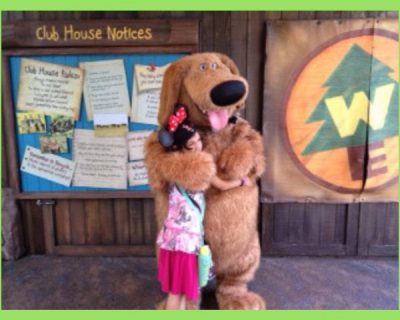 The wilderness must be explored!
On our second day, we visited Animal Kingdom. This day was even hotter and more humid. My daughter was thrilled to pick up the Wilderness Explorer pamphlet and start doing all the activities!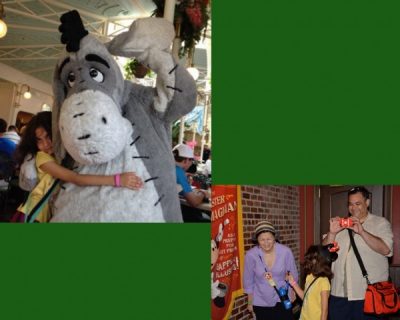 Enjoying Crystal Palace and hearing a funny joke from Talking Mickey
On our third day, we headed back to the Magic Kingdom, and on a Cast Member's advice, stayed outside of the turnstiles in order to watch the Welcome Show. Back then, it happened at the Main Street train station. Once in the park, we were mesmerized by Talking Mickey. We enjoyed the character buffet at Crystal Palace.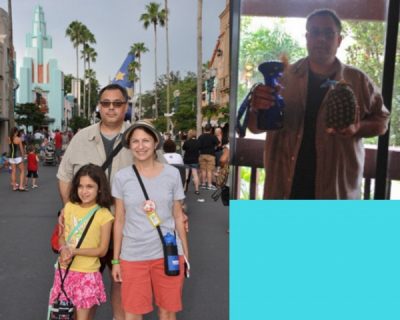 At the Studios (remember the Hat?) and enjoying a Lapu Lapu
On our fourth day, we enjoyed Disney's Hollywood Studios. This is by far the hottest and most humid day of our trip, and rain is on the horizon. We decided to take a midday break to go back to the Polynesian. My husband finally got to enjoy a Lapu Lapu! We went back to the Studios for our Fantasmic! dinner package at Mama Melrose's. Dinner was great, but unfortunately the rainfall was so bad that they canceled Fantasmic.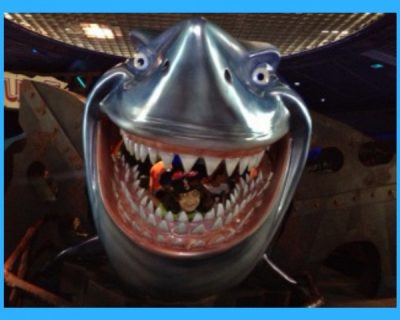 Fish are friends, not food!
Our fifth day happened to be my birthday! This was the first and so far only time I have ever spent my birthday at Walt Disney World. It was another very hot, humid and rainy day, so we spent a lot of time in Future World. We all loved The Seas with Nemo and Friends.
A break in the rain means fun at the Dig Site!
Our sixth day, we returned to Animal Kingdom. We took advantage of the sunny weather to visit the Dig Site. My daughter manages to get every single Wilderness Explorer badge!
Enjoying breakfast at 'Ohana
On our seventh day, we split our time between our resort and the Magic Kingdom. We started the day with the character breakfast at 'Ohana before heading to the park. We splashed in the pool and then took the Monorail Gold to the Magic Kingdom to meet princesses.
We had such a fantastic time being at Walt Disney World with just the three of us. It would be four years before we returned to this magical place, and that time, it would be another family reunion, at the newly remodeled Polynesian!
Did you visit Walt Disney World in 2014? What are some of your memories? Share them in the comments, or on Facebook or Twitter!
Did you like this article? Make sure to share it with your friends! Check below for easy ways to share!
Want to visit Walt Disney World? Contact The Magic for Less Travel for more information and a free, no-obligation quote.

Incoming search terms:
walt disney world cast members 2014