This post may contains affiliate links for your convenience. If you make a purchase after clicking a link we may earn a small commission but it won't cost you a penny more! Read our full disclosure policy here.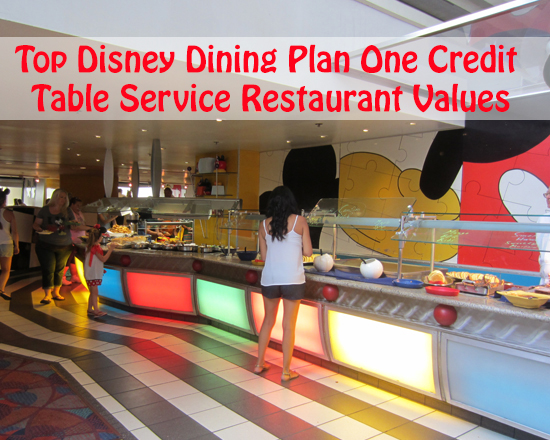 You've decided to go for it. You've purchased the regular Disney Dining Plan! This plan, allows Guests to receive a refillable mug, two snacks, one counter service meal, and one table service meal. So, of course, when on this plan, you would want to maximize your dollars and one way to do that is to choose table service restaurants that tend to be a bit more expensive overall. (As a reminder, for those who don't know, your table service entitlement on the Disney Dining Plan gets you either one full buffet and non-alcoholic beverage OR one entree, non-alcoholic beverage and dessert.)
Value is relative, but in this instance, you'll want to choose the restaurants that tend to cost a lot for a meal or offers unique opportunities as part of the meal. One thing you should know is that dining at "Signature" restaurants (those that take two table service entitlements) are never going to be good values for those who purchase the dining plan. While they are more expensive than most restaurants, the cost doesn't add up to using two days worth of table service credits.
But with a multitude of restaurants to choose from, where do you start? How can you get the most bang for your buck? We can help decipher your options.
Chef Mickey's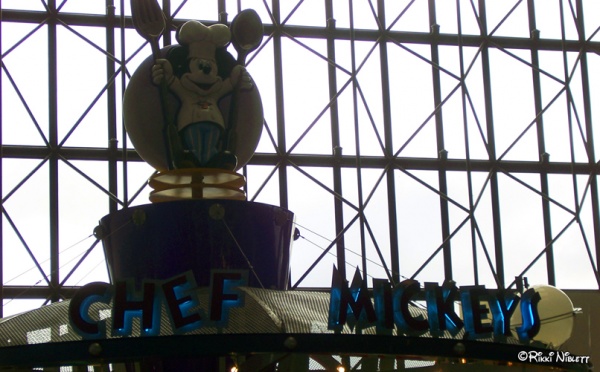 The last time I dined at this restaurant found at Disney's Contemporary Resort, I about had a heart attack. The cost was ridiculously high and there was only two of us. This meal has increased rapidly in price over the past few years because A) Chef Mickey's a character meal with Mickey, Minnie, Pluto, Donald, and Goofy,  and B) because it is consistently a hard to get reservation. While I think the food here is only so-so, for those on the Dining Plan, Chef Mickey's is one of the meals you should absolutely consider trying to get. (Oh and there's a photo that's included here too!)
Whispering Canyon Cafe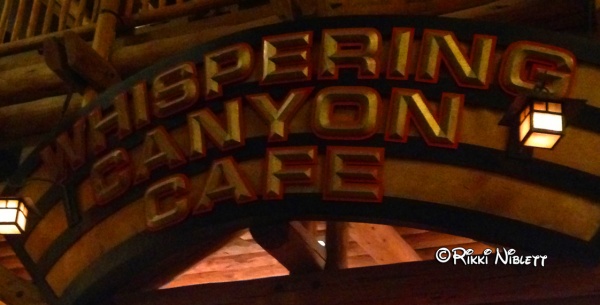 What makes this meal at Disney's Wilderness Lodge such a value on the dining plan is also one that's likely to give you a heart attack! (Thank goodness you'll do a lot of walking around the Walt Disney World Resort!) At Whispering Canyon, the overall theme is fun as there are pony races and you'll want to make sure to ask for a large drink and ketchup, but the food is also pretty decent. At dinner, you can choose ala carte options, but the best value is the all-you-care-to-eat skillet option. On top of that, as your beverage, you can order an all-you-care-to-drink milkshake, then you still have the opportunity to get dessert! It's a lot of food, for sure, but the value is undeniable.
Akershus
If you have a princess fan in your family, this should be your number one selection. Akershus is located in the Norway Pavilion at Epcot and is where guests can join their favorite Disney princesses in a fairy-tale setting, while enjoying unique Norwegian Cuisine. (Don't be scared off by the "unique" cuisine. It's not very scary!) Choosing the dinner option is going to be the best choice for those on the Dining Plan. What makes this a good value though is two fold. First, this is the only Disney Princess-only character meal that is a one credit on the dining plan. (1900 Park Fare at Disney's Grand Floridian Resort does feature Cinderella, but the other characters are her evil stepmother and sisters, and the Prince.) So with Akershus, this is best opportunity to meet a ton of princesses in a short amount of time. Also, there is a photo package that is included with your purchase.
Cape May Cafe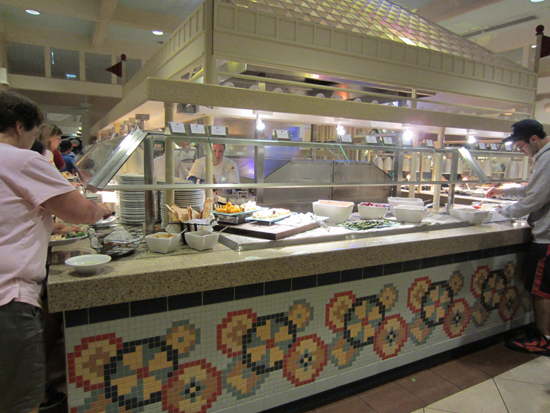 If you are a fan of seafood, this one is a no-brainer on the Disney Dining Plan. Cape May's all-you-care-to-eat seafood buffet has crab legs, clams, mussels, shrimp, and more. This meal has become more and more expensive over the years, making it a must do for those on the Disney Dining Plan.
Tusker House
Again, another character meal, this time at Disney's Animal Kingdom. Not only is the food here delicious and semi-unique, but Guests also have the ability to meet their favorite Disney pals! The menu includes salmon, beef, pork and chicken plus yummy side dishes and desserts. What makes Tusker House so valuable is that this meal is available as part of the Rivers of Light Dining Package! So, this one credit meal not only gives you the opportunity to enjoy a delicious meal, but it also guarantees you a seat at the new nighttime spectacular. If you are able to book the Dining Package, this then opens up the ability to make a coveted FastPass reservation at other attractions in the park. (And it allows you to have the ability to utilize the floating fourth FastPass.) This makes Tusker House and even better option for those on the Disney Dining Plan.
Morimoto Asia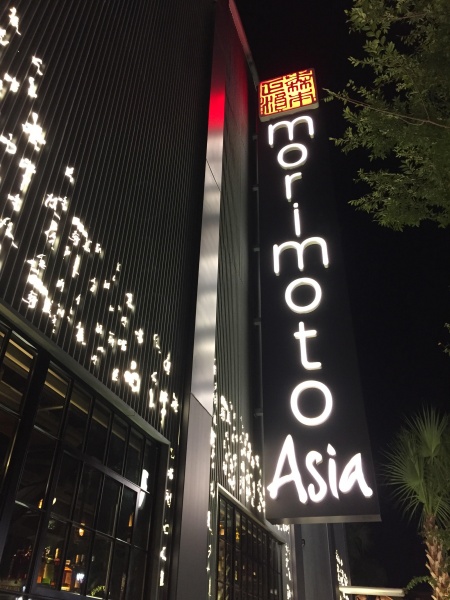 This new restaurant from Iron Chef Masaharu Morimoto is his first "pan-Asian" dining experience. Located in Disney Springs, this meal is only available as a one table service credit at lunch, but if you have a Disney Springs day anyway, this is the perfect time to try the Chef's cuisine! At Morimoto Asia, Guests can choose from Japanese favorites like sushi, sashimi and Kakuni Bao or Chinese classics like crispy Peking duck carving (served boneless with Chinese pancakes and dim sum), plus Korean specialties. The menu itself is expansive and there is something for everyone.
Les Chefs de France
At Chefs de France, which is found in the France Pavilion in Epcot, not only are a majority of the entree prices for dinner in the $30 range, but desserts are almost $10 by themselves. Plus the food here is really good.
What are your best choices for one credit table service restaurants while on the Disney Dining Plan? Share in the comments. 
Did you like this article? Make sure to share it with your friends! Check below for easy ways to share!