This post may contains affiliate links for your convenience. If you make a purchase after clicking a link we may earn a small commission but it won't cost you a penny more! Read our full disclosure policy here.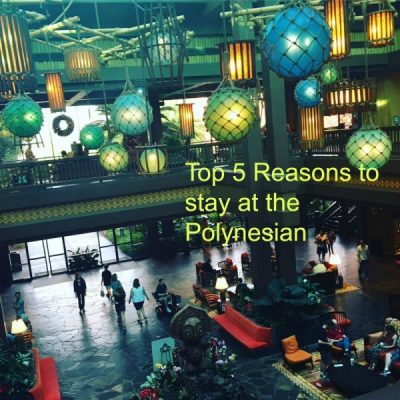 photo © Jocelyn Martins
I love staying at Disney resorts. On the West Coast and the East Coast, a stay at a Disney owned and operated hotel makes the entire vacation feel more magical. At Walt Disney World, there are so many different resorts that my first instinct is to stay at a different one each trip. And so far we've tried many of them. However, there's only one resort my family has stayed at twice, and this coming January, we're staying there a third time.
How can you not feel relaxed when this is your resort?
Disney's Polynesian Village Resort evokes the tropical feel of the islands in the South Seas. It's laid back, breezy, casual atmosphere is so refreshing that I challenge anyone to step into the lobby and not breathe a sigh of contentment.
Here are my top 5 reasons to stay at this tropical oasis in the middle of Walt Disney World:
LOCATION, LOCATION, LOCATION!
For my family, access to the theme parks is our number one priority when booking a hotel. While there are other resorts that boast special access into a specific theme park, the Polynesian stands out as having superior transportation to both the Magic Kingdom and Epcot.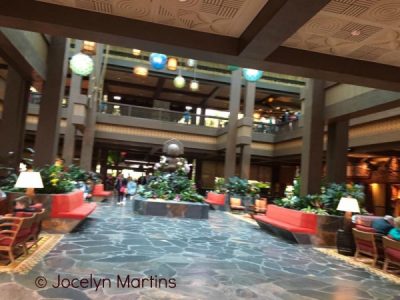 The Polynesian's lobby
You can choose to travel to the Magic Kingdom by ferry boat, which is a beautiful and unique way to travel. Or you can hop on the monorail to the park. To get to Epcot, you can take the monorail to the Transportation and Ticket Center (TCC) and transfer to the Epcot monorail. Depending on the location of your room, it might be faster to walk directly to the TTC to catch that Epcot monorail.
Buses will take you from the Polynesian to both Animal Kingdom and Hollywood Studios. These buses are air conditioned and we've never had to wait long to catch one.
DINING OPTIONS
Some people prefer to eat all their meals in the theme park they're visiting that day. But if you like to escape from the hustle and bustle of the parks to a resort to eat, you'll find plenty of options at the Poly.
You could start your day or end it at the Kona Café, which looks like a humble lobby restaurant but offers decadent breakfasts and hearty dinners. You could opt for sushi at the Kona Island. You could really splurge and take in the Spirit of Aloha, a dinner show that features luau style food and a musical celebration of the different Polynesian islands. You could grab a quick bite (including the delicious Tonga Toast) at Captain Cook's. At 'Ohana, you could choose between a character family style breakfast or a dinner which features all you care to eat, family style food. If you can't even bear to drag yourself out of your room, the room service is outstanding.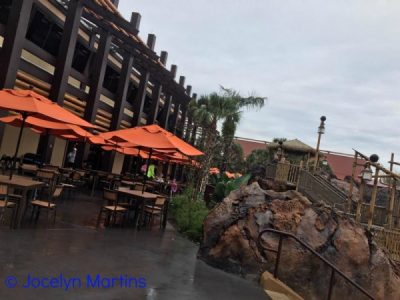 Exterior seating at the Polynesian
Or, if you're like me, you will return to Pineapple Lanai again and again for that icy cold, refreshing, perfect non-dairy vegan frozen treat known as the Dole Whip. To say I have an obsession with these things is an understatement.
BARS AND LOUNGES
If you need some liquid refreshment, you've got lots of options! Just steps from the white sandy beach you'll find the Barefoot Bar. Enjoy specialty cocktails along with quick service dining at the Oasis Pool Bar. The Tambu Lounge is famous for the Lapu Lapu, a cocktail served in a pineapple. And Trader Sam's Grog Grotto has become a hugely popular spot to drink and enjoy clever theming and tiki culture. Lines grow quickly here, so if grabbing a drink here is a priority for you, get there early and prepare to wait.
LILO'S PLAYHOUSE
If you have kids and would like to enjoy an evening at one of Walt Disney World's bars or lounges (like the insanely popular aforementioned Trader Sam's) you could check them into the kids' club here at the Polynesian, Lilo's Playhouse. There is a charge to use this service. The club accepts children from ages 3 – 12, and is open from 4:00 .p.m. until midnight.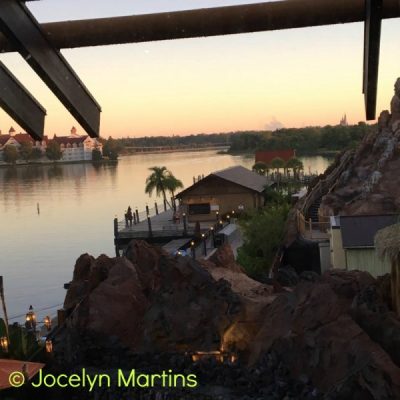 An incredible view from the Polynesian, featuring the Grand Floridian and Cinderella Castle
BEACHES
When you stand on the white sandy beach of the Polynesian, it can be hard to remember that you're really in Central Florida. The swaying of the palm trees, the Hawaiian music that plays in the background, and the tiki torches glowing at nighttime add to the ambience. Some of the rooms feature balconies or patios that face the beach – if this is important to you, make your request known when booking.
There is a sandy volleyball court and a jogging path which winds throughout the beaches and leads to the Grand Floridian Resort, just in case you still have energy to burn after all that time in the theme parks!
It's not an accident that my family continues to return to the Poly. Whether we're standing on our balcony gazing out onto the beach, feeling the wind whip in our hair as we take a boat to the Magic Kingdom, or indulging in a Dole Whip before heading back to our room, the Polynesian Village Resort never fails to put us in a vacation frame of mind.
What are your favorite things about Disney's Polynesian Village Resort? Share them in the comments!
Did you like this article? Make sure to share it with your friends! Check below for easy ways to share!