This post may contains affiliate links for your convenience. If you make a purchase after clicking a link we may earn a small commission but it won't cost you a penny more! Read our full disclosure policy here.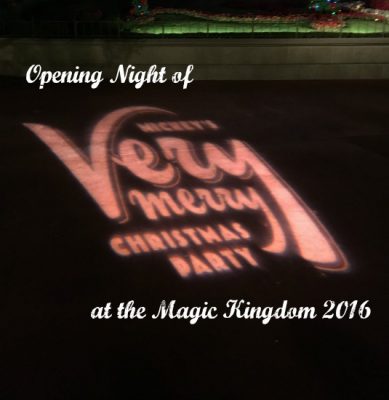 If I had to desribe the opening night of Mickey's Very Merry Christmas Party in one word, it would be Wonderland.  If I could use more than one word, I'd add festive, magical, wintery, fanciful, celebratory, fun, nostaligic, and much more!  We were lucky enough to still be in Walt Disney World for the first party of the 2016 Mickey's Very Merry Chistmas Party!  Last year was the first time we had gotten to attend the Christmas party, having been to the Halloween one several times prior.  I absolutely loved everything about it and couldn't wait to be back!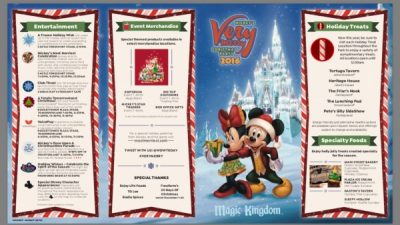 2016 Mickey's Very Merry Christmas Party outside of map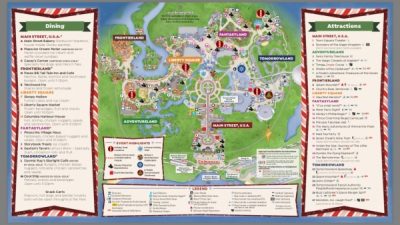 2016 Mickey's Very Merry Christmas Party inside of map
While park admission of a Mickey's Very Merry Christmas Party ticket will allow you to enter the park earlier than its start time of 7:00 pm (you can enter the park at 4:00 pm with a party ticket), this year we didn't arrive until shortly after 7:00 pm.  Our Mickey's Very Merry Christmas Party tickets were linked to our MyDisneyExperience accounts so we used our MagicBands to enter the park.  As soon as we were through the MyMagic+ touchpoints, we were given wristbands for the party.  Immediately you could hear the Christmas music playing, see the decorations on the Train Station, and just feel as if you had entered the land of Christmas!  We were literally squealing with delight! The kids were excited too. 😉  As we walked under the Train Station and approached Main Street, you could see the gigantic Christmas Tree lit up and decorations all around you.  And… wait for it… it was snowing! And even better, we didn't have to shovel this snow!  While the "snow" may not accumulate as it does on the North Mountain when Elsa gets upset, it does flurry around you on Main Street creating the perfect setting for the party.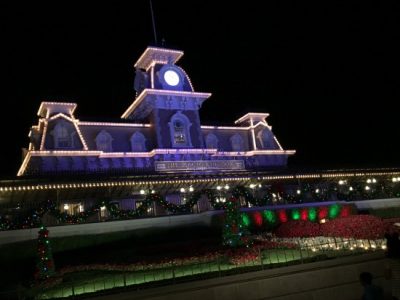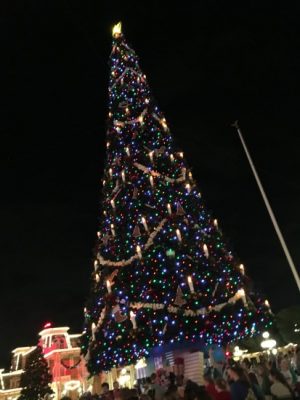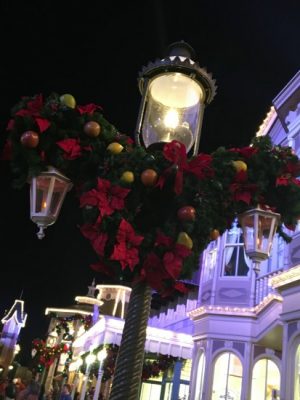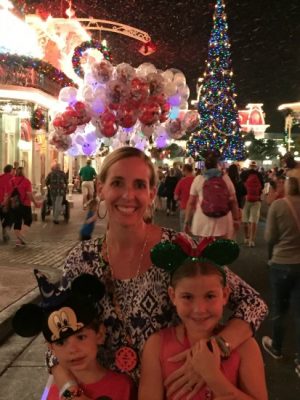 Photo credit: Nick Papadea
I simply love that it's snowing here!
We were directed to the Main Street Bypass which has an entrance between the Chapeau and Tony's Town Square.  The Bypass is open during high traffic times and special events.  Cast Members let us know that there was a cookie location on the bypass after asking us where we were headed (which was to Space Mountain).  We were each given a shortbread cookie shaped like a Christmas tree.  We immediately took advantage of a pretty empty Tomorrowland and walked on Space Mountain.  What made this ride on a favorite attraction unique, was that we walked on the left track, while we are normally directed to the right track when using FastPass+.  It was nice to ride the other track!  After riding Space, we made our way to catch the end of A Frozen Holiday Wish.  The hub was super  busy so we took a long route back through Fantasyland over to Liberty Square to watch Mickey's Once Upon A Christmastime Parade.  Truth be told, we didn't get a spot as early as we should have and the parade route was crowded pretty much everywhere.  The kids got good seats and we figured we'd watch the second parade as well.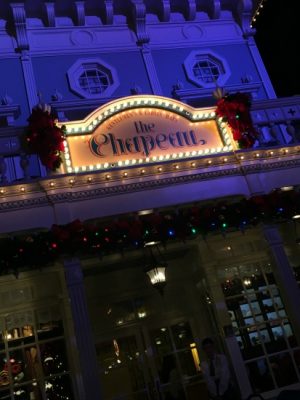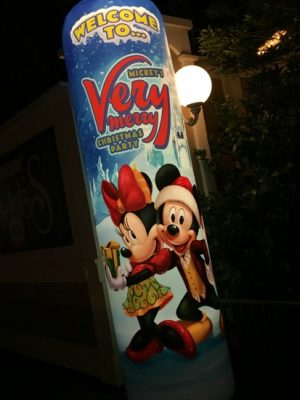 Main Street Bypass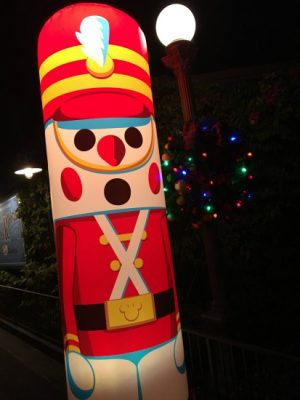 Holiday Treat Location on Main Street Bypass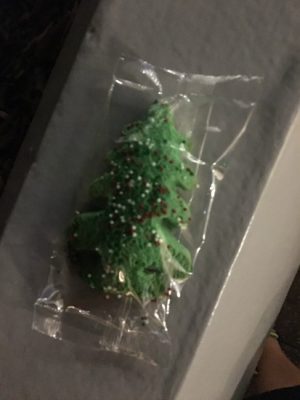 Shortbread cookie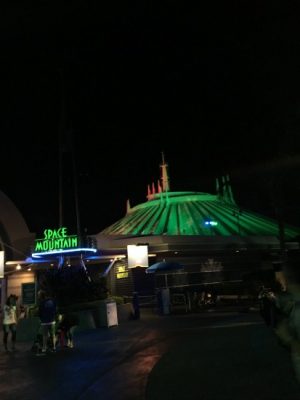 Space lit up red & green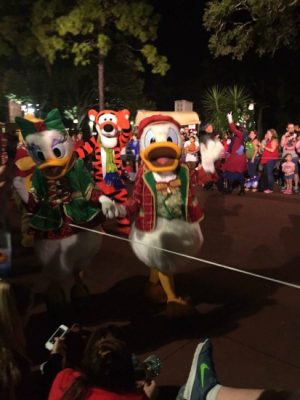 Photo credit: Heidi Nelson
Daisy & Donald
This parade is probably my all-time favorite Disney parade.  It's really the core of what is televised on Christmas Day.  It's so many characters we love and don't often see, among those we do, singing and dancing along to Christmas songs.  The floats are magnificent, and I always feel as if I'm in Mickey's Christmas Carol.  You can smell cookies baking and the songs take you back to your childhood.  It's truly a multiscensory experience!
The party is wonderful for getting on attractions with no wait, but it also hosts so many great events.  You could dance at Club Tinsel or rock to A Totally Tomorrowland Christmas!  There were also several character meets including Scrooge McDuck! On the night we attended the party, the kids really wanted to get on some attractions so we also rode Splash Mountain (twice in a row without having to get off), the Jingle Cruise, Pirates of the Caribbean, Haunted Mansion, It's a Small World, and the Carousel.  When we came off of Pirates, Holiday Wishes was just about to begin so we grabbed a hot chocolate from the Holiday Treat Location in Adventureland and watched Holiday Wishes from there! It was so fun to see Christmas colors everywhere – how often is Space Mountain illuminated red & green? And the Jungle Jingle Cruise was all decked out with fun holiday decor!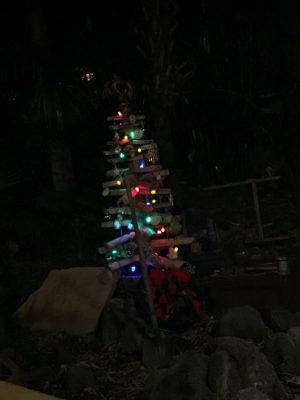 Jungle Jingle Cruise holiday decor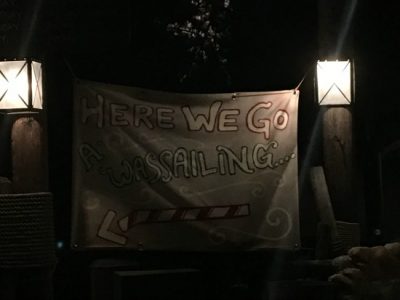 For this party season, there was a special collector's card from Sorcerer's of the Kingdom, which we picked up on our way out.  Even though the party goes until midnight, we had spent ten very busy days in the World leading up to the party so didn't quite make it.  If I were to do Mickey's Very Merry Christmas Party again, and I will!, I would not plan it for the last night of our vacation.  I was exhausted and while I enjoyed the party, last year I was over the moon excited.  I was a little too tired this year to feel that excitement.  I don't regret going though.  It's the perfect segway into my favorite holiday season!  Combining Disney and Christmas, and being surround by my family… it doesn't get much better than that!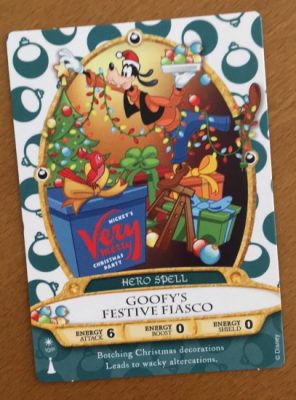 Special MVMCP card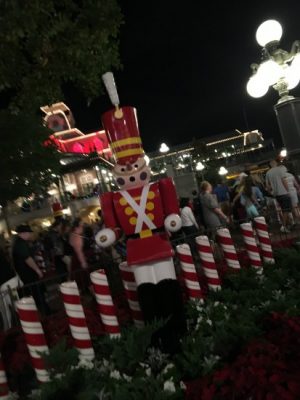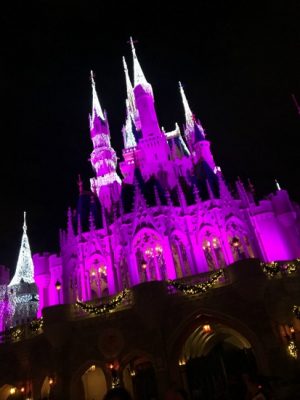 Are you heading to Mickey's Very Merry Christmas Party? Share when in the comments!