This post may contains affiliate links for your convenience. If you make a purchase after clicking a link we may earn a small commission but it won't cost you a penny more! Read our full disclosure policy here.
We were lucky enough to score some very cheap airfare and head down to Walt Disney World for a quick weekend in late January. I was so excited to go because there are so many new things since we were there in November…I know, a mere two months ago.  We were staying a night each at Port Orleans Riverside (a favorite of ours), a night at Pop Century (laying our heads down for a quick night sleep), and last night at Animal Kingdom Lodge (new to us).  We were hoping to make it in time for the After Hours event on the night of the 20th, but didn't make it in time.  So, we opted for a night in with Yehaa Bob.  This is a favorite of ours.
First off, the Magic Kingdom has a new Welcome Show and it now takes place at the Castle, not the Train Station. We enjoyed it, but I do miss the old Welcome Show!  (Editor's Note: watch the new Magic Kingdom Welcome Show here.) Along with that, there is now several new breakfast options at the Magic Kingdom.  We settled for mini croissant donuts from Casey's.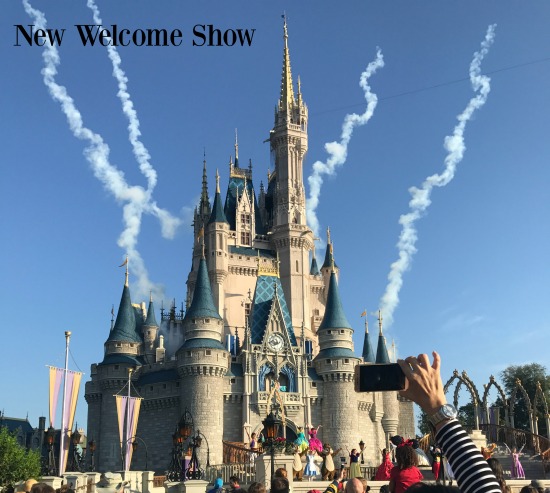 We were really excited to get to the Festival of the Arts at Epcot. This was an entirely new festival with all kinds of offerings that looked interesting and fun.
Amorette's Patisserie was not new to us, but it's fairly new to Disney Springs. It is a wonderful little patisserie that has some delicious Disney themed desserts, as well as some other delicious offerings.  Sunday January 21st, 2017 was Rock the Dots day too!  So we got some cool buttons and special treats at Amorette's.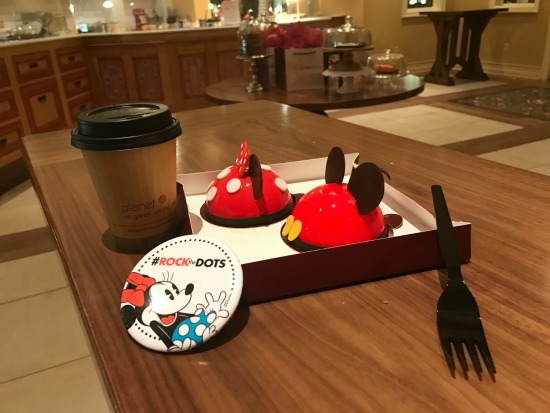 We also tried Art Smith's Homecoming. Contrary to everyone else who has visited and raved about the Fried Chicken, I just thought it was average.  Now, let me defend myself.  I am not the biggest fan of Fried Chicken, but I do like wings of all things fried.  I thought it'd be a home run, but wish I would have ordered a salad or something.  The mashed potatoes that were served alongside, however were delicious.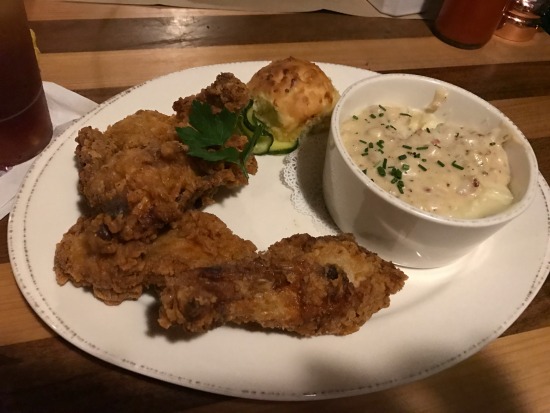 In addition to some of the above that we tried, there's also a Star Wars Guided Tour that is 7 hours and includes priority boarding at Star Tours and special seating at the Jedi Training- Trials of the Temple. Also, Star Wars Galactic Spectacular is back at Disney's Hollywood Studios as well.
Another new thing that we noticed, but did not try was the Diamond Horseshoe had an all-you-care-to-eat family style offering from 12:00 p.m. – 7:00 p.m. that was $35 for adults and $19 for kids.  It came with a Frontier Salad and BBQ Pulled Pork, Carved Turkey Breast, Smoked Sausage, Braised Beef, Cowboy Beans, Corn on the Cob and Baked Mac and Cheese.  Dessert was a Cowboy Brownie.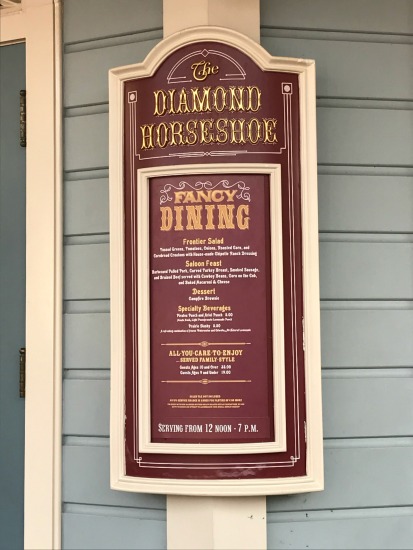 We were so excited to experience new some great new stuff this trip and we can't wait until later in the year for our next Walt Disney World vacations! We love Disney's Animal Kingdom, but we are really excited to see what Pandora brings to the mix there.  We really liked the Avatar movie.  We were kind of hoping that the sequels will be out by now, but we will settle for a land in the Animal Kingdom.  We are also looking forward to Night of Joy, Mickey's Not So Scary Halloween Party, Epcot Food & Wine Festival, and Marathon Weekend 2018.  You can read about some more upcoming new things in 2017 here!
What are you looking forward to in 2017? What new activities do you have planned for this year's Walt Disney World vacations? Share in the comments section!