This post may contains affiliate links for your convenience. If you make a purchase after clicking a link we may earn a small commission but it won't cost you a penny more! Read our full disclosure policy here.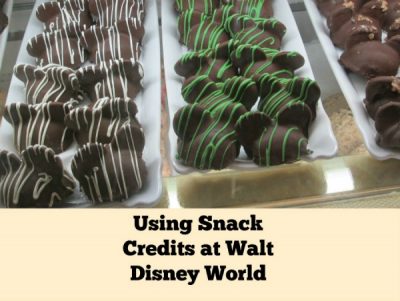 There are many snack credit options available on the Disney Dining Plan at the Walt Disney World Resort.  These four tips will help with deciding how to best use snack credits.
Research Options
Snacks are available in all parks and at all resorts, but some dining locations offer a true jackpot of snack choices and are worth a visit.  There are specific snacks, such as the Dole Whip and Norway's School Bread, that have a cult following and are fun to seek out during a trip.  Before your trip, look over the menus of the parks and resorts you'll visit.  All snacks eligible for a dining plan credit are marked with a purple box icon, so it's easy to figure out snack options on each menu.
Each park has some great locations that offer a wide variety of snacks.  In the Magic Kingdom, The Main Street Confectionery and Big Top Treats are great choices for a visit, and the iconic Dole Whips can be found in Adventureland.   Epcot offers so many good options in the World Showcase.  Karamell Kuche is my favorite, but France and Norway as well as Sunshine Seasons in Future World offer many choices for snacks.  At Hollywood Studios, the Starring Rolls Cafe and  Sweet Spells will have a variety of choices.   Animal Kingdom's Zuri's Sweets will satisfy a sweet tooth, and for a savory option some of the kiosks are worth a visit.  Mr. Kamal's offers samosas and falafel for flavorful small bites as well as vegetables with hummus for a healthy snack.
The resorts and Disney Springs also have some great snack options that are worth trying if you are resort hopping or spending a day at Disney Springs.
Focus on the Good Stuff
In order to get the best bang for your buck on the Disney Dining Plan, getting some of the unique items or more pricey menu items will maximize use of snack credits.  Bottled water is available for a snack credit, but you can get a free cup of ice water at any counter service location.  If you want to use snack credits on beverages, consider the Starbucks or Joffrey's Coffees locations for beverages.  Fresh fruit is a good snack credit for a healthy option, though an apple currently costs $1.69.  I would rather bring in my own fruit, or pay for the apple and using the snack credit for another choice later in the day.  Saving snack credits for more expensive snacks is a wise use of the credits.
Share Snacks
Many snacks are huge, and I mean huge!  The cupcakes are not the average size one would bake at home, and many of the pastries can easily be cut in halves or thirds.  My family often shares snacks.  This stretches the use of our snack credits, and allows for us to try a variety of snacks during one trip.  It also cuts the guilt and calories from each snack.  Eating just one-third of a cupcake is healthier than eating the whole thing, and a "sample size" might be just right for a quick bite.  Snacks easy to share are cupcakes, pretzels, pastries, churros, funnel cakes, crispy rice treats, cookies, and popcorn.  It's OK to ask for an extra plate or two if you are sharing.
Consider Snack Souvenirs
With sharing snacks and maximizing use of the rest of the dining plan, we always have some snack credits left over at the end of our trip.  We will stop by a gift shop and pick a few bags of Goofy's Candy Company candy to bring home, or we will use the credits for other snacks to enjoy at home.  Our favorite items to bring home have been Mickey crispy rice treats and fudge.  Slipping a Disney treat into a school or work lunch box a few days after the trip is over is a fun way to extend Disney magic!
What are your favorite snacks at Walt Disney World?  Let us know in a comment below.