This post may contains affiliate links for your convenience. If you make a purchase after clicking a link we may earn a small commission but it won't cost you a penny more! Read our full disclosure policy here.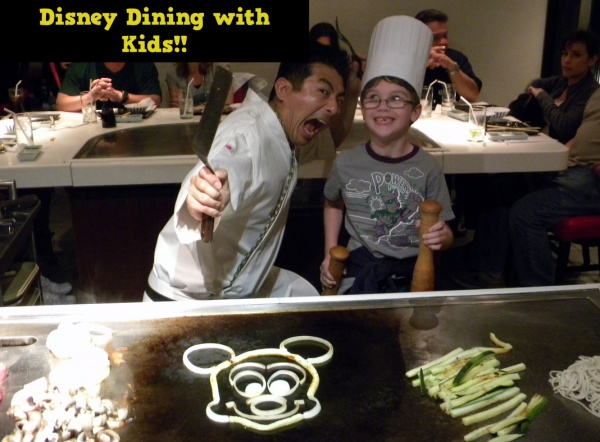 As adults, we know how many Disney Dining options there are! It's a smorgasbord of tantalizingly delicious and varying options that most of us have bucket lists of items to try. If you have kids, you are all too well aware of the challenges that present themselves when the kiddos picky eating habits kick in! It can mean a change of venue or running to multiple quick service dining options to satisfy the entire family! After all, you can only have SO many slices of pizza or chicken tenders (regardless of the shape)! Even at Disney, it can be a challenge to find something that works for everyone! Follow along with me as I share of my favorite, kid tested and approved Disney dining selections in and out of the parks! Please note, some of these options may NOT be listed under the "Kids Menu"!
Magic Kingdom:
Just around the corner from Splash & Big Thunder Mountains, this place has been a long time favorite of everyone in my family! There are numerous delicious options here for the adults, and if your kids like more than just "plain" food, them too! From the Taco Burger to the various burritos and salads, there are many options! For those smaller guests, the kids menu offers beef nachos… And everyone can enjoy the churros at the end of your meal!
Sleepy Hollow – Liberty Square – Quick Service
One of the best Disney Dining "secrets" of Magic Kingdom! When you walk over the bridge from the Hub to Liberty Square, you will figure out this is where the funnel cakes are coming from!  And no, I'm not suggesting you let the kids have a funnel cake for lunch!!! Sleepy Hollow is home to my wife's favorite quick service meal in the Magic Kingdom, the Sweet & Spicy Chicken Waffle Sandwich! My son has long enjoyed the Nutella and Fresh Fruit Waffle Sandwich! Both of these offerings are quite large so there is a great opportunity to split and share with your family as well.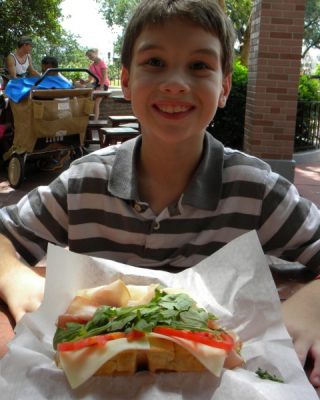 Dining in Beast's magnificent castle is something any kid will absolutely love! With the various food options available, no matter the time of day, you'll be just as excited as they are!  To quote a favorite song, "Don't believe me? Ask the dishes!" Top breakfast selections for the smaller guests in your party include Crepes, and my son's all time favorite breakfast food, French Toast! Perhaps you're going later in the day for lunch or dinner? Don't overlook the Mickey Meatloaf (Lunch and Dinner) or the Fish of the Day with rice, or the Grilled Steak. Both options come with fresh veggies and a fruit cup offering as well. Lastly, your little ones will also get to choose from various cupcake options for dessert!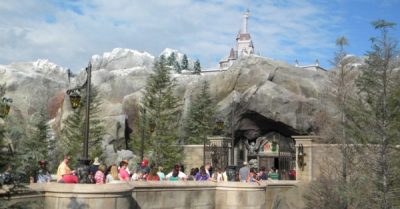 One of my favorites since childhood, Liberty Tree Tavern is unique, delicious and has just about everything you'd hope for and expect from a family meal! They are most well known for the "All You Care to Enjoy Bill of Fare" which includes salad, roasted turkey, pork roast, mashed potatoes, delicious seasonal veggies, stuffing and mac & cheese (some of the best in Magic Kingdom if you ask me!). Also included is dessert and the entire meal is served family style! There's something here for everyone, including the pickiest eaters in the group and you may not even have to venture a glance at the kids menu. If you do end up having to check it out, you will be pleasantly surprised at the selections as many are similar to the Bill of Fare but with smaller portions for the kids in your group! My son was a fan of the pasta and veggies when he was younger!
Epcot
Sunshine Seasons is easily top 3 of my favorite Disney Dining Quick Service locations! Located in the Land Pavilion and you will find that it is open for all meals of the day. Featuring a menu with many delicious options to pick from, you can't go wrong. For breakfast everyone in my family is a fan of the breakfast platter! This is one that is big enough of a portion you can easily split among two if you are so inclined! Featuring scrambled eggs, bacon, sausage, potatoes and french toast, you will be plenty satisfied! Checking out lunch or dinner? Check out the pork loin that has a great house rub on it and BBQ sauce on the side.  The kid's menu really shines here with the chicken leg meal or chicken wrap! Kids and seafood?  Don't skip on the kids salmon option!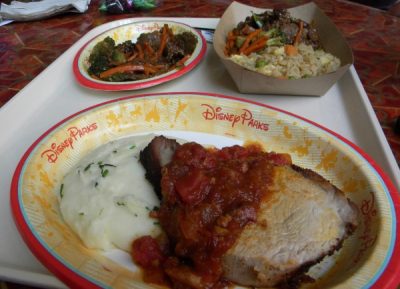 Located in the heart of the France Pavilion, this is is delightful stop everyone in your traveling party! Regardless if you are craving something sweet or a savory sandwich, you shouldn't pass up on this Disney Dining option! More than a dozen chocolate and pastry options are yours to browse, along with a wide range of sandwiches and quiches await you! A popular selection for my son was the Jambon Beurre! Don't fret the fancy name! This is a delicious ham and cheese with dijon mustard butter on a baguette. You simply cannot skip over the eclair or the creme brulee, both are exceptional!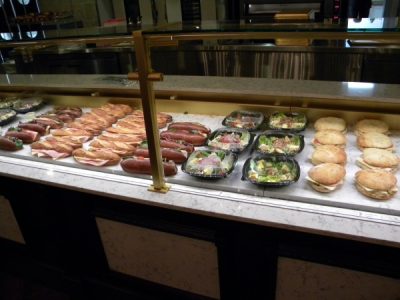 Teppan Edo – Japan – World Showcase – Table Service
Nothing beats a delicious meal and a great show and you will find both at Japan's Teppan Edo! There's something for everyone here regardless of if you like chicken, beef, seafood or veggies! Your chef prepares your meals right at the table and gets the family in on the show (especially the kids) so have your camera ready! Main entree's all include a salad, udon noodles, rice and vegetables with the option to include various enhancements to your meal. I highly recommend the wagyu steak for a delicious add on; it is pricey however! Selections for the kids are mostly smaller portions of your protein of choice with the earlier mentioned sides.
Easily in my top 3 Disney Dinging experiences at Walt Disney World, Le Cellier is top notch and you and your family will not be disappointed! Wonderful atmosphere for the adults with delicious steaks for all ages await you. Don't overlook the Signature Poutine as a great family sharable starter to your meal! While Le Cellier is a steakhouse, there are quite a few options available for the kids here as well. Grilled chicken, Salmon and steak, are all featured along with a kids size bowl of their famous Cheddar Cheese Soup! My son has loved this since our first trip when he was 6 and is a regular recipe I use at home!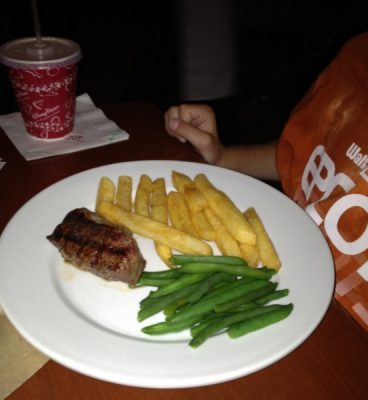 I hope I've given you some delicious Disney Dinging alternatives to our kids favorites of chicken tenders and pizza! We've only touched on two of the parks and the options at Disney resorts are not to be overlooked! I'll touch on these amazing Disney Dining selections in a future post! Until then, bon appetite!
What are some of your kiddos favorite dining options at the Magic Kingdom and Epcot that don't revolve around chicken nuggets, pizza, and the like? Share in the comments, or on Facebook or Twitter.
Did you like this article? Make sure to share it with your friends! Check below for easy ways to share!