Romantic Disney Dates for All Budgets
|
As Valentine's Day gets closer, we find ourselves asking "isn't this romantic?".  Walt Disney World is not just a place for kids and families but is also a great place for a romantic escape for newlyweds, those celebrating their anniversaries, and couples looking for some magical romance .  My husband and I took a kid free vacation to Walt Disney World for our 10th anniversary and enjoyed a variety of romantic experiences throughout our trip.  Some were free, where as others we splurged.  It doesn't matter if you are on a tight budget or want to splurge on a special event, one of these experiences is bound to bring some romance to your trip and help you create some special memories along the way.
Free or Inexpensive Dates
When my husband and I were in Walt Disney World, we enjoyed spending time together just the two of us.  There were so many moments that were special because we were together.
Walks:  taking leisurely strolls throughout Walt Disney World property and enjoying the atmosphere and scenery is a great way to spend time together that doesn't cost a thing.   The Disney resorts each proved a unique atmospheres with wonderful walk ways for guests to enjoy.  From the bayous of Port Orleans Riverside to the sandy beaches of the Caribbean and Polynesian, you are sure to find a romantic path to enjoy.
Activities: Fort Wilderness Resort and Campground is a great place to rent canoes, pedal boats or sea racers.  Most of these are budget friendly options.  A variety of resorts on property also offer bike rentals.  If you are an active couple this is another way to spend time together while taking in the sights and sounds of the resorts.
Animal Kingdom Lodge:  this resort is romantic within itself.  Head here for a drink or snack while watching the animals on the savanna.
Boat Rides:  Disney offers FREE boat rides between different Disney resorts and parks.  You can take a boat from Port Orleans Riverside and Disney Springs.  There are also boats to and from Magic Kingdom and Polynesian Resort and the Grand Floridian.  Both of these resorts are great places to take in the Magic Kingdom fireworks.
Movies:  All resorts offer outdoor movies.  There is something special about watching a Disney movie in Walt Disney World.  Grab some beach towels and get ready to watch a movie under the stars.
Entertainment:  Disney offers so many different entertainment options that you are sure to find something romantic.  At Disney's Port Orleans Riverside, you can find YeHaa Bob Jackson entertaining guests at River Roost one of the lounges.  Just down the way you can visit Port Orleans French Quarter's Scat Cat's Club.  This club is known for Southern-style jazz that is sure to get your body movin'.
In the Parks:  Although you might be running from ride to ride, make sure to take some time in the parks themselves to be romantic.  You can find some nice, relaxing spots to sit and just enjoy one another while maybe grabbing a Dole Whip or another treat.  Visit a ride or show that you haven't done before or stop and enjoy the many street shows that pop up throughout the parks.  Overall, slow down and enjoy each other.
Moderately Priced Ideas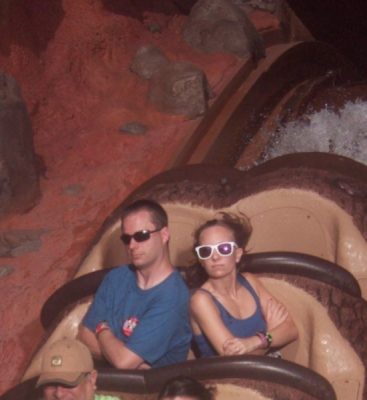 We loved having fun with our ride photos
When visiting Walt Disney World for our anniversary, we wanted to enjoy some special time together without breaking the bank.  Disney's Memory Maker is something that I would highly recommend for all couples (and all guests really) to capture those special moments.  Coming in at under $200, you can take as many pictures as you want while in Disney and then download them as you go or all together when you get home.  I loved having this option as it allowed us to get pictures together as well as have ride pictures.  We made sure to make the best out of the ride photos as well.  We also enjoyed some great food at reasonable prices throughout Disney property.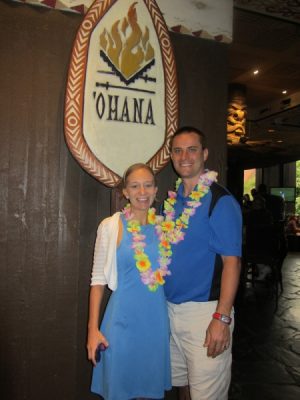 O'hana is one of our favorites
Restaurants:  We really enjoyed visiting Boma at Disney's Animal Kingdom Lodge and 'Ohana at Disney's Polynesian Resort.  Both offer great atmospheres as well as wonderful food that is different than what you can find in the parks.  Besides these two there are numerous restaurants that will provide a romantic experience without breaking the bank.  Flying Fish, Sanaa, and Be Our Guest are other options that can provide a great dining.
Lounges:  Lounges are located throughout Disney property and provide a variety of entertainment.  Around the Magic Kingdom area the Wave Lounge, Trader Sam's Grog Grotto and Citricos Lounge are lounges that have drinks and small food options that will make you feel relaxed and give you time to enjoy one another.
BoardWalk:  Heading to the BoardWalk is another outstanding way to have a romantic evening together.  You can start at the AbracadaBar where you will be entertained by the magic that comes to life.  From there you can visit Flying Fish for a nice meal or grab some ice cream from Ample Hills Creamery and people watch.  The BoardWalk is always hopping with entertainment and fun way to spend the evening together.
Activities:  If you are looking for something special to do without breaking the bank, Disney offers some unique activities throughout property.  Golfing and mini-golfing are options for those that want to hit the greens.  Both Winter Summerland and Fantasia Gardens are Disney's two mini-golf courses.  You can find four championship golf courses at Disney's Magnolia, Disney's Lake Buena Vista, Disney's Palm and Disney's Oak Trail.  Other options would be to take a carriage ride at Disney's Port Orleans Riverside, horseback ride at Disney's Fort Wilderness Lodge, or take in a movie at the AMC theatres in Disney Springs.
Ways to Splurge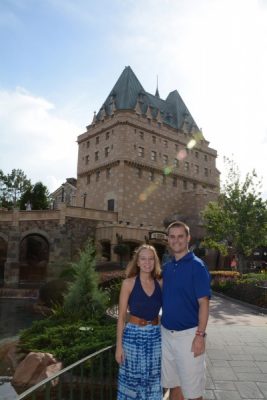 Our fancy dinner at Le Cellier
It is always fun to have at least one activity, meal or event that is a little bit of a splurge.  When we were celebrating we decided to have one meal that was a little more expensive, a little more fancy, a little more romantic.  We ate at Canada's Le Cellier in Epcot's World Showcase.  A romantic atmosphere where we felt like it was all about us as a couple.
Special Dining:  Disney has a variety of restaurants that provide a special dining experience.  Booking California Grill at the Contemporary Resort for dinner is a great way to watch Wishes during your meal.  Victoria and Albert's is a fine dining experience where you take in fine cuisine. For an even more unique experience, you could try the Chef's Table.  Other special dining experience can be found at Tiffins, Narcoossee's, and Citricos (where you can dine with an imagineer if you choose to book this).
Special Parties:  At Epcot, Hollywood Studios and Magic Kingdom you are able to book special dessert parties most evenings.  This would a great way to way to take in the evening show while enjoying special desserts.  You can also book a variety of cruises from specialty cruises that will take you around Bay Lake and Seven Seas Lagoon to Fireworks Cruise that provide you with a unique viewing for either Illuminations or Wishes.
Spas:  what is more romantic and relaxing than enjoying a couples spa together?  After spending some time in the parks, take a day to relax and be pampered.  Senses- A Disney Spa can be found at both Disney's Grand Floridian as well as at Disney's Saratoga Springs.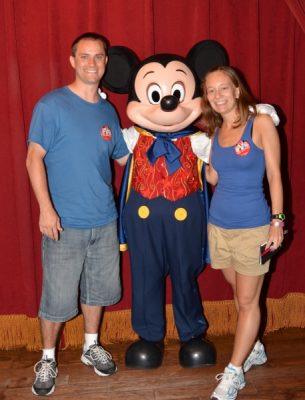 Never too Old for Mickey
It doesn't matter if you are a big spender or on a tight budget, there are tons of romantic experiences to have while visiting Walt Disney World Resort.  Whether you book a five course meal or hold hands and walk around the park, remember that being together is what makes it romantic.
What is your favorite way to spend a romantic day at Walt Disney World? Share your thoughts and suggestions in the comments.
Incoming search terms:
romantic disneyworld dates