This post may contains affiliate links for your convenience. If you make a purchase after clicking a link we may earn a small commission but it won't cost you a penny more! Read our full disclosure policy here.
As Valentine's Day gets closer, we find ourselves asking "isn't this romantic?".  Walt Disney World is not just a place for kids and families but is also a great place for a romantic escape for newlyweds, those celebrating their anniversaries, and couples looking for some magical romance .  My husband and I took a kid free vacation to Walt Disney World for our 10th anniversary and enjoyed a variety of romantic experiences throughout our trip.  Some were free, where as others we splurged.  It doesn't matter if you are on a tight budget or want to splurge on a special event, one of these experiences is bound to bring some romance to your trip and help you create some special memories along the way.
Free or Inexpensive Dates
When my husband and I were in Walt Disney World, we enjoyed spending time together just the two of us.  There were so many moments that were special because we were together.
Moderately Priced Ideas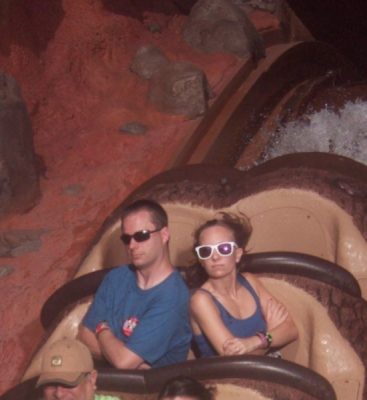 We loved having fun with our ride photos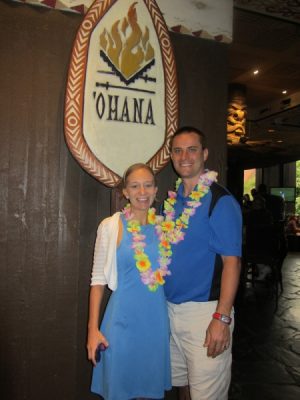 O'hana is one of our favorites
Ways to Splurge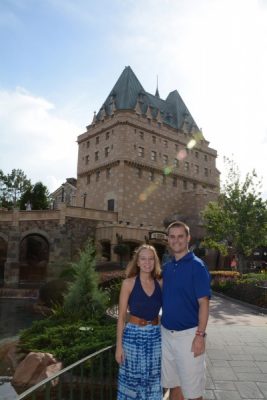 Our fancy dinner at Le Cellier
It is always fun to have at least one activity, meal or event that is a little bit of a splurge.  When we were celebrating we decided to have one meal that was a little more expensive, a little more fancy, a little more romantic.  We ate at Canada's Le Cellier in Epcot's World Showcase.  A romantic atmosphere where we felt like it was all about us as a couple.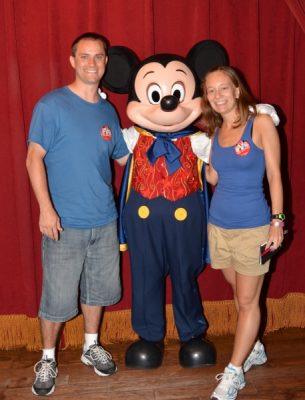 Never too Old for Mickey
It doesn't matter if you are a big spender or on a tight budget, there are tons of romantic experiences to have while visiting Walt Disney World Resort.  Whether you book a five course meal or hold hands and walk around the park, remember that being together is what makes it romantic.
What is your favorite way to spend a romantic day at Walt Disney World? Share your thoughts and suggestions in the comments.