This post may contains affiliate links for your convenience. If you make a purchase after clicking a link we may earn a small commission but it won't cost you a penny more! Read our full disclosure policy here.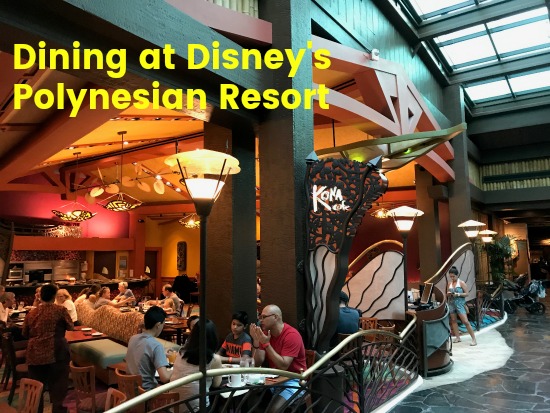 Disney's Polynesian Village Resort is arguably the most beautiful and wonderfully-themed resort on Walt Disney World property. The theme of the southern Pacific islands and celebration of tiki culture is found throughout and extends to right to its dining options. Everyone visiting Walt Disney World should consider dining at Disney's Polynesian Resort.
Most of the dining options are located in the Great Ceremonial House (which is the main building, also housing the registration and concierge desks and the gift shops). Like all the Deluxe Resorts, there are multiple options for dining at the Polynesian. One criticism often heard about Polynesian dining is its lack of a "signature" restaurant. This might disappoint some guests, though there are signature restaurants at both Disney's Grand Floridian Resort and Spa and Disney's Contemporary Resort, which are on the monorail loop. But there are plenty of unique options worthy of your consideration for dining at Disney's Polynesian Resort.
Quick Service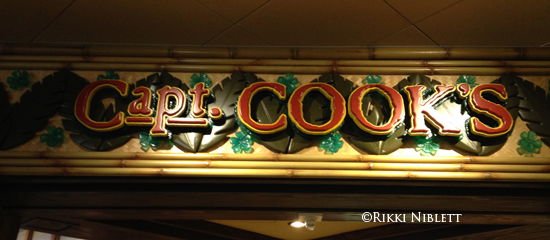 For quick service, there is Capt. Cooks, which serves some unique options for lunch and dinner (Big Kahuna sandwich, Aloha pork sandwich, pulled pork nachos, Hawaiian flatbread) as well as kid-friendly favorites like burgers and chicken nuggets. For breakfast, the menu is more traditional with the bounty breakfast platter, Mickey waffle, and the like (though they also have Tonga toast; see the section on Kona Café below).  They are open 24 hours a day (though the late-night menu is limited). The space in the ordering area is very tight, so visiting during busy meal times might cause some claustrophobia. Seating is available both inside and on the patio just outside the drink station.
Another other quick service option in the Great Ceremonial House is Kona Island, located between Kona Café and the doors to the monorail station. This small bar-like area has a coffee bar and pastries for breakfast, appetizers like pot stickers and wings for lunch, and sushi for dinner.  Sake, beer, and wine is available there at lunch and dinner. A couple desserts are also available. This location is good for a quick bite and some relaxation while soaking up the atmosphere of the Poly.
Finally, the Oasis Bar & Grill by the Oasis pool (the resort's "quiet" pool) has a decent food menu (which includes things like fish tacos, salads, chicken, and burgers) in addition to an extensive drink list.
Table Service
For table service, there is Kona Café on the second floor of the Great Ceremonial House, which has seating facing the beautiful lobby. The breakfast menu features notable items like banana-stuffed Tonga Toast, macadamia nut pancakes, and pressed-pot coffee. Lunch and dinner has a sushi menu and entrees like a Dashi noodle bowl, duo of pork, and turkey sandwich. Kona is a relatively easy "get" for an advanced dining reservation a few days out or even same-day. Kona Café uses one dining credit for those on the Disney Dining Plan.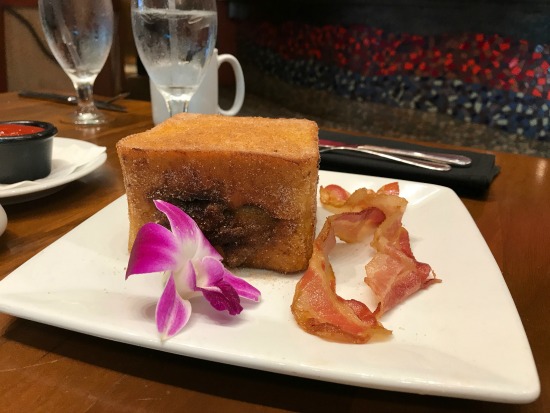 Tonga Toast at Kona Café
'Ohana is a table service experience for the whole family and has a strong reputation as a "must-do" for many Disney World guests. It is on the second floor of the Great Ceremonial House (near Kona Café). The dining room has a view of Seven Seas Lagoon with Cinderella Castle in the distance. Food is served family-style at your table at both breakfast and dinner.  It uses one credit on the Disney Dining Plan.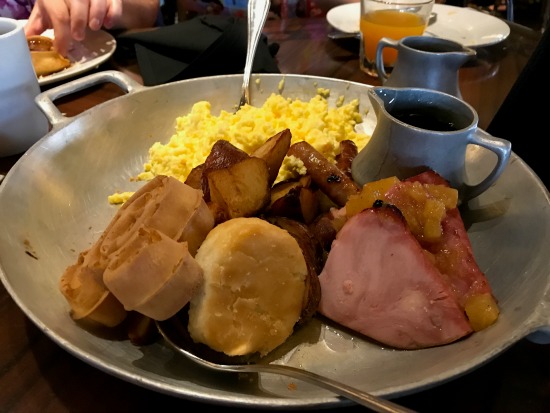 Breakfast skillet at 'Ohana
Breakfast is a character meal.  After your check in and are called to come in, your party is taken to meet Stich and get your photo taken by a PhotoPass photographer. You are then led to your table, picking up a plate of pineapple bread along the way. Then the food starts coming: a fruit plate, juices, coffee, and a skillet of breakfast favorites (Mickey and Stich waffles, eggs, ham, biscuits, potatoes, and sausage). Lilo, Mickey, and Pluto come around to your table for interactions, photos, and autographs. Kids are also invited to parade around the restaurant with the characters. Food and drinks are replenished as often as you'd like.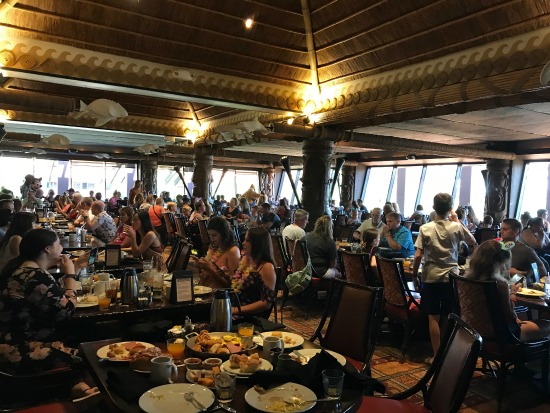 Dining room at 'Ohana
Dinner at 'Ohana is a completely different experience. There are no characters at dinner, but there is live music (ukulele/singer), coconut races with brooms for the kids, and everyone invited to dance the Hula (completely optional, but fun!). You pick up a plate of pineapple-coconut bread on your way to your table, and soon after you are seated, the food – oh, the food! – starts coming. The appetizers are salad, pork dumplings, and chicken wings, served with peanut and sweet-and-sour sauces. Steak, chicken, and shrimp are prepared on a fire in the main room and brought to your table on skewers. Sides include noodles in Teriyaki sauce and stir-fried vegetables. Dessert is bread pudding topped with bananas and caramel sauce. Kids can get a brownie topped with marshmallow and M&M toppings).
For those dining around the time of the fireworks at Magic Kingdom, the tables near the windows provide a nice view and the music is played throughout the restaurant. If you dine a bit earlier, you can hang around the Polynesian outside and watch the fireworks from the beach. (The fireworks music is played there as well).
Dinner Show
The final dining option at the Polynesian is the Spirit of Aloha Dinner Show.  This is an all-you-can eat meal with a Hawaiian luau.  Reviews for this show are mixed, but having never attended it, I can't offer judgment.  Those on the Disney Dining Plan will use two credits per person on this meal.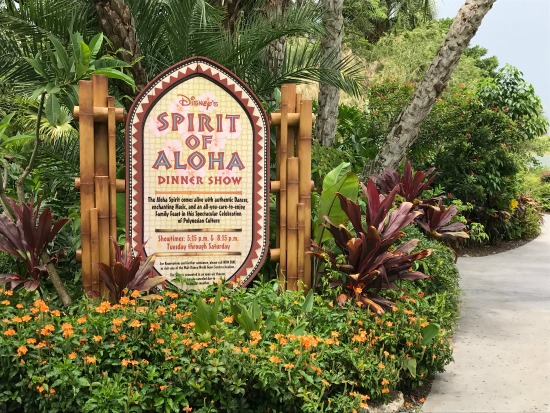 Pathway leading to the Spirit of Aloha dinner show
Other Dining Options
The Disney-favorite "Dole Whip" ice cream is served at the Pineapple Lanai outside the Great Ceremonial House, near the Lava pool. Also outside is the Barefoot Pool Bar near the lava pool, which serves alcoholic and non-alcoholic beverages.
There are two lounge options as well, the headliner being Trader Sam's Grog Grotto, which features expensive drinks in souvenir containers as well as an entertaining experience for those ordering said drinks. There is a small plates menu available too, but people don't go there for the food. Trader Sam's has extremely limited seating, so arrive early and prepare to wait.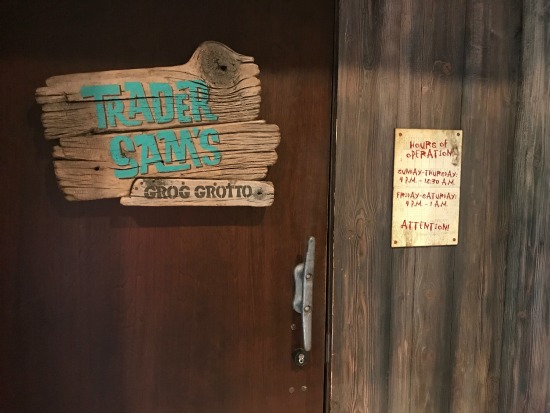 The not-so-obvious entrance to Trader Sam's Grog Grotto
Tambu Lounge is next door to 'Ohana and serves as a good waiting area for 'Ohana, as well as a relaxing area for a drink.
Dining at the Polynesian Village Resort is something special. If you are staying at the resort, you should definitely make the most of your options and plan several meals there. And if you are not staying there, taking time for dining at Disney's Polynesian Resort is worth it just to soak in the wonderful atmosphere of this original Disney World resort. Aloha!
What are your favorite places for Dining at Disney's Polynesian Resort and why? Share them in the comments.
Did you like this article? Make sure to share it with your friends! Check below for easy ways to share!
Incoming search terms:
https://www themouseforless com/blog_world/dining-at-disneys-polynesian-resort/
https://www themouseforless com/blog_world/dining-at-disneys-polynesian-resort/#:~:text=Quick Service&text=Seating is available both inside doors to the monorail station
polynesian resort disney world restaurants
polynesian resort disney dining
restaurants at polynesian resort disney
https://www themouseforless com/blog_world/dining-at-disneys-polynesian-resort/#:~:text=Quick Service&text=They are open 24 hours just outside the drink station
Bounty platter Polynesian Disney
can you get wuick service at poly and eat ok beach
meals available at polysnesioan resort