This post may contains affiliate links for your convenience. If you make a purchase after clicking a link we may earn a small commission but it won't cost you a penny more! Read our full disclosure policy here.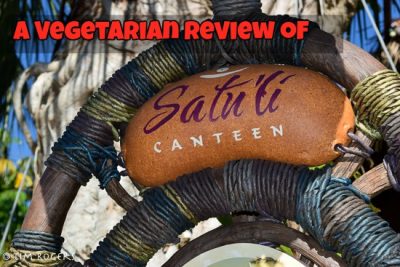 Disney's Animal Kingdom has been the focus of a lot of excitement recently. With extended hours, new evening experiences, and a new nighttime spectacular, there was plenty of reason to get amped up for a visit before even thinking about the new land. That new land, Pandora: The World of Avatar, has added so much more. And while the Na'vi River Journey, Avatar Flight of Passage, and the overall look and feel of the land have all been amazing, one of my favorite parts after visiting Pandora was the food.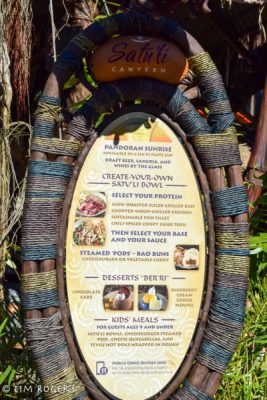 Satu'li Canteen enters an Animal Kingdom landscape of well regarded food of every kind. One of the most popular counter service (Flame Tree BBQ), buffet (Tusker House) and fine dining (Tiffins) locations are just a sampling of the food people love here. But when I first saw the menu for Satu'li Canteen I was cautiously ecstatic, because, as a vegetarian, the options at a lot of counter service locations are pretty similar, and Satu'li was nothing like any of them. I am pleased to say that after eating there myself, I can remove the caution and just be ecstatic – this place is amazing.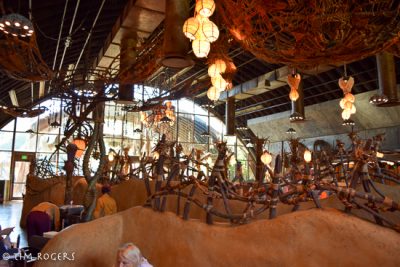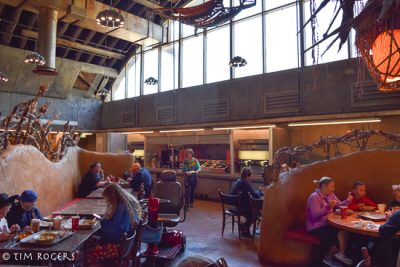 Note: Satuli Canteen is one of the growing number of counter service locations that allow mobile ordering. If you take part in this, you notify them in the app when you are ready for pick up, and then go to a separate window (to the left) to pick up your food.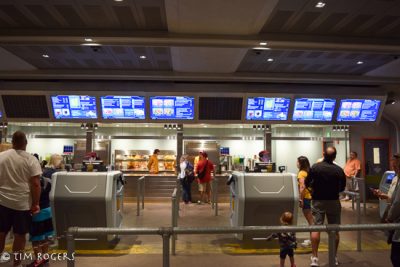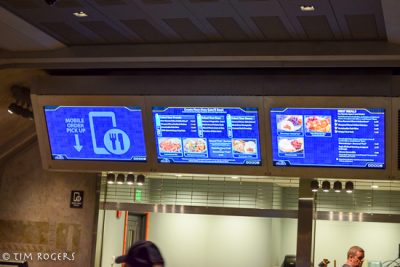 The lunch and dinner menu here can be broken down to two main things – bowls and pods. Lets start with the pods.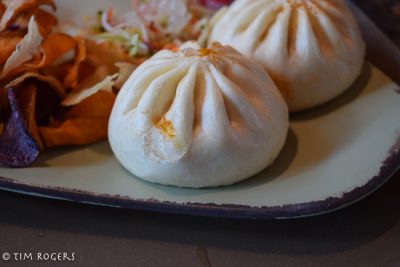 These pods are steamed Bao Buns – the vegetarian one is curry seasoned with eggplant, cauliflower, sweet potato, carrots and a shallot cilantro cream. It comes with a vegetable slaw and vegetable chips (as an aside, the vegetable chips were a fantastic surprise at how tasty they were. Meat eaters can also enjoy a cheeseburger steamed pod.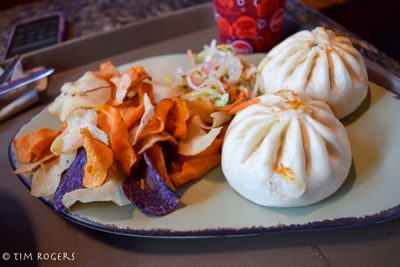 We enjoyed the curry vegetable pod – the bun was texturally different than most traditional American breads in that it is a little springier and even a little fluffy. The filling was flavorful and it all worked well together.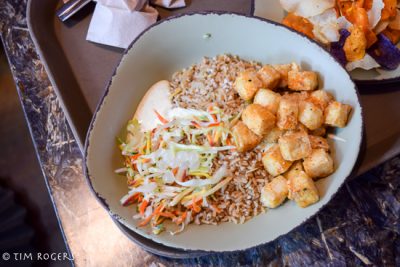 The main star of the menu at the Satu'li Canteen is probably the bowls. These bowls provide a wide range of possibilities by combining the elements in numerous combinations. You start with your choice of protein (grilled beef, grilled chicken, fish, or crispy fried tofu). From there, you select a base (quinoa and vegetable salad, red and sweet potato has, mixed whole grains and rice, or romaine and kale salad) and then select a sauce (charred onion chimichurri, black bean vinaigrette, or creamy herb sauce). The selections then come served with a vegetable slaw topped with boba balls.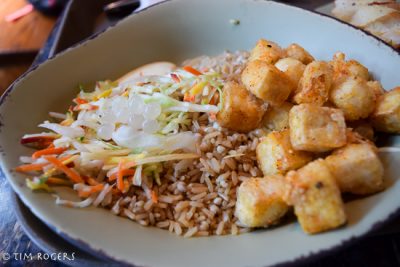 We went for the crispy fried tofu on mixed whole grains and rice with the creamy herb sauce. Overall, it was delicious. The tofu looks kind of like tator tots, but is cooked well and seasoned deliciously. Combing all of the elements was a tasty and filling meal with a good value.
Satu'li Canteen has been getting a lot of attention recently, and after trying it myself I can completely understand why. It is unique, easily customizable, filling, and not too expensive food and is definitely worth a shot on your next visit.
Have you tried Saut'li Canteen yet as a vegetarian? What did you think? Share your experience in the comments.
Did you like this article? Make sure to share it with your friends! Check below for easy ways to share!
Incoming search terms:
disney Pandora veggie steamed pods
https://www themouseforless com/blog_world/a-vegetarian-review-of-the-satuli-canteen/