This post may contains affiliate links for your convenience. If you make a purchase after clicking a link we may earn a small commission but it won't cost you a penny more! Read our full disclosure policy here.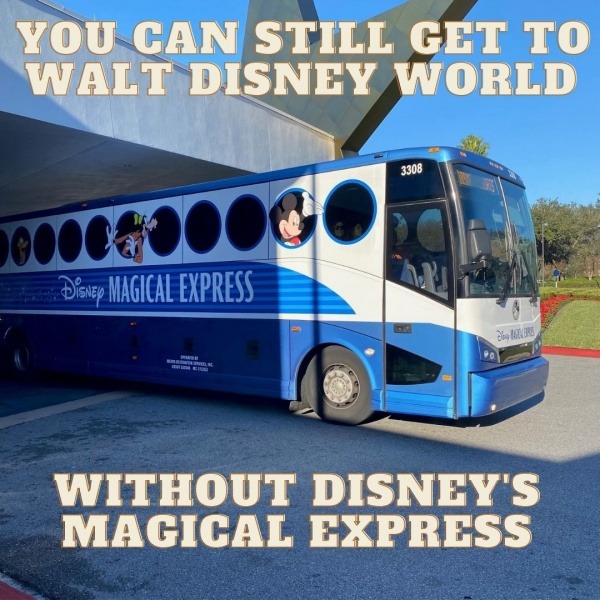 Did you miss the big news this week? It was pretty hard to, given that it was all over Disney social media. Beginning in 2022, Disney's Magical Express will cease to operate. (Find out the details here in this article.)
Now, we went to Walt Disney World before the Disney's Magical Express existed, and we can tell you that you can still get to Walt Disney World. In fact, there are more ways than ever and even more are coming.  Let's face it, Universal Orlando Resort does not have Magical Express but millions of Orlando visitors make it to the Resort anyway. Here's a couple of ways you can get to Walt Disney World now, as well as in the future. (Editor's Note: Reminder – Magical Express will still be available for those who travel to the Walt Disney World Resort in 2021.)
Mears Transportation
You may not know this, but Mears has been around for decades in Orlando. Their yellow busses were first on the scene at the Orlando International, long before Disney's Magical Express ever existed. In fact, you may not know it, but Mears works with Disney to operate Disney's Magical Express. Mears has already released a statement that they will continue to service Walt Disney World without the Magical Express. (Editor's Note: Of course, the main difference is that using Mears won't be complimentary.)
Mears has the Orlando International Airport concession for ground transportation. This means that they are the primary and official transportation company servicing the airport. They already offer a variety of methods to get to Walt Disney World now. Mears operates taxis, shuttle busses, town cars and limos. What they don't do right now is ride share but I expect that will come back post COVID.
Shuttle Vans $23-$37 per person one way.
These are officially operated by Mears although some other companies claim to service the airport (there may be pick up/drop off issues), these are the smaller ride share vans. There are fewer stops and fewer people to pick up/drop off but they may have longer drives between drop off and pick up.
Taxi: $52 – $68
Taxi may carry up to 9 passengers and the charge is per car, not per person. The charges are on a metered basis so the final fare may vary. We recommend contacting the company and checking for reservation and maximum passenger size. Remember to tell them about your luggage!
Private Limousine / Town Car / SUV $135-210
There are over 200 listings for private cars at the Orlando International Airport. Our suggestion is to Google what you'd like and to check their reviews. Make sure they are listed on the Orlando International Airport website. We also have discounts listed for some here.
Ride Share $22 – $140
Uber, Lyft and Wingz have been allowed to operate from Orlando International since 2017. Uber and Lyft have surge pricing that they employ when they are busy, it's late or whenever we call. Prices also vary by type of car. We aren't familiar with Wingz – they aren't in our area. Wingz, however, promises that they will wait for you rather than have you wait for the car.
All these prices are estimates using the ride share pages.
UberX (base): $21.90 – 37
Black SUV Car Seat: $87.95 – 120
Lyft (Base): $35-42
Lyft Lux Black XL $120 – 140
Wingz $39 – 55
Local Bus $4 Per Person Per Trip
If you are looking to save money, this is the way to go. But you won't save time or aggravation. The local bus costs only $4 per person. You take the 111 bus to the Se Harbor and Grand Vacations Way stop. Then you transfer to the 50 Bus that will take you to the Walt Disney World Transportation and Ticket Center. Then you have to take a WDW resort bus to your final destination. The trip is estimated to take nearly two hours just to get to the Disney bus. This is not how I want to spend a vacation.
Car Rental
There are ten car rental companies at the airport and the airport lists another 28 offsite. Just remember that you will not only pay for the car rental but for parking at Walt Disney World Hotels, as well. We do have discounts available here for you to peruse.
Replacement Shuttle Busses
This is currently provided by Disney's Magical Express. We anticipate a return of the big yellow Mears Busses to provide a primary source of rides to Walt Disney World. We'd expect the same type of service that the Disney Magical Express currently provides but at a price point lower than the shuttles.
Train
It was previously announced that by late 2022 the high speed Brightline train service will connect the Orlando International Airport to Miami. After this phase is complete an additional line will run from the airport to a new station in Disney Springs. Since this will not begin until late 2022/early 2023 we don't anticipate this service being available for several years. Once this is available it could be a game changer. Depending on the cost, frequency of trains and how Disney transportation supports the Disney Springs transfers to resort busses.
Of course, these are just the current ways that Guests will be able to get to the Walt Disney World Resort. Additional methods may be introduced over time and we'll make sure to keep you updated on what those may be.
What are your thoughts of the retirement of Disney's Magical Express and which method of transportation will you consider when traveling to Walt Disney World moving forward? Share with us your thoughts in the comments or on Facebook or Twitter!
Did you like this article? Make sure to share it with your friends! Check below for easy ways to share!  
Want to visit a Disney Destination? Contact The Magic for Less Travel for more information and a free, no-obligation quote.