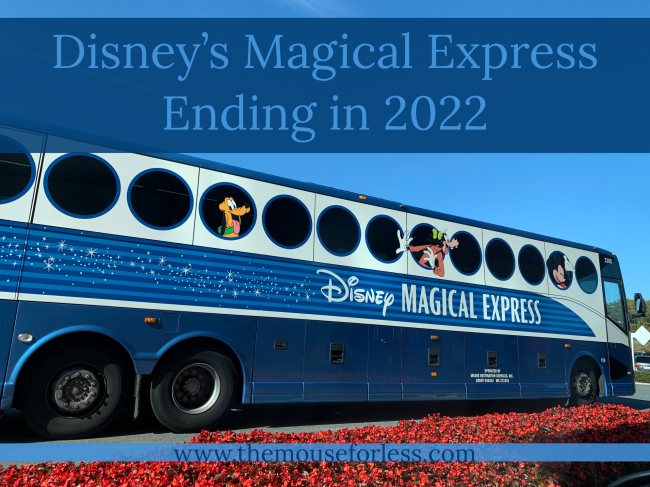 Holy wow! Today, the Walt Disney World Resort shared that Disney's Magical Express was officially being retired. This humongous change will go into effect beginning on January 1, 2022.
The reasoning behind this update, Disney states, is that Guests' needs and preferences have changed over the years. (Especially, one would think, due to the introduction of options like Lyft and Uber. These, of course, didn't exist when Disney's Magical Express was introduced. Many are also guessing that the introduction of the Brightline rail system, which is coming to Disney Springs, may also have something to do with this change.)
So what does this all mean for you and your future trips to the Walt Disney World Resort? Well, beginning on January 1, 2022, Guests will no longer be able to utilize Disney's Magical Express to get to their hotel. As of right now, beginning in 2022, Guests will need to find a different method of transportation to and from the resort and Orlando International Airport.
For those with trips in 2021, Disney's Magical Express will continue to operate. The service will still be available for Disney Resort Hotels for both new and existing reservations. Currently, though, due to COVID restrictions, there are some additional things you'll need to know about using the service right now.
Disney has stated that other complimentary transportation offerings at the Walt Disney World Resort will continue to be available for hotel guests to use. This includes buses, monorails and the Disney Skyliner.
History of Disney's Magical Express
Disney's Magical Express is a service that debuted in May 2005. It provides free bus transportation to and from Orlando International Airport and Disney's resort hotels. This perk is for Guests staying at those hotels. A perk for using this service was Guests could begin their vacations from the moment they stepped off the plane. Passengers would traditionally be able to bypass baggage claim. In addition, they could avoid the inconvenience and cost of driving or finding ground transportation. With Disney's Magical Express, Guests could get to and from the airport to your accommodations in comfort and with ease.
More details about Disney's Magical Express can be found here in our handy guide.
For vacation planning information, please visit our
Walt Disney World
planning section.