This post may contains affiliate links for your convenience. If you make a purchase after clicking a link we may earn a small commission but it won't cost you a penny more! Read our full disclosure policy here.
Our family loves staying in the Cabins at Fort Wilderness.  Our family of 5 is hardly ever just a family of 5.  We almost always wind up traveling with a larger group.  Fortunately, Disney has made it much easier for a family of 5 to travel to Disney in recent years, but previously options were limited.  My thoughts have always been maximize your room capacity.  A big factor contributing to this is that we usually travel during Free Dining, and with that promotion, you really want to get as many bodies in the room as Disney allows to take full advantage of that Free Dining for the rack rate you pay.
For our family's first trip, it took a lot of convincing of the hubby.  He didn't want to go stay in a hotel room for a week and not have the luxury of comfort and space.  We watched many videos and he really seemed to love the Cabins at Fort Wilderness.  As I continued my research, I learned that you could fit 6 people in one cabin (plus one child under 3).  So, the planning to drag my sister along began.  Now 6 people in one accommodation at Disney sounds like a lot, but we soon learned that this was the best possible decision we could have made.
We usually drive down and if you stay in a hotel, then you park in a parking lot.  At the Cabins, you drive right up to your cabin.  This makes unloading your vehicle a breeze.  I've stayed in Disney's Pop Century and some of the moderates and found that the schlep from the bus stop to the room was a lot.  At Ft. Wilderness, it is pretty easy (and relaxing, if I might add) to get around to the bus stops for the parks or the boat to Magic Kingdom.  We opt to rent a golf cart, but you can request a cabin at the end of a loop and be close to one of the internal buses that take you around the resort and to the two park transportation options of boat or bus.  The golf carts are a bit pricey, but they are a part of the vacation for us.  Currently at time of release of this post, they are running $59.00/day.  At the end of the day though, imagine getting off of the bus or boat and not having to walk all the way back to your room.  You jump in your golf cart and ride off into the night!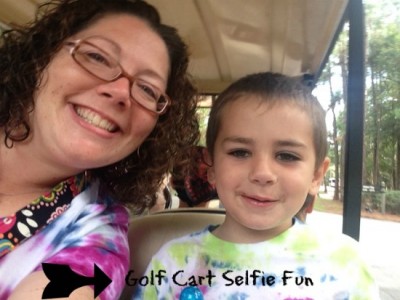 Riding along in the golf cart
As I mentioned, we've stayed at Pop and two of the moderates.  In the cabin, you do not have people below or above you, so that's a nice added benefit as well.  Unlike some of the suite options, the Cabins only have one bathroom.  But the rest of the layout is great.  They are currently refurbishing with some updates, but at the time we stayed, they had a full kitchen with stove, toaster, microwave, coffeemaker, full fridge and dishwasher.  They include silverware, dishes and pots and pans.  There is a dining room table and a living room that has a murphy bed and a sofa with a TV.  The bedroom has a set of bunk beds and a double bed.  Usually my family stays in the bedroom and our guest will stay in the living room.  There always seems to be a nice amount of space to spread out in.  The refurbishments include cosmetic upgrades, as well as a queen bed in the bedroom.  Sadly, they have taken out the Murphy bed and put in its place, a queen sleeper sofa.  They also upgraded the TV in the Living Room area to a 55".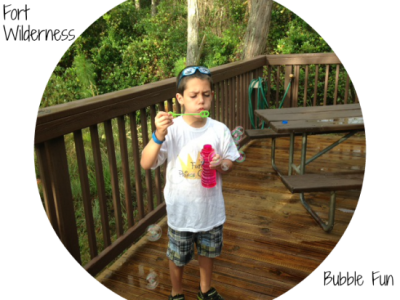 Blowing bubbles on the deck of the Cabin
Our most favorite thing about the resort is that it seems to be a vacation within a vacation.  Fort Wilderness was one of the original resorts when Disney first opened.  I can't help but to soak up all that Disney history.  But, in addition to that, they have a large amount of amenities and activities to enjoy.
For one, they have the same type of pools as the other moderates.  They have a feature pool with a kids' splash pad area and a main pool with water slide.  They also have a quiet pool that we have enjoyed on many occasions.  They do have hot tubs at both of these locations.  There are all kinds of trails to run and bike on, including one that goes over to Wilderness Lodge.  They have a Chip'n'Dale Campfire and Sing-A-Long every night before the Movie Under the Stars.  This was one of our favorite FREE activities.  They have a General Store, which is equivalent to the other resorts' gift shop, but you can also buy many necessities here as well.  You can go fishing basically anywhere on property that has a stream, or you can take a guided excursion.  The latter has become a tradition for us.  The boys love the guided tour because you catch a TON of fish.  It is catch and release and the captains know just where to go.  Other activities that they offer are canoeing, boat and bike rentals, archery, horseback riding, playgrounds, carriage rides and more.  The activities are endless, and you could make a whole trip out of just visiting the resort.
My husband and his two brothers took the Segway Wilderness tour on our last stay and they had a blast.  They reported that the guide was full of all kinds of neat information about the history of the resort and they went all over the property.  Another fun thing to do around Halloween and Christmas is to drive around the campground area.  Folks that are visiting go all out with decorations.  It is a fun way to get into the season.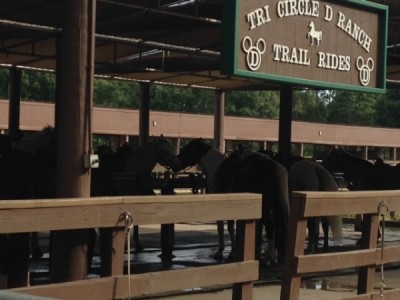 A view of the horses at the Tri Circle D Ranch Stables
There are several dining options within in the resort as well.  For those who purchased refillable mugs, there are two mug stations.  One is in the same building as Trail's End and the other is at the Meadow Pool, the main pool area.  At both locations, you can also get Quick Service options and they take the Disney Dining Plan.  They offer some snack options as well.  You can also purchase alcoholic beverages at both locations too.
For Table Service, or sit down meals, Disney's Fort Wilderness Resort has several options as well.  One of our favorites for breakfast or dinner is the Trail's End Restaurant.  They offer a delicious buffet and it is one of the more affordable buffet options on property.  Don't miss out on the cornbread, or anything for that matter! Next door to Trail's End is the Hoop-Dee-Doo Musical Review.  The food, I've heard, is also great, as it's prepared out of the same kitchen as Trail's End and it comes along with one of the longest running shows on property.  It's good old fashioned country singing and dancing, with a touch of corny humor thrown in here and there.  There are several Categories of seating and if you're using the Dining Plan, be aware that it takes two credits.  Also, there are 3 shows nightly.  Lastly, there is a character dinner that we have not tried at the resort and that is Mickey's Backyard BBQ.  It's always nice to know that there are several dining options available.
The kids playing tetherball on the beach as we await reservations at Trail's End
We absolutely love going down to the beach to watch the fireworks, especially on Halloween or Christmas party nights.  They pipe the music in and the kids can play in the sand while we are waiting.  After the fireworks are over, the Electrical Water Pageant comes through.  It is really a nice way to peacefully end the night. Disney's Fort Wilderness is one of our family's favorite resorts and we cherish all the wonderful memories we have made there.  One day, we may brave a camping adventure there, but for now, I'd like to keep my luxuries of indoor plumbing and hot water.
Playing in the sand while waiting on the beach at Disney's Fort Wilderness Resort for the nightly fireworks at Magic Kingdom.
What are your favorite things about staying at Disney's Fort Wilderness? Share in the comments.