This post may contains affiliate links for your convenience. If you make a purchase after clicking a link we may earn a small commission but it won't cost you a penny more! Read our full disclosure policy here.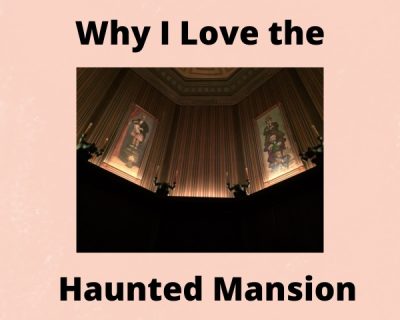 …or is it your imagination?
When you ask someone to name an iconic Disney attraction, you'll hear lots of answers. It's a small world! Pirates of the Caribbean! And over and over and over again, The Haunted Mansion!

If you've seen the Behind the Attraction series on Disney+ (and if you haven't you should) you know that the history of the Haunted Mansion is long and complicated, and it was unique in that the ride elements were created in duplicate so that it could open at both Disneyland and Walt Disney World.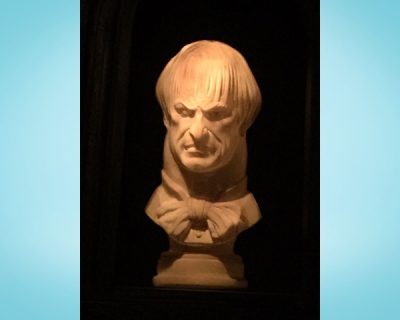 A Ghoulish Bust
My first trip on the Mansion's Doom Buggies were at Walt Disney World. I'll never forget the feeling of foreboding that my young 5-year-old self felt when I saw the towering, Hudson-style manor. I'll also never forget my poor baby sister screaming her head off after the stretch room, when a Cast Member appropriately bellowed "Step to the left!" and scared her. It was also the only time I've ever seen a Mansion CM break character. As we were boarding the buggies, a CM sweetly tried to explain to my freaked-out sister that it was all make believe! (I'm pretty sure she's recovered by now.)
Decades later, I would encounter Disneyland's version. I made the mistake of thinking Disneyland Park and the Magic Kingdom were set up the same way, so I spent a long time trying to figure out where Liberty Square was. Once I wisely got a park map, I located New Orleans Square and visited the creepy yet fun Southern manor. I had heard multiple times that the stretch room went in different directions on each coast but it wasn't until I visited Disneyland that I figured out which was which!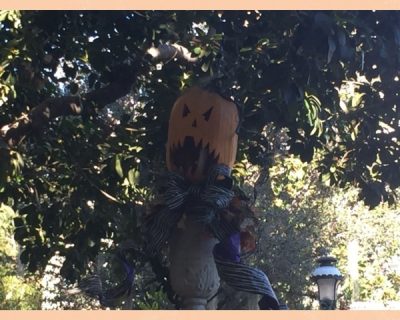 Haunted Mansion Holiday
And later on, I got to visit the Haunted Mansion Holiday, that Disneyland overlay that happens for the Halloween and Christmas seasons. It seems that Jack Skellington has taken over the mansion. A familiar score by Danny Elfman and a towering gingerbread house in the ballroom scene (a new house is designed every year!) add to the fun.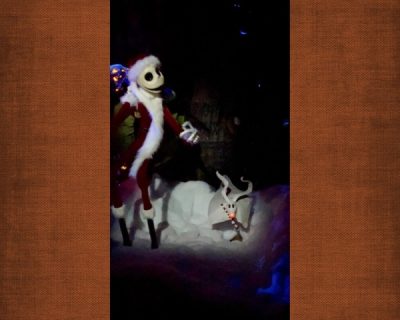 Jack Skellington and Zero in the Haunted Mansion Holiday
What makes The Haunted Mansion so repeatable? First of all, it's the plethora of details. There is so much going on that it's virtually impossible to take everything in on only one ride. There have been occasions where my buggy has stopped momentarily and I've been shocked at how many details I catch that I hadn't seen before!

Whether it's on the East Coast or the West Coast, during Halloween or summer or Christmas or spring, no trip to Disneyland or Walt Disney World feels complete until I've visited with those 999 Grim Grinning Ghosts. And of course, there's always room for one more.
Do you enjoy riding The Haunted Mansion? What's your favorite scene? Share your thoughts in the comments or on Facebook or Twitter!
Did you like this article? Make sure to share it with your friends! Check below for easy ways to share!  
Want to visit a Disney Destination? Contact The Magic for Less Travel for more information and a free, no-obligation quote.
Incoming search terms:
https://www themouseforless com/blog_world/why-i-love-the-haunted-mansion/