This post may contains affiliate links for your convenience. If you make a purchase after clicking a link we may earn a small commission but it won't cost you a penny more! Read our full disclosure policy here.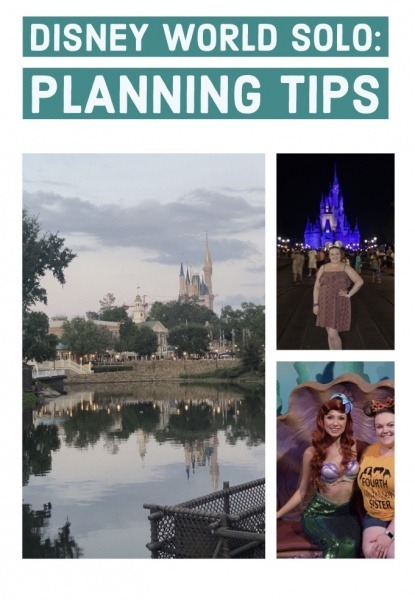 Are you thinking about taking your first solo trip to Walt Disney World? Or, did your travel buddy back out, and you now have to go solo or not at all? Two words: Just. Go! Traveling to my favorite place in the world solo has always been on my bucket list. I had a trip planned for September 2019 for two glorious weeks. Life changes meant I now had to go solo or cancel my trip. I didn't feel ready for my first solo trip, and I was nervous about the length of time alone. I had spent over a year planning & saving for the perfect Disney trip. Although I am a Disney World veteran, this trip was full of fun things I had been wanting to do for years. I would've been devastated to cancel it!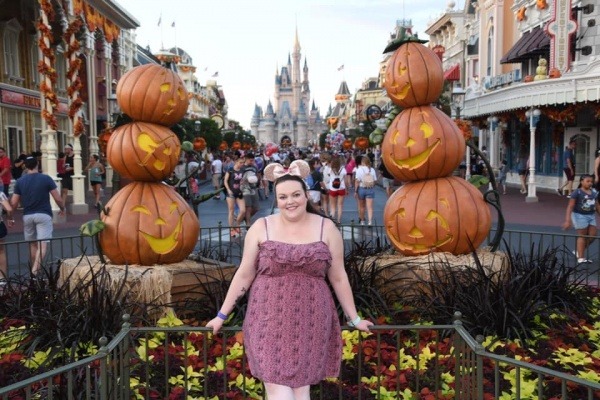 I asked if friends were interested in joining & I thought a LOT about going solo. I sought advice from friends, family & fellow Disney fans who urged me this had the potential to be something amazing. I finally decided to reduce my trip by 2 days (I know…HUGE change right?) & go completely solo!
Since I come from so far away, my travel days are out for doing any activities. To accomplish everything I wanted to on this trip, the perfect plans I had had to be tailored, but I knew I needed at least 10 days. So I stuck with 12 days. I called my travel agent, and took the plunge. It was still before my final payment date, so I wasn't hit with any fees for changing. Within a couple hours, the changes were made & it was official, I was going to Walt Disney World solo!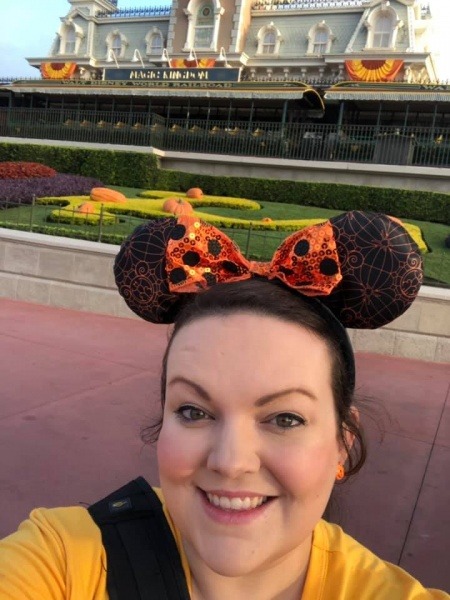 I was nervous for many things. I was nervous being a woman alone in Disney, I was nervous for being so far from home alone, but most of all, I was nervous about getting lonely. I now had to somewhat shift my plans to be more "solo" focused & only had about a month to do so. The trip was already sort of geared towards my interests, but I wanted to do some research. I started with researching how I could make some friends when I was there. Sounds stupid, I know. I wanted this trip to be kind of the shift in life that I needed & I knew that meant making new friends. I started reading a lot of blogs & watching YouTube videos on solo Disney World travel. Here's what I learned!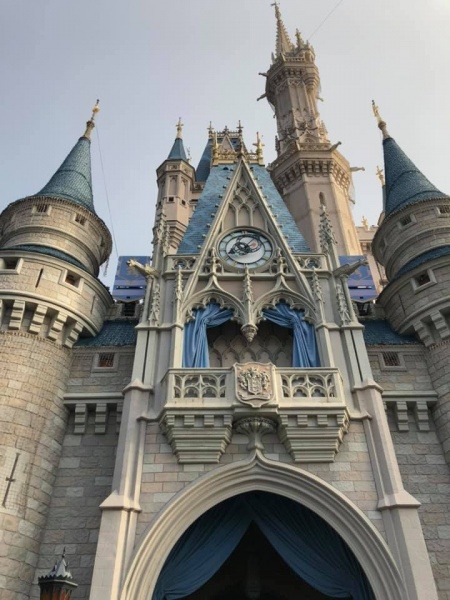 Choosing your Resort
Since this was originally not a solo trip, my resort was already chosen. My resort for this trip was Disney's All Star Music. I did have the option to switch to something else if I wanted to, but I decided to keep it as is. I loved All Star Music! The rooms are a little outdated, which I knew, but I absolutely loved this resort.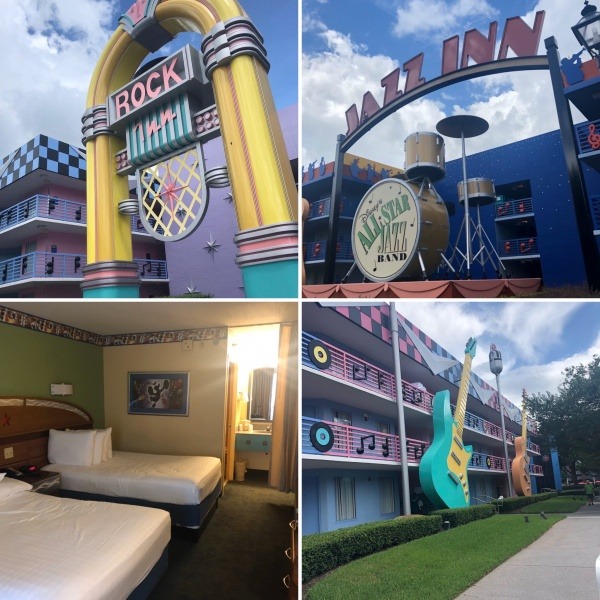 I think when choosing your resort for your solo stay, something important to keep in mind is your own comfort & the distance from the main lobby/buses.  Budget, of course, is another major thing to consider. With no one to share expenses, it can get pricey quickly.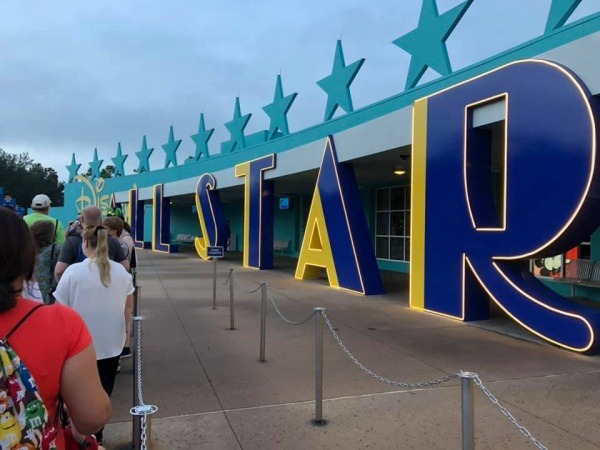 Disney's PhotoPass
One of my biggest takeaways from this trip-get yourself the Memory Maker! Our family gets it every single trip anyways, because it's not a major expense, it is just so quick & easy, and then everyone can be in the photos.  
It was never a question in my mind if I would have the Memory Maker or not, and I am so glad I kept it. I thought maybe being a solo traveler it would be weird or awkward getting photos alone-but I got PLENTY! In fact, I think I got more use out of my Memory Maker than I ever have before. Being solo meant I didn't have the option of someone else taking a photo for me. Selfies & Memory Maker made capturing my vacation memories so easy. I loved scouting out some unique photo locations & stopped as often as I could. It was great too for character meet & greets. I also love it for those ride photos & videos! I completely understand being nervous about getting Memory Maker as a solo traveler, however, just do it! You will be glad you did.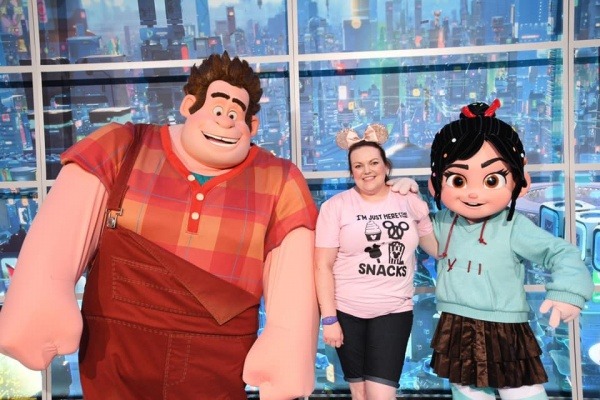 Making Friends
One thing that often came up was to not be afraid to post in Disney groups on Facebook like the Mouse for Less page. I also tried searching some Disney World Solo groups. I was weary of posting my exact time & location, but I did find some great groups that I was comfortable chatting to various people in-I even found someone from my home province! I met several ladies through social media & I felt a bit more comfortable knowing that if I wanted a buddy, I could easily have one. I ended up dining with a few of my new friends & had tons of fun! We still keep in touch & will have Disney adventures in the future.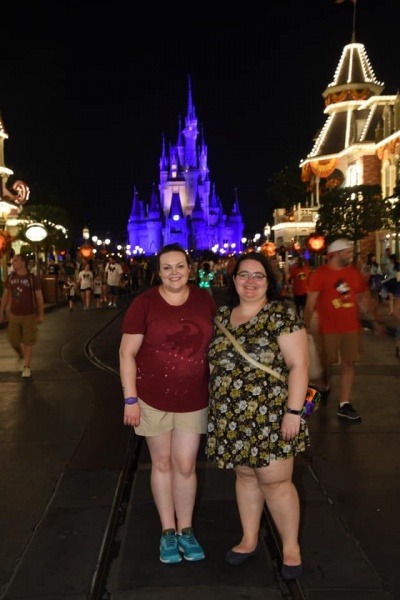 Another tip was to simply meet people the old fashioned way. Sit at the bar, chat to your neighbor or bartender, make friends! I met a lot of interesting people this way. My personal favorite was when I went to Trader Sam's Grog Grotto & sat with a couple. He worked for a construction company with Disney & had a TON of cool stories to share. I talked to them for over an hour & we had an awesome evening at the bar! I was nervous for Trader Sam's because they encourage communal seating, so I knew I'd have to sit with a stranger. I put my name on the wait list & decided that if I was still at the Polynesian when I got the text, I'd go for a quick drink & leave. I am so glad I did! I'd met a few others along the way by sitting at the bar, chatting to people in line & on the bus home. Most of them were just a passing friendship, but some I still keep in touch with!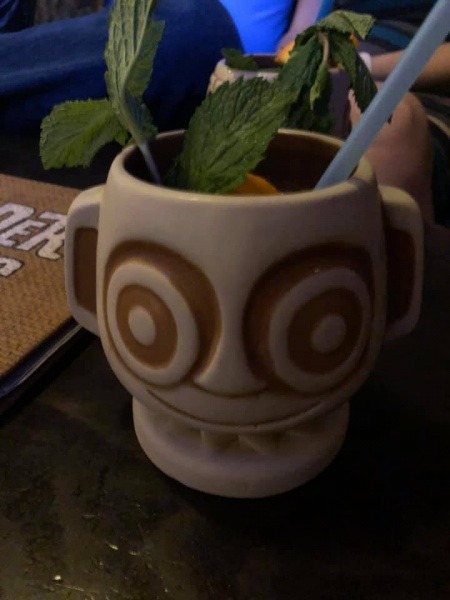 Planning Your
Itinerary
As previously mentioned, this trip had mostly already been planned as my "perfect trip". I did have some things scheduled that were geared towards my original travel buddy which were mostly things I'd already experienced. The first thing I did was change those things to something else on my bucket list. I changed a couple dining reservations & got back to planning how to make this trip my dream solo trip. 
One thing I focused on this trip was resort hopping. I have done the parks countless times, and while it's my absolutely favorite, there were a lot of resorts I had yet to explore so checking them out was high on my list.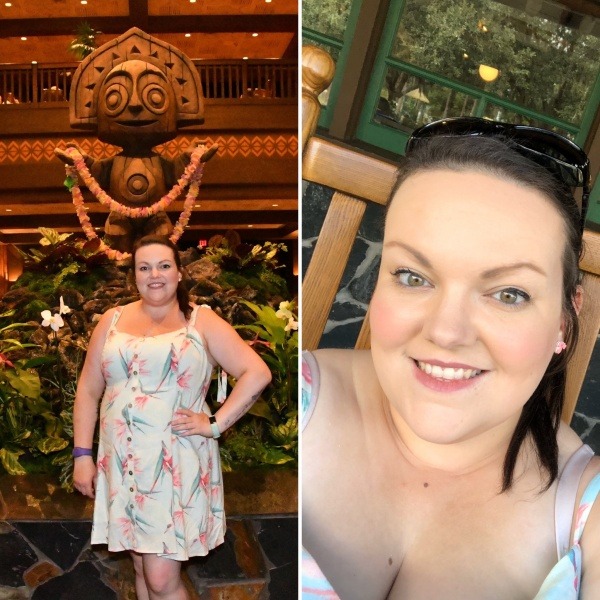 I also decided I wanted to do a lot of pool time this trip. This is not something I typically do because I love the parks too much! But I wanted to relax & soak up the atmosphere more than I usually do.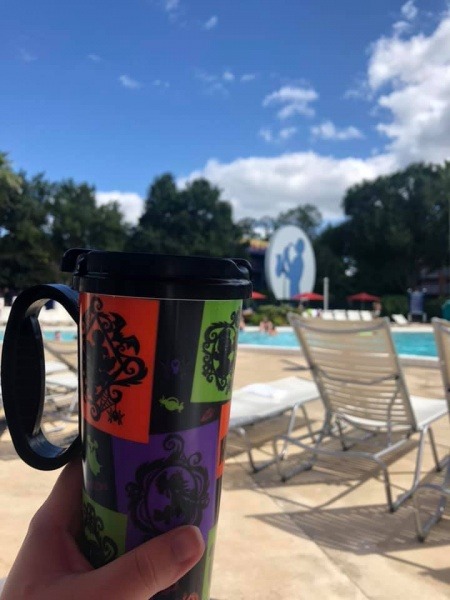 Having the freedom to plan what I wanted was awesome. I typically travel with my family, and while I love that, it was nice to be able to not worry about other's wishes when I was making a plan. What can I say? I'm greedy LOL, just kidding. It just made the trip so stress free to be able to be the one who calls the shots.  
I am a big planner when it comes to Disney trips. I have spreadsheets & bucket lists & planners galore. I don't have every minute of every day planned, but I definitely do know what parks I am going to on which days, and what I will be eating. I also have a bucket list that I sometimes reference to knock out some things off my list. I like to be organized & prepared! If you are a planner like me, check on my blog on tips for planning your Walt Disney World itinerary.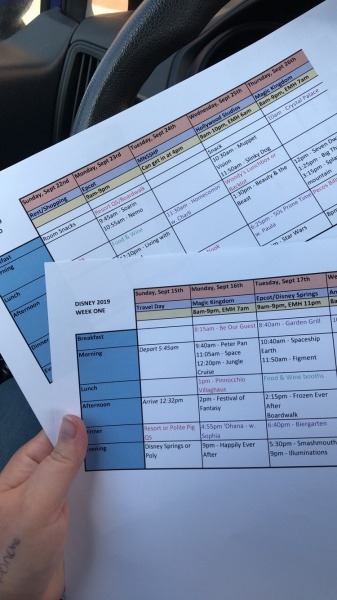 Safety
One other thing that made me a little nervous traveling to Disney World solo was being my strong independent female self...alone in a foreign country. I have traveled alone to destinations before to meet up with friends or family, but I had never truly traveled solo before. I was a bit nervous, but I am pretty safe & savvy so I knew what precautions to take.  
First off, while I did post my whereabouts on social media, I did not post it in any groups or specify exactly where I was staying. Disney World is a safe place, but things can happen anywhere. 
Secondly, I was always aware of my surroundings when I went to my room at night. Again, I never felt unsafe, but I wanted to be mindful. When I submitted my room request, I also requested to have something facing the main courtyard so I was at least in view. Unfortunately, I never got my room request, but I was happy because I was kind of towards the back with a garden view & it was very peaceful. Still felt perfectly safe at all times!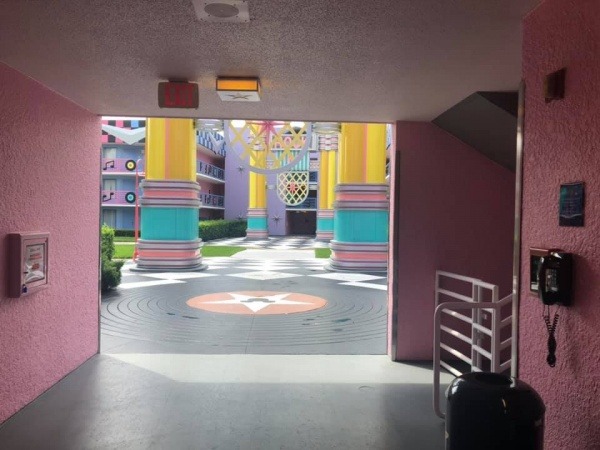 Lastly, I was just smart. I met a lot of great people on my trip. Those I felt comfortable with & got to know well, I didn't mind sharing things with. However, those I met in passing, I didn't disclose much information to unless asked & I kept my answers broad. I did indulge in some alcoholic beverages, but never too much. Just enough to have a good time, but make it home safely. I also took Uber a fair bit this trip-it was just so convenient if I had a late night, early morning or wanted to go off site at all. Again, I was smart. I also kept my Uber app open during the drive, in case I needed the safety button.  
All this aside, I never once felt unsafe. Not even a little bit, and not even when I took Uber off site (which was rare). Walt Disney World is a great stepping stone for solo travel because it is so safe. The Cast Members everywhere work hard to make sure each & every guest is comfortable, happy & most of all, safe. It's important to be savvy & aware of your surroundings, but there is honestly no better place to be solo. I knew I would feel safe, but I also wanted to be prepared. Keep these tips in mind on your solo trip. At the end of the day, there is the potential for people to end up in an unsafe situation anywhere. Have your wits about you, but I promise, you are truly in the happiest place on earth & have absolutely nothing to worry about.  
Hard Ticket & Special Events
Have you been daydreaming about any fun additions on your Walt Disney World vacations, but have been traveling with others & unable to do so? Great news! As a solo traveler, you can do what you want to! If it's within the budget, of course. Whether it be an After Hours event, guided tour, dessert party, Mickey's Not So Scary Halloween Party or Mickey's Very Merry Christmas Party, there are so many fun extras you can do on a Walt Disney World vacation. Check out my lists of splurge worthy or affordable bucket list items to help you with your planning!
I opted to do a couple of "extras" on my Disney World vacation. I had a blast at Mickey's Not-So-Scary Halloween Party, and an incredible time at the Happily Ever After Fireworks Dessert Party. Because I was solo, I actually ended up with the PERFECT seat at the dessert party & it was the best night of my trip! The Halloween party was also a ton of fun – check out my review here.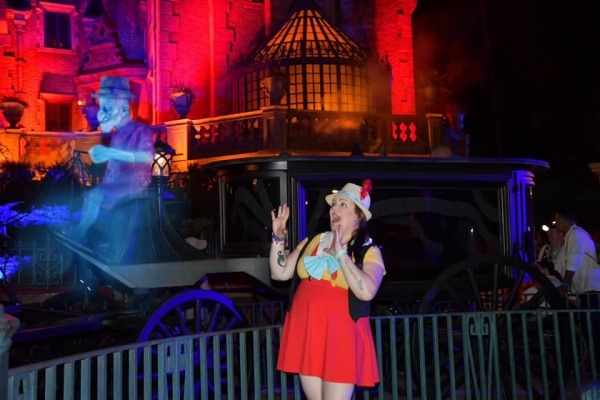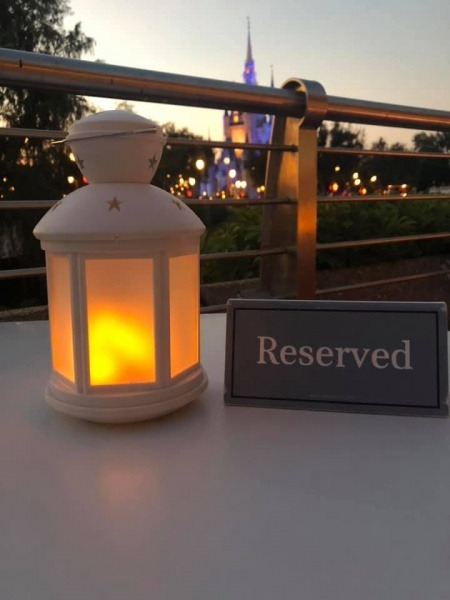 Lastly, I enjoyed the Epcot Food & Wine festival. While this isn't an extra ticketed event, it was something I was looking very forward to! I had traveled during the Epcot Food & Wine Festival many times, but never truly indulged in it. Getting to wine & dine around World Showcase was a blast. Read my full review here.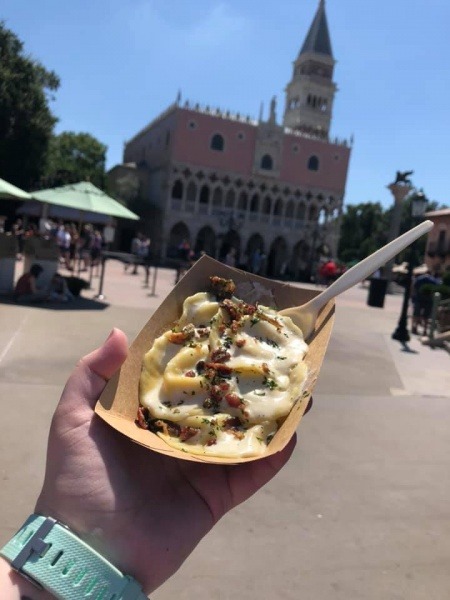 Don't be shy or nervous to do these events! Solo travel is something to commemorate, so why not make the trip extra special by splurging on some fun additions? 
Single Rider Lines
Another pro tip – take advantage of the single riders line! I cannot stress it enough. There aren't a ton in Walt Disney World, but the ones that are there, definitely take advantage. Don't waste precious FastPasses on these attractions – use the single rider line! They are usually walk on or 10 minutes max. The one exception I did find was Rock n' Roller Coaster. This one always has a long single riders line. I waited in it for 20 minutes, then I decided to check for a FastPass on my My Disney Experience app later that evening. I got my FastPass, and decided to skip out on this single riders line. All others, however, I rode multiple times in a row. I rode Smuggler's Run 3 times in a row, and Expedition Everest 7 times in row. That's right. 7. Why? Because I had no one with me to tell me I couldn't. LOL. Here are all the attractions that have single rider lines. 
Rockin rollercoaster

 

Smuggler's Run

 

Expedition Everest

Test Track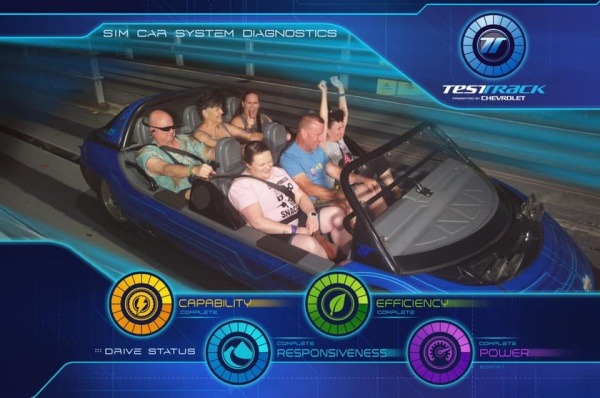 Fast Passes
Like any FastPass+ bookings, do your research before your window opens up. Find out which rides have the longest waits, and base your decisions on that. The great part about booking FP+ as a solo traveler, is that it was so simple! I got everything I wanted, and was able to book plenty rolling FastPasses throughout my stay. It is much easier to book FastPasses for one person than it is for multiple.  
I booked my FP+ in order of popularity, rather than days. Start with your most popular rides, and work through that way.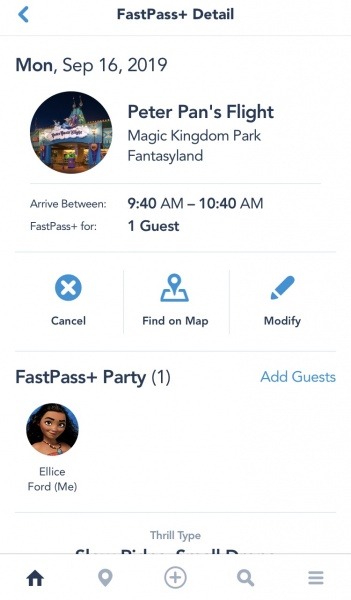 Dining
Dining is one of my favorite things to do in Walt Disney World, and it is a huge part of the planning! The original trip plan was to be on the Dining Plan, since I had lucked into free dining. Pro tip: I did not have to cancel & re-book my trip, which may have meant me losing free dining, so that was awesome. I am a pro Dining Plan user & I knew I wanted to dine at a lot of places this trip, so I kept the Dining Plan on there. I was on the regular Disney Dining Plan.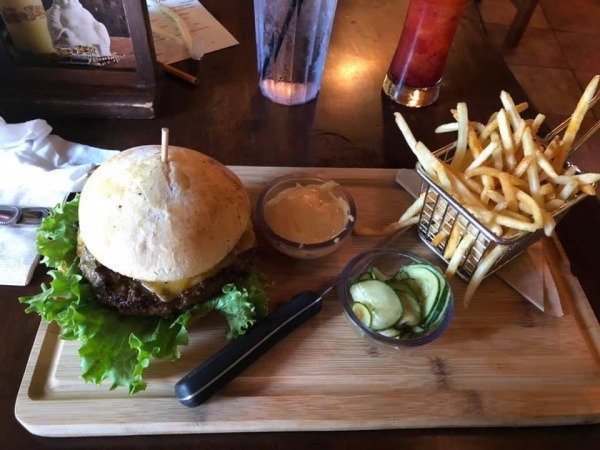 Most of my days were planned around my meals, based on what park I was at. Similar to booking FP+, it is much easier to snag an advanced dining reservation as a solo traveler than it was for multiple. Since my original trip plan was for two people, at my 180 day window, I actually booked all meals for 2 people instead of 1. Once I decided to take a solo trip, my travel agent suggested I leave the reservations at two people until I was absolutely certain they would be solo.  
I consulted some of my new Disney friends I'd met online & they decided to join some of my reservations! One girl who I hit it off with, tagged along for 3 meals which was awesome. For all other meals, I reduced them to one person about a week before my trip. I didn't want to worry about the cancellation fee, so I left myself plenty of time. Pro tip though: there is no such thing as a one person table. If I had left them all as two, and only showed up with one, I don't think it would've been a major issue because I was already seated at the smallest available table.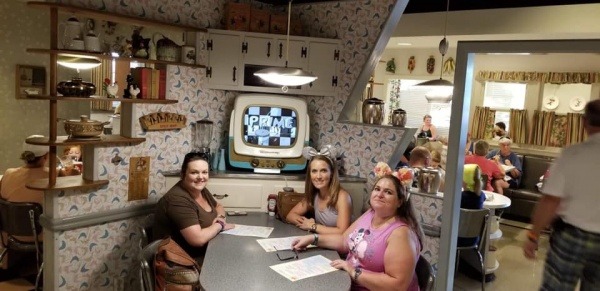 If you're not interested in sitting at a seated table, many restaurants on property have a lounge or bar as well, which don't require a reservation & often have a full service menu. Something to keep in mind when planning your dining. 
I was a bit nervous for character dining, but character dining is my FAVORITE kind of dining, so I decided to keep them! If you are at all nervous, don't be. What I loved about my character meals is that I actually got more attention BECAUSE I was solo, instead of in spite of. Characters even sat at my table to hang out!  
If you want a full report on my dining experience – you'll have to stay tuned! More to come in the next solo series blog.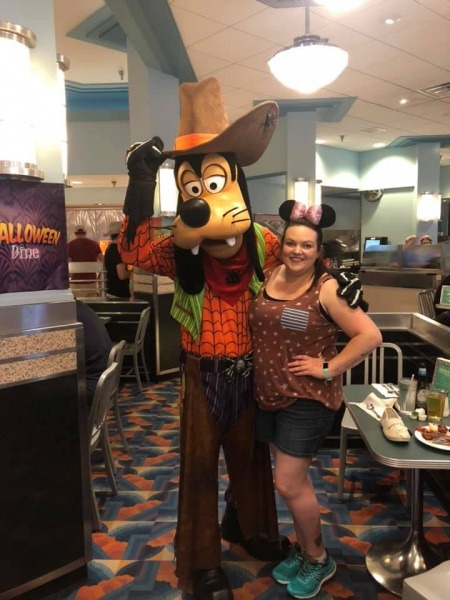 As a solo traveler, those are my best tips for planning your dream vacation! Seriously, just do it. Whether you are new to Walt Disney World or a Disney World veteran, solo travel is good for the soul. I do think that it helped that I know Disney so well, and it's my favorite place in the world. I was already familiar with how everything worked & where everything was. With that said, even if it was my first trip, I would not have changed a thing.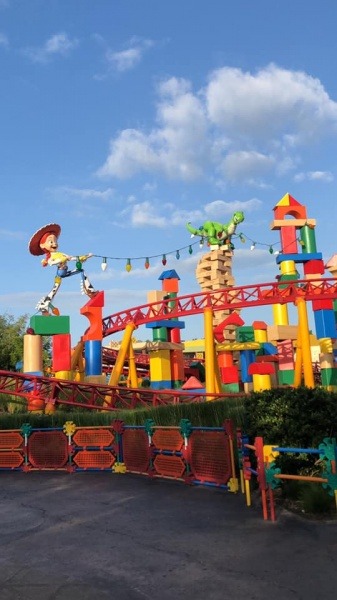 It was truly the best trip of my entire life. I could not have asked for things to be more perfect. It was so empowering exploring the world alone & making lots of friends along the way. I would be lying if I said I wasn't nervous for this trip, for more reasons than one, but I was blessed to be encouraged by everyone around me to take this trip for myself, and I am so glad I did!! Do your research, plan the perfect trip & treat yo self!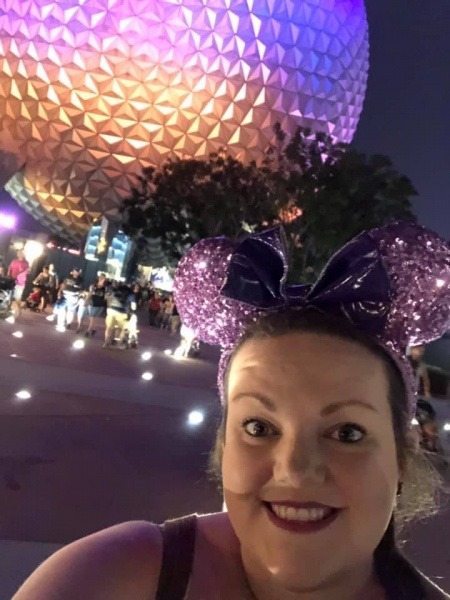 Have you ever done a solo trip before? What tips do you have? Share in the comments or on Facebook or Twitter!
Did you like this article? Make sure to share it with your friends! Check below for easy ways to share!
Want to visit the Walt Disney World Resort? Contact The Magic for Less Travel for more information and a free, no-obligation quote.

Incoming search terms:
https://www themouseforless com/blog_world/walt-disney-world-solo-series-planning/
memory maker disney if alone