This post may contains affiliate links for your convenience. If you make a purchase after clicking a link we may earn a small commission but it won't cost you a penny more! Read our full disclosure policy here.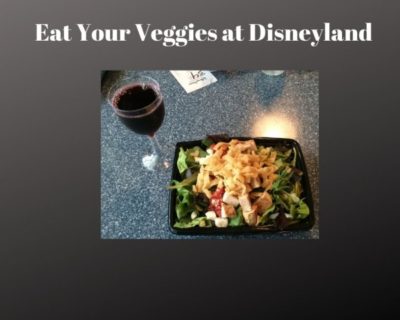 A vegetable laden salad at the Smokejumpers Grill, California Adventure
Fun fact about me: I love vegetables. This certainly wasn't the case when I was a kid. Back then, I was much like my kid is now, scrunching up my face and making gagging sounds whenever my parents told me to eat my veggies. But as an adult I learned to love them. I'm not a vegetarian, but I can go days at a time without eating meat.
I'm also one of "those" Moms, the ones who say that their kids have to eat their veggies even when we're on vacation. The reaction I get is pretty typical. This is my daughter when I informed her that if she wanted to have that cookie, she needed to eat those carrots: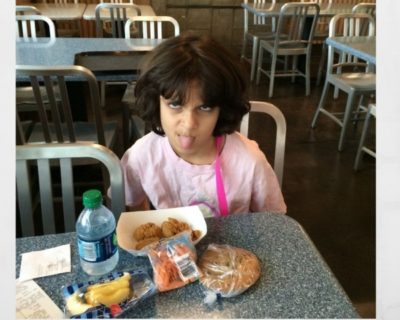 Kid is not happy with the carrots at the Smokejumpers Grill
Despite my daughter's reluctance, it's not hard for me to stick to eating veggies even when I'm on vacation. In fact, I often search out places with the most interesting veggie-centric items on the menu! At Disneyland, I've found a few places where it's easy, and delicious, to get one of your daily servings of veggies in.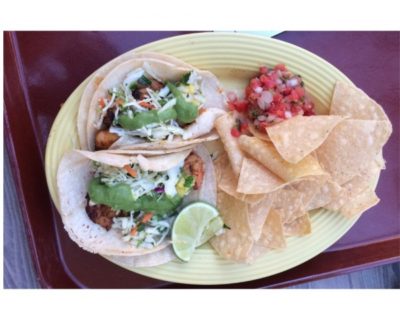 This quick service restaurant also happens to be one of the prettiest places to eat in the park. Inside, there is tile work and murals that make you feel like you've been transported to the American Southwest of the pioneer days. Outdoors, there is ample seating overlooking the trains returning from the wildest ride in the wilderness on Big Thunder Mountain Railroad.
The menu here is Mexican, and specialty items are added to the menu seasonally. On my last trip here, I had soft tacos with spicy shrimp, covered with a delightfully crunchy vegetable slaw and served with a generous side of fresh salsa and chips. There are also three salads to choose from, one of which is meatless. If that's not enough veggies for you, right now there are Cauliflower Tacos with Cabbage Slaw on the menu!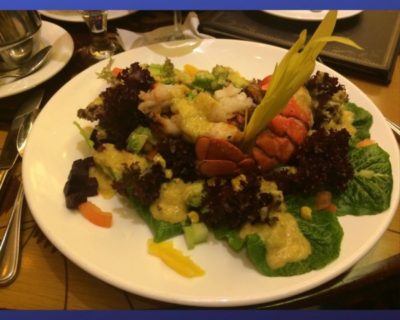 This beautiful table service restaurant has fantastic buffets for breakfast, lunch and dinner. The dinner buffet, in particular, offers a great variety of vegetables and a great salad bar, and some pre-made salads. Menu items change, but on a trip a couple of years ago I made myself a huge salad topped with lobster.
There are also lots of sautéed veggies in case you're not in the mood for raw veggies. Although most people use these as side dishes, between the veggies and the salads, it's possible to make a full vegetarian meal here.
This restaurant is not cheap, but for some, it's a splurge that's worth it. The elegant interior recalls the glamorous Golden Age of Hollywood, and the service is top-notch.
The menu changes seasonally, but there is always a salad offered as an appetizer. When I dined here a few years ago, it was a gorgeous and delicious green salad with sliced pears. Right now, a strawberry and jicama salad is on the menu.
You can always order veggies on the side, as well. Right now the options are mashed potatoes, cauliflower gratin and Brussels sprouts. And if you're eating meatless, there is always a vegetarian option as an entrée.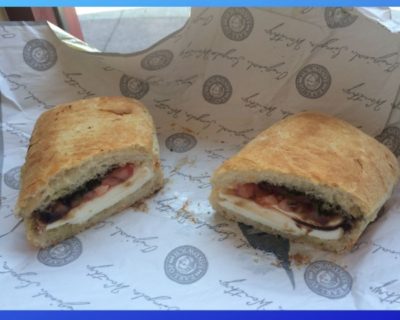 When it was announced that this quick service location would be shut down to make room for a new luxury hotel, Disneyland fans groaned in despair. When that luxury hotel construction was cancelled, and the restaurant reopened, they cheered in joy!
The Earl of Sandwich is located right across from the monorail station, which makes it very easy to leave Disneyland Park for a meal and then return. Their vegetarian sandwich is excellent, chock-full of cucumbers, bell peppers and red onions. If that's not enough for you, there are seven different salads to choose from, either to go with your sandwich or as an entrée.
So I have no problem eating my veggies at Disneyland. Now, if I could only say the same for my daughter…
What are some of your favorite veggie centric meals at Disneyland? Let us know your thoughts in the comments or on Facebook or Twitter! 
Did you like this article? Make sure to share it with your friends! Check below for easy ways to share!
Want to visit the Disneyland Resort? Contact The Magic for Less Travel for more information and a free, no-obligation quote.

Incoming search terms:
https://www themouseforless com/blog_world/veggies-disneyland/