This post may contains affiliate links for your convenience. If you make a purchase after clicking a link we may earn a small commission but it won't cost you a penny more! Read our full disclosure policy here.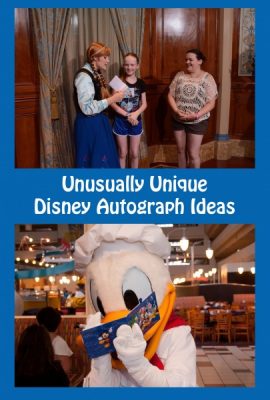 Disney autograph ideas-How often do we go to Disney & wonder-what unique item can I get the characters to sign? If you're anything like me…always. Autograph books seem to be a thing of the past & some ideas are overdone. I have no children, however, I do have a 13 year old sister who's been with me on almost every single trip. I am definitely the bigger kid. Meeting the characters & experiencing character meals are my favorite part!
Every trip, I try to come up with a more unique way of getting those autographs & try to make them a part of my home or daily life rather than something to be tossed aside. Characters are always more than willing to sign the unique items I've had brought in. This seems to be a popular topic among Disney fanatics such as myself nowadays, so I thought I would share my ideas or things I have already tried! Below are some of my personal favorite Disney autograph ideas.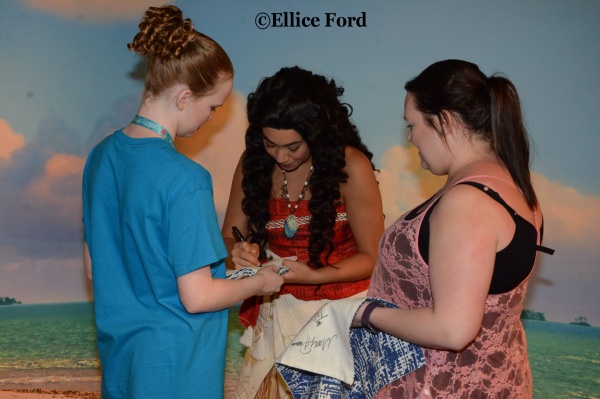 Photo Mat
This is one of the more popular, yet off the book, ideas. Why not have all the characters sign a photo mat, and when you get home you can frame a picture from the trip?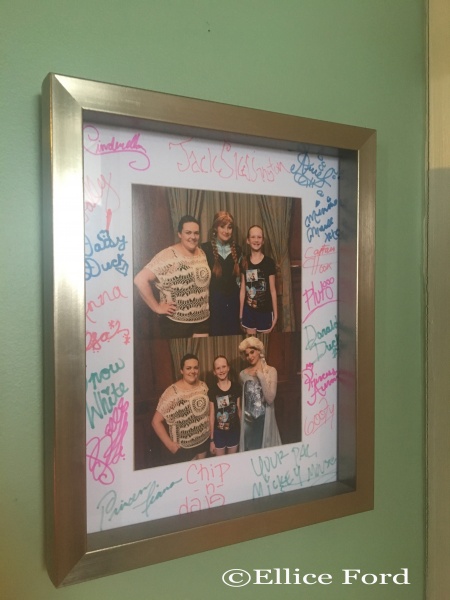 Frying Pan
I went to the Bon Voyage character breakfast on Disney's boardwalk at Trattoria Al Forno back in 2017. (side note: incredible! Highly recommend. Food, characters & service are all top notch) At this meal, some of the characters we got to meet were Rapunzel & Flynn. I got it in my head to find a cast iron frying pan & have them sign it. I got them to sign it with a silver sharpie & let it dry completely before touching it or packing it up for the journey home. When I got home, I mounted a hook on the back with gorilla glue & hung it in my kitchen next to my 3D Disney collector plates. (Yes. Gorilla glue. I tried everything else. Hot glue, epoxy, crazy glue, even took it to a local hardware store and this was their only suggestion. It's been sitting on my wall for a year now & *knock wood* it hasn't fallen yet!) I love this item. It is a beautiful décor piece for my kitchen!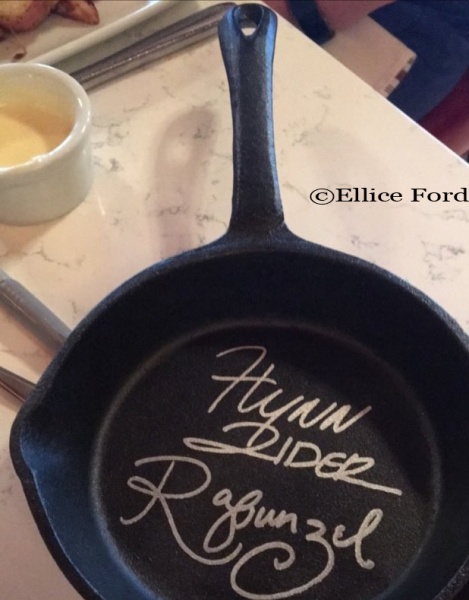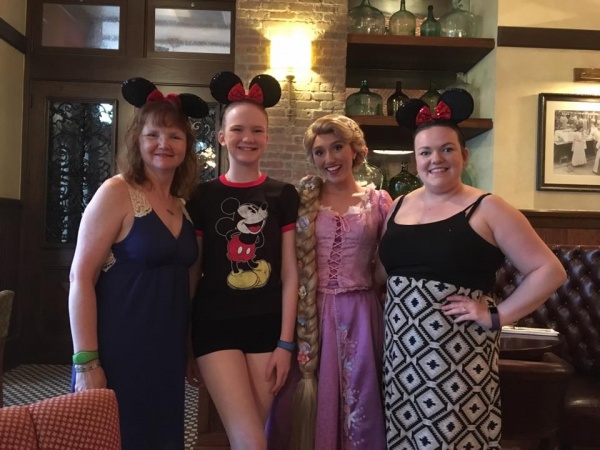 Giant Fork (Aka. Dinglehopper)
Also at the Bon Voyage breakfast was Ariel & Prince Eric! I had decided I wanted them to sign a giant fork. I searched high & low for one of those decorative forks people hang on their walls, but I could not find one. So I settled on an over-sized serving fork from Bed, Bath & Beyond. It still did the trick!
When I got home, I decided that rather than just hanging it on the wall as is, I'd mount it on a piece of old wood I had kicking around to make it more noticeable & cute. I mounted it on the wood with my trusty gorilla glue, as well as my hook on the back for hanging. Then, using mod podge, I put on some sand in opposing corners & along the edges. I let  it dry for about 24 hours. Once that was completely dry, I used hot glue to add a few shells, and even a red crab scrapbook sticker! I'm super proud of my creativity on this one, if I do say so myself. It also hangs proudly in my kitchen.
Last week, however, I actually found the decorative fork I had wanted for this venture at Wal-Mart. It is pretty large & aluminum so very light weight & packable. As much as I love the item I made, I feel having the signatures on a wall hanging fork, would make them more noticeable! I have purchased that decorative fork & I'll likely get Ariel to sign it next trip-so stay tuned on that for what I may do with it!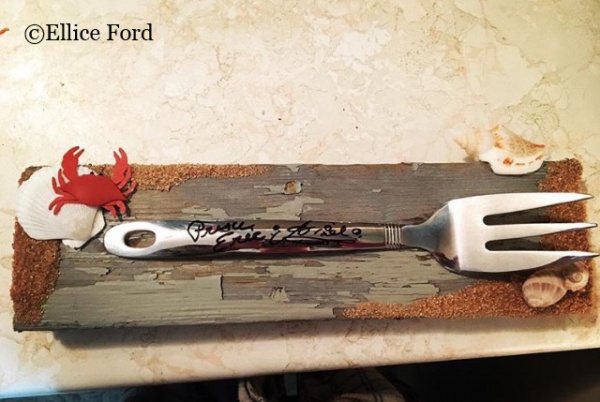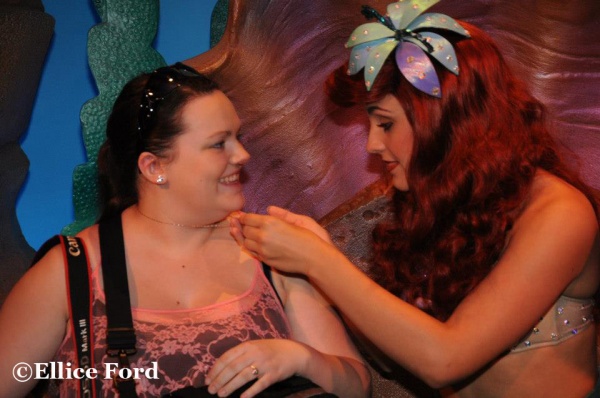 Cushion Cover
This is kind of like the pillowcase idea that many people do, but better! I purchased a plain white cushion cover & brought it along with me. I got tons of characters to sign it for me. When I got home, I filled it with stuffing. It now sits in my games room & is a great addition to my home!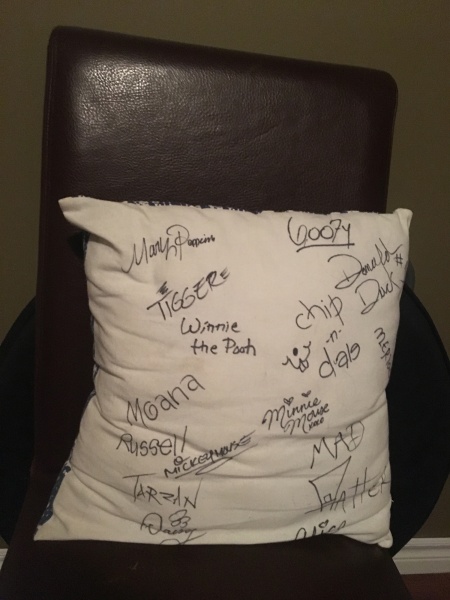 That about covers it for my unique ideas that I have done personally, however, I have a lengthy list of fun ideas below-let me share my best kept Disney autograph ideas below!

Canvas Shoes
Grab a pair of toms or other white canvas shoes & get characters to sign them!! This is number one on my list next. A bit of Disney magic right at my fingertips! I mean…toes.
Coasters
I once made myself & my family coasters of the Disney Parks maps. Using old park maps, I mod podged them to 3×3 ceramic tiles & attached the tiles to a thin corkboard. They turned out awesome! Eventually, I'd like to have characters to sign the tiles themselves & adhere them to the corkboard when I get home. Seal the tile with a mod podge spray sealant to ensure the ink doesn't run!
Tiles can get quite heavy if we're trying to keep suitcases light, but I'd probably only bring a few. I would only have one autograph per tile to keep it looking neat & tidy, however, you could totally have several characters sign the same tile! If we'd like to avoid dragging the tiles in an already heavy suitcase, we could also get them to sign pieces of 3×3 paper & mod podge them to the coasters, just like I did with the parks maps!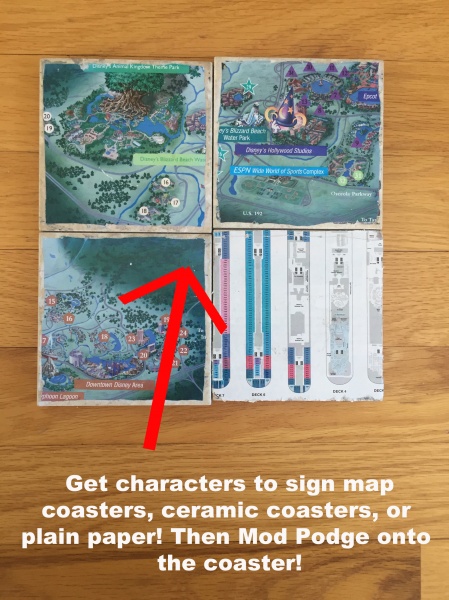 Mugs
Bring a mug & have characters sign it! When you get home you can bake it on 350F for about 15 minutes & this will seal the ink so it's hand washable!
Quilt
I am not a quilter, or a sewer, by any means. But I absolutely love this idea! Have characters sign pieces of fabric, and make a quilt with them!
Christmas Tree Ornaments
This is a great idea if you ever take the trip Christmas time. You can get either flat wooden ornaments at your local craft store & have one autograph per ornament, or, get a couple giant shatterproof silver or gold bulbs & have several characters sign them!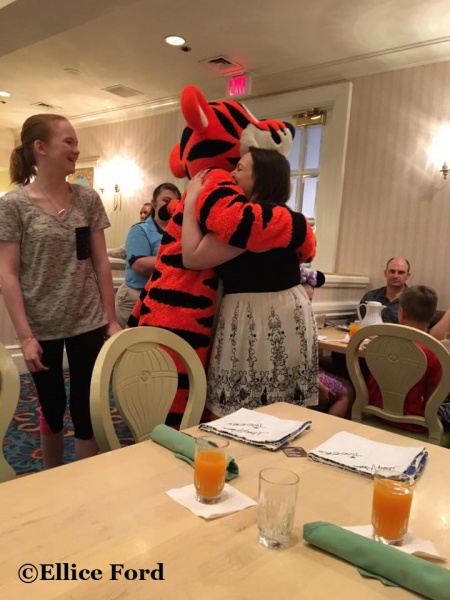 Fabric Tote Bag
Maybe you have a Disney tote bag that you want to jazz up a bit, or maybe you want to find a light colored tote & get some signatures! Use colors or black-whatever your preference. I love this idea too. Simple, easy & you can never have too many bags!
Scarf
Why not grab a white or light colored scarf & kick it up a notch with some Disney autographs!
Mousepad
I love this idea too! If you work a desk job, it can bring a bit of Disney to your work day. Grab a light colored mouse pad & get those autographs! Or, grab a dark colored one & use a silver sharpie.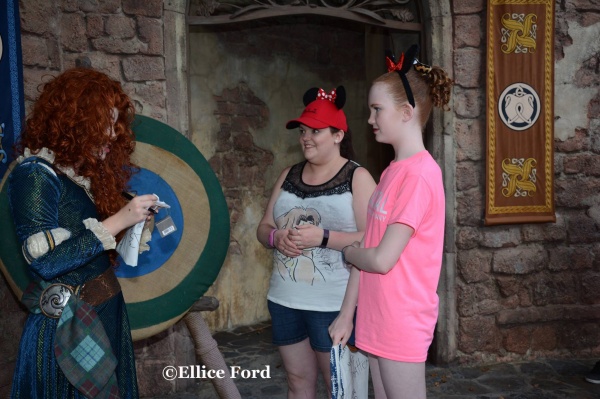 Placemats
Find some light fabric placements & bring a bit of Disney to the dinner table. You could definitely use black sharpies or colored ones!
Light Switch
Grab a simple white light switch cover at your local hardware store or dollar store & use your sharpie color of choice!
An Apple for Snow White
Snow White is my favorite Princess & I don't know why I haven't thought of this sooner! Find a decorative apple & have Snow White sign in black, or maybe even gold or silver! This could be a nice addition to the window ledge in my kitchen.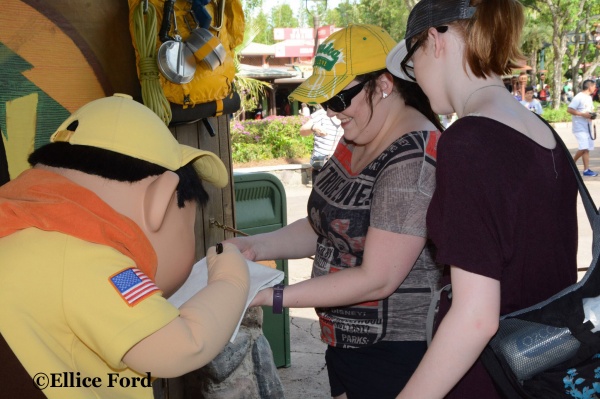 A Mirror for Belle
Again, why have I not thought of this sooner?! This blog is getting my creativity FLOWING! Find a vintage hand held mirror, preferably with the handle-just like the mirror Beast gives her, and have Belle sign the mirror itself in black sharpie! This would be super cute hung in the bathroom, or over a makeup vanity.
Wooden Letter
Michael's  & other craft stores sells these great white (and black) wooden letters. Grab one for your initial & have all the characters sign. Again, just make sure to use either black or colored sharpies on the white letters, and silver on the black! I think the white is super cute for your little one's bedroom door or games room. I love the idea of using the black letters for a more grown up vibe in a living room or even doing this to spell out your last name!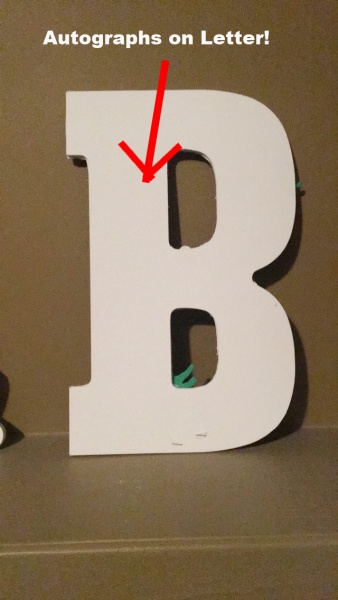 Music Sheet
Do you have a favorite Disney movie and/or song? Print off a music sheet score or make a copy of it from a music book you may have, and get it signed by the characters from that movie! For example, if I knew I was going to be dining for dinner at Be Our Guest, and Akershus for breakfast with the princesses, I might print off a Beauty & the Beast song and get the beast & Belle to sign it!
Cruise Autograph Ideas
I wish these ideas I'd had before my 2015 cruise. Just another reason for me to cruise again !
I've seen decorative items at Michael's or department stores which are simply flat wooden anchors for the wall. I would absolutely love to bring something like this on a cruise & have the character sign it! If the anchor is dark in color, use a silver sharpie. If it's light in color, use a black one! If you have a handyman in your life, this is probably something that could easily be made.
Another idea is if you find a decorative ship wheel. Again, something relatively flat. Have the characters sign that & when you get home, fill each open portion with cruise pictures! These ideas are tough because they can take up a bit of room in your suitcase & will need to be packed gently so to not break. However, if you're anything like me, you'll find a way to make it work. Wrap it in clothes to keep it snug! Just make sure it's 100% dry before packing it up.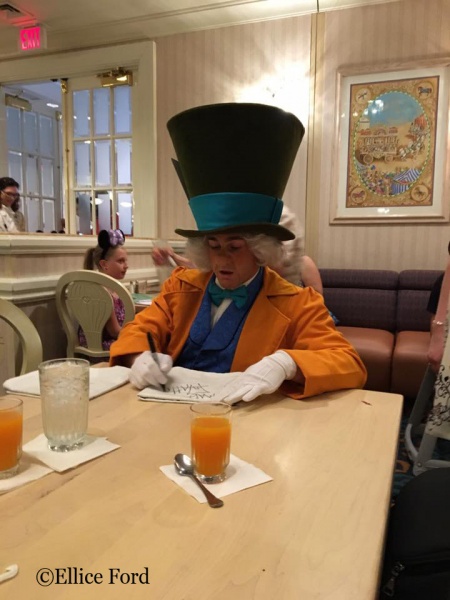 Wow. I guess I need to get to trip planning & make sure I meet enough characters to take advantage of all these great ideas! My house may end up being completely covered in autographs, and I'm A-Okay with that! (Do you think I could get my boyfriend to bring items on our trip, too, to get some extra autographs?! I'm sure he'd love that…) Yet another reason for me to get back to Disney World or cruise as soon as possible.
Wondering what the best way to meet characters is? I personally love the character meals. While they can be met in the parks, the lines can be quite long. You can meet many of the characters at meals & you've gotta eat anyways right?! Some of my top favorites include; 1900 Park Fare (breakfast & supper), Hollywood & Vine, Mickey's Backyard BBQ & Bon Voyage Breakfast. I hope this blog inspired some creativity in you, and you get some awesome, cute autographs on your next Disney vacation!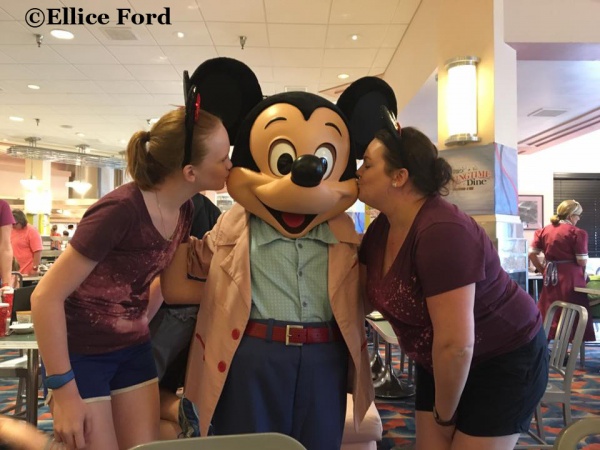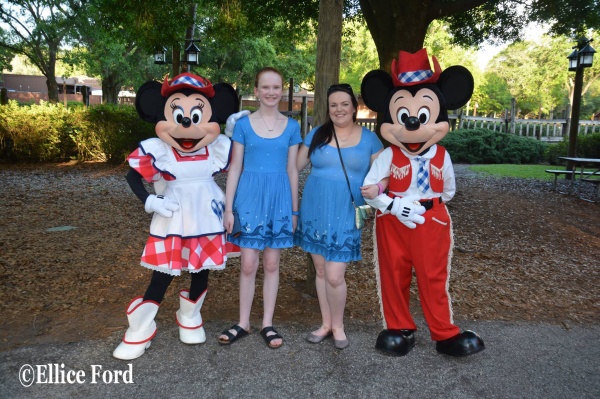 What are some unique Disney autograph ideas? Share them in the comments, or on Facebook or Twitter.
Did you like this article? Make sure to share it with your friends! Check below for easy ways to share!
Incoming search terms:
https://www themouseforless com/blog_world/unique-disney-autograph-ideas/
disney autograph ideas
crazy disney autograph ideas
disney autograph tumbler idea Diy
unique autograph ideas