This post may contains affiliate links for your convenience. If you make a purchase after clicking a link we may earn a small commission but it won't cost you a penny more! Read our full disclosure policy here.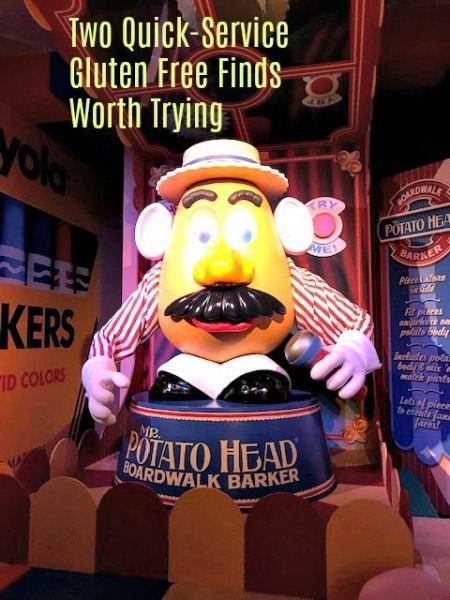 I've read that many famous celebrities wish they could do mundane things like go to the grocery store without being noticed. For a people with a food allergy, we would love to walk up to a counter service restaurant and order whatever we want without asking a bunch of questions and risking a bad reaction. So we rarely do it. Read on for two quick-service gluten free finds worth trying!
When we visit Walt Disney World one of the things we love about it is the care they take to ensure those of us with food allergies are safe. While things have gotten much easier with the menus you are handed in line at some quick-service restaurants that denote allergy-safe items, depending on your food allergy, it can still mean having to ask additional questions. In some case we need to know more than what ingredients are in a recipe, we need to ask how things are prepared. For this reason, its easier to do table service meals because we can ask questions and talk with the chef without holding up a line of hungry people clamoring behind us.
On our most recent trip I had two quick-service meals that were gluten free that are worth a mention. One was in Hollywood Studios and one was in Disney Springs.
We had to reduce the number of days we stayed during our last visit, which meant giving up the coveted Slinky Dog Dash Fastpass that I had gotten at the 60 day mark. We still wanted to ride it, so we decided to rope-drop Hollywood Studios. It was about an hour wait, but the weather was not sweltering that morning and the ride is so worth it.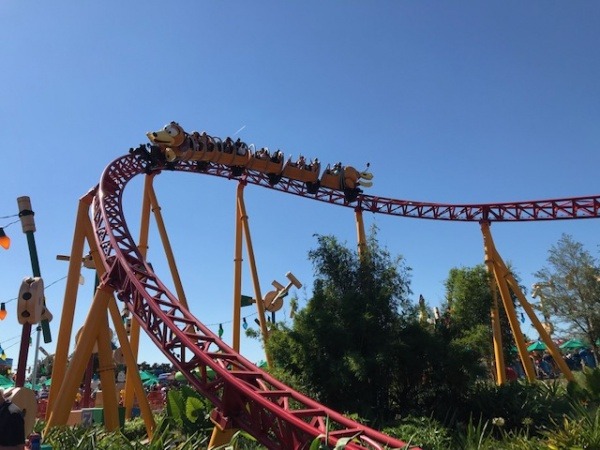 After our ride, we were hungry and thirsty! Since we did the rope-drop bit we were not sure how long it would take and did not want to have a table service reservation committed to. I had heard that Woody's Lunchbox could make many of the things that are on the menu gluten free, so we jumped in line! I ordered: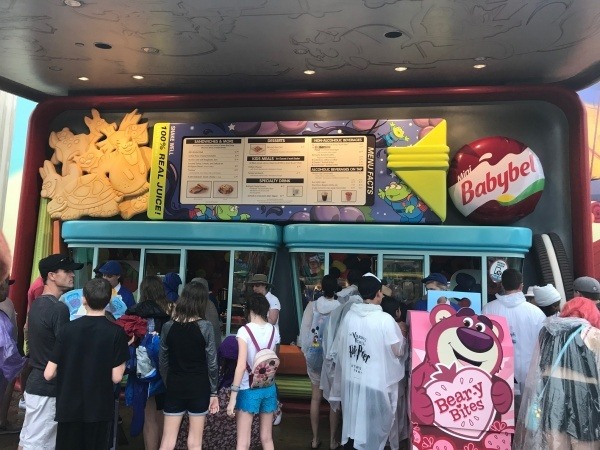 (Photo Credit Rikki Niblett)
Smoked Turkey Breakfast Sandwich
Thick-sliced Smoked Turkey Breast, Melted Swiss Cheese, and Scrambled Eggs on Grilled Sourdough
Now, of course the gluten free version could not be served on grilled sourdough and was served on plain gluten free bread instead. It was not the greatest bread, but the sandwich was acceptable. I think because of the retro feel of the place, especially Toy Story Land in general, it worked. It was like having a sandwich on white bread when I was a kid. They cut it diagonally which added to making me feel like a kid again.
The one thing I did do, which was not kid-like was pair it with the:
Grown-Up's Lemonade
Three Olives Cherry Vodka, odwalla® All-Natural Lemonade and Black Cherry Purée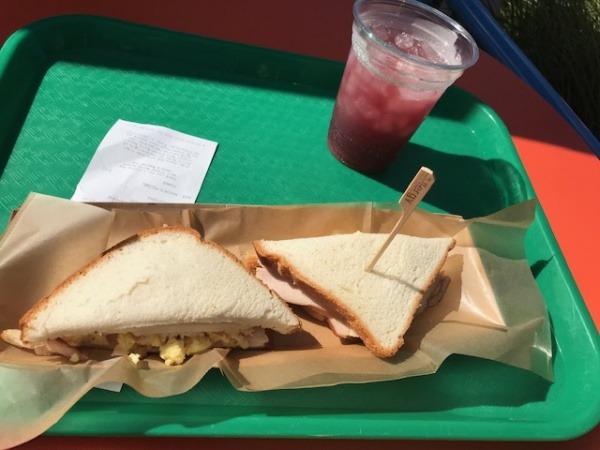 Oh, yes I did! No judging, it was around 11 am by now and to me that is brunch-time, making alcohol perfectly acceptable. It was a delicious drink and very refreshing on the hot August day. They did take time to ask me about my allergy, and it did take about 20 minutes to get the sandwich, but it was worth it. They obviously took care to prepare it safely and I had no issues with cross-contamination. Please ensure you ask every time though since food prep procedures do change as well as ingredients.
The second of the two quick-service gluten free finds worthy trying was in Disney Springs at D-Luxe Burger! We visited this place twice during this last trip because the burger and bun were so good! Finding a gluten free bun that tastes good is a feat in and of itself. The fact that I went twice and risked quick-service the food allergy ramifications is testimony to the fact that it was worth it! I did not have any issues after either visit.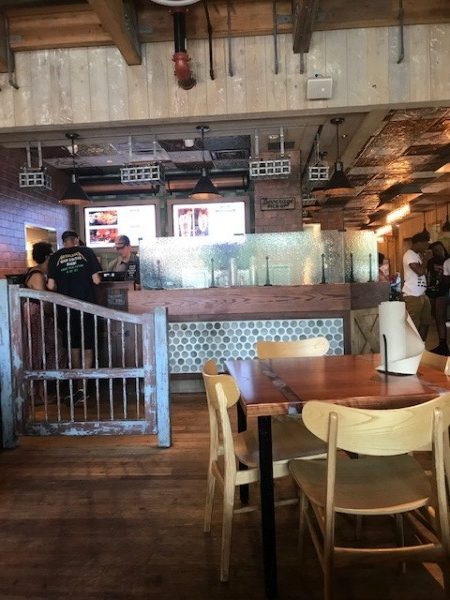 The chef did come out and talk with me both times and he was from our home state too, which was awesome! It was very busy in there and he still took time to ensure he understood my allergy and how he would have to prepare the food for my specific needs. He was well versed in gluten allergy and understood my needs perfectly.
I had the:
Classic Cheeseburger
Signature Blend Beef Patty topped with Cheddar, Lettuce, Tomato, Grilled Onion and Pickle
It was cooked perfectly, the bun was toasted and it was delicious. Often times, I opt for a burger with no bun, but was so glad I tried this gluten free bun.  We had french fries on our second trip there and they cooked in a dedicated fryer so I could eat them without issue as well. Always ask to make sure that is still true if you have to worry about cross-contamination.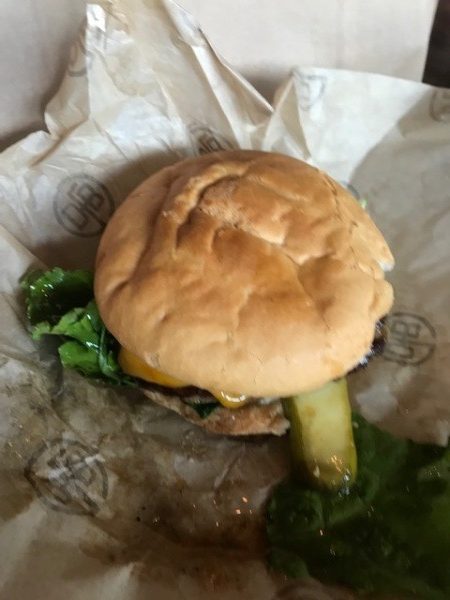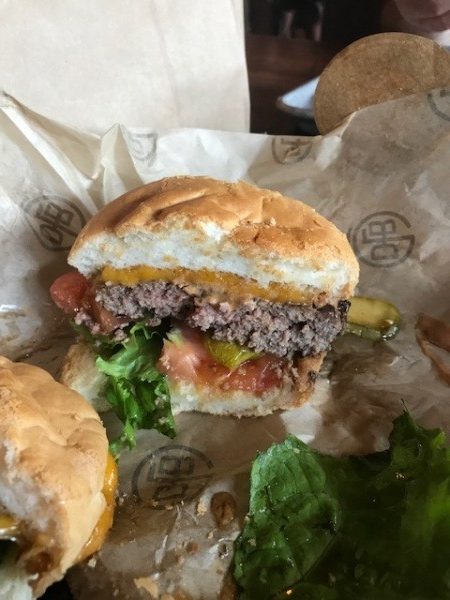 I would feel comfortable in going to both of these quick-service locations again and likely will!
What are some of your favorite Quick-Service Gluten Free finds? Share with us in the comments or on Facebook or Twitter!Did you like this article? Make sure to share it with your friends! Check below for easy ways to share!
Want to visit the Walt Disney World Resort? Contact The Magic for Less Travel for more information and a free, no-obligation quote.