This post may contains affiliate links for your convenience. If you make a purchase after clicking a link we may earn a small commission but it won't cost you a penny more! Read our full disclosure policy here.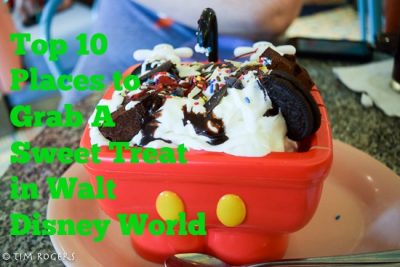 Disney. Dessert. As if being on vacation wasn't good enough already. But with a finite amount of time, where should you go to grab sweet treats at Walt Disney World? As we did to find the top 10 table service and quick service locations, we decided to ask the members of the Mouse for Less Facebook group what their favorite place to grab dessert was, starting with all of them and narrowing it down to a final ten. So while March was "mad" with basketball, we were busy finding our "Tasty Treat Ten," our "Sugary Semi-Score," our "Decathlon of Decadence."
And with that, here they are…
10) Mini Donuts at Blizzard Beach
The Disney Water Parks are great, but usually people don't go there for food. However, the Mini Donuts stand at Blizzard Beach might be an exception. Somewhat unique on this list in that it literally only serves one thing, Blizzard Beach Mini Donuts offers you the choice of ½ Dozen or a Full Dozen along with chocolate, raspberry, and white chocolate dipping sauces. Blizzard Beach – not just for water slides anymore.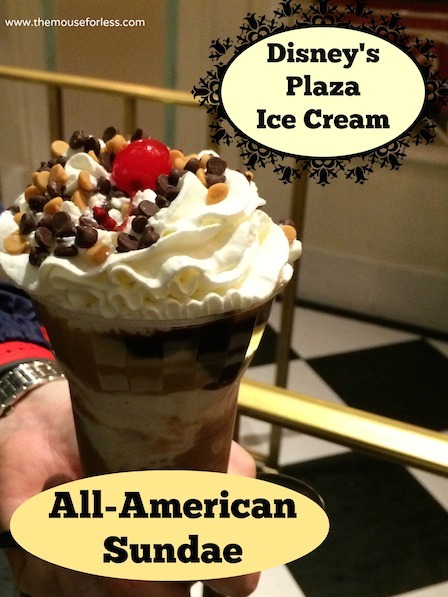 Main Street U.S.A. is a magical place. As a conduit from the outside world into the Disney World, Main Street is the embodiment of nostalgia. For some, the epitome of that nostalgia is the Plaza Ice Cream Parlor. I remember that whenever I would go to my local theme park the day didn't feel complete until I got a waffle cone, and the Plaza can help with that. More than that, the Plaza Ice Cream Parlor features an array of reasonably priced sundaes (with an assortment of Edy's Ice Cream Flavors). One of the hidden gems here is the "Mickey's Kitchen Sink Sundae," which is your choice of ice cream with a bunch of toppings in a cute souvenir bowl. (You can also get this at Beaches and Cream).
When your dessert has enough of a following that you can sell t-shirts and other souvenirs paying homage to it, you know it is popular (see also: churros). While most people associate Dole Whips with a certain other location you might see at the top of this list, Pineapple Lanai, located in the Polynesian Village Resort, specializes in this passion-inducing dessert, and also lets you enjoy your pineapple soft serve in a Souvenir Tiki Sipper.
Located in Liberty Square, Sleep Hollow is one of the few locations on this list that does not exclusively serve sweet treats. In fact, one of the most popular menu items here (in fact so popular that after it disappeared, popular opinion brought it back) is the Sweet and Spicy Chicken Waffle Sandwich.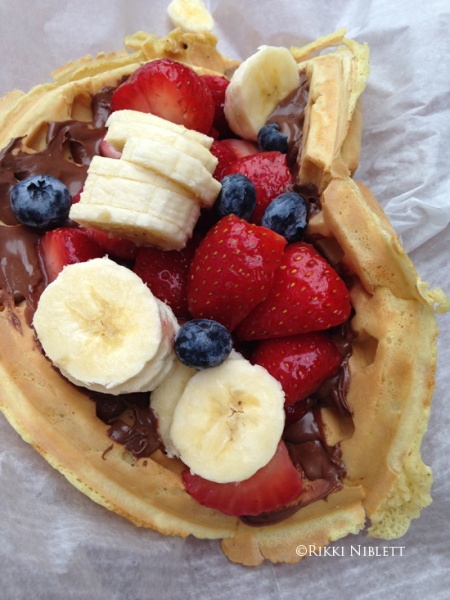 But we are here to talk about dessert. You can get both funnel cakes and waffles topped with strawberries or powdered sugar here. However, the selection that drives many to make the trip is the Fresh Fruit Waffle Sandwich. You get a selection of berries and bananas on a waffle covered in Nutella. I'm not drooling, you're drooling.
While I enjoy many of the locations on this list, Beaches and Cream is probably my personal top choice. Think of your idealized version of an old school diner, or as they say themselves: "Revel in the nostalgia of the Atlantic seashore at this boardwalk-style ice cream shop where every day is sundae."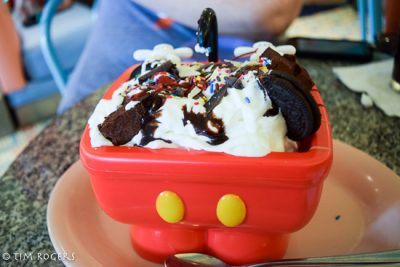 While you should definitely check out their regular meal options, the star here is dessert, and specifically desserts involving ice cream. While you can definitely get the standard floats, cups, and cones, if you have heard anything about ice cream at Walt Disney World it was probably either the Kitchen Sink or the No Way Jose. The Kitchen Sink is the legend, with 8 scoops of ice cream, all the toppings and even a whole can of whipped cream – and is served in an actual kitchen sink (you can also get the Mini-Mickey version here). However, if you like peanut butter and chocolate, you can't do better than the No Way Jose.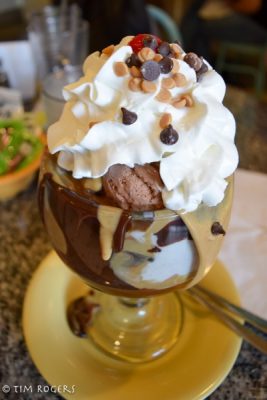 If you want to feel like a kid in a candy store on your Walt Disney World vacation, then why not go into an actual candy store? Located in the Germany pavilion in Epcot, Karamell-Kuche (which translates to "caramel kitchen") serves a variety of caramel and chocolate themed treats, including freshly made caramel popcorn, dipped apples, covered pretzels, and more.  One of our family traditions for Walt Disney World trips is stopping here to pick up some Sea Salt Dark Chocolate Caramel squares to enjoy on the way home. There is often a line nearly out the door here, and with good reason. The upside is, while you wait it not only smells great, you get to watch them make the treats up close.
With any of these votes, there are some results that initially seem strange, but have a simple explanation. With this one, the explanation is almost definitely that a few years ago Starbucks took over the Main Street Bakery. But wait, you say to yourself quizzically, we are talking about Gaston's Tavern.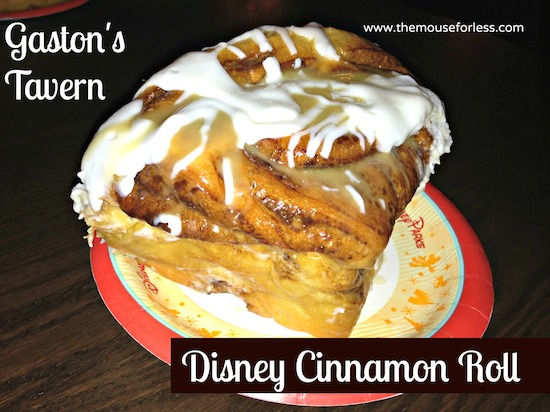 Before the switch, one of the most popular items at the Main Street Bakery was the cinnamon roll – people were crazy for it. When the Starbucks change happened, a version of that cinnamon roll moved to Gaston's Tavern. On the strength of that one item (and maybe a few LeFou's Brew fans), Gaston's made it in the top five.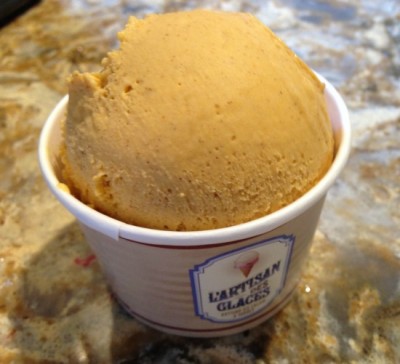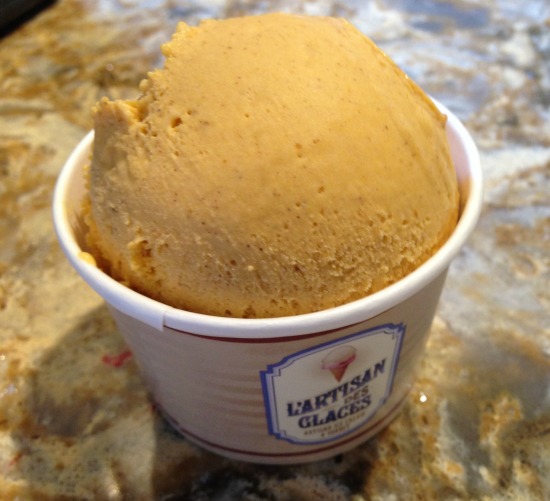 The World Showcase is known for great food. Representatives from this area did very well in both the Table Service and Quick Service Top 10 lists. What makes the showcase special, is that it takes a simple concept, puts a twist on it, and does it well. L'Artisan Des Glaces is nominally an ice cream shop, but it is so much more than that. Besides the great selection of ice cream and sorbet flavors, you can enjoy a brioche or ice cream sandwich, or try the infamous ice cream martini. Once you decide, you then get to enjoy your treat in one of the most picturesque areas in all of Disney World.
Our only representative from Disney Springs, the Ghirardelli Soda Fountain is a mainstay for many families on a Walt Disney World Vacation. Whether you are stopping in to get a free chocolate sample, or ordering one of the delicious sundaes that combine homemade hot fudge, caramel, brownies, and fruit in various combinations, Ghirardelli is worth a visit.
1) Aloha Isle
Quick story – on a recent trip to Disneyland, my wife and I decided we wanted to go see the Enchanted Tiki Room. So as we headed in that direction we got in line. It seemed kind of strange that the line was that long, especially since the Disneyland app said there was basically no wait. We discovered pretty quickly that the line going around the corner wasn't for the Tiki Room, it was for Dole Whips.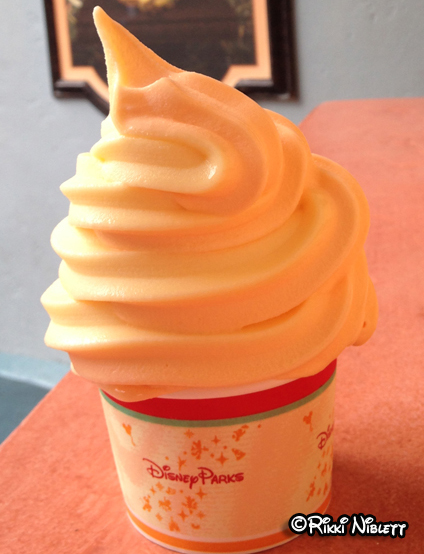 As mentioned above, people love them some Dole Whip. As a further illustration, you know your treat is special when they have to trade locations because your lines are too long (in 2015 Sunshine Tree Terrace and Aloha Isle switched spots). But for a lot of people, no Disney World trip is complete without a Dole Whip, and the location of choice for most is Aloha Isle. So next time you are in Adventureland, grab a Dole Whip, head into the Tiki Room, and relax. After all, you're on vacation!
What are some of your favorite sweet treats at Walt Disney World? Share them in the comments!
Did you like this article? Make sure to share it with your friends! Check below for easy ways to share!
Incoming search terms: