This post may contains affiliate links for your convenience. If you make a purchase after clicking a link we may earn a small commission but it won't cost you a penny more! Read our full disclosure policy here.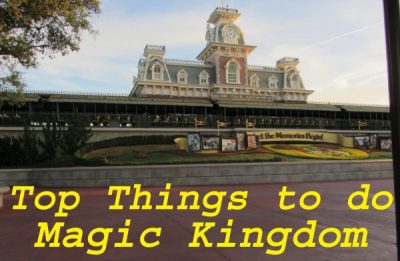 Magic Kingdom is Walt Disney World's most visited park and it has so many magical rides, shows and entertainment options.  So what should you make sure you do while in Magic Kingdom?  Here are our top ten things you can't miss while in Magic Kingdom!
Mountains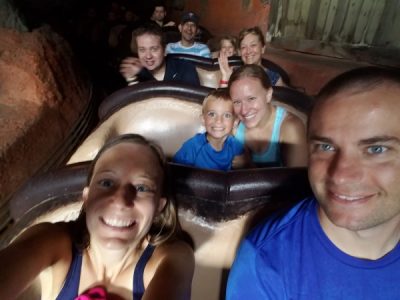 Family fun on Splash Mountain
Don't miss out on riding one of Magic Kingdom's three mountains.  Space Mountain, Big Thunder Mountain and Splash Mountain are the three of the main thrill rides in Magic Kingdom.  Don't miss out on the excitement by skipping these big three.  Get those FastPass+ made early for these three or head there early on during the morning to avoid long rides.  Experience the high thrills through space, the old west and the laughing place on these great rides.
Take a Picture in Front of Castle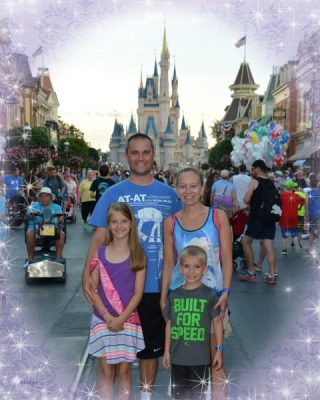 Get a picture in front of the castle
Magic Kingdom's main icon is Cinderella Castle.  Make sure you stop and take a picture (or five) in front of the castle.  Also, take some time to walk up through, around and in the back of the castle.  Make sure to get up and close so you can take in the details of the castle from all angles.  If you want an up close and inside view, make a reservation at Cinderella's Royal Table which will allow you to eat in the castle while looking out over Fantasyland.
Meet Mickey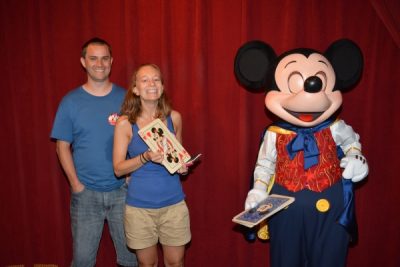 Doing card tricks with Mickey
While in Magic Kingdom, stop by and meet the main mouse himself.  Mickey Mouse meets guests at the front of Magic Kingdom throughout the day at the Town Square Theatre.  This is a magical experience as Mickey will talk and interact with you and your kids.  Yep.  That is right.  Mickey can do magic tricks, sing happy birthday and play peek-a-boo.  This is one of my favorite experiences at Disney.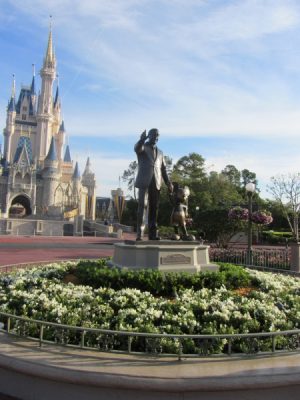 See Walt and Mickey
Like Cinderella Castle, the Partners Statue (the one of Walt and Mickey together) is an icon that you don't want to walk by without stopping for a picture.  You should also take time to visit Roy and Minnie on their park bench located right inside the front of Main Street U.S.A.  These two statues really bring to life the two main dreamers of Magic Kingdom.
Have a Mickey Bar (or treat)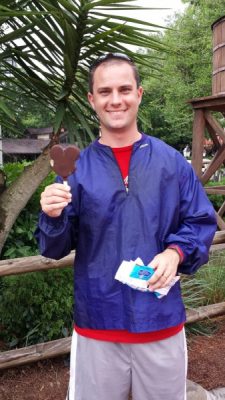 Enjoy the Mickey Treats
Magic Kingdom has numerous delicious treats on Main Street and throughout the park.  Make sure you take time for grab a one of these Mickey shaped treats during your vacation.  Grab a Mickey bar, a Mickey pretzel or numerous other snacks around Magic Kingdom then grab a spot on in the castle hub grass and relax.
Be a Kid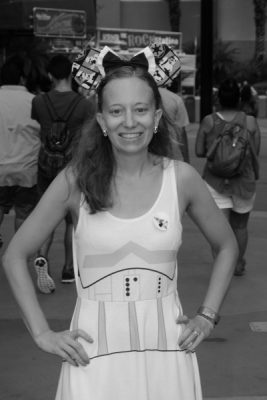 Have fun dressing up and wearing the ears
The dream for Walt Disney was to build a place where kids and adults can enjoy experiences together.   Take time to do this while on vacation.   Wear the Mickey or Minnie ears.  Scream on the rides.  Laugh at the shows.  Allow Magic Kingdom  help you forget the real world and get swept away in the dreams and the possibilities it allows.
Ride the Train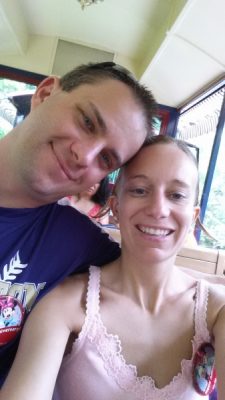 Ride the train
One of the main attractions at Magic Kingdom can easily be one that people skip.  Don't forget to ride the Walt Disney Railroad.  This 20 minute, 1.5 mile train ride will take you all around Magic Kingdom and immerse in the different lands in Magic Kingdom as you make your way around the park.
Tomorrowland Transit Authority PeopleMover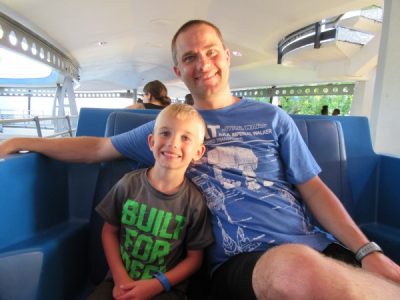 Relaxing ride
An easily overlooked ride is the Tomorrowland Transit Authority PeopleMover.  This slow moving ride takes you on above Tomorrowland on an easy ride.  With typically little wait, see parts of Space Mountain and Buzz Lightyear during your ride as you sit and relax.  This is such a nice and relaxing ride that allows you some great views of Magic Kingdom.
Monsters Inc Laugh Floor
This show in Tomorrowland provides great laughs that will have you coming back for more.  With Monsters Inc. Laugh Floor, you'll head in to see Mike and a few other monsters as they try to collect laughs from you and the other audience members.  Not only is this air conditioned, but they can fit a lot of guests making wait times typically lower.  The jokes are great for guests of all ages making it a fun, family experience.  And if you are lucky, you could be "that guy".
 Catch the evening show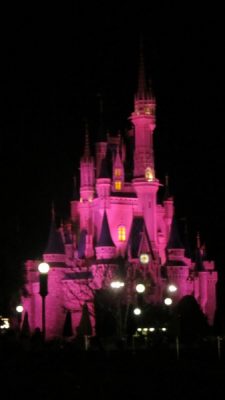 Beauty of the castle at night
When in Magic Kingdom, you will want to make sure you are able to see the evening firework show.  Happily Ever After, the new night time show, is one not to be missed.  This show will bring to life scenes from your favorite Disney movies through fireworks, music and projections on the castle itself.
When heading to Magic Kingdom, make sure you don't miss these experiences!
What are your top things that must be done at the Magic Kingdom? Share your thoughts and let us know what we missed in the comments.
Did you like this article? Make sure to share it with your friends! Check below for easy ways to share!