This post may contains affiliate links for your convenience. If you make a purchase after clicking a link we may earn a small commission but it won't cost you a penny more! Read our full disclosure policy here.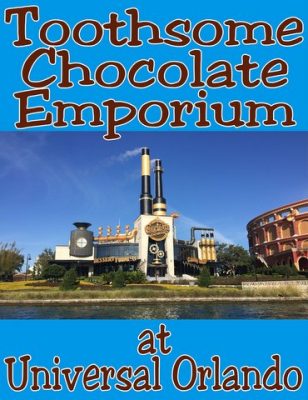 One recent addition to Universal Orlando's CityWalk complex will have you drooling before you even walk through the door. Toothsome Chocolate Emporium has good food, incredible desserts, and a standout theme. You should explore Toothsome Chocolate Emporium and make it a part of your next Orlando vacation.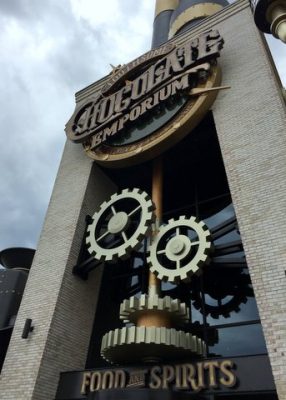 Toothsome replaced the former NBA City and is located next to the Hard Rock Cafe in CityWalk. It's only a short walk outside of either Universal Studios Florida or Islands of Adventure. The exterior showcases the steampunk factory theme that will be repeated inside.
My first tip for those looking to visit would be to escape the theme parks during the heat of the day and go at lunch, not dinner. The hostess quoted a wait of almost two hours on a Saturday evening, but we returned the next day for Sunday lunch and were seated immediately.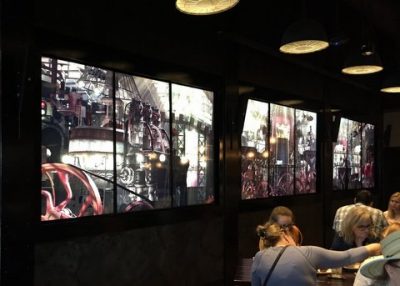 Consider asking to sit upstairs if you want to see even more of the restaurant's details. I wasn't the only one walking around to take it all in.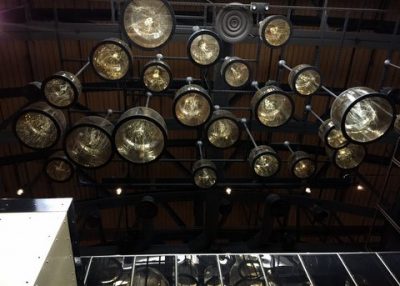 Be sure to look up!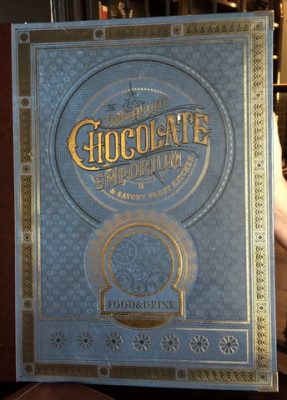 Toothsome's menus are huge and heavy, like coffee-table books. Many of the dishes (especially the desserts) are illustrated so you can anticipate your order. You may have some time to anticipate. We found the kitchen slow-moving despite how busy the restaurant wasn't, and the simplicity of our order.
You are most certainly here for the desserts you've heard tales of. The entrees are mainstream and decent — we ordered several for the table to split — but everyone is saving room in their stomach and wallet for the last course.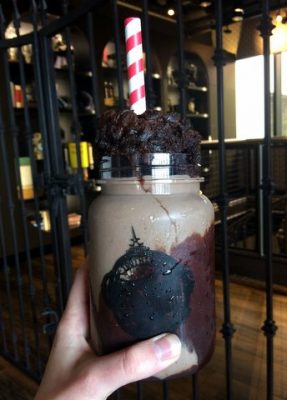 Brownie milkshake
The milkshakes are the most famous and photogenic of the desserts. They come in a souvenir glass and are also available to-go from a walk-up counter near the front of the restaurant. We thought the milkshake was pretty but hard to drink. But there's more …
Brookies, Cookies, and Cream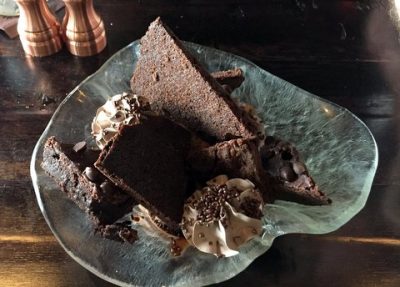 Chocolate Brownie Bark
We also ordered two of the sundaes, both of which were huge and amazing. We passed them around the table repeatedly, trying (in vain) for five of us to finish these and the milkshake before we burst.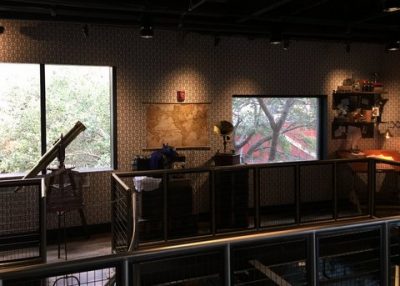 Toothsome could have chosen to squeeze in several more tables in this corner but used it to enhance the theme upstairs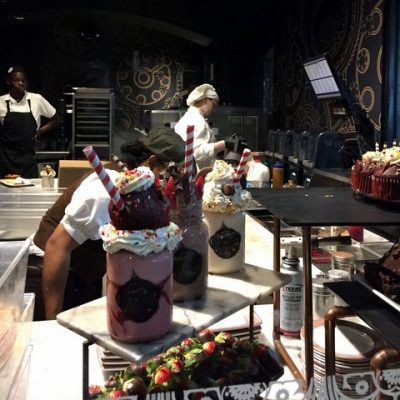 Toothsome Chocolate Emporium is as much an attraction as a restaurant. Don't get caught licking the glass in front of the dessert prep area, which allows you to preview the sweet artistry.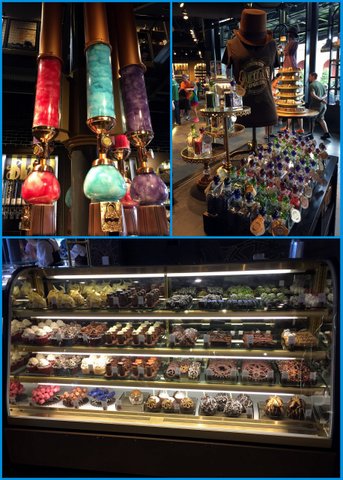 While you wait for your table or after you finish, you can browse the chocolatier downstairs. Along with Toothsome-branded products, this shop houses a bakery counter and plenty of sugary souvenirs to buy. If you want something fun and unique to bring home that doesn't scream "theme park," this may be a place to shop.
My husband paid Toothsome a high compliment when he said that he would eat here if they had one in our hometown. It's really good, not just theme-park good. Any how can you not love a restaurant that puts its focus on dessert?!
Have you tasted the delicious desserts or delectable entrees at Toothsome Chocolate Emporium? Share your thoughts in the comments.
Did you like this article? Make sure to share it with your friends! Check below for easy ways to share!
Incoming search terms:
toothsome chocolate emporium brockie