This post may contains affiliate links for your convenience. If you make a purchase after clicking a link we may earn a small commission but it won't cost you a penny more! Read our full disclosure policy here.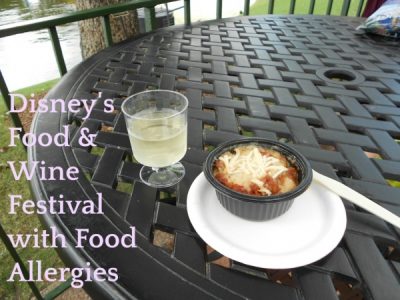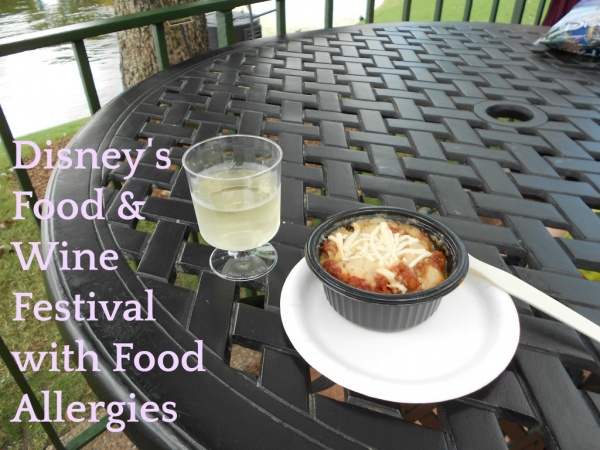 Disney is known as a safe haven for many of us with food allergies. It's somewhere you can go and know that you can eat at any restaurant, which is a rarity in the non-Disney world. The popular Epcot Food and Wine Festival may seem off limits at first, but with a little research and some advance planning it can be another fantastic unique experience for those with food allergies. Of course many of these tips can also be applied to Disney World's other EPCOT festival booths like Epcot Flower & Garden Festival.
Tip #1: Review the menus for the Epcot Food and Wine Festival booths before you go.
While reviewing the menus is generally recommended for everyone, it is even more important for those with food allergies. Disney now marks items that are Gluten Free and Vegetarian, so if you have a wheat allergy, celiac, or a shellfish allergy this will make it easy to determine at least some of the items that are available to you. My allergies are dairy and treenut, so while it does not allow me to know for sure what dishes I can eat, it CAN give me an idea of which booths I shouldn't go near for cross contamination issues. (I'm looking at you all the cheese and chocolate loaded places.) It also can give you an idea of what booths you might want to ask about when you get there. For example, I know vegan dishes will be dairy free but not necessarily nut free. The dish in the picture was a vegan moussaka from Greece. Since it was served with Daiya cheese, I knew my dairy allergy would be covered and because the sausage crumbles were Gardein I was able to google the ingredients beforehand to know it was also nut free.
Tip #2: You can do the demonstrations at the Festival Center but you need to call ahead and tell everyone along the way.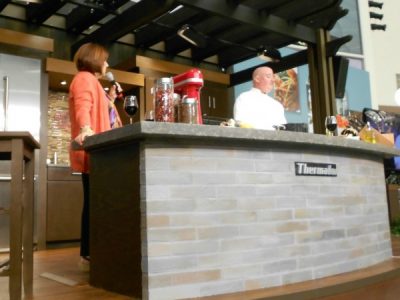 Disney sometimes hosts cooking demonstrations that are labeled vegan or allergy friendly. These may work depending on your allergies, but it still helps to notify Disney of your allergies. Sometimes Disney has to switch the chefs or change dishes, so you don't want to have your dairy allergy friendly vegan demo get switched to a cheese laden vegetarian dish because the chef's flight got canceled. Additionally with prior notice Disney will try to make a similar allergy meals. At my cooking demo (pictured above), the chef was preparing a mushroom ravioli. I was served a dairy-free/nut-free (and gluten-free) pasta with mushrooms and a safe sauce. You will need to remind the Cast Member who seats you and the one who is serving your table of your allergy meal. (You also may need to remind them when they are serving.) I've never done any of the more expensive meal based tasting, but Disney dining will generally try to accommodate you. Just have realistic expectations and realize this accommodation may not mean eating the same thing as everyone else.
Tip #3: Don't forget the cardinal rule of food allergies: when in doubt, ask!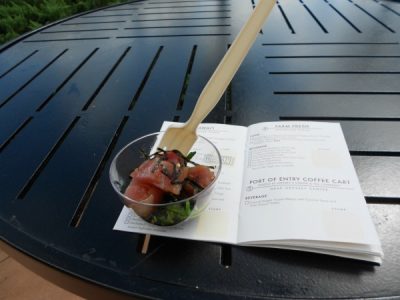 The booths are not like your normal table or counter service, but Disney goes out of its way to accommodate guests with special dietary needs. This means if you aren't sure about a dish's ingredients asked. Sometimes the Cast Members have had a list of ingredients that they could show me. Other times, they've needed to radio to someone backstage to get it for me. Similarly, depending on your comfort and sensitivity with cross-contamination issues, you can ask to leave off a sauce, cheese, or bread at some booths. A lot of the items are assembled at the booth and depending on how busy the booth is at the time, cast members can make small modifications such as that.
The Epcot Food and Wine Festival may not have as many food allergy or special diets accommodations as Disney World's year-round eateries, but it can still be a fun and special event. As always, don't forget your food allergy common sense and carry your Epi-Pen and other medications. But do know, Disney remains remarkably allergy-friendly even with these temporary events.
What tips do you have for those traveling to experience the Epcot Food and Wine Festival with food allergies/sensitivities? Share your suggestions in the comments. 
Did you like this article? Make sure to share it with your friends! Check below for easy ways to share!
Incoming search terms:
food and wine festival with allergies