This post may contains affiliate links for your convenience. If you make a purchase after clicking a link we may earn a small commission but it won't cost you a penny more! Read our full disclosure policy here.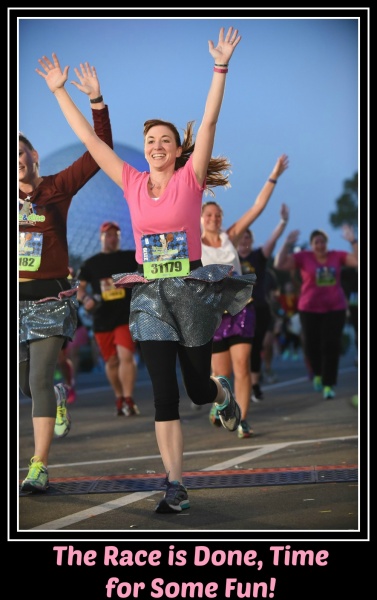 You did it! All of your training and preparation paid off and you made it across the finish line at a runDisney 5K, 10K, half marathon, or marathon.  So, now what? Here are some ideas on what to do once the race is done:
Indulge in a Post-race Breakfast
Since you burned quite a few calories running that race, why not enjoy a post-race breakfast? There are so many fantastic restaurants on Disney property to choose from. This seems like the perfect way to celebrate your victory and rebuild your strength.
Making a dining reservation in advance is probably a good idea if you want to try one of the more popular restaurants. Maybe choose a character dining experience where you can pose for photos with your favorite Disney characters. How about checking out the BoardWalk Bakery for a delicious breakfast sandwich? Some Tonga Toast at the Kona Cafe before heading over to Magic Kingdom? That would be yummy! The breakfast buffet at Boma at the Animal Kingdom Lodge would also be a great place to refuel.  No matter where you choose to eat, take the time to relax and enjoy the morning. You've earned it!

Enjoy a Delicious Breakfast
Rope Drop Your Favorite Attraction
Even with careful planning, it can be difficult to grab a Fastpass for some of the most popular attractions. Hitting the park at opening can be one way to try to beat the crowd and take advantage of the opportunity to ride before the line builds. What better time to attempt this than right after a runDisney event? You're up, you're dressed, and you've already run several miles. What's one more quick walk to the Seven Dwarfs Mine Train? You are already sweaty, so who cares if you get a bit wet on Frozen? Take advantage of your early start and visit your favorite attractions before the rush.  You can always rest later!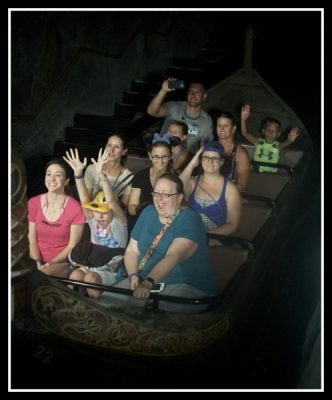 Riding Frozen Just After Rope Drop
Take a Nap
When you've been up and running (literally) since 3 am or so, you may find yourself in need of some rest following the race. Taking a quick nap is one of the most popular ways to recharge after a busy morning of running around.
While a lot of the runners seem eager to go back to the hotel to shower and sleep, I always have way too much adrenaline for that. So I usually decide to put naptime off until later in the day. Waiting until later may also be a way to avoid some of the crowds in the afternoons as well. Whether you choose to nap or not, make sure to give your body some rest.  Especially if you will be getting up early again the next morning to run another race.
Visit the Race Expo
If you didn't have a chance to take a look at the various vendor offerings when you picked up your race packet, visiting the expo after the race can be a great time to go. You can pick up an "I did it!" shirt to commemorate the completion of your runDisney race. Or maybe you would like a pin to add to your collection. This is a great place to find a rack to display your medals. There are also vendors selling clothes, shoes, and accessories for runners and Disney fans.  Be careful, you can easily spend a lot of money here!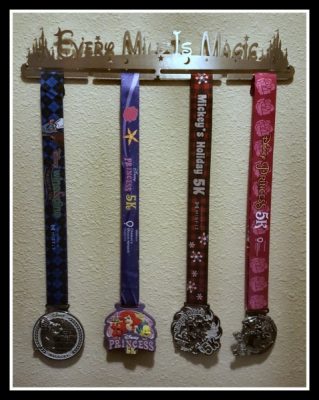 Rack for Displaying Medals
Take Photos with Your Medal
The race you just completed is already unforgettable, but why not document the rest of the day?   I love pictures, so for me, there is no better way to remember an amazing race than by posing for photos with my medal around the Disney parks. Photopass photographers can help you get some fun, high-quality shots or you may want to come up with some of your own creative photo ops. Why not pose with your favorite character or in front of the castle? The Disney parks and resorts are filled with endless opportunities.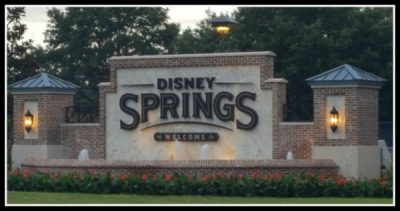 Explore Disney Springs
Check Out Some Non-park Destinations
After a big runDisney race, you might be looking for some low key activities for the rest of the day. Here are some ideas that would be fun, but relaxing:
Check out the hotel pool or hot tub. Your tired legs will thank you!
Explore Disney Springs. There are so many shops and restaurants for guests to enjoy.
See what the Disney resorts have to offer. Most have on-site shopping, themed bars, and/or restaurants.
Take a walk around Disney's Boardwalk.
Make reservations for an evening dinner show such as the Spirit of Aloha Dinner Show or the Hoop-De-Doo Musical Revue.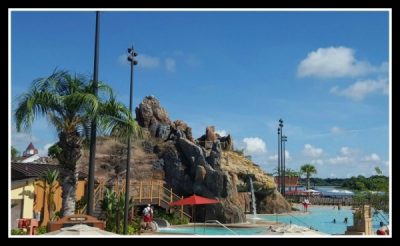 Relax by the Pool
No matter how you decide to spend the remainder of your race day, I hope that you will find some fun ways to relax and celebrate with your family and friends. You've worked hard to prepare for the race, enjoy your success!
What is your favorite way to celebrate a successful runDisney race? Let us know in the comments!
Did you like this article? Make sure to share it with your friends! Check below for easy ways to share!