This post may contains affiliate links for your convenience. If you make a purchase after clicking a link we may earn a small commission but it won't cost you a penny more! Read our full disclosure policy here.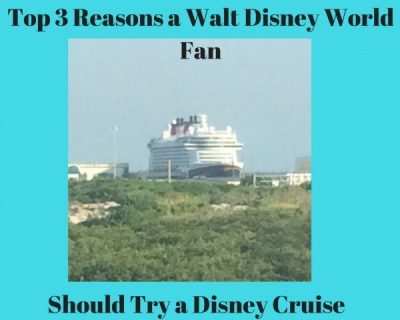 The Disney Deram in port at Port Canaveral
I was a Walt Disney World fan for decades before I first tried a Disney Cruise. After our first sailing on the Disney Dream, my entire family started talking about when we could take another cruise!
If you're still hesitant about sailing with Disney, here are my top 3 reasons why you should give it a try:
STRESS-FREE DINING
We've all been there. It's 180 days from your first day of the Walt Disney World trip, and you're sweating bullets, fingers hovering over your keyboard, ready to try your darndest to get that Be Our Guest reservation! And what if you can't get it for 6:00 p.m.? You can't get it for 5:00 p.m. because that will interfere with your 3rd Fast Pass+ of the day! If you get one at 7:00 p.m., will your kids have melted down by then?
Lunch at Cabanas
Dining on a Disney Cruise is much, much simpler. For starters, only a small percentage of the restaurants (the adults-only spots, which also carry a small surcharge) require reservations. For dinner, you'll be put into a rotational dining service, which means you will go to a specified restaurant every night of your cruise. You'll have to let Disney (or your travel agent) know whether you'd like the early seating or the late seating, and that's it. All the pressure of getting the perfect dining reservation is gone.
And then there's the ease of paying for it. The vast majority of dining on board (and on Castaway Cay, if you're doing a Bahamian or Caribbean cruise) is included in the price of your cruise. There are a few exceptions, of course: the aforementioned adults-only restaurants, alcohol, specialty coffees at the coffee shops, sweets in the candy stores, and snacks at the movie theater do cost extra. And gratuities in the sit down restaurants are not included.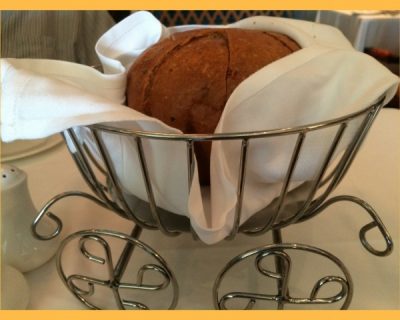 You know you're dining with Disney when your bread arrives in Cinderella's coach!
But all the buffets, family restaurants, soda, coffee and tea machines, self-serve sot-serve ice cream machines and room service are included in your cruise price. And this is nowhere as complicated as the Disney Dining Plan at Walt Disney World. Unless there is a dollar sign on the menu, it's included.
Once you're seated for dinner at your rotational restaurant of the evening, know that you can pretty much order whatever you want. Want 3 appetizers? Go for it. None of the apps look appealing but you're dying to try 2 entrees? Do it. Want nothing but several desserts? Not a problem.
And you don't have to worry about keeping track of dining credits, either! You can eat breakfast at one restaurant in the morning, and then hit the buffet an hour later. You can have lunch on Castaway Cay and then raid the cookies and fruit on the ship. You can eat dinner during the rotational dining service and order room service in the middle of the night. It is very easy to eat like a king and never spend extra money while on a Disney Cruise.
THE SHOWS AND ENTERTAINMENT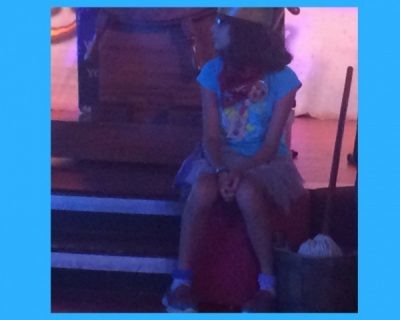 My daughter getting ready to swab the deck during an interactive family game show
Do you love to watch the shows at Walt Disney World, but hate having to show up extra early to make sure you get seated at the time you want? That stress is also gone on the Disney Cruise Line. Every evening, a major theatrical production is presented in a Broadway-style theater. The show is presented twice, so no matter which dinner seating you've scheduled for, you'll be able to see the show.
We sailed on the Disney Dream, which has a maximum capacity of 4,000 passengers. The theater here, The Walt Disney Theater, seats 1,340 people. So there is a very good chance you will be able to see the shows you want. We cruised during the summer, and found seats together for our three person family, every night. We arrived maybe 20 minutes before show time.
If that's not enough for you, there are activities going on all over the ship at seemingly every time of the day. There's a movie theater that shows first run films. Family game shows get the guests in on the action. Night clubs beckon the 21 and over crowd. There might not be a single ride (unless you count the water slides!) but there's plenty of Disney entertainment.
EASIEST DATE NIGHTS EVER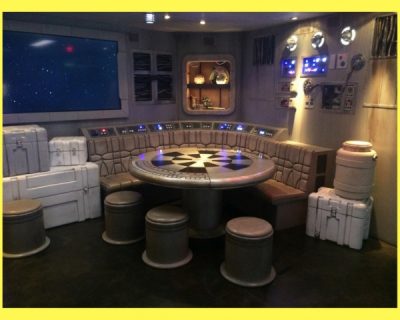 Enjoy a date while your kids enjoy the Millennium Falcon!
Walt Disney World is a haven for the family. But, let's face it, sometimes Mom and Dad want a little alone time. This can be hard to manage, and is an extra expense, at Walt Disney World. But not on the Disney Cruise Line.
Every ship has three separate sections for kids, tweens, and teens. Every participant pays a small, refundable deposit for a MagicBand style bracelet to get in and out of these clubs. My daughter spent an afternoon in the kids club on the Dream and demanded more time there as soon as we picked her up.
The kids clubs on Disney Cruise Line are fantastic. Depending on which ship you board, your kids might get to enjoy the cockpit of the Millennium Falcon, Tinker Bell's Pixie Hollow, Andy's room, or get a lesson on how to be a super hero from the Avengers.
During this time, adults can enjoy one of the adults only restaurants (this does carry a surcharge), have a drink at one of the bars, go to the adults only pool, or simply sit on the veranda and enjoy the ocean.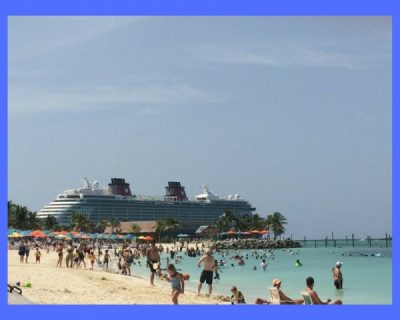 The kids' club also functions on Castaway Cay!
In case you want a date while docked at Castaway Cay, the kids' club also functions on the island. Adults can then enjoy the adults only section of the beach.
I hope this has encouraged you to try cruising with Disney Cruise Line.
What do you love most about cruising on Disney Cruise Line? Let us know in the comments, or on Facebook or Twitter.
Did you like this article? Make sure to share it with your friends! Check below for easy ways to share!
Want to take a Disney Cruise? Contact The Magic for Less Travel for more information and a free, no-obligation quote.