This post may contains affiliate links for your convenience. If you make a purchase after clicking a link we may earn a small commission but it won't cost you a penny more! Read our full disclosure policy here.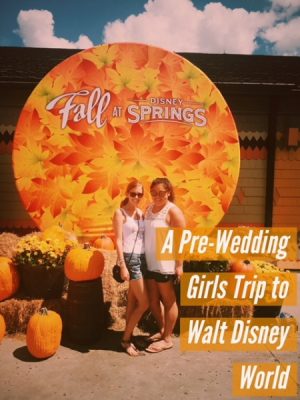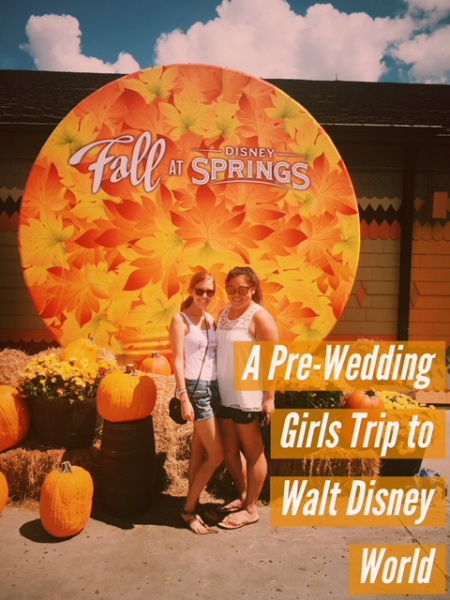 I'm getting married soon and for those brides and grooms out there, I'm sure you remember how crazy and stressful planning a wedding can get toward the end. My incredible maid of honor knew how to cut down on stress: a girls weekend at our favorite place on earth! Though our trip was less than 48 hours from start to finish, it was a perfect opportunity to laugh, relax, and have some fun before the wedding festivities begin! Here, I'm bringing you my trip report from my girls trip with my best friend!
OUR ARRIVAL
We decided to plan this quick trip as an opportunity to stop thinking about to-do lists and wedding planning, and to just have fun for a few days, and it was the perfect plan! We both took off from work a bit early on Friday and headed to the airport (Jess flying from Boston, and me from New York City). Unfortunately, Jess's flight was delayed by about 2 hours, but we made it to MCO and headed directly to Mickey's Not So Scary Halloween Party for our first night!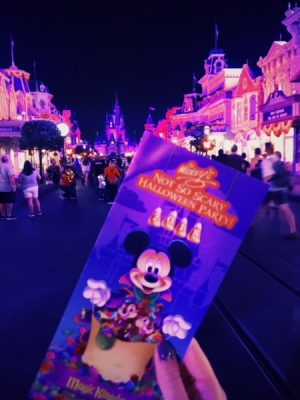 THE PARTY!
This was Jess's first Halloween party, and my first in about 10 years, so we were very excited to check out the fall-theming and experience some holiday magic (even though it was about 1.5 months before Halloween!). We did just about everything, and were there until the park closed down at midnight! We enjoyed trick-or-treating, and loved that there was no judgment at adults getting candy! We hit a bunch of the trick-or-treat stations, filling our bags up from the handfuls of candy we received!
We also checked out the Halloween-themed attractions and our other favorite rides! The lines were minimal, so we were able to walk right on many, and only had to wait about 10 minutes for the rest! Of course, we also had to get some snacking in; we tried the candy corn milkshake (verdict: overly sweet, as expected) and the Jack Skellington push pop. We also snacked on our trick-or-treat candy throughout the evening!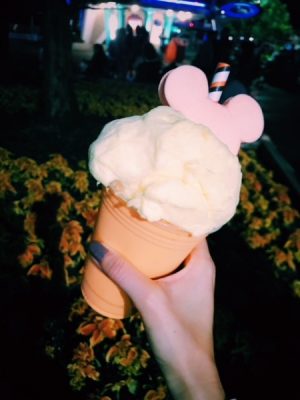 We, of course, had to check out the Boo-To-You parade and Happy Hallowishes fireworks, both of which were impressive and left us in the Halloween spirit! The party went by fast, and we squeezed in as many attractions as we could before heading out for some sleep!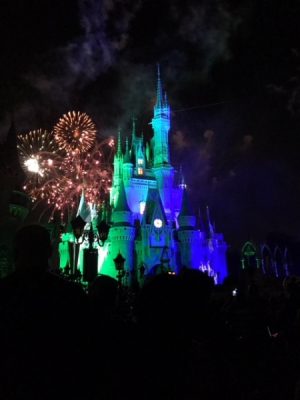 THREE PARKS IN A DAY
Short trips are a struggle; we wanted to do some relaxing, but we wanted to experience all 4 parks during our girls weekend, so we did what any Disney-fan would do: chose exhaustion over relaxation! We headed to Epcot for the International Food & Wine Festival first, and enjoyed tasting our way around the world.
We tried the mezzi rigatoni with vodka sauce and pancetta in Italy, the warm chocolate pudding in Ireland, and the brisket poutine at the Refreshment Port, all of which were incredible! I'd been to the Food & Wine Festival two weeks prior and tried about 10 other items, and the rigatoni from Italy was a surprising favorite!
Once we were sufficiently stuffed, we hit a few attractions (Frozen Ever After, The Seas with Nemo & Friends, and Journey Into Imagination) and took the boat to Disney's Hollywood Studios.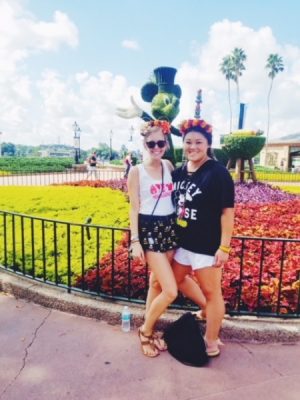 Our Hollywood Studios plan was to brave the standby line for Slinky Dog, but with the heat and humidity as high as they were, we chickened out in favor of Rock n' Roller Coaster, Toy Story Mania, and, you guessed it, more snacks! From there, we headed over to Disney's Animal Kingdom, feeling super exhausted but still having a blast!
Because we hadn't eaten anything in about 1 hour, we decided it was time for more food (thank goodness calories don't count in Disney, right?). I got to experience Satu'li Canteen in Pandora for the first time! I'd been wanting to check it out since Pandora opened, but had never gotten the chance.  I got the kids portion of the chicken and rice, and my friend got the cheeseburger pods. We absolutely loved our meal; I think this might be my new favorite counter service spot! We also got a little extra pixie dust; two complimentary cupcakes (because we hadn't eaten enough already)!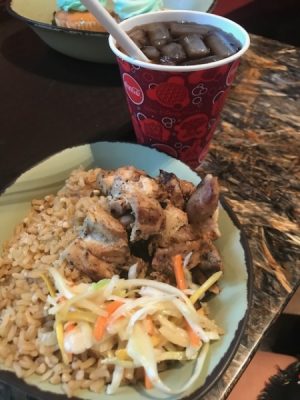 Once we were sufficiently stuffed, we did the nighttime safari at Kilimanjaro Safaris, and it was the best safari I've ever been on! We got stuck for quite a few minutes, first by about 20 wildabeasts crossing our path, and then by a rhino! When we were finally able to pass the rhino, it was so close that we truly could've reached out and touched it (though I wouldn't recommend that). We then got to see the lions up and moving around, and heard them roaring, which was a truly memorable experience!
Jess took a ride on Expedition Everest, and then we headed over to catch Rivers of Light before heading home to get some much-needed sleep!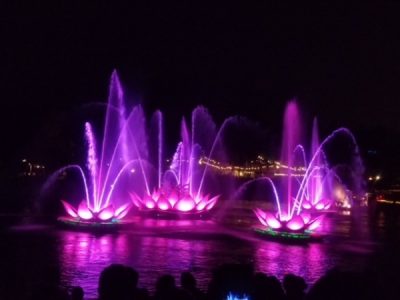 A TRULY RELAXING SUNDAY
We had totally tired ourselves out over the past 2 days, so we took Sunday as a relaxing day! We slept in, had a big brunch, sat around chatting for hours, and eventually made our way over to Disney Springs to do a little shopping! We grabbed a quick lunch at Earl of Sandwich and took our time browsing the shops. It was a perfect end to a crazy weekend, and I actually left Orlando feeling rested and ready for the work week! We had an absolute blast on our girls trip, and are already planning our next trip for January!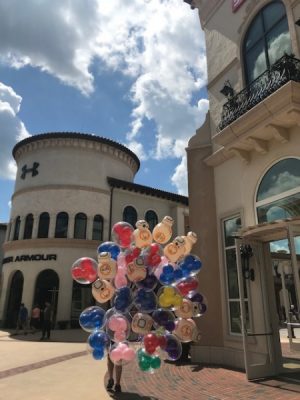 Have you taken a pre-wedding Girls Trip to Walt Disney World to get rid of some of those wedding jitters? What were some of your highlights? Share in a comment below or on Facebook or Twitter.
Did you like this article? Make sure to share it with your friends! Check below for easy ways to share!
Want to visit the Walt Disney World Resort? Contact The Magic for Less Travel for more information and a free, no-obligation quote.