This post may contains affiliate links for your convenience. If you make a purchase after clicking a link we may earn a small commission but it won't cost you a penny more! Read our full disclosure policy here.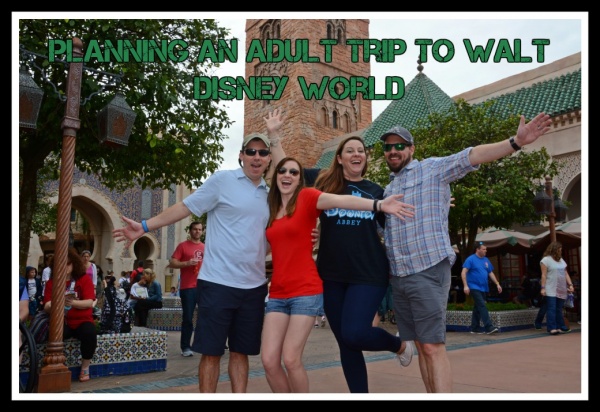 I've heard it said time and time again that the Disney parks are for kids. I have to say, I respectfully disagree. There are so many ways to enjoy an adult trip to a Disney park!
Rides and Attractions
Attractions are a given when it comes to a Disney vacation. They are usually the main reason that guests visit a Disney park. You don't need kids in your party to take a spin in the teacups or scream your way through a ride on Everest. You can also take advantage of the opportunity to visit some attractions that may not appeal to children as much. Sometimes it is just nice to relax and visit all of the attractions you enjoy without having to worry about keeping the kids entertained.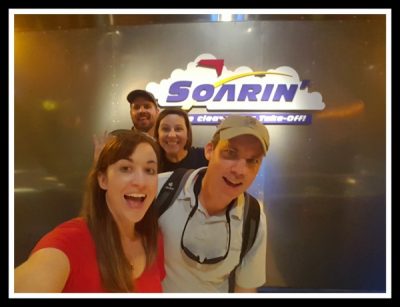 Act like a kid
I took an all adult trip to Epcot a few years ago and one of my friends was in charge of arranging FastPasses. She booked the usual favorites: Soarin', Test Track, Spaceship Earth. She also booked a FastPass for the Character Spot.  We all moaned and groaned.  Why would a group of 6 adults want to go to the Character Spot to have our pictures taken with Mickey and Minnie? Well, we did it and it was amazing!  We had a great time posing for pictures, and believe it or not, the characters seemed to enjoy it too.  They posed for silly selfies and made the whole experience a lot of fun. The best part was that we left with some fun photos and some great memories.  I highly recommend doing this!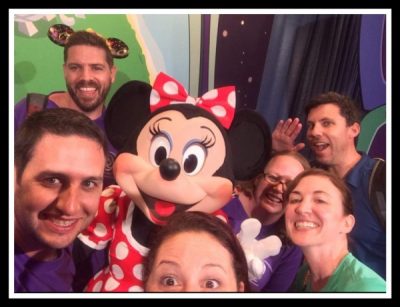 Enjoy a nice dinner
Children are certainly welcome at Disney restaurants, even the upscale ones.  I have done dinner at Tiffins with 5 kids under the age of 10 and had a fabulous time, but sometimes it is nice to enjoy a quiet dinner with just adults. Why not try some of the places that are more romantic or have an adult feel like the Yachtsman Steakhouse or Citrico's? Or Victoria and Albert's if you are really looking to splurge!
I recently took an adult-only trip and finally got to visit La Cellier. It's been on my list of restaurants to try for a long time, but I have been waiting for the opportunity to dine with a group of just adults.  I loved it! The food was delicious and it was nice to have a relaxing meal since Epcot was packed that day.
Stop and check out the entertainment
On most of my trips that involve kids, it's all about the rides.  When you visit with adults only, you should really take the opportunity to slow down and check out the entertainment.  Disney Springs comes alive with live music on the weekends. You could also check out a concert at the House of Blues or see a movie at the AMC theater. There's always live entertainment going on at Epcot, especially during festival times.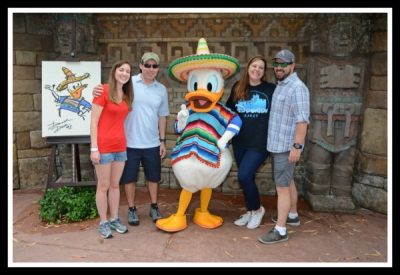 Attend a seminar or take a behind-the-scenes tour
There are lots of special experiences available to guests throughout the year that provide opportunities to go behind the scenes or try something new. Last year, I attended a seminar during the Epcot Festival of the Arts and had the opportunity to hear Disney legend, Marty Sklar speak. It was one of the best experiences I have ever had on a Disney vacation. When he passed away recently, I was so thankful that I had chosen to attend that seminar.
Tours like Behind the Seeds and Keys to the Kingdom can be a lot of fun with a group of adult friends. Sorry to mention Epcot festivals (again!), but there are so many different options available!  The price ranges vary and you might be surprised to find that there are many affordable options. Also, don't forget to check for DVC and Passholder discounts.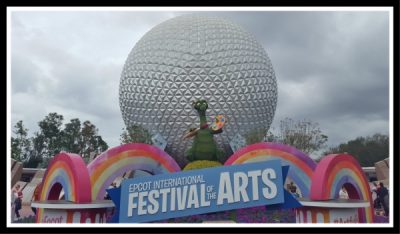 Don't just explore the parks
When you plan a trip to Walt Disney World, I'm sure you will want to visit the parks. It took me years to realize though, that some of the most interesting locations are actually outside the parks. Each hotel has fun, unique restaurants and bars that are worth a visit. Why not make a dinner reservation at Disney Springs or a Disney resort with a group of friends? You have so many choices!
Take a Monorail Tour
One of the best adult trips that I took included dinner and then an evening of traveling around to the various resorts on the monorail line. We started on the Boardwalk, then traveled from Epcot to the Transportation and Ticket Center. From there, you can either walk or ride the monorail to the Polynesian. We visited Trader Sam's Grog Grotto, one of the most unique experiences you will find. We had a drink and enjoyed some yummy appetizers before hopping on the monorail to the Contemporary.
Next up was the California Grill Lounge, also a great location for drinks and appetizers. The view from up there is incredible, and if you time it right, you may have the opportunity to watch the fireworks over the Magic Kingdom.
A journey like this can require some patience as we did have to wait a little bit to get into the California Grill Lounge, but we set out to have a relaxing evening, so we were in no rush. It was definitely worth the wait! Walt Disney World also offers the Highway in the Sky Dine Around if you want to let someone else plan out the evening for you. The advantage to this is that you won't risk having to wait to get into certain locations.
Watch the Fireworks from a Resort
On a recent trip, we stopped by the Wilderness Lodge to check out Geyser Point. You will find much better views from resorts like the Polynesian, Grand Floridian, or the Contemporary, but we still enjoyed it. If you aren't ready for the night to end there and the parks are open late, hop on the resort transportation and check out a few attractions or eat a late-night snack before calling it a day.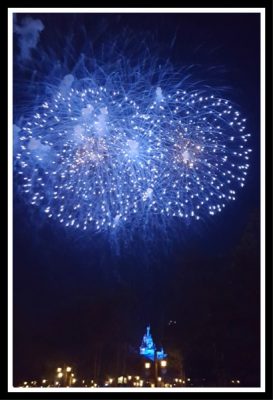 Don't let anyone tell you that Disney is just for kids!  We are all kids at heart and a trip to a Disney park or resort can be incredibly magical at any age!
Have you visited Walt Disney World without kids? What did you enjoy the most about your experience?  Let us know in the comments!
Did you like this article? Make sure to share it with your friends! Check below for easy ways to share!