Movie Review: The Parent Trap
|
This post may contains affiliate links for your convenience. If you make a purchase after clicking a link we may earn a small commission but it won't cost you a penny more! Read our full disclosure policy here.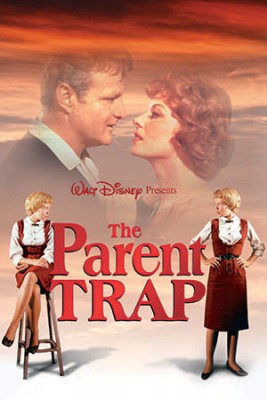 DVD Cover Copyright Disney
A "doubly delightful" live action comedy, The Parent Trap was theatrically released on June 19, 1961. (1) It is based on Erich Kastner's 1949 novel Das doppelte Lottchen (Lottie and Lisa) and is 128 minutes in length.
Plot Summary
A teenage girl from Boston, Sharon McKendrick (Hayley Mills), endures a disastrous start to her time at sleepaway camp when a feud with another camper, Susan Evers (Hayley Mills) of California, culminates in a literal fight on a crowded dancefloor. As a punishment, these enemies are forced by the camp director, Miss Inch (Ruth McDevitt), to do everything together for the final month of the summer.
As Sharon and Susan get to know each other, they become friends. Nay, they become sisters! You see, the girls look like twins, and they share a birthday. Furthermore, Sharon has been living without a father for as long as she can remember, while Susan has been living without a mother for her entire life, though she remembers once having seen a picture of her father's ex-wife. When Sharon presents a photograph of her mother, Maggie McKendrick (the recently late, Maureen O'Hara), Susan realizes it is the same woman from her father's photo!
The girls are now determined to meet their other parent, and they concoct an ingenious scheme. They will switch places, Sharon going to California to meet her father, Mitch Evers (Brien Keith), and Susan going to Boston to meet her mother. Of course, they want to switch back eventually, so their divorced parents will have to interact again. How will that encounter turn out?
General Thought
The plot is largely suspenseful and engaging, though I found the interactions between the daughters and their newly rediscovered parents uncomfortable. We know that each parent is good, so I dreaded the idea of Maggie bashing Mitch and vice versa in front of the girls, whether isolated or together; I just hate controversy in general. Also, some of the interactions between the girls and their parents are extremely sappy.
Double Duty
The most interesting aspect of The Parent Trap was the role of actress Hayley Mills, who brilliantly portrayed both Susan and Sharon. Disney had discovered Mills in 1959 through her role in the film Tiger Bay, which also featured Mills's father John, under contract with Disney for The Swiss Family Robinson (1960). (2)
Though lukewarm about the film itself, New York Times film critic Bosley Crowther was mesmerized by Hayley Mills's performance in The Parent Trap. Crowther said, "It was quite an inspiration to have this remarkable child do the far-fetched and sentimental things that are called for in this film. For without her entirely wholesome nature and her ability to give substance to a line that has pure corn-syrup in it, this could be an unbearably painful thing…In the thick of it, little Miss Mills—both of her—is the focus of the fun, thanks to her own small magnetism and the facility of the split-screen. Except for a nervous mannerism of running her tongue across her lips, which both of her twins do identically, she is as easy and natural as a pro. She can even make a line as treacly as 'I missed having a mother and I wanted to see you very much' sound like a thump of childish misery and cause a little catch at your heart." (3)
Production
The casting of Hayley Mills as both sisters was made possible through split-screen. This process, developed for Disney by the legendary Ub Iwerks, entailed the taking of separate shots of Mills at the same location and the subsequent amalgamation of these shots into a single image. Depending on the scene, objects such as tent poles, doorframes, and bedposts were used for division such as to obviate an awkward on-screen line. (4)
Split-screen was most easily utilized in scenes where the sisters were facing directly forward. In situations where the sisters interacted on an angle, Susan Henning-Schutte, an actress strongly reminiscent of Mills, seconded as the other sister. Mills and Henning-Schutte rotated between the sisters throughout the movie. In the split-screen scenes, Henning-Schutte acted off-camera such as to facilitate a more natural interpersonal performance from Mills. (5)
Though she was not publicized, Henning-Schutte greatly enjoyed her time working on The Parent Trap. Walt Disney afforded her a "Duckster" trophy with the inscription "the best unseen performance by an actress." Additionally, Henning-Schutte and Mills became close friends and have kept in touch since the filming. (6)
Family
The main theme of The Parent Trap is family. Family is best based on mutual love, a sentiment that the film's protagonists are forced to ponder. Maggie and Mitch clearly adore both of their daughters, but do they also love each other? The joy of the girls may be directly related to their own happiness in this regard.
Vicky
During the film, Mitch is in the midst of an affair with a woman named Vicky (Joanna Barnes), the movie's antagonist. Is Mitch merely desperate to remarry, or is Vicky a good woman rendered disgruntled by Sharon's immediate nasty treatment of her? Sharon did not give Vicky a chance, but the latter exudes an exceedingly cunning personality.
Music
The film's three feature songs, "The Parent Trap," "Let's Get Together," and "For Now and Always," were composed by Disney's legendary songwriting duo of Richard and Robert Sherman.
Performed by Tommy Sands and Disney Legend Annette Funicello during the opening credits, "The Parent Trap" is alternately upbeat and solemn. I found it mediocre, especially when compared to the frenetic "Let's Get Together." The latter number, performed twice during the film, is pure fun.
Humor
The Parent Trap is rarely hysterically funny, but amusing jokes and gags pervade the flick.
Animated depictions of the parents' tumultuous relationship are featured during the opening credits.
Practical jokes dominate life at the camp.
The cake that falls on Miss Inch during the dance looks yummy! Miss Inch in general exudes an awkward personality.
A plethora of animals reside near the camp. These critters are largely ill suited as pets.
Susan has to learn a new dialect before her trip to Boston: "Can't," "Shan't," "Aunt." She is diligent in practicing the pronunciation of these terms.
The sisters commence spontaneous temper tantrums and mimic each other for leverage with their parents.
Mitch's housekeeper, Verbena (Una Merkel), repeatedly minds her own business, except when she doesn't, which is most of the time.
Vicky encounters unwanted shenanigans and learns inaccurate survival tips on the camping trip with Mitch and the girls towards the end of the film. I think these scenes are the funniest in the movie.
Relationship to Other Disney Films and Television
Three sequels to The Parent Trap, all starring Hayley Mills, were created for television releases in 1986, 1989, and 1989, respectively. A remake, also entitled The Parent Trap, starring Lindsay Lohan as both sisters, Annie and Hallie in this case, was theatrically released on June 29, 1998.
Hayley Mills previously starred for Disney in Pollyanna (1960), and she subsequently appeared in In Search of the Castaways (1962), Summer Magic (1963), The Moon-Spinners (1964), and That Darn Cat! (1965).
Brian Keith subsequently appeared in Moon Pilot (1962) and Savage Sam (1963).
The Sherman Brothers also composed music for In Search of the Castaways, The Sword in the Stone (1963), Mary Poppins (1964), The Happiest Millionaire (1967), The Jungle Book (1967), The Aristocats (1970), Bedknobs and Broomsticks (1971), and The Many Adventures of Winnie the Pooh (1977).
One of Sharon's original roommates was named Ursula, the same name as the antagonist from The Little Mermaid (1989).
The late Annette Funicello was perhaps best known from her role as a "Mouseketeer" on Walt Disney's "Mickey Mouse Club" television series during the late 1950s.
Summer camp was the setting of "Bug Juice," a series that ran on the Disney Channel from 1998 to 2001.
In the Parks
No attractions or regular character meets pertaining directly to The Parent Trap are featured at Disney's theme parks.
Music by the Sherman Brothers can be heard on numerous attractions at Walt Disney World: the Magic Kingdom's Walt Disney's Carousel of Progress, the Magic Kingdom's Walt Disney's Enchanted Tiki Room, the Magic Kingdom's It's a Small World, the Magic Kingdom's The Many Adventures of Winnie the Pooh, and Epcot's "Journey into Imagination with Figment." Walt Disney's Enchanted Tiki Room, It's a Small World, and The Many Adventures of Winnie the Pooh are also featured at Disneyland Park in California.
A punny visual reference to Annette Funicello, a net full of jello, is placed in the queue of "Muppet*Vision 3D" at Disney's Hollywood Studios.
Overall
A good mix of humor, music, and heartwarming moments make The Parent Trap one of Disney's best live action efforts.
Notes
1) The Parent Trap was described as a "doubly delightful comedy" during VHS promotions for the "Walt Disney Family Film Collection" between 1994 and 1996. https://www.youtube.com/watch?v=mKxB24665Ok
2) Knickerbocker, P. (1959, August 30). OUT WEST WITH NEW ENGLAND'S 'POLLYANNA.' New York Times, p. X7. Retrieved September 28, 2015, from http://0-search.proquest.com.alpha1.suffolk.lib.ny.us/docview/114682485?accountid=35174
3) Crowther, B. (1961, June 22). Hayley Mills Plays 2 Roles in Comedy. New York Times, p. 23. Retrieved October 11, 2015, from http://0-search.proquest.com.alpha1.suffolk.lib.ny.us/docview/115424421?accountid=35174
4) "'Seeing Double' Special Effects Featurette." Swift, D. (Director). (1961). The Parent Trap [Motion picture on DVD]. Buena Vista Distribution. Feature on Disk 2 of 2005 2-Movie Collection DVD
5) "Lost Treasures: 'Who's The Twin?'" Swift, D. (Director). (1961). The Parent Trap [Motion picture on DVD]. Buena Vista Distribution. Feature on Disk 2 of 2005 2-Movie Collection DVD
6) Ibid.
What do you think of The Parent Trap? Let me know in the comments!
Sponsored Ad:  Would you like to help support The Mouse For Less website in continuing their mission of being THE Disney vacation planning resource?  You can do so by purchasing The Parent Trap from our Affiliate Link through Amazon. Thanks so much for your support!