This post may contains affiliate links for your convenience. If you make a purchase after clicking a link we may earn a small commission but it won't cost you a penny more! Read our full disclosure policy here.
I recently had the opportunity to dine at the new
Morimoto Asia
restaurant, located in
Disney Springs
, as part of my Disney birthday celebration. Being a master chef fanatic, I was counting the moments until I could experience this exciting new signature dining spot, and I can assure you, it didn't disappoint. Morimoto Asia is the first pan-Asian restaurant created by master chef Masaharu Morimoto, offering Japanese, Chinese, Korean, and Malay dishes. This upscale Asian dining venue serves up a variety of options from dim sum to hand rolls to whole Peking duck feast, pleasing even the most timid diners.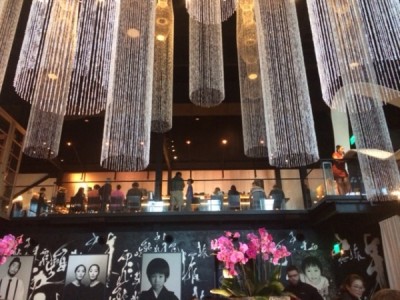 The Location:
Morimoto Asia is located at
The Landing at Disney Springs
, right across the way from Raglan Road and the new Homecoming restaurant. This gorgeous restaurant is gigantic; at two stories tall, you can't miss it! The interior is artfully decorated; 20 foot chandeliers dangle from the ceiling into the dining space, and playful art adorns the walls. The open kitchen allows diners a peek at the immaculate workspace where dishes are being created (don't forget to look for the Peking ducks hanging mid-kitchen), and the sushi bar located on the second floor offers limited bar seating if you're in the mood for a quick bite. Private dining spaces are also available, by request. The restaurant was about half full at our 7:15 p.m. dining time; the noise level was moderate, and did not detract from our dining experience. Overall, the space was spectacular; I spent half of my visit gazing at the chandeliers hanging directly above our table!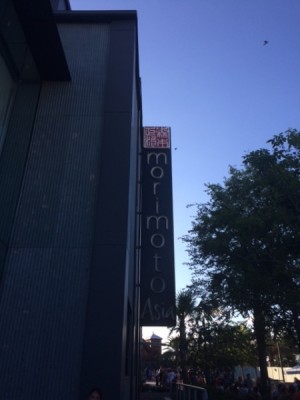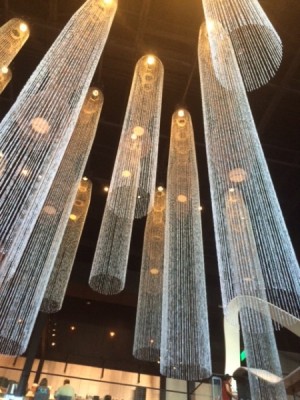 The Meal:
The menu is expansive, with many pages of delicious choices. Menu headers include Starters, Dim Sum, Sushi, Soup & Salad, Noodles & Rice, Poultry, and more. Seafood lovers can rejoice at the "Towers," offering lobster, shrimp, oysters on the half shell, sashimi, and more. Feeling sufficiently overwhelmed by options, we decided to go with some of our favorite Asian dishes to see how they stacked up to our expectations. Our party contained a picky eater, and he was pleased to find some of his favorite, more familiar options on the menu.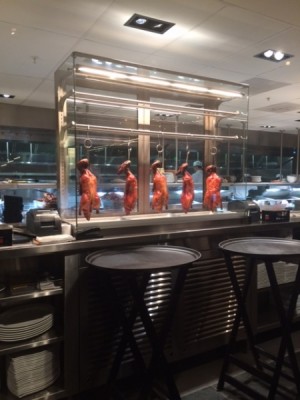 Dim Sum
We started the meal with an order of pork dumplings. 4 dumplings arrived at our table (and were piping hot), served with a nice ponzu-style dipping sauce. As there were 4 of us, the portion was perfect! The dumpling itself was chewy and doughy, and the filling was typical of a pork dumpling, savory pork paired with the slight bite of chives.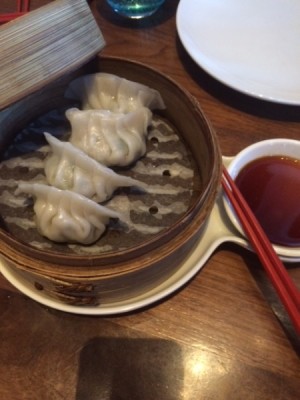 We then ordered the pork egg roll. Two egg rolls were sliced on the bias, making 4 pieces perfect for splitting. The egg rolls were surprisingly spicy, something unexpected when choosing a safer option like an egg roll (we were wishing for some white rice to cool our mouths!). The real shining star here was the apricot chili dipping sauce. It was sweet with just a hint of warmth toward the end. We agreed that we ordered well, and enjoyed both of our dim sum choices.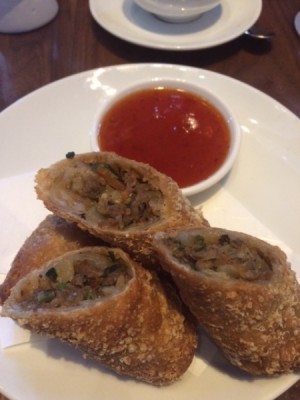 Sushi
We ordered a tuna cucumber roll off-menu to see how our request would be accommodated. Our server, Junko, made sure that the order was executed flawlessly. A generous portion of tuna made for a delicious sushi roll, though we agreed that this roll was nothing out of the ordinary, and could be purchased elsewhere for half the price. Dining with a picky eater, it was nice to see that requests for substitutions and off-menu options were honored without any push back.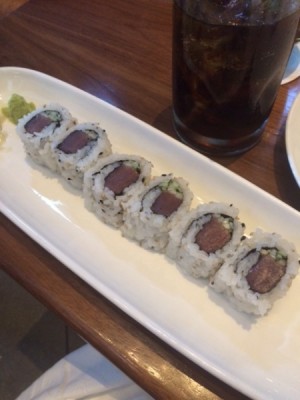 Entrees
We went carb-heavy with our entrée orders; 3 of our 4 dishes were rice or noodle dishes. We opted for the chicken pad Thai (prepared traditionally with a sweet tamarind sauce), the chicken lo mein, the shrimp fried rice, and the orange chicken with Chinese broccoli. The noodle and rice portions were large enough to share with the table, while the chicken dish was better-suited for 1-2 people.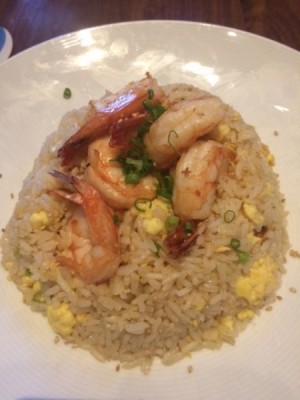 Overall, the least impressive option was the fried rice. Lightly fried, this rice came out almost white, and lacked the buttery, garlicky flavor we anticipated. The shrimp were also slightly overcooked, yielding a chewy protein choice. It was all uphill from there, though. The pad Thai and lo mein were both big on flavor, and were served with a healthy portion of chicken. The portion sizes of the rice and noodle dishes were large enough that we requested a couple of to-go containers.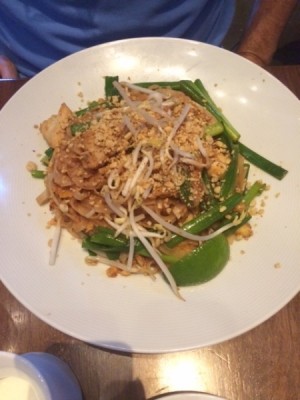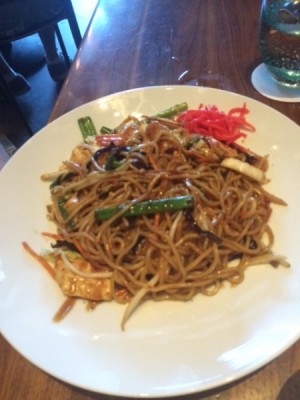 The real shining star was the orange chicken. Before you order, free your mind of previous orange chicken dishes, because the flavors here were unlike anything I've ever tasted. This orange chicken was a sweet dish, with no kick or tang. Difficult to describe, the chicken tasted exactly like a fresh picked orange! Lightly fried and lightly sauced, the orange flavor was pronounced and not overwhelming. Served with a side of rice (your choice of white or brown) and Chinese broccoli, this was certainly the most enjoyable meal we ordered. I highly recommend this option, especially if you're looking for a Floridian spin on Asian cuisine.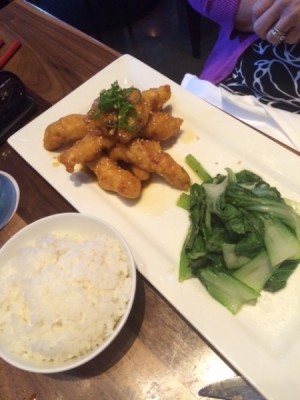 Summary:
We truly enjoyed our experience at Morimoto Asia, leaving comfortably full, but not overstuffed. We opted against dessert, as
Sprinkles
and
Amorette's Patisserie
were right around the corner. The impressive restaurant makes for an enjoyable dining experience, transporting you out of Disney World and into the world of more upscale dining. The menu offers different portion sizes, from dim sum to towers that feed 4 adults, so feel free to get creative with your ordering. All in all, I would certainly return to Morimoto Asia, and highly recommend giving it a shot!
Have you tried Morimoto Asia? What were your thoughts? Share in the comments!
Incoming search terms:
morimorto asia dining reviews