This post may contains affiliate links for your convenience. If you make a purchase after clicking a link we may earn a small commission but it won't cost you a penny more! Read our full disclosure policy here.
One of the most common questions asked when planning a Walt Disney World vacation is whether or not you should add Memory Maker to your package. The overwhelming response is always an emphatic yes! Memory Maker can seem expensive when purchasing before you ever even see the images, but purchasing prior to your travel can provide a savings!
If you purchase Memory Maker at least three days before your arrival date, you will pay $169.99 rather than the $199.00 that you will have to pay afterwards. This price allows you to download all of your images and have the rights to print and use them wherever you would like.
PhotoPass and Memory Maker are often confused, but the easiest way to understand these two terms is to know that PhotoPass is the service and Memory Maker is the product. Memory Maker is the product that contains all of your PhotoPass images.
Aside from the rights to print and download the photos, what exactly is included in your Memory Maker purchase? It's actually a pretty great list!
Images from rides – Whether you're dropping in Tower of Terror or freezing in Expedition Everest, the well themed images from any rides that have photo opportunities will be included in your Memory Maker purchase. If you are using a MagicBand, the images will link to your MagicBand while on the ride. However, you can also check near the exit area of many rides to make sure those images are added to your account.
Videos from rides – Some rides now include videos as part of the Photopass service and these videos will also be loaded to your Memory Maker product.

Jedi Training Academy – If you have Star Wars fans between the ages of 4 and 12, Jedi Training may be on their must do list! Two PhotoPass Photographers are on hand during this experience and they do an amazing job at capturing special moments with the young Padawan. If you'd like to learn more about Jedi Training Academy, read about our experience here.
Bibbidi Bobbidi Boutique – Do you have a princess or prince dreaming of a makeover? PhotoPass Photographers will not miss a moment of this special event.
Enchanted Tales with Belle – While guests share in a special story time with Belle, the photographers will be on hand capturing the story and the characters and all can be added to your Memory Maker account!

Landmarks in the Parks – Every family traveling to Disney dreams of that picture on Main Street, in front of the Castle. Whether you are hoping to capture that moment or one of many others in front of landmarks in many of the parks, there will be PhotoPass Photographers waiting to capture your special moments.
Characters – Many of the character spots and meet and greets will have PhotoPass photographers available to take images of your whole family. Whether you are looking for the big Mouse himself or many other characters, most will have photographers on hand to capture your special moments.*Note, not all character dining restaurants will have a PhotoPass photographer on hand and those that do will have a character near the entrance with the photographer, rather than all characters.

Photopass Studios – There are two studios where you can have photos take and all are loaded in your Memory Maker account. One is at the Castle Couture in Magic Kingdom. This location is designed with little princesses leaving Bibbidi Bobbidi Boutique in mind. The second location is in Disney Springs in the Market Place area. This location is the perfect stop for family photos. With different backgrounds added to your portraits, you can even capture spectacular images without another guest in view.
Christmas Holiday Season – During the holiday season, many resorts will have beautiful decorations from Gingerbread houses to Christmas trees, the resort lobbies are magnificent. You can sometimes catch a Photopass photographer at various resort lobbies during this time.

Festivals and Parties – There are often special magic shots and special photo opportunities at the festivals and parties in the parks. These are also included in the Memory Maker product. Whether it's an image in front of party decorations or special props for that event, there are plenty of PhotoPass opportunities during these times and they will all be added to your Memory Maker.

Magic Shots – No list of reasons to just say yes to Memory Maker would be complete without highlighting Magic Shots. These images are special because the amazing PhotoPass photographers add a bit of magic to your images. Not all photographers will be able to add Magic Shots, nor will they have all of the different shots available at that location. When you stop to have your photos taken, ask for Magic Shots. You never know who or what will show up in your images! The photographers may ask you to pose a certain way, play along and have fun. Magic shots are often some of the favorite images of guests.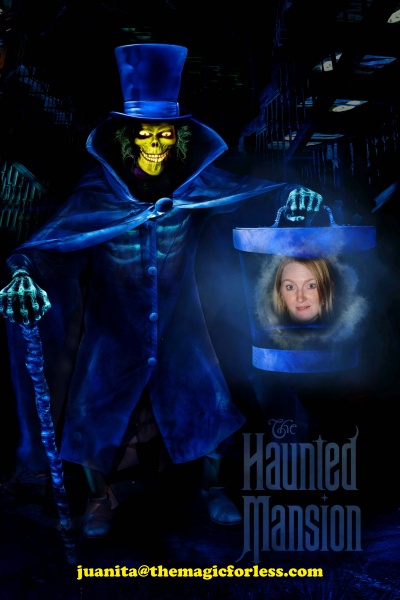 If photos are something you value and treasure, this is very simply an add-on that you just can't pass on for your vacation. I declare this to be my souvenir on every single Walt Disney World trip! There are often moments with my children that I couldn't capture without the PhotoPass Photographers and Memory Maker allows me to take my time and go through all of the images after the trip, reliving those incredible moments.
Before you download your images though, you can add borders, stickers, and even autographs to your images. This is all part of the Memory Maker product. Add some pixie dust to that character photo with Tinkerbell or a themed border with the party and date for that year. One of our favorite things to do is add an autograph signature to the images with characters.
I know purchasing Memory Maker before you even go on your trip and haven't had a single image taken can make you uneasy but this is very simply a purchase you won't ever regret! When you find yourself debating Memory Maker… just say YES!
Do you always purchase Memory Maker? What tips do you have? Let us know in the comments, or on Facebook or Twitter!
Did you like this article? Make sure to share it with your friends! Check below for easy ways to share!
Want to visit Walt Disney World? Contact The Magic for Less Travel for more information and a free, no-obligation quote.