This post may contains affiliate links for your convenience. If you make a purchase after clicking a link we may earn a small commission but it won't cost you a penny more! Read our full disclosure policy here.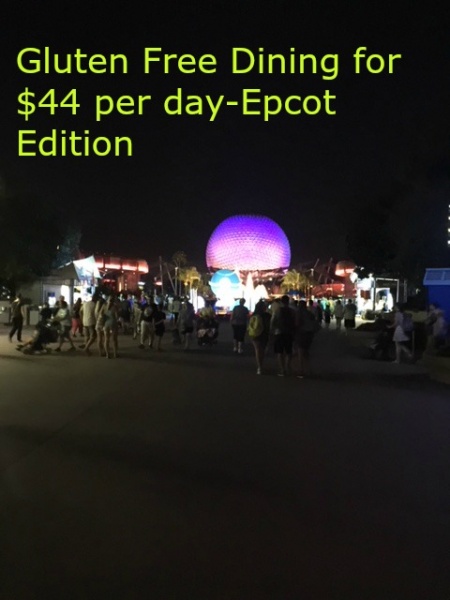 Lets continue with our series on Gluten Free Dining for $44 per day-Epcot Edition, with a trip to Epcot!
For my explanation on what Celiac Disease is and why cross contamination can be an issue see the info later in the the blog. For other series on dining within a budget you can view these blogs too! We have the Gluten Free Dining for $44 per day Magic Kingdom Edition for you to enjoy here. We have Gluten Free Dining for $44 per day Animal Kingdom here. Also there is a series of non Gluten Free dining for $37 per day for you to enjoy and a series about dining vegetarian that can all be found here.
Start your day at Epcot walking over to the Land Pavilion. Make a stop at Sunshine Seasons.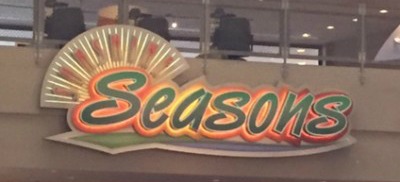 Photo Credit Rikki Niblett
The great thing about our mission of finding Gluten Free Dining for $44 per day- Epcot Edition, is that we can grab a bite to eat at Sunshine Seasons, then potentially head over to Soarin' for a ride! There are many options here that you can choose from. I think one great choice is a Breakfast Souffle. While it comes with a croissant, they put it on the side. You can request they hold this, substitute it with something, or give it to you on a separate plate so you can give to it a gluten eating person in your party. I like to have eggs and actual cooked breakfast food when possible as opposed to fruit or a yogurt, but you could get those here too.
Breakfast Souffle $7.99
Regular Coffee    $2.79
Total                    $10.78
Remaining         $33.22
For lunch lets move over to World Showcase. Our next stop in our mission of finding Gluten Free Dining for $44 per day- Epcot Edition, will take us over to Mexico to La Cantina de San Angel.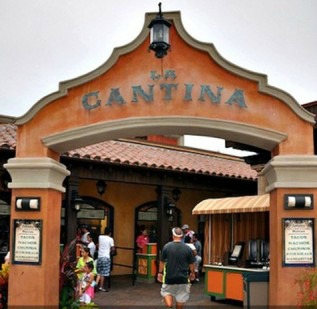 Photo Credit Rikki Niblett
Here you can enjoy some delicious nachos-Tortilla Chips topped with Ground Beef, Nacho Cheese, Tomatoes, Jalapeños, Beans and Sour Cream. Ensure the chips are still purely corn chips and still gluten free when you go. The atmosphere is lovely and you can try a non alcoholic Jarritos. A Jarritos is a traditional Mexican Soda with choice of Pineapple, Mango, Fruit Punch or Apple (Sidral).
Nachos  $11.99
Jarritos $3.75
Total     $15.74
Remaining 17.48
As you have made your way through World Showcase, you have no doubt worked up an appetite. As we search for Gluten Free Dining for $44 per day- Epcot Edition, lets make our dinner stop at the Electric Umbrella!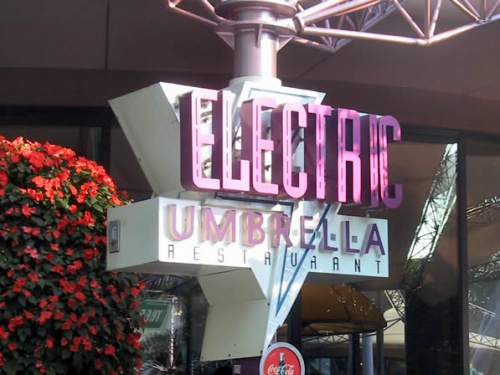 Photo Credit Rikki Niblett
You will find this gem near Spaceship Earth.  This stop is a really fun choice and a retro feel. Be sure to look for seating in some of the upper level areas for a nice experience.
I recommend the Energy Salad with Roasted Chicken -Fresh greens topped with Roasted Chicken, Seasonal Fruit and Feta Cheese. We did have some cheesy nachos at lunch so to offset that option this will brings us back to something a bit more healthy.
Energy Salad with Chicken $10.99
Fountain Drink $3.29
Total $14.28
Remaining $40.80
Gluten Free Dining for $44 per day- Epcot Edition was a tough one. We were not able to sneak in an adult beverage here within our $44 dollar range. We did end up about 3 dollars under our goal which is not too shabby! Enjoy your day at Epcot!
My Gluten free explanation and some cautions about mobile ordering when you have food allergies:
As a person who suffers from Celiac disease, following a strict Gluten Free diet is non-negotiable and not a fad I would ever subscribe to if I had a choice. Many people think of it as a food allergy, but it is not really an allergy, it is an autoimmune disorder where your body tries to fight Gluten as if it were a virus in your system and it causes damage internally. Gluten itself is a protein that is found in Wheat, Barley and Rye. It is found in a surprising number of foods and often added as an additive where you would not expect it.
Many Celiac suffers are sensitive enough where cross contamination (from fryers, food surfaces, a crumb here or there) actually makes us ill. This can make it very difficult to dine out and is risky particularly on vacation. Those with a sensitivity to gluten also have to be careful and ask questions. This blog is intended to be make suggestions only; please remember to talk with the staff at each dining location to ensure the items are still gluten free when you order, and what the risk of cross contamination is so you can make the decision for yourself.
Food Prep:
Some locations have dedicated fryers where they only fry gluten free items in with gluten free items, others share fryers for all food. The same goes for toasters, grills and so on. Ingredients and kitchen practices can frequently change, so please ask each time you go to a location.
Many of the locations also have Mobile Ordering which is a huge convenience. You order the food via the My Disney Experience app, pay via the app, and then just go to the window when you are alerted that your order is ready. With a food sensitivity or allergy, you must be cautious of using the app since some ingredients have changed or if their kitchen practices have changed. Use discretion when / if you decide mobile ordering is for you.
Thanks for reading Gluten Free Dining for $44 per day- Epcot Edition! Please let us know what some of  your gluten free counter service finds are.
What are some of your favorite options for dining Gluten Free at Epcot? Share in the comments below or on Facebook or Twitter.
Did you like this article? Make sure to share it with your friends! Check below for easy ways to share!
Want to visit Walt Disney World? Contact The Magic for Less Travel for more information and a free, no-obligation quote.