This post may contains affiliate links for your convenience. If you make a purchase after clicking a link we may earn a small commission but it won't cost you a penny more! Read our full disclosure policy here.

We continue with the results of my Give Kids the Rides Challenge on November 19th. If you haven't read my original blog about the Give Kids the Rides Challenge visit here. Part 1 of the Give Kids the Rides Challenge results can be found here.
Park number 4
When we last left off I was finding Nemo and looking for a new FastPass. Spaceship Earth and Frozen Ever After FastPasses were no where to be found, but I did find a Seven Dwarfs Mine Train FastPass for 4:15-5:15.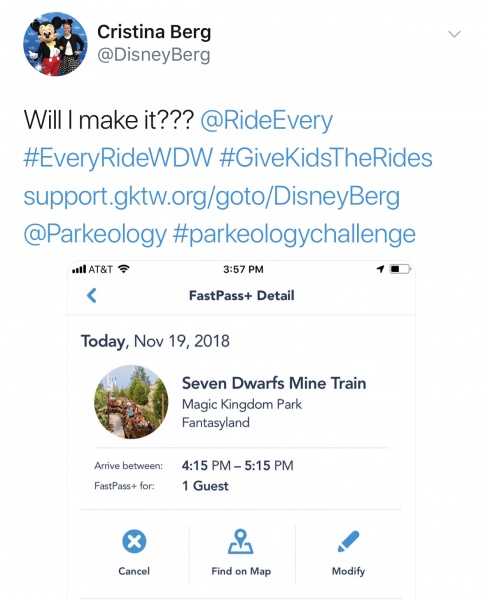 I had about 1 hour to get off Nemo, run to my car, drive to Magic Kingdom and get to the back of the park to use this coveted FastPass. It was quite the challenge, but I made it on my train car at 4:49! I was out of breath and exhausted, but pretty proud.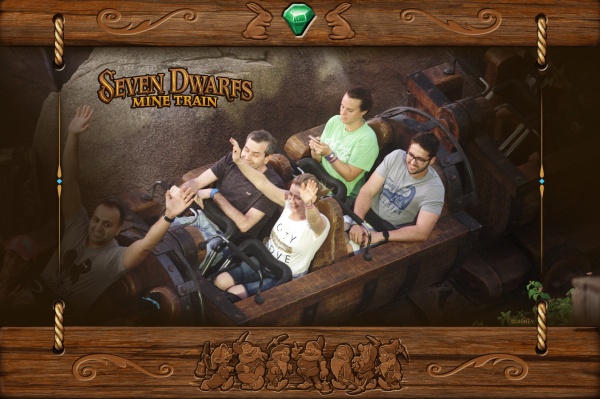 Always on the phone during a challenge
Magic Kingdom has 24 rides and most of them have FastPass options. This is where most of my rides will come from. Every time I got into a line I would start looking for available FastPasses. I tried to find options that were close so I could minimize walking. I stayed in Fantasyland as long as possible, but eventually I had to leave for another land. My energy was running low and so was my motivation. This was a long day with minimal human contact. I needed a pick me up. So, I stopped at Storybook Treats for Tink's Pixie Dusted Cone to enjoy as I traveled over to Adventureland.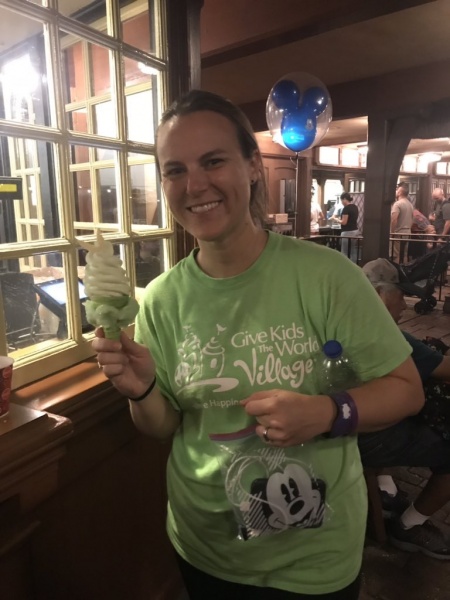 I was able to ride Jingle Cruise and Splash Mountain using FastPasses before I boarded the Walt Disney World Railroad over to Fantasyland again. I was able to ride 5 more rides in Fantasyland before moving over to my two favorite attractions in the park…Carousel of Progress and the PeopleMover. These were the two rides that I just sat back and relaxed on.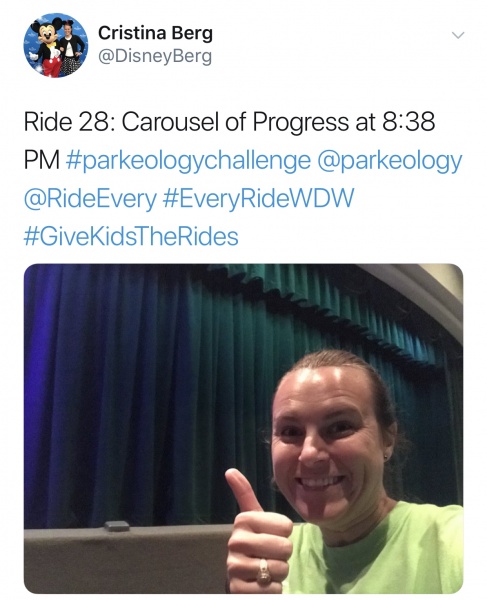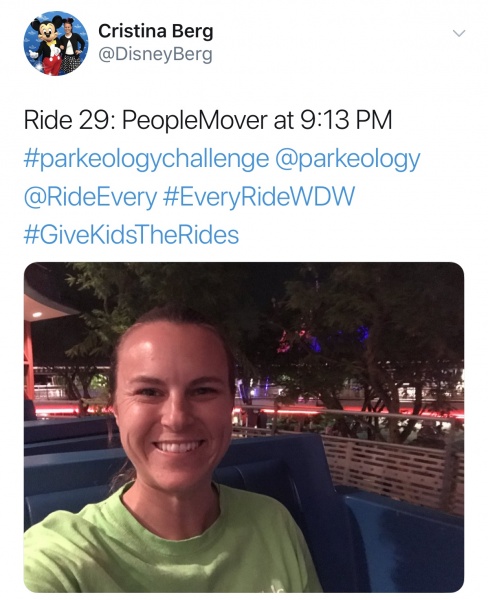 I took time to reflect on the day. These were my 28th and 29th rides of the day. By this time I knew that I was not going to finish the Give Kids the Rides Challenge, but every ride I rode was $6.25 in pledges to Give Kids the World. I knew I had to keep riding. I also had a huge group of people encouraging me to keep going on Twitter. Suddenly I got a swell of energy and joy. I realized all that I had done that day. It was 9:00 at night and I had visited all four Disney parks, I had used 16 FastPasses, and I had ridden so many of the best rides at Walt Disney World. This had been a good day, no matter how it finished. So I had to keep going.
My next attraction was Tomorrowland Speedway, another first for me. This attraction always has huge lines, and I never really find time for it. It was also my 30th ride!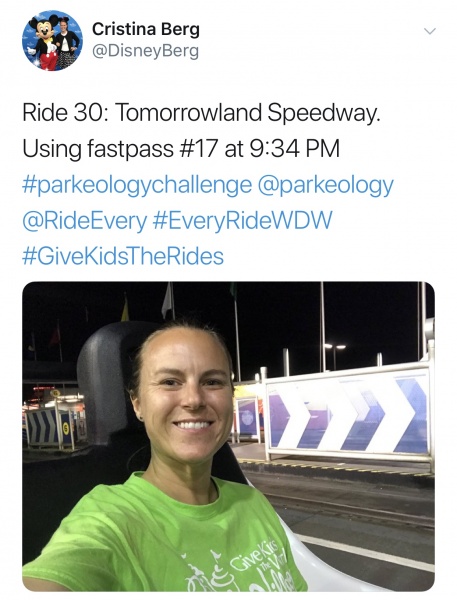 The Happily Ever Fireworks were getting ready to start and the lines around the park were starting to get shorter. Peter Pan's Flight was listed at 45 minutes, but I couldn't see anyone in line. Soooo, I took a chance and hopped inline. I was on the ride in 15 minutes! Many attractions have low wait times during the fireworks. I was able to get on Haunted Mansion and the Magic Carpets of Aladdin with very little waits, and found a FastPass for Pirates of the Caribbean.
At 10:33 pm I used my 18th and last FastPass to find the tales that dead men tell and then rushed over to Big Thunder Mountain Railroad to see if I could get in line before the park closed at 11:00. At 11:04 I boarded my 35th and final ride of the Give Kids the Rides Challenge! I enjoyed every minute of this ride and found out over $700 had been raised for Give Kids World on my donation page!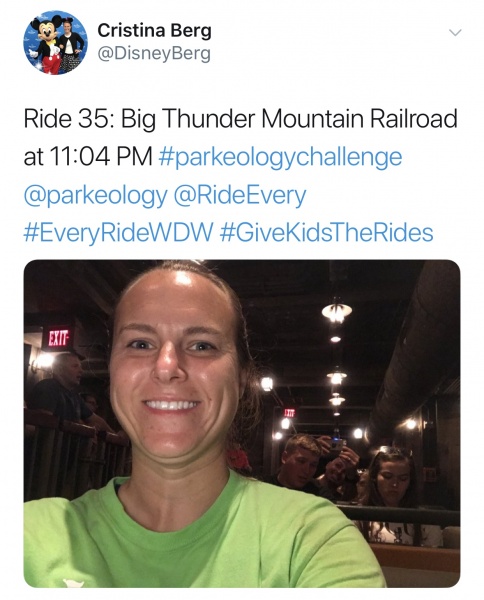 To celebrate my attempt at the Give Kids the Rides Challenge, I headed over to the Plaza Ice Cream Parlor to imbibe in a Minnie Kitchen Sink!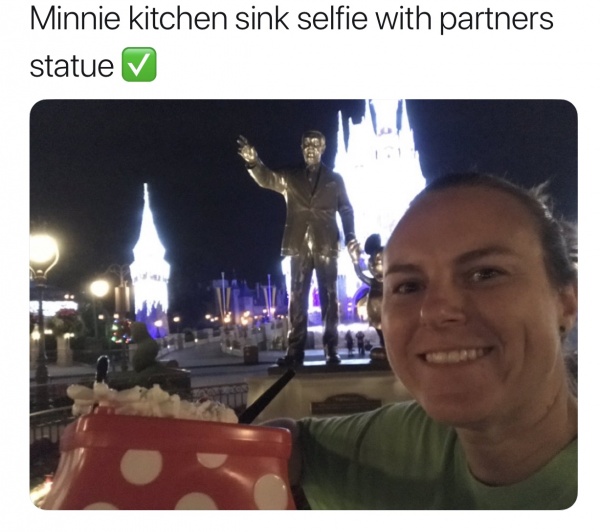 I took celebratory pictures in front of the castle and on Main Street, enjoyed the sights and sounds of the Kingdom, and just sat and reflected. I had hoped that the Main Street Vehicles would run at night, but that sadly didn't happen. It was nice to slow down, and I was one of the last people out of the Magic Kingdom.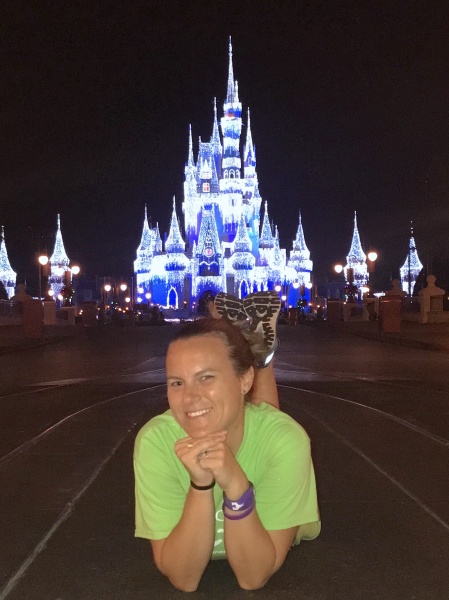 By the Numbers
16 hour park day
11 rides I didn't make it on: Slinky Dog Dash, Toy Story Midway Mania, Rockin Rollercoaster, Star Tours, Spaceship Earth, Frozen Ever After, Main Street Vehicles, Space Mountain, Buzz Lightyear Space Ranger Spin, AstroOrbiter, and Prince Charming Regal Carousel
35 rides I did ride: 8 in Animal Kingdom, 2 in Hollywood Studios, 6 in Epcot, 19 in Magic Kingdom
18 FastPasses used
36,978 steps walked equaling 17.48 miles
$1,327 raised for Give Kids the World during my challenge
Over $60,000 raised for Give Kids the World by all challengers during 2018!
#GiveKidstheRides challengers have set a goal of $100,000 for 2019!
So you want to try the Give Kids the Rides Challenge
Join Twitter and start following Parkeology and any handles of upcoming challengers. Watch their runs.
Analyze park hours to find days with earlier or later than normal hours so you have enough time to ride all the required attractions
Look for late openers or early closers. Rides like Dinosaur and Kali River Rapid don't always open when the park opens. Some rides aren't open in Extra Magic Hours, or close before the park closes. Make sure to look for the official ride hours.
Get to know the My Disney Experience App and website. Get really good at looking for FastPasses and modifying FastPasses to better times. Never accept what you first find…keep looking. And if the app isn't working, don't be afraid to try the actual website.
Make a plan, but stay flexible. You need to know a general plan of park order or ride order, but sometimes you have to zig when you wanted to zag. I really wanted to finish Epcot, but finding a Seven Dwarf Mine Train FastPass meant I could get more rides done in Magic Kingdom when the lines were long in Epcot.
Get your friends and family involved. Make sure you tell everyone and ask them to support you on the day of your run. You will spend a lot of you time looking at wait times, finding/modifying FastPasses and posting to Twitter. This doesn't leave you much time to interact with people around you, so having people send you encouraging texts and Tweets can really lift your spirits.
Make it mean something. Make sure to register with Parkeology and/or Ever Ride Challenge and then start a fundraising page for Give Kids the World (or another great cause you are passionate about). Having your run be official and for a great cause will keep you going when you feel like giving up.
Have FUN! Remember that you are in Walt Disney World doing something that not many people ever think about doing. Enjoy the challenge and the parks and make the challenge your own. Some challengers like to add emojis to their Tweets, others like to post video updates, some like to sing, I tried to add gifs about each ride (until I started to run out of battery). Make the challenge your own and have a blast!
So how about you? Do you want to become a Give Kids the Rides Challenge attempter? Or are we just crazy? Share your thoughts in the comments, or on Facebook or Twitter!
Did you like this article? Make sure to share it with your friends! Check below for easy ways to share!
Want to visit Walt Disney World? Contact The Magic for Less Travel for more information and a free, no-obligation quote.